28 July to 2 August, 2009 - Madrid and Toledo
It is nice to ease ourselves out of Central American travel by going via Spain. It sort of helps that we feel a bit in touch with where we left, particularly with the language connection.
Our main reason for flying from Central America to Madrid was to avoid Heathrow. We have become loathsome towards travelling via that nightmare of an airport.
Madrid seemed a good choice as we could catch up with our good friend, Iosu. We met him some years ago in Peru, and then stayed in his apartment in Madrid a few years later. Note there are no photos of him below - HE WASN'T THERE! Iosu was in Costa Rica/Honduras/Nicaragua/Somewhere like that. No problems, a flatmate let us in, furnished us with some keys, and over the next few days managed to bump in to all the people who live in the apartment - Alberto, Sanchi, and Carlos. It seemed easier to leave our body clocks on Cuba time. We sat up drinking and talking with whoever was around until odd hours of the morning, and rose late to find the place empty, or encountered someone coming home / going out / passing through. It was all super casual, which suited us.
We did something every day, but kept it low key. A museum or an exhibition, beer and tapas, a walk in the park, that sort of thing. Being a third visit to Madrid, we didn't feel obliged to do too much more than just absorb some culture and atmosphere. We took the train to nearby Toledo on one day, and it was 42˚, but being so much dryer than Cuba, we didn't seem to feel the heat, and we enjoyed deserted streets.
We shopped - plenty of new clothes for both of us. We ate - mainly tapas, jamon serrano, cheeses, calamari, salami, patatas bravas. We drank - beer, good cheap European wines, and a funny local spirit made from berries and aniseed. We internetted - big catch up after being almost totally cut off in Cuba. We arted - known and unknown painters, sculptors, and a fantastic on-the-road Islamic art exhibition from the Aga Khan. And we walked almost everywhere.
Oh, and those flatmates of Iosu? They more than made up for him not being there. So hospitable and friendly. We partied with them, and on the last night, even hit a cool tapas market with their friends who had never met us. Right at home!
---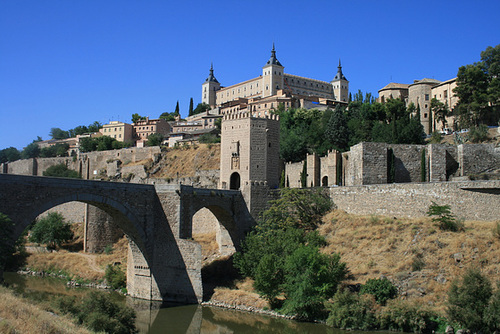 Toledo
Approach to Toledo.



Toledo
One of Toledo's gates.



Apparently, A Weeping Woman
By Picasso. Most women would weep if this is what a man thought they really looked like!
---