21 to 24 Aug, 2009 – Eger and Tokaj, Hungary
Legend has it that in 1552, István Dobó fortified his troops with red wine. They were seriously outnumbered, defending Eger from the advancing Turkish army. Rumours circulated amongst the Ottomans that the red-stained beards were from drinking bull's blood to gain strength. The defenders were successful, and the local red became known as Egri Bikavér – Eger Bull's Blood.
The Eger cellars line both sides of a valley, only a couple of kilometres from the town centre. We crawled from one to the next, tasting two or three wines from each cellar that we visited, buying a full glass here and there where it was exceptional. Glass prices range from 40 cents to one dollar (Australian). Over 2 days, we visited between 15 and 20 cellars, and left with one refilled Coke bottle full of red. People who come to buy wine to take with them generally provide their own bottles. Take away prices range from $2.50 to $6 a litre! Mind you, we would have comfortably taken a lot more had we not had to carry it all with us!
---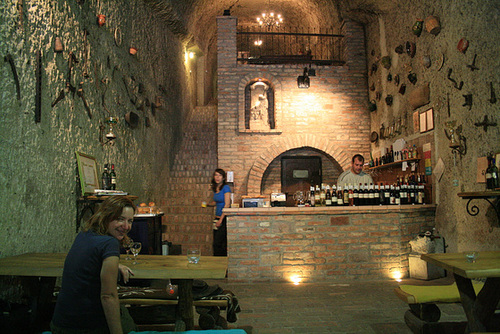 Against The Trend
Although Eger is known for its red wines, we revisited this cellar a number of times because of its magnificent Chardonnay. Cellar number 19 if anyone else ever tries to find this wonderful nectar of the gods. The 2005 was possibly one of the best white wines I have ever drunk. It was a little pricier than the other wines, at a staggering $1 per glass, but our budget does stretch that far.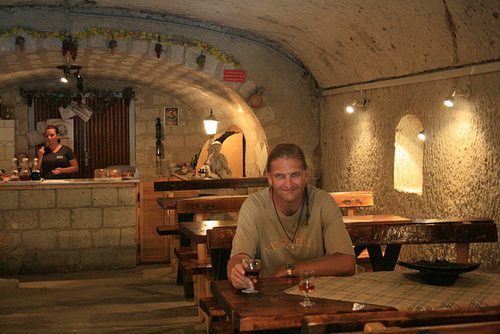 Another Atmospheric Cellar
Each cellar has its own character, but few lack charm and atmosphere. Naturally, they are relatively chilly when it is in the high 20's outside, but they are delightful places to be, and very appropriate places to while away an afternoon with a glass of good stuff. Not too sure about the traditional Eger food accompaniment of bread with turkey fat, onion, and paprika.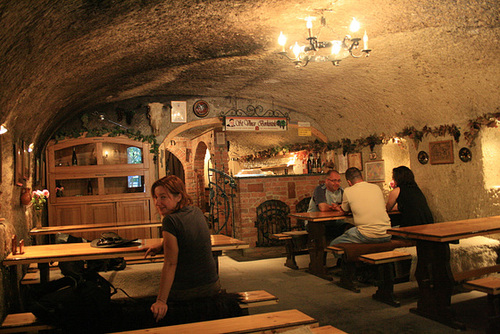 And Another Cellar
Who can remember which one was which? They were all pretty special.



The Choice Red
This red stood out. 2006 Egri Vörös Cuveé from cellar number 27. We bought a litre and a half which was siphoned in to our empty plastic bottle. We noted the details thinking that would then allow us to find it again, should we be looking in a bottle shop. What was that grape variety? Vörös? Forget it. This is a one off! Egri = Eger. Vörös = Red. Cuveé = Mix. We were drinking Cellar 27's Eger Red Blend from 2006. If anyone should desire to try and recreate it for us, the principal varieties are Cabernet, Kékfrankos (Blue French), Melot, and there is some Pinot Noir.
---
We continued the crawling, tasting trend when we got to Tokaj. Home of some world acclaimed fortified whites, we just braced ourselves for greater sweetness. No bracing needed. Yes, sweet. As good as claimed? Definitely.
---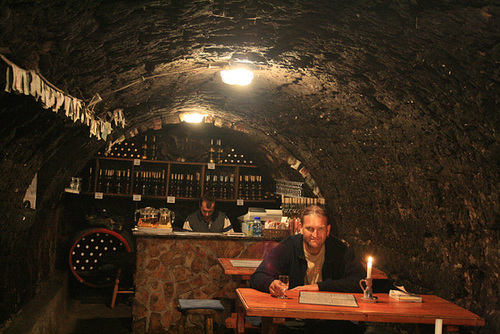 Tasting Sweet (Dessert) Whites
One of the private little cellars in Tokaj. Start from dry, and work your way through to sweet, and then to very sweet. Fantastic dessert whites.
---