8 to 18 January, 2018 - Polonnaruwa, Kandalama, Dambulla, Sirigiya, Anuradhapura, Jaffna, Colombo - (Sri Lanka)
Taxi drivers. At the airport, we encountered the drivers who were sure they knew where we wanted to go. We were waiting for a local bus to take us to the nearby town of Katunayake (about 2 km away). We had numerous (maybe a dozen) come up to us and offer "Colombo?". A few took "no thanks" on the first refusal, and the majority offered some other destinations before giving up, but we did have to laugh at the driver who thought we would accept his offer if he changed the intonation. He asked it flatly, tried a rising tone, and the final time he sort-of sang it. Each time we said "no" he seemed convinced we were lying...
Day one was a six hour 3 bus haul to Polonnaruwa. We forked out a few extra dollars to be accommodated at a very pleasant place overlooking the rice fields near the edge of the small town. Peacocks flew into the trees, and monkeys played in the branches. A nice breakfast was prepared for us so we were ready for a day of ruins. The comments tell of a small (80's) reason for visiting, that was a little bonus to the antiquity.
---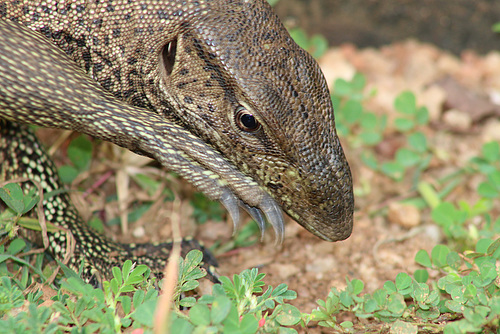 Monitor
Quite nonchalantly wandering through the temple ruins, this large monitor lizard (about 1.5 metres long) truly acted as if he owned the place.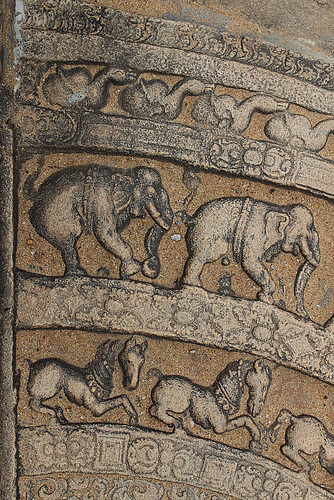 Moonstone, Polonnaruwa
Some of the fabulous work on the Vatadage moonstone.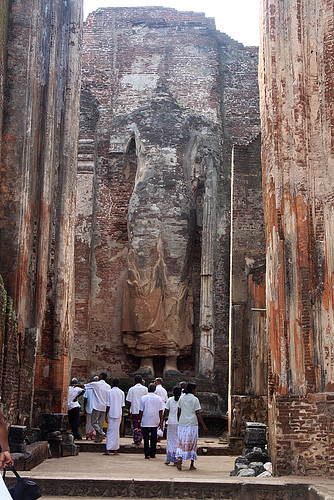 Duran Duran-esque Shot
Lankatalika, in Polonnaruwa. Final scene of "Save a Prayer" video. We weren't wearing our linen suits so thought these locals were "truer to the spirit" of the clip.



Lankatalika
Great lighting on Lankatalika.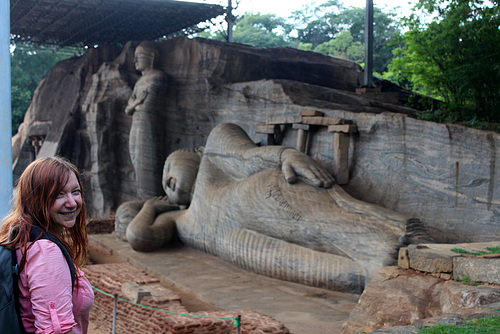 Gal Vihara
Another recognisable filming location from "Save a Prayer".



Smiling Characters, Tivanka Image House
The outside of this temple had a row of characters, in varying state of repair, all the way around it. Every character appeared to be unique, with different poses and expressions.

---
We had not anticipated doing any wildlife watching on this trip - something we did a lot of on our trip to Sri Lanka in 2007. However, the offer to visit the nearby National Park was accepted, and knowing that these sorts of trips rarely disappoint, we changed our plans and included it. And it did not disappoint. We were concerned when the main draw was a little sparse - elephants. Only two, and we were getting close to leaving, and then we saw them, a handful, and another, and then a small herd, and then a larger herd. Maybe 30-40. A few heart stealing babies, and a whole lot of cute expressions from some big ones.
---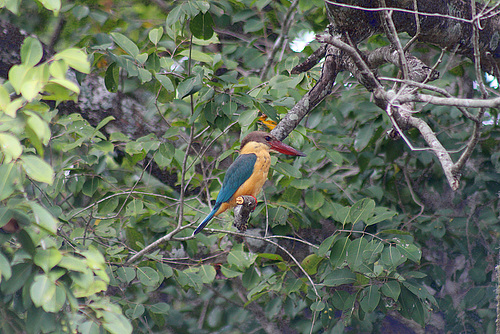 Kingfisher
On our way to Kaudulla, a kingfisher scans the waters below.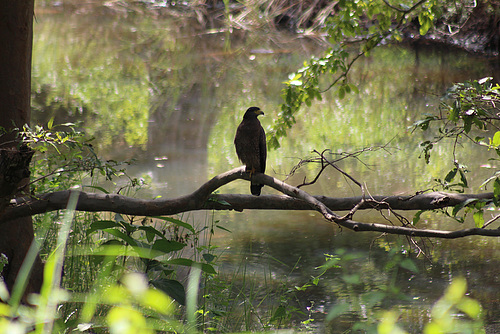 Eagle Silhouette
A bird of prey seeks fish.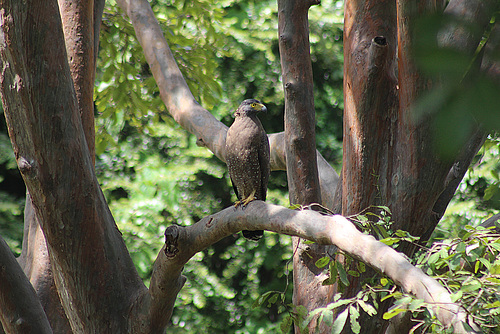 A New Perch
The eagle had a go at a fish and, upon failing, chose a new place to continue watching from.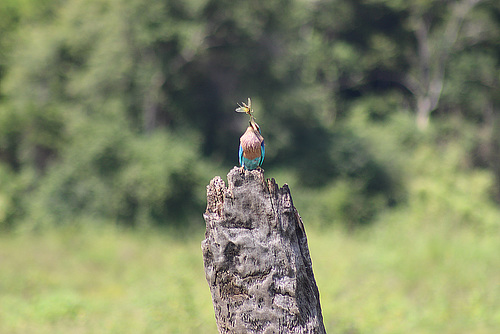 Bird with his Catch
A small bird with a large insect. It appears to be throwing it up to get a better grip.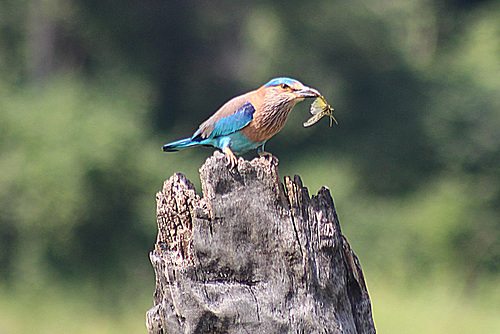 Small Bird, About to Eat
A small bird about to down a large insect.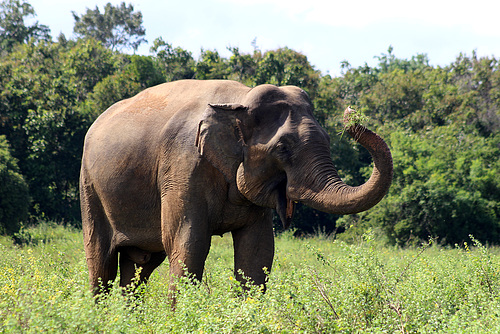 Happy Looking Elephant
It's hard not to imagine that he's smiling.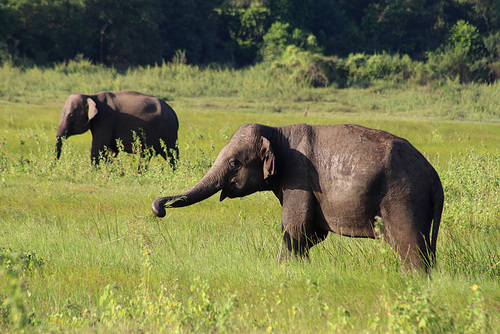 Elephants at Kaudulla National Park
A couple of the 40 odd elephants that we saw in Kaudulla.

---
Near Dambulla, we stayed at a luxury hotel - Kandalama Heritance. We had planned this after a recommendation from an English friend, Anna, and we had decided to pay the premium for a better view - and so worth it. Soooo worth it. One of our most amazing "stays", ever.
---

Our Panorama Room
Magnificent views from our wonderful room at the Kandalama Heritance Hotel. Includes a "towel rabbit".



Hive
Bees doing what bees do.



Mother and Baby on our Balcony
Many monkeys spent time around our room. There were many nursing mothers on the balcony and ledge.



More Monkey Visitors
For about 2 hours one morning, they cavorted and played on our balcony. The young ones crashed in to each other, in to the furniture, and were generally quite hyper.

---
Some "not too strenuous" day trips were undertaken, so that we had some time to enjoy our wonderful place.
---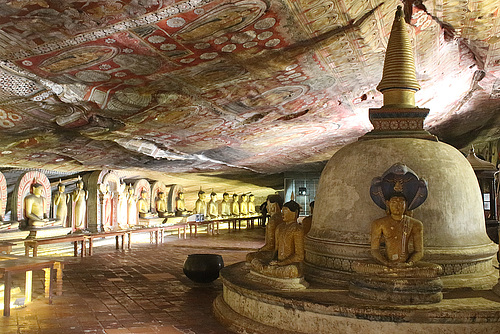 Dambulla
Inside one of Dambulla's ancient cave temples. This is Maharaja Viharaya.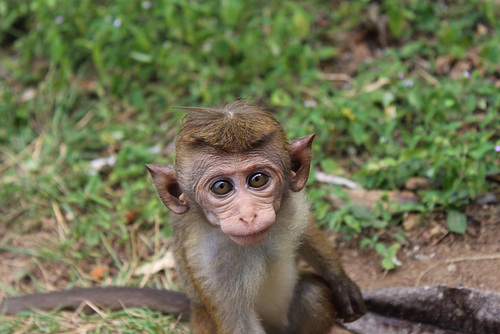 Cheeky Monkey
The adorable face of a cheeky character near the cave temples in Dambulla.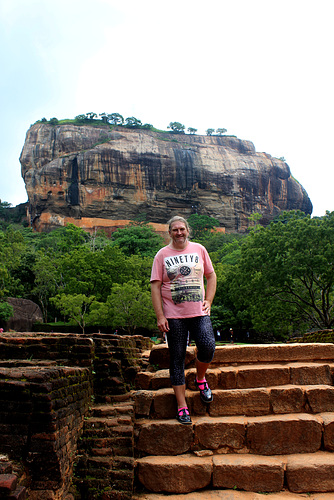 Sigiriya
Sigiriya is partly around the base of the rock, but significantly, also on the top. Reached by a combination of ancient and more recent steps, it is amazing to think there were people living on top. There is little documented about it from the time, so there are even conflicting ideas about whether it was a temple or monastery or a palace. Whatever, it is a dramatic location, and certainly a taxing climb in the hot sun.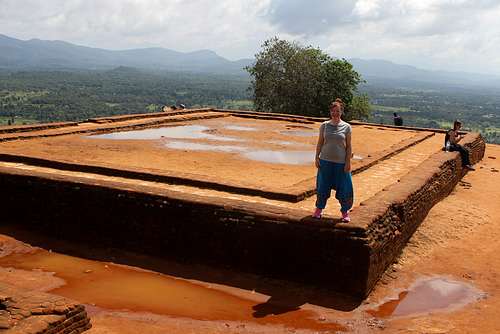 Atop Sigiriya
"Save a Prayer" video reference number three. We couldn't organise a helicopter for the overhead shots - maybe should have brought a drone.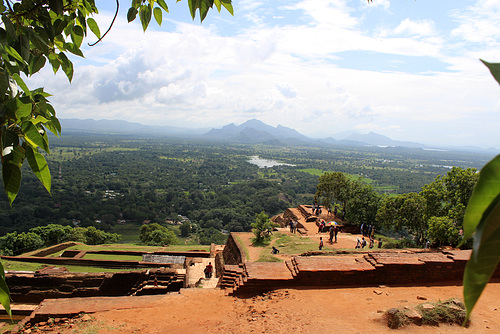 Across the Ruins on Top of Sigiriya
There's not a lot left, up the top - walls and foundations. The views, however, are phenomenal.

---
And then to city number three of the Ancient Cities - Anuradhapura.
---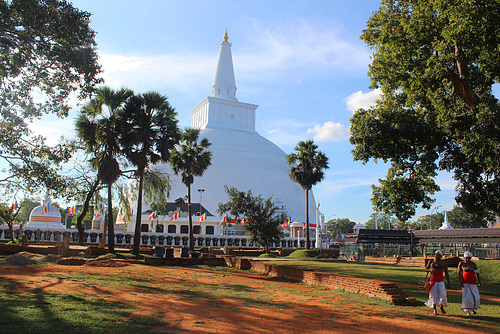 Ruvanvelisaya Dagoba
Afternoon sun lights up the dagoba Ruvanvelisaya, in Anuradhapura.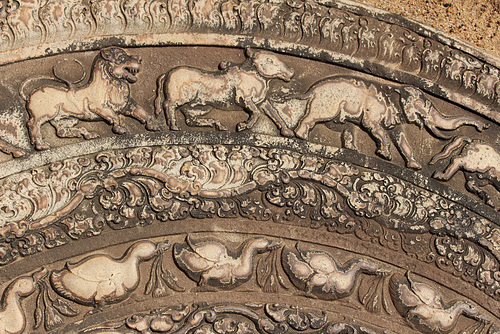 Magnificent Moonstone
Details on the moonstone of Mahasena's Palace in Anuradhapura.

---
When we came to Sri Lanka, in 2006-2007, much of the north was off limits. Guerrilla activity tends to reduce one's feeling of comfort when travelling. So, given that you can't do everything, any way, we stayed focused on the south for that visit. This trip was about filling the gaps from that trip. The Ancient Cities, and the north. So north we went, to Jaffna.
---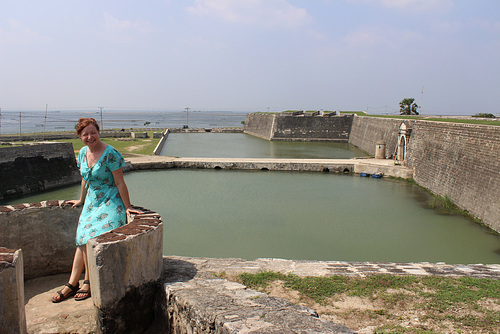 Jaffna Fort
The rebuild of the fort has begun. Since the end of the civil "unrest" in 2009, there have been major works all over the north of Sri Lanka. The walls have had some attention, but the inside has piles of "rubble", which are being sorted and organised for - well, who knows whether they can (or should) rebuild what's inside.

---
I must say, I think we were really over the buses after the unpleasantness of our journey to Jaffna. We were overcharged and bullied by the conductor who refused to give us a ticket - meaning he was going to pocket the complete fare! Besides, it was longer than expected, rougher than expected, and just an outright, uncomfortable and disagreeable passage.
So, being in a country with a reasonable rail service, we trained back to Colombo, for one night and two days. We had not planned to go looking for the Pagoda Tea Room, but happen-chanced to be staying just around the corner from it, in the fort district. It was a great place to coffee, and we returned for lunch the next day.
---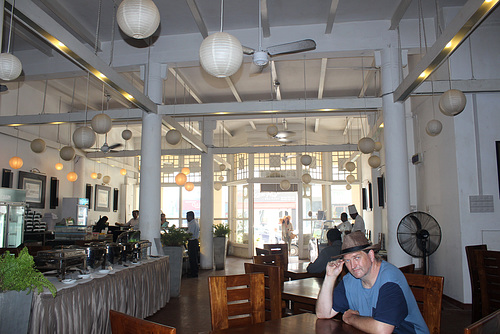 A Final Duran Duran Video Reference
At the Pagoda Tea Room - start and end of "Hungry Like the Wolf" video. The decor is changed. The colour scheme is not as it was. But it is still recognisable. Especially if you watch the video before and after visiting!

---
Thank you, Sri Lanka, for a second wonderful visit.