22 Jun to 1 Jul, 2009 – Tulum, Valladolid, Isla Holbox, Cancún, and many spots surrounding those
This may be our last blog entry for a while. We are flying to Cuba on Wednesday, and will be there until late July, and while internet is definitely going to be available, we think it may not be accessible enough for us to maintain the blog and photos, etc. So next update is due after that.
We crossed from Belize in to Mexico knowing that we only had a short time to get a little taste of this country. So we chose the main things in Quintana Roo and Yucatan provinces, and that meant quite a few Mayan sites.
Tulum was our first stop. Known for both a beautiful beach, and for Mayan ruins, and for the fact that those ruins are picturesquely situated above that stretch of beach.
---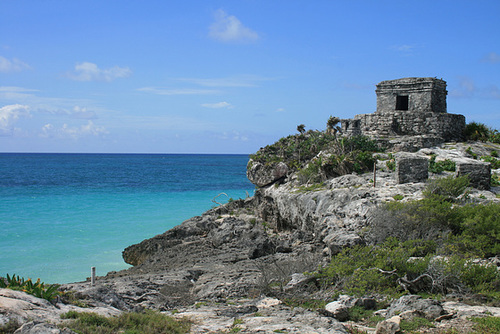 Mayan Ruins At Tulum
I think this particular structure may have been one of the temples in Tulum (sorry, can't quite remember). It shows what a beautiful stretch of water the city looked over. There are a few beachy stretches and coves beneath the rocks.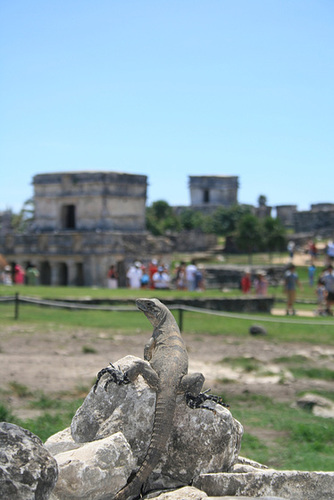 An Iguana Looks Out
Maybe the iguana is shaking his head at the crowds, or maybe he's just taking in the overall vista of the ruins. There were many iguanas wandering about, and with such crowds almost daily, they are quite accustomed to people.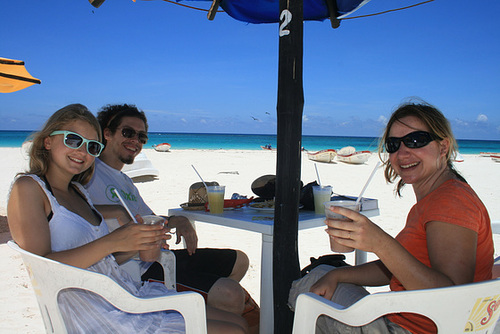 Cocktails On Tulum Beach
Less than a kilometre from the ruins and the rocky cliffs they are built atop, the beach opens to many kilometres of powdery white expansive beaches with gentle and warm waters of perfect turquoise for great swimming. Beth and Ben from Wales joined us for some cocktails.
---
En-route from Tulum to Valladolid, we stopped at a more overgrown Mayan site, called Cobá.
---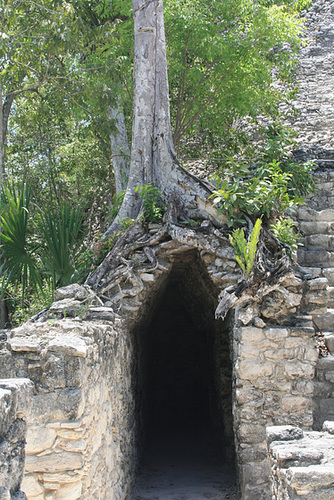 Nature Integrated
Tree roots hold together the roof structure of a passage leading under a Mayan pyramid in the ruins of Cobá.



Cute Pyramid With Rounded Corners
The rounded corners appear to be far less common. In my opinion, they soften the appearance of the structure considerably. This structure is in the Mayan ruins of Cobá.
---
Valladolid was our base for a few days, which was nice for Jo's birthday, as we weren't moving around. We began celebrating on birthday eve, and why not, as it was already the next day back in Aus. Cocktails, and a Mexican style "fondue". This was like a pizza without a base, or more correctly, a pizza with a base of melted cheese!
For the actual day of her birthday, we headed to Chichén Itzá, one of the seven wonders of the modern world.
---

A Magnificent Mayan Pyramid, Pyramid Of Kukulcán
This structure is the principal attraction of Chichén Itzá. Beautifully constructed, with many significant connections with the Mayan calendar, the temple on top was where priests would determine the best times to do things, from planting crops to invading neighbours. This structure apparently shows some Toltec influences.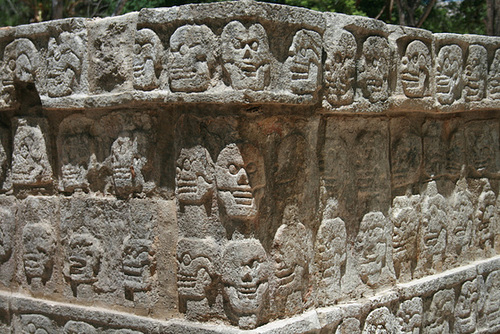 Decorations On A Platform For Sacrifices
The "Platform Of Skulls". A place of sacrifice. The Mayans were not that big in the sacrifice department, but Chichén Itzá was a mixture of Mayan and Toltec culture, from the north of Mexico. It appears the Toltecs were sacrifice obsessed, with many sculptures showing decapitations and human heart offerings.



The Observatory
Also called El Caracol (the snail) because of the spiral stairway inside. A very interesting building in the ruins of Chichén Itzá.
---
The birthday eating/drinking continued in to the night. Pre-dinner cocktails at one of the oldest colonial mansions in town, followed by a return to the restaurant from the night before. We stuffed ourselves on a couple of regional specialities. As the evening progressed, the singer found out, from me of course :D, that it was Jo's birthday. Minutes later a cake with a candle appeared, along with a rendition of Happy Birthday in Spanish. Followed by a Mexican birthday song. Jo did blush!
---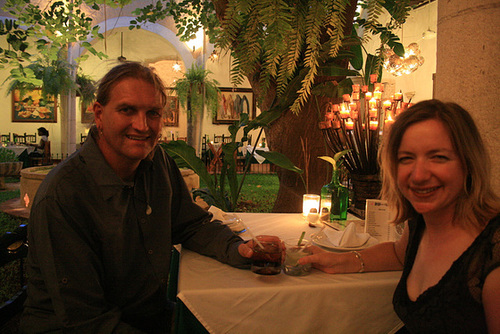 Pre-dinner Drinks With Ambiance
In a beautiful colonial mansion. The candelabra behind Jo was a lovely touch.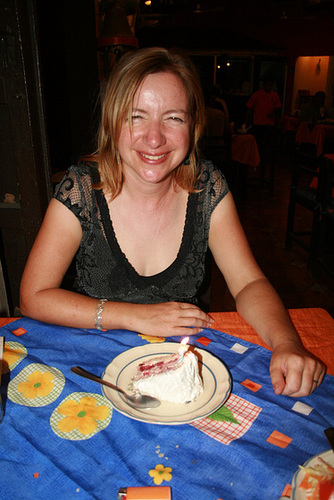 Strawberry Cake For Jo
Happy Birthday! The restaurant provides a birthday cake with no notice or prompting.
---
Another trip from Valladolid had us at yet more Mayan ruins, and our last ones for this trip at least. Ek' Balam.
---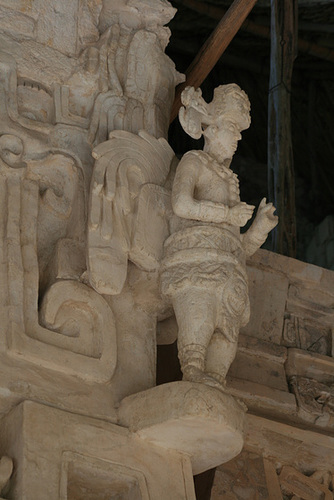 A Mayan Winged Figure
Sometimes called a Mayan angel, although angels are not at all a part of Mayan religion. An intriguing figure on the main pyramid of Ek' Balam.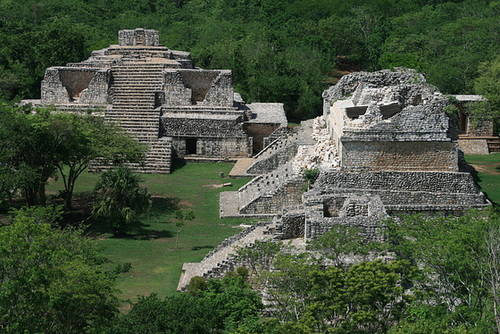 View Over Ek' Balam
We didn't realise how far we had climbed on the main pyramid, but the view back down on the main plaza was pretty good and well worth the effort.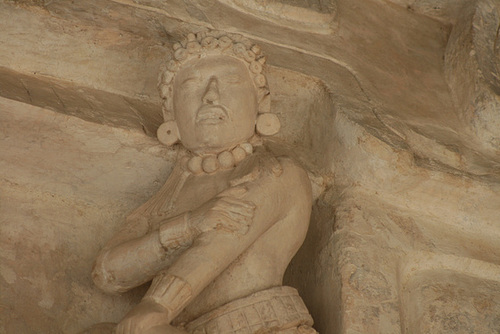 Another Interesting Mayan Sculpture
This expressive figure graced the main pyramid of Ek' Balam. The overall style (although not the facial features) reminded us of something so very Asian.
---
Check out this place for a cool place to swim, only a few kilometres from town.
---

Swimming In A Cenote
One of those blurs is Jo. This fantastic pool in a cave is Cenote Dzitnup, near Valladolid. The water is crystal clear, due to the natural limestone filtration that occurs. There were some fish in there, too. In fact, quite a lot.
---
And a great convent slash fortress from Valladolid.
---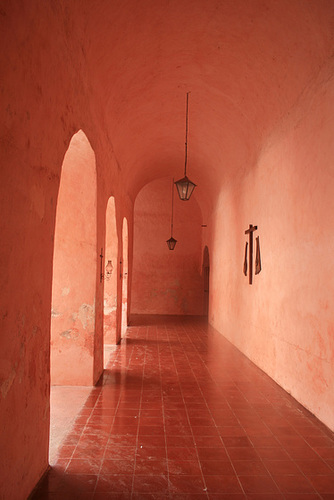 Convent Interior, Valladolid
Soft light filters in to the cloister.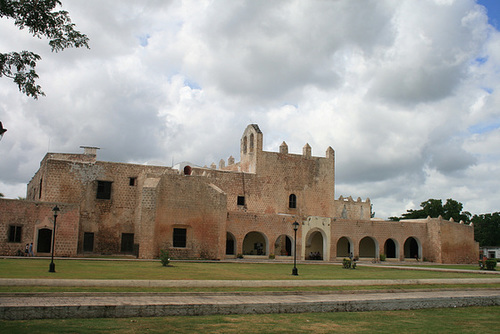 Convent Exterior, Valladolid
Built with a dual purpose – church and fortress.
---
Here is a lovely sunset from Isla Holbox.
---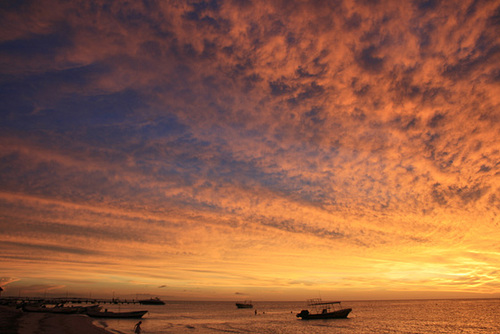 Sunset At Isla Holbox
The colour stayed in the sky for a very long time.
---
Anyone who has been following this blog knows that we were hoping to snorkel with whale sharks in Honduras, and it didn't happen due to the bad weather. Well, we didn't really want to hold our hopes up too much, but we thought there might be another opportunity, here in Mexico, at Isla Holbox. And it happened. And it was amazing. The biggest sharks known, and they only eat plankton. Go figure. Anyway, these amazing gentle giants were breathtaking. And to snorkel along with them, being eyed off by those spotty fish of immense proportions, that is something we will never forget.
---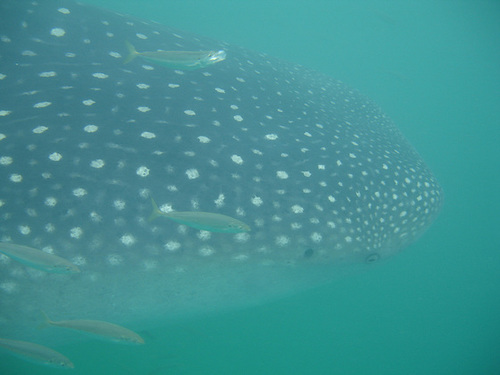 Whale Shark, Side On
We were not the only ones swimming with the shark. I don't think any of the fish had cameras, though.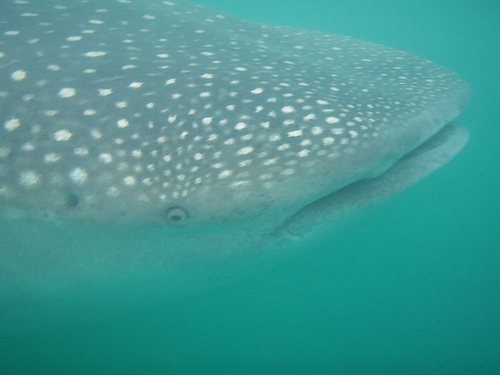 Whale Shark – The Mouth
Gorgeous, isn't she. And not just tolerant, but seemed to almost enjoy our company. She surfaced while we swam with her, and stayed close to us for at least 45 minutes.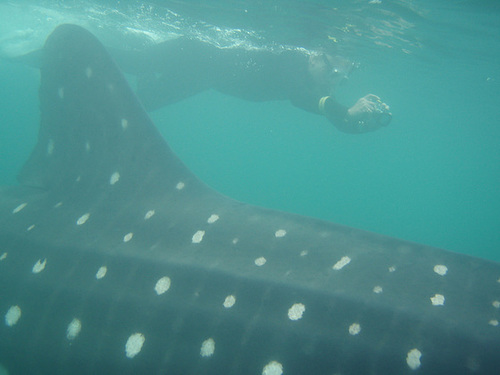 A Photo For Scale
David swims on the other side, taking some video. A beautiful little clip it turned out to be. Unfortunately, far too big to upload without editing, so that will have to wait. Anyway, we thought this photo was fantastic to show just how big this awesome creature was. We think about nine metres.
---
And not just whale sharks, we saw heaps of dolphins, and some incredible manta rays. These rays were about two or so metres across, and when they leapt from the air and slapped back in to the sea, less than five metres away, it was almost too good to be true. Even the captain said he had never had that happen in such close proximity to the boat. Unfortunately, no photos available of leaping manta rays.
---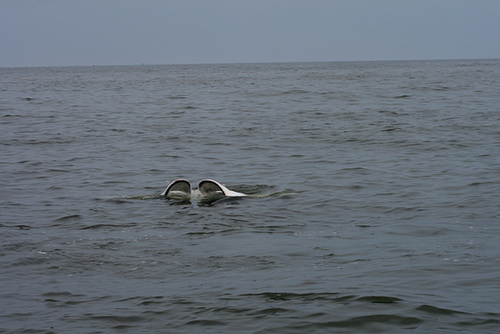 A Manta Ray Waves Us Over
On its back, "wings" arced over. This was confirmation we were approaching a manta ray.



The Manta Swims Past
Maybe two metres across, the manta glides past our boat.
---
From Isla Holbox, to Isla Mujeres and Cancún. And as stated, we will fly on to Cuba. Stay tuned.