16 to 22 Jun, 2009 – Dangriga, Belize Zoo, Belize City, Caye Caulker, Orange Walk, Lamanai
Alternate title: "As you step off the boat, please watch your head. If you hit your head, please watch your language."
We spent a day in the Garifuna coastal town of Dangriga, where we had a strange visit to what was advertised as a "cultural centre". There we found a guy who makes traditional Garifuna drums. He seemed rather puzzled that we were there, so we asked if we could look around. He said yes, and 30 seconds later we had looked around. There were a dozen or so drums in different stages, wood shavings everywhere, and that was all. He offered no information, he didn't point out things for us to look at or admire, and he certainly had very little to qualify being called a "cultural centre".
On our way to Belize City, we stopped at the Belize Zoo. Jo had a riddle for me on the bus – What's worse than hearing a number of Mariah Carey songs in a row? Hearing the same Mariah Carey song over and over again. I don't know if the girl who was listening to that song on her mobile phone was consoling herself or something, but as the song finished, she would replay it... Anyway, on to the zoo. We had only been there a half hour or so when the light drizzle turned in to full on pelting rain. So we took shelter for an hour or two, but the rain was not showing any signs of easing up. Time to brave the weather. At least most of the animals were braving the elements, too, so we looked at a heap of soggy animals. Kudos to the zoo, though, for some excellent animal exhibits. We chose to go, although we normally steer clear of zoos, due to its reputation for only keeping animals which can't be released, and for the humane way they are kept and displayed. In the end, though, we rushed the last half dozen or so enclosures, and headed on our way, wet.
Arriving in Belize City, we potentially could have continued, aiming for the islands. Being a bit weary, we decided to hole up instead. It was nowhere near as bad as we had been warned to prepare for. There were a couple of unsavoury characters about, but moreso because of their state of inebriation than their general demeanor. Still, it is a long way from being a pretty city, and it does lack tourist oriented sites. It is not a bad base for some trips, but most people choose to base themselves elsewhere. On a tight time-budget, it is a city worth skipping...
Caye Caulker is accessible by boat from Belize City. Caye Caulker is one of many spots that can be used as a base for diving and snorkelling. However, Caye Caulker is the most budget oriented spot for said diving and snorkelling. So, we ended up in Caye Caulker. And we ended up snorkelling. And renting an underwater camera. It was a no-brainer, really, when we knew what we were likely to see. And we were still blown away!
---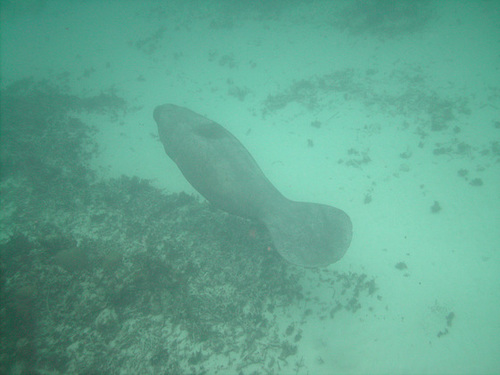 A Manatee Swims Below Us
Caye Caulker, Belize. Snorkelling in the marine park, we were privileged to be visited for a few minutes by a magnificent manatee!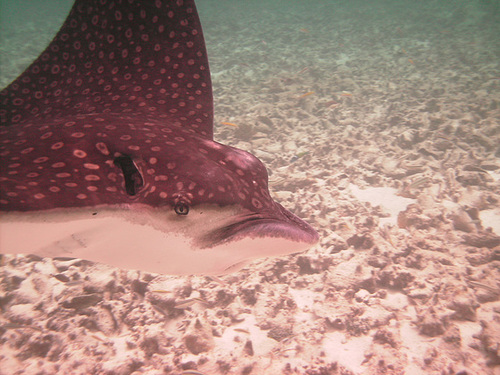 Spotted Eagle Ray Swims By
A Spotted Eagle Ray flaps his "wings" and glides past us as we snorkel near Caye Caulker.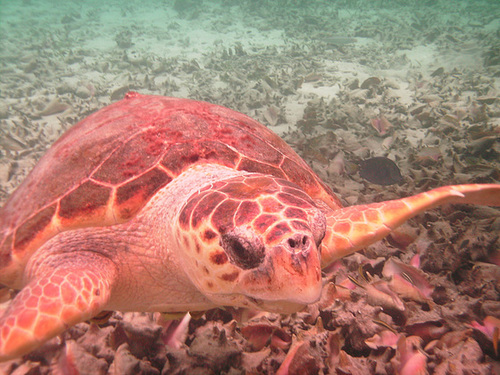 Loggerhead Turtle
I really had to back up to get out of the way of this beautiful turtle who was coming through, regardless of our presence.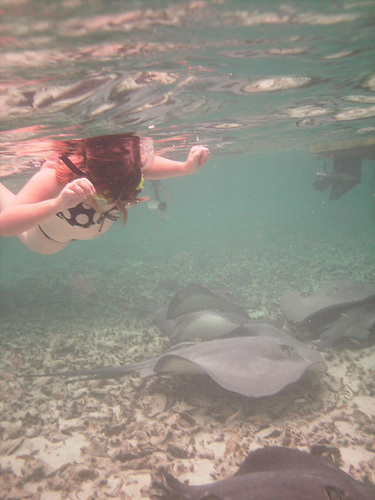 Jo And The Stingrays
Jo admires some Rough-Tailed Stingrays as she snorkels over them.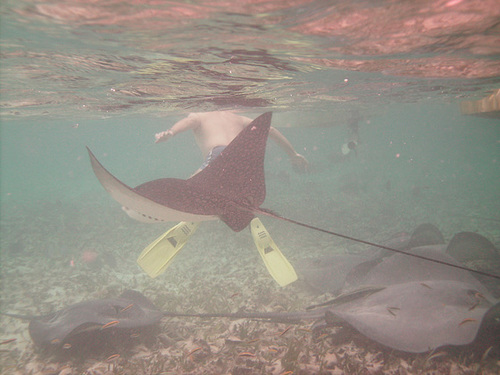 Being Chased By An Eagle Ray
That Eagle Ray really had no issue with us. It was all we could do just to stay out of his path.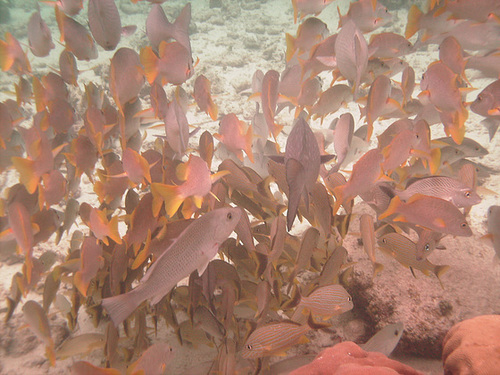 School's In
Although, there appears to be some misfits in amongst these.



Another Turtle
I know he doesn't look so green, but it's a Green Sea Turtle.
---
Oh, and the lobster season just began! Lobster, lobster, and more lobster. Yummo.
Our last stop was in a northern Belizean town, Orange Walk, which was a base for a trip upriver to the Mayan city of Lamanai.
---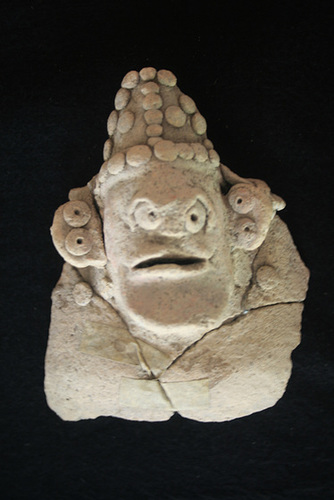 A Character From Mad?
An ancient pottery fragment at the Mayan ruins of Lamanai, looking a bit like a drawn character from Mad Magazine.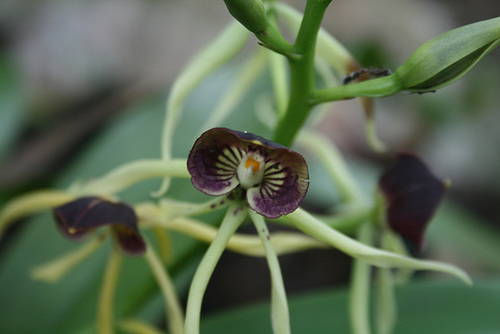 Belize's National Flower
The Black Orchid.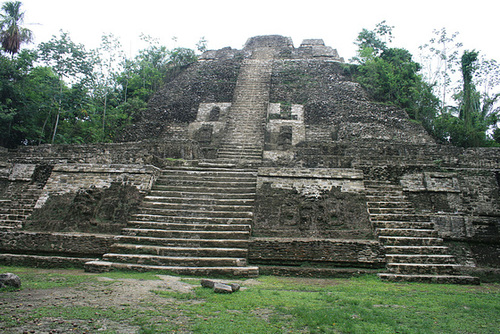 Looking Up ...
The tallest structure at Lamanai, build around 100 BC.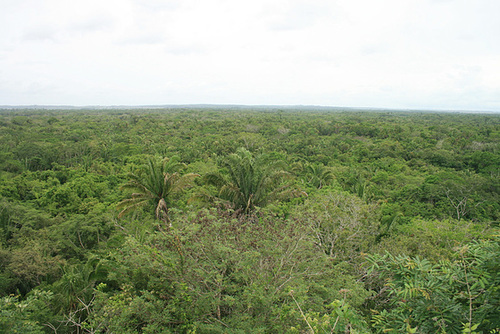 ... And Looking Down
Surrounded by forest, an amazing view was to be had from the top.
---