1 to 4 July, 2009 – La Habana, Cuba
We nearly didn't get here, to Cuba. Well, not on our booked date. The day before flying, I seriously thought I may have had the flu. Well, I certainly was displaying some flu-like symptoms. We took my temperature, and it was a little high, not worryingly so, not fever, but higher than normal. And there was my nose and throat and all that... I felt like a train had hit me. Oh, not sleeping the night before didn't help, but was that because I was sick which made me feel hot, or because I was hot which made me feel sick? Suffice to say this is not a great time to hop off a plane from Mexico with flu-like symptoms. We prayed.
I woke up feeling like a new man. No temperature, no throat pain, no aches, just a bit of a runny nose. We caught the flight, and we filled in our health cards on arrival. I didn't lie or exaggerate, just ticked the boxes to yes or no in terms of which symptoms I had. And soon we were on our way to La Habana.
La Habana, (or Havana to us English speakers). What a fantastic city. It has been a while since we have been in a city with this much soul, this much character. We wandered for hours, each day, aimlessly at times, just snapping photos and drinking in the atmosphere. No agenda, no sights to "tick off", just a city to be experienced. Bars and cafés and restaurants, squares and parks to sit in, peso pizza and ice cream, churches and palaces and museums.
---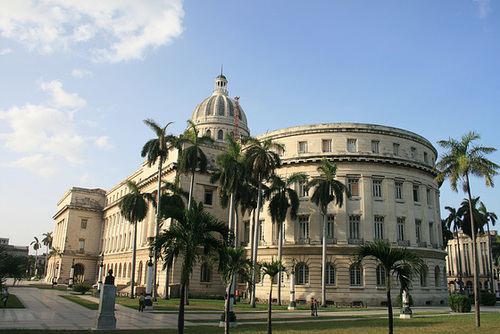 Capitolio Nacional
There are a number of picturesque parks and plazas in downtown Havana, and many beautiful buildings. This building, formerly the seat of Cuban Congress (i.e. before the revolution), is quite stunning. Many families come out of the claustrophobic backstreets to enjoy the open spaces around it, just sitting and sunning. There was often a game of soccer in one corner or another, but the biggest surprise was late afternoon, when there were a number of group exercises occurring. Some appeared to be practicing Tai Chi, while younger groups worked through combinations of stretches, martial art moves, and dance steps.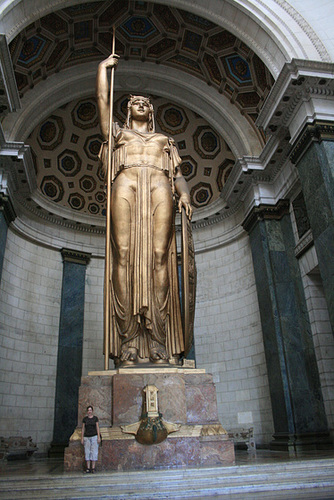 Statue Of The Republic
17 metres tall and weighing 49 tons, she's a big bronze woman.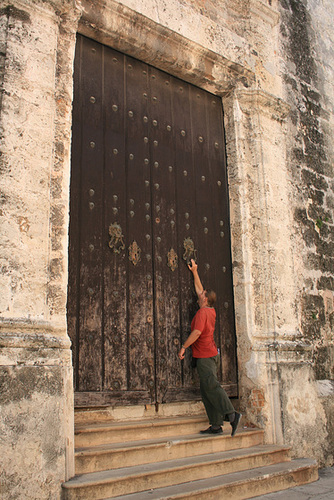 Feeling Like Jack
Feeling like Jack, of beanstalk fame. Side entrance to Havana's cathedral.



A Colonial Courtyard
Beautiful and fairly typical.



Palacial Interior
Apparently Tiffany had a hand in the interior decoration tips of this palace in Havana, now a museum of the revolution.
---
In Havana, there are some newer cars and buses on the road. Some. There are some modern(ish) motorcycles and moto-taxis (called coconuts because they have a round shell). There are a lot of older vehicles. In the mid-age, there are Ladas and Trabants, with a few Fiats and an occasional Toyota. Then there are the old cars. Most of these are from before the revolution. And Cubans just keep them going. I guess about 40-50% of Havana's collectivo taxis, plying fixed routes, are Buicks, Chevrolets, Oldsmobiles, Pontiacs, Fords, and so on, all from the 1940's and 1950's. Every now and then, maybe twice a day, a car from the 1920's rolls by, or is found parked on a side street. Motorcycles are generally from the 50's through to the 70's, and all bar a handfull have sidecars. Those 1950's taxis are the eye catchers. Some are barely road legal and have seating for 10 or more. They are kept rust free and running and that is all that matters. While others are lovingly maintained, polished and gleaming, a car enthusiasts dream purchase. Most owners seem happy enough to let you photograph their car, no matter what condition it is in. Many of these cars are parked for a stint in an area on Prado. This stretch is sometimes affectionately referred to as "Jurassic Park".
---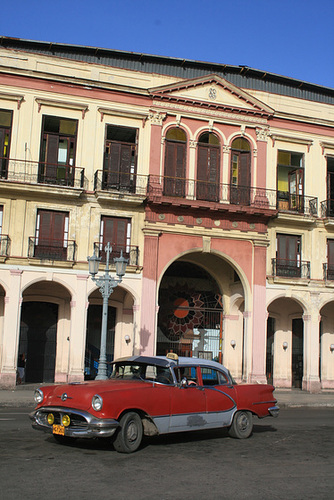 A Cuban Taxi
A collector's item in most of the world, but an economic necessity in Cuba. Pre-revolution cars of U.S. origin ply the roads.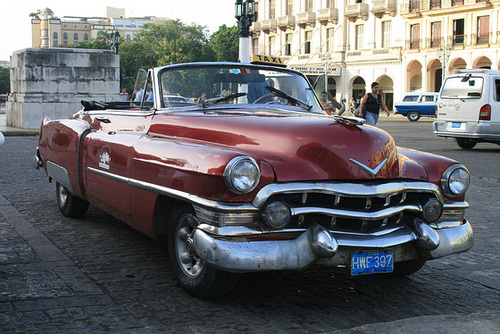 A Well-Cared-For Cuban Taxi
Some of the taxis are given more love and attention than others.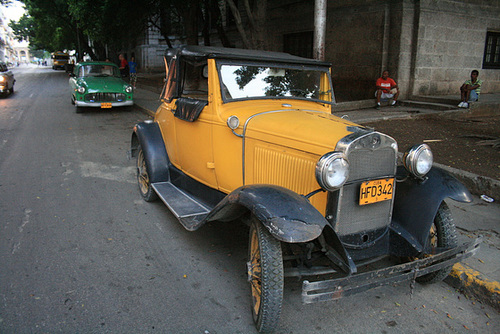 An Older Beauty
One of the occasional older cars that can be found on the streets of Havana.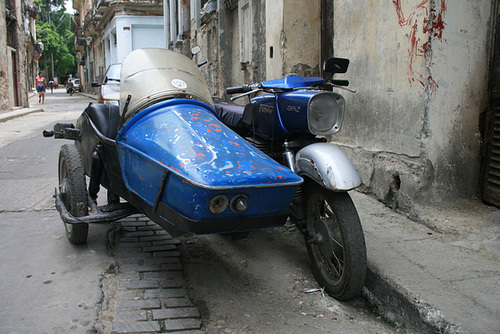 A Typical Havana Motorcycle
Few and far-between are motorcycles without sidecars in Havana. Often with a spare wheel strapped on the back, and usually ridden with a pillion and one or two passengers in the sidecar, they are a common sight in downtown.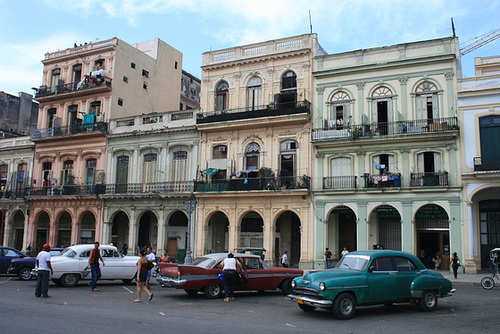 Taxis Wait In Jurassic Park, Havana
Affectionately known as Jurassic Park, many old taxis wait in this stretch of Prado (Paseo de Martí), Havana.
---
We are staying in a "casa particular", which is a private home which rents out rooms. So, it is in a residential street, although we are only two minutes walk from some of the major downtown sights. Almost all streets are residential to some extent, here, or at least there are apartments within a block. So, when walking around, you always get some great insights into the lives of Havañeros. Communicating with neighbours, for instance, rarely seems to be a private affair. Sitting or standing on their balconies, residents bellow to people on other balconies, above, below, or on the other side of the street. Sometimes a rope is dropped in to the street. There, somebody will tie on a basket of things, a bag of stuff, or a bottle of something. A whistle or a wave, and the resident above pulls it up, avoiding trips up and down stairs. Door keys are a hazard, being tossed down to friends or relatives who have yelled up to announce their arrival. Kids play in the streets, and sometimes their games seem to include rules to allow for traffic. Hitting a tennis ball up against a wall on a narrow street, for example. I would have thought this was a game that would stop when a pedestrian, motorcycle, or car needed to pass. However, the game we observed seemed to have a rule that you were required to hit bigger or wider so that there was no interruption. I did pass with concern we might be hit, but there was no such incident. Marbles is still a big hit, with pairs of children flicking those little glass balls in all sorts of places. Amazingly nostalgic just to watch some of the simple things.
Music. Music of one sort or another filters out to most streets at most times of the day. Thankfully, we are getting a break from the 80's soft rock that we were bombarded with in Central America (although we did here Toto's "Africa" once today). We assume a lot of what we are hearing is local. Sure, there are some big Latin names that we can identify, but beyond that, there are many well known rhythms and styles that evolved here and are Cuban through and through. Music is a big part of Cuban lives.
Cigars. They are a part of everyday life for many Cubans. Overall, Cuban people are fairly heavy smokers. To see employees in service industries smoking even a cigarette is a sight we are not used to. This is certainly the first time we have seen waiters smoke cigars while standing in front of a restaurant, trying to get potential customers to frequent their establishments. We have seen fathers smoking cigars while walking hand in hand with their children in the street. We witnessed a woman smoking a cigar while hanging her washing out. Couples smoke cigars in the squares. Groups of men drinking bottles of rum in cafés – well, that is at least one place you expect to see Cuban cigars being smoked.
---

Smoking A Cuban
We snuck out on to the roof to have our first Cuban since arriving in Havana. It was a gift from the restaurant where we dined, so it was probably not an expensive one. It was pretty damn good, still.
---
And to finish our blog on Havana, a photo to make you laugh.
---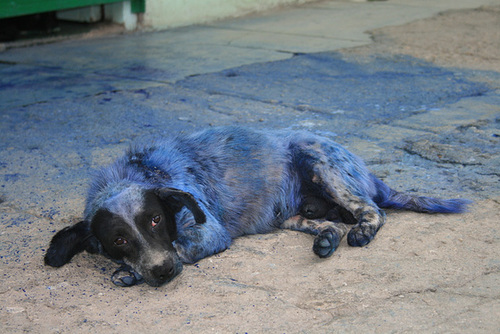 The Unknown Story Of The Blue Dog
Downtown Havana. Jo didn't believe me at first. "Look, a blue dog", I had said. Had she misheard me? Was I exaggerating or referring to something other than a living animal? Was I majorly confused or delirious in the heat? Or was there a sad canine to be seen? No, it was a blue dog. Obviously the blue all over the pavement is part of the story – but the sequence of events that ended with a blue dog and a blue pavement are a mystery. If this dog could talk, it would have had a great story. Maybe we should have a story competition?
---