13 to 16 Jun, 2009 – San Ignacio, Cockscomb Basin
Can't decipher Creole. Don't know a word in Garifuna. My Mayan is non-existent. But Spanish is spoken a fair bit. The official language is English. Don't be surprised to hear Mandarin or Cantonese or something random like Indian or Thai. Welcome to Belize.
The day we crossed the border, nothing could have come between Jo and her lamb chops. Not that I complained – I went for the lamb curry. My, we have missed our lamb! Food choices are delightful, and thankfully, they are not put on just for the tourists. Oh yes, the typical dish is still built on a base of rice and beans (or beans and rice, which IS actually prepared differently). However, options exist. And we use them! Indian another night, and it was an authentic curry made from fresh spices. In a town called Maya Centre, we stayed with a Mayan herbal doctor and her husband. She made us some Mayan dishes using many ingredients picked fresh from her herbal and medicinal garden. Those of you who know us know that we do place a great emphasis on god food in relation to enjoyment of a particular region.
We filled in our afternoon in San Ignacio with a visit to a project trying to revive the Belizean population of the endangered Green Iguana.
---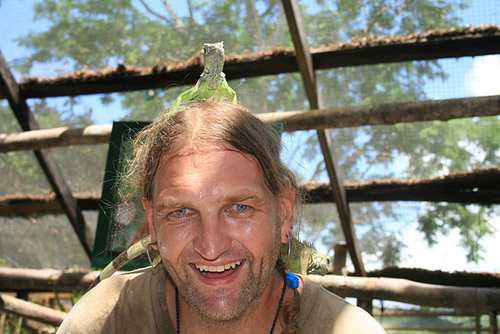 Who's Having More Fun?
Iguanas like to climb, apparently...
---
The next day, though, was the adventure. Actun Tunichil Muknal, frequently called ATM, and thankfully so, as I didn't want to have to keep stumbling through its full name. A drive of an hour and a half, followed by a wet 45 minute walk (because we had to walk through the river three times) and we were at the cave entrance. A bite of lunch, and then in to the river, to swim in to the cave, as the entrance is flooded by a pool in the river that flows out of the cave. Not a long swim, though, and then we walked upriver in the cave for a bit under an hour. Sometimes ankle deep, sometimes up to our chest, and occasionally requiring a few strokes where it was very deep. Finally, arriving at the main cavern, nicknamed the cathedral for all the beautiful formations. We were, however, not here just for the columns, stalactites and mites, flowstones and curtains and candelabras, although impressive and beautiful, we were here because it was sacred to the Mayans about a thousand years ago. And they had left behind many pots. And a few skeletons to boot.
---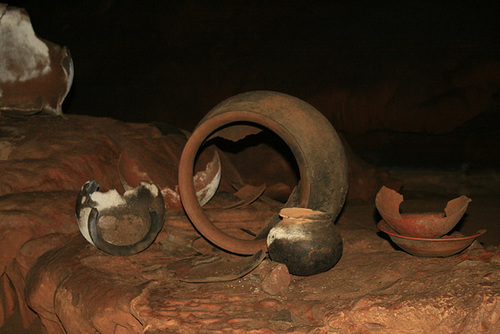 Mayan Pottery
Thousand year old pottery pieces, lying about a cave. The main cavern of Actun Tunichil Muknal is littered with hundreds of pottery pieces and thousands of fragments.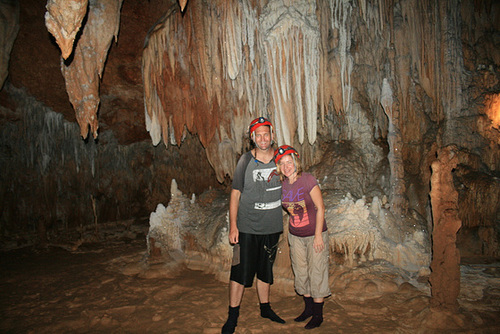 In The Cave
Some of the beautiful formations (behind us, that is), in the main cavern of Actun Tunichil Muknal. This cavern is called "The Cathedral".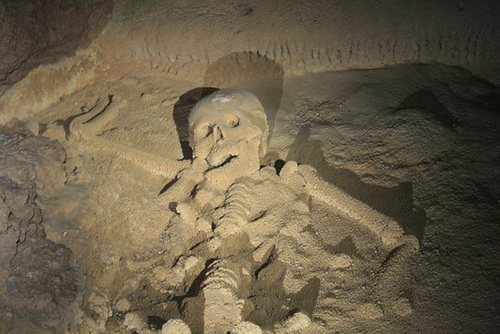 The Crystal Princess
The calcified skeleton of a teenage girl, found in the far reaches of Actun Tunichil Muknal.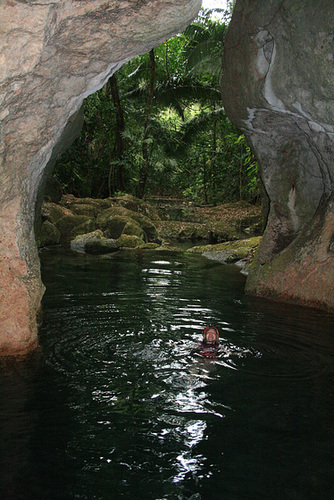 ATM Entrance
Jo swims across the pool of water that flows through the cave entrance of Actun Tunichil Muknal.
---
I mentioned the Mayan herbal doctor earlier. Good timing to stay with her, as Jo was feeling a bit of a cold coming on. So she had a consultation, and she was soon stocked up with a decongestant, a herbal tea she picked fresh, and a cream for the bites on her arm which have not settled down from many weeks ago.
We got up at 3:45 the next morning to head in to a Wildlife Sanctuary, Cockscomb Basin. Primarily created as a jaguar preserve, we knew our chances of spotting one were slim at best. We saw some claw marks, and some very fresh jaguar shit, but no felines were to be seen. We saw a lot of birds, some lizards, and a kazillion frogs.
---

A Helmeted Lizard.
Possibly Hernandez' Helmeted Lizard.



Jaguar Scratching Post
Like big domestic cats on furniture, jaguars sharpen their claws on trees. Although, it is probably more likely that domestic cats are trying to be like their bigger wild cat cousins.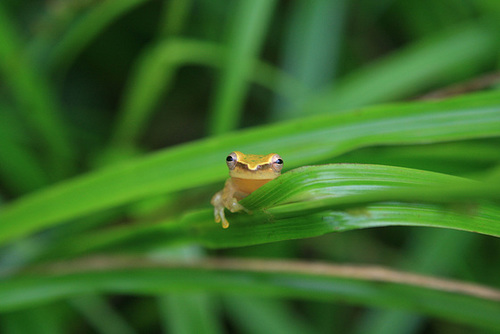 Cute Little Cricket Tree-Frog
Almost cheeky. In a "frog pond" with thousands upon thousands of frogs making a deafening roar. He was one of the few that we found that was staying still! In the full resolution, when you zoom in on his eye, you can see the reflection of trees and the horizon.



Two Frogs Having "Special Cuddles"
Cricket Tree Frogs share an intimate moment.



Large And Colourful Caterpillar
Thought I better get a finger in there for scale.
---