1 to 4 Jun, 2009 – Lago de Atitlán
Coming to Lago de Atitlán you do have to try to ignore some things. And those things are a direct result of coming here, or more correctly, not being the only people to come here. Firstly, Panajachel has the unfortunate nickname of Gringotenango, because of the huge number of foreigners. On the main street there are 300-500 metres of shops and businesses, with not one aimed at locals. Internet followed by souvenirs next to restaurant by the travel agency adjacent to internet, and so on. Secondly, there are the touts, annoying men and boys who "help" you find a boat, and then you are stuck paying the boatman more because he pays the guy a kickback. Even after telling the touts to leave us alone, they just ran ahead to the dock and waited till we arrived, falsely informing the captain that we were with them. Despite our protests, though, we were now stuck paying the higher fare. It may have got ugly had we been more insistent, so we had to make do letting them know our displeasure with the arrangement.
OK, so the negatives are there. But that's about it in the minus stakes. Panajachel, or Pana to almost everyone (thankfully), is not a bad base. Lakeside, it boasts one of the prettiest lake views around with three volcanoes (looking like two from this angle, though). We found an elevated room with a fantastic view, and for only a dollar or two more than comparable rooms in town with no view. Score!
---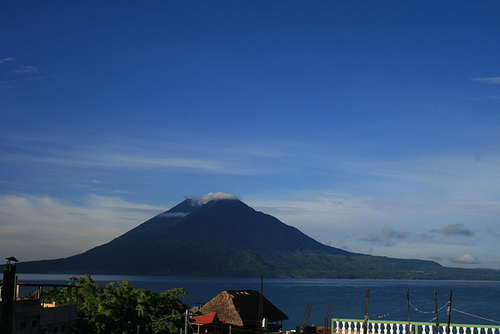 Two Volcanoes Over Lago de Atitlán
Volcán Tolimán, almost totally obscuring Volcán Atitlán. The only reason you can tell there are two volcanoes is because of the wisps of cloud floating in between. Lago de Atitlán provides the blue between us and them.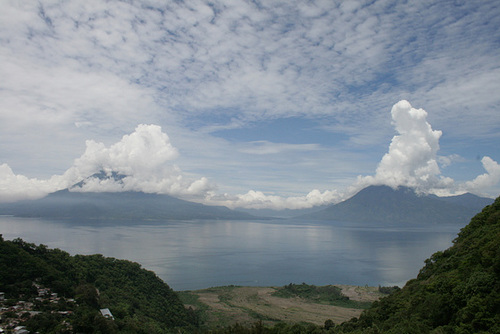 Volcanoes With Cloud Accents
After waiting hours, and patiently lining this shot up... Nah, just kidding. This was actually snapped through the window of a chicken bus careering violently down the winding road from Sololá to Panajachel on the shore of Lago de Atitlán. On the left are two volcanoes, one behind the other, Volcán Atitlán behind Volcán Tolimán. On the right is Volcán San Pedro.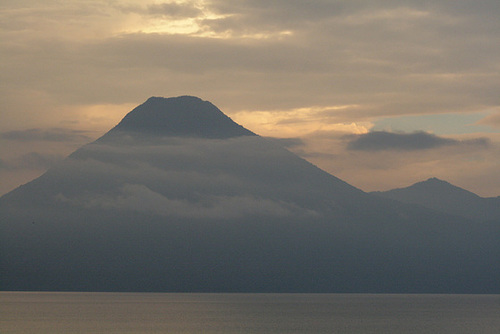 Another Mood Over The Lake
Every hour, the lake and volcanoes felt different. Partly because of the changing light, but more so because of the changing weather and clouds. This is Volcán San Pedro at sunset.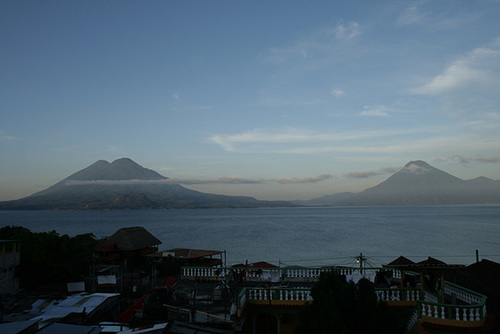 Volcanoes In The Morning
This was the view from our hotel. I set the alarm to get some photos with the early morning sun. Unfortunately, clouds on the horizon meant we never got the morning glow on the mountains. But, still beautiful, I'm sure you'll agree.
---
Colour and movement abound in Guatemalan markets. Market days are different in different towns, so it is usually easy to find one to get to. We made the Tuesday market in Sololá and had a lot of fun, despite the stress of taking photos on the sly...
---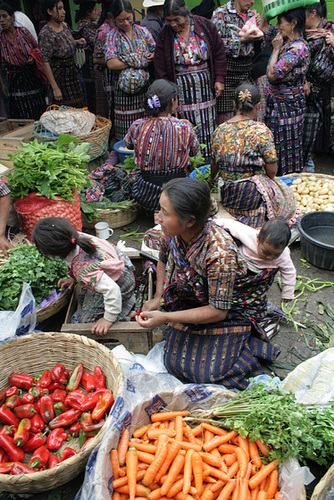 Colourful Women In The Market
Women in traditional costume in the marketplace in Sololá, close to Lago de Atitlán, Guatemala.



Indigenous Guatemalan Woman
A beautiful outfit worn with pride and dignity. Sololá market, Guatemala.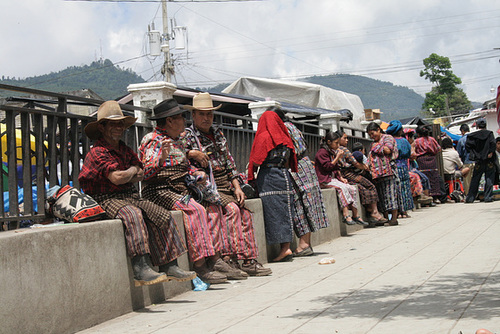 Interesting Combinations, Market Day, Sololá
The indigenous outfits are not at all based on concepts of choosing patterns which match, at least not in the Western sense. Certain patterns and designs are frequently used in trousers, while different ones are used in shirts, or wraps, or skirts. The textiles used are usually colourful, and particularly in women's shirts, often intricately hand embroidered. Although it looks a little haphazard, particularly on the men, it is rarely dishevelled or messy. Locals can tell what village a person comes from by the what they are wearing and the way it is worn or tied. This was taken on market day, when people from many villages descend on Sololá, and the differences and similarities could be spotted in the throngs.
---
Most of the lakeside villages can be reached by boat (as alluded to earlier). For some, it is the easiest way to get there, while for others it is the only way. And once you put the stress of getting on the boat and trying not to pay the inflated prices behind you, it is a great way to get around.
---

On Lago de Atitlán
A simple boat, which appears to be some planks nailed together with some water sealant squeezed into the gaps.
---
First, we headed across to the south western side of the lake to Santiago. It has an interesting church, and it is complemented by a fascinating and tragic history (including assassinations and massacres during the Guatemalan civil war). We also had to hunt down Maximón.
---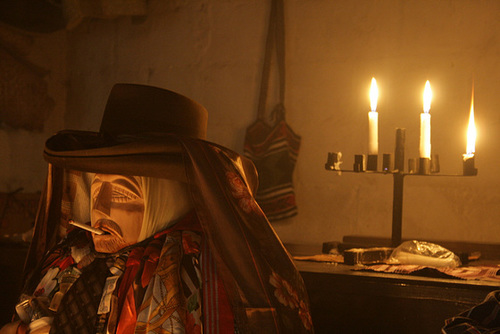 Maximón (Pronounced Mah-She-Mon)
Part god, part saint, part Catholic, part Mayan. This photo is Maximón of Santiago Atitlán, on the shore of Lago de Atitlán. There are quite a few in this corner of Guatemala. He looks different in different villages, and even goes by different names. But there are some constants. He's a bit of a chain smoker, with devotees replacing butts with a freshly lit cigarette as needed. Sometimes he even gets to have a cigar. Maximón also has a bit of an alcohol problem, whether it be expensive rum or a bottle of local firewater. It's no surprise that offerings seem to be mainly alcoholic or tobacco products. He has no permanent home. Each Easter, after festivities, another house in or around the town is chosen for Maximón to reside in for the following 12 months. Statues of more mainstream saints, and even of Christ, are kept with Maximón, and are ostensibly guards. Devotees also seem to enjoy a drink or two, and don't mind puffing on tobacco products, while chanting and making petitions to this strange character of enigmatic origin.
---
Our third lakeside stop was San Marcos La Laguna, on the north shore.
---

A Woodfired Pizza In The Chest Of An Eagle
The pizza was cooked directly on the embers inside this cute oven, made in the shape of an eagle with outstretched wings. There are seats in the wings. There were other seats, in the shapes of people or animals, with arms or wings embracing those seated. The restaurant was called Los Abrazos – The Hugs!



Aaculaax
Ombi and Alex recommended this place to stay in San Marcos. Built in harmony with the rocks, this was our bathroom. Cute, hey.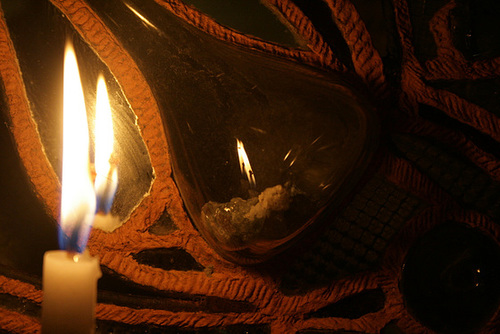 Candle Reflection
Decoration in the room at the guest house Aaculaax, San Marcos La Laguna.
---