28 May to 1 June, 2009 - Guatemala City, Antigua, and Volcán Pacaya
Our first stop in Guatemala was Guatemala City. Many people avoid it. And nothing in the guide book really inspired us. However, we went for two reasons. The first was business. Airline offices, and ticket changes. The second is a sense of, well, respect. We somehow feel that it is a bit of an injustice to skip a country's capital. Even if it is just a half day, there is usually a couple of things to see. It may be the best "something" in the country, or the biggest "another thing", but there must be a redeeming feature.
And, we did enjoy our sightseeing in Guatemala City. Some interesting street scenes, and some nice buildings, and a disappointment to find that the main thing we wanted to visit was closed due to a visit by the prime minister of Taiwan. Grrrr.
---

Iglesia de San Francisco
Church interior, Guatemala City.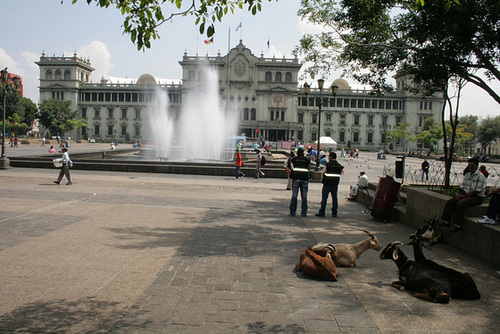 "Goatemala City" – LOL – I Crack Myself Up
Goats in Central Park, Guatemala City. This was not the only flock of goats we saw being herded around. They sell fresh goat milk, by the cup! And talk about fresh. We didn't try any, but they squeeze it straight from the goat!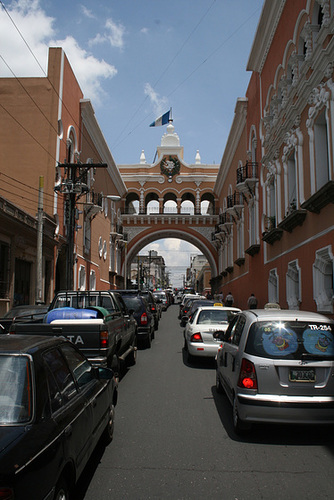 Main Post Office, Guatemala City
One of the more photographed sights of Guatemala City.
---
However, we did our business, saw our sights, and the day after arriving we headed to Antigua. First order of business - Pacaya.
We have been waiting for years for this moment. Lava. We have climbed a number of active volcanoes, and usually we see lots of smelly smoke. Ever since we first saw an active volcano, we have wondered if we would ever see lava. So, since we started planning on coming to Central America, visiting lava was a priority. And finally, we achieved it. An early departure from Antigua, a not too long and not too strenuous climb later, and we were standing next to lava. Molten lava flows, running down the side of Pacaya. In fact, we were standing on top of lava tubes, with molten lava running through them! The soles of our shoes started to melt! Oh yes, the stench was terrible when a gust of wind came from the wrong direction, but we just put up with it. It was one of the most amazing sights. And yes, we toasted sandwiches. :D
---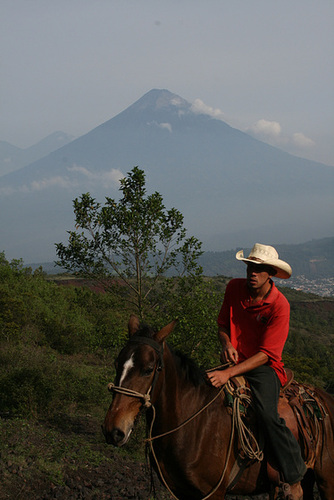 Volcán Agua
Volcán Agua, as viewed from the slopes of Volcán Pacaya.



Jo "Skis" Through Volcanic Gravel
A fun way to come down a gravelly stretch of Volcán Pacaya – Just go for it!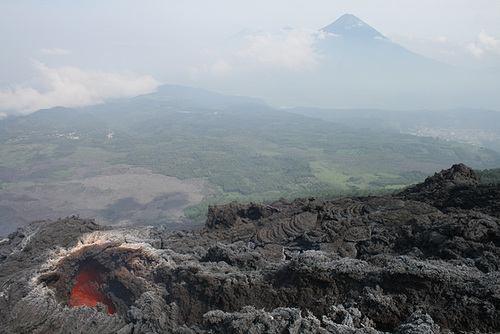 Our First View Of Lava
Volcán Agua makes a picturesque backdrop to our first glimpse of an active lava flow. The lava is flowing down the slopes of Volcán Pacaya.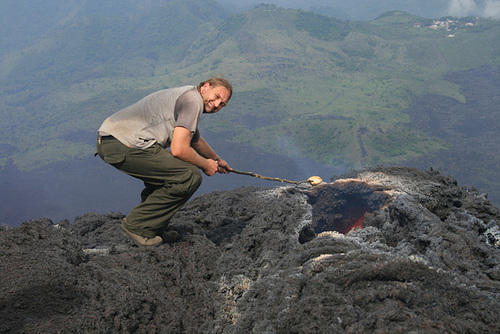 Toasted Sandwich, Anyone?
I made some toasted ham and cheese sandwiches using the heat from the flowing lava.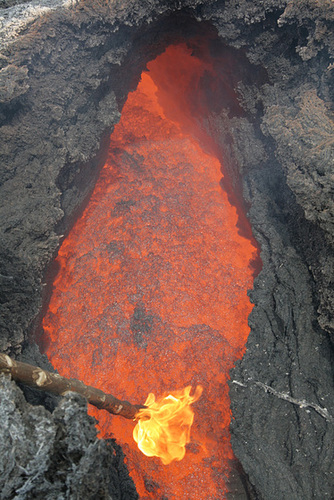 Lava Close-Up
Touching a stick to the lava, it bursts instantly to flame.
---
Back in Antigua, the main thing to do was contemplate ruins. In fact, it is a most beautiful city, with beautifully restored houses and businesses alternating with the facades of ruined (and occasionally restored) churches, monasteries, and convents. Dozens of them. Antigua was once the capital of Guatemala, and had dozens of religious buildings and institutions, and many of them built to staggering proportions. After a number of earthquakes over a few short scores of years, they finally gave up and moved the capital to its present location. The ruins were plundered for building materials, and recoverable artifacts were likewise shifted. But some stubborn people remained. And eventually, Antigua rose.
---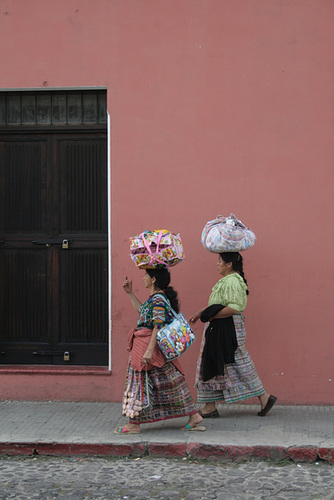 On The Streets Of Antigua
Two women in traditional dress walk down the streets of Antigua.



Looking Up In The Ruins
Some of the arches in the ruins of the Catedral de Santiago, Antigua.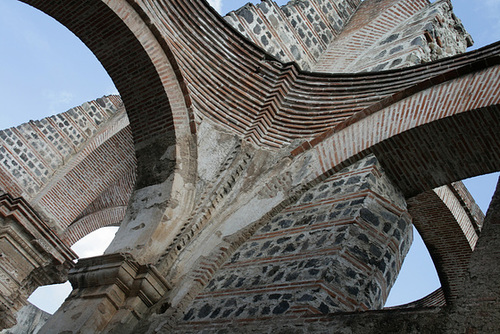 More Arches
A different angle on the arches in the ruins of the Catedral de Santiago, Antigua.



Facade Of Another Ruined Monastery
One of the many church, monastery, and convent facades in the streets of Antigua.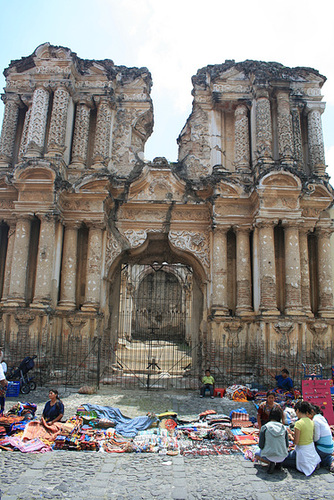 Indigenous Women Sell Their Wares
A "market" on the streets, in front of one of Antigua's many picturesque ruins.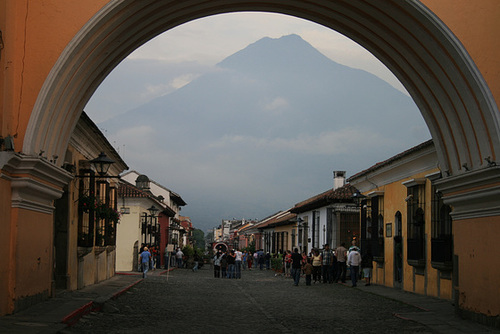 Volcán Agua Looms Over Antigua
A wonderful streetscape from Antigua, with Volcán Agua looking down at it.
---