8 to 13 Jun, 2009 - Guatemala City, Semuc Champey, and Tikal
Ambassadors Of Peace. It is now official, and we have certificates to prove it. I mentioned in an earlier blog entry how we had wanted to visit the National Palace of Culture but couldn't due to the visit by the president (prime minister?) of Taiwan. We had written it off, but after our bus debacle, we found ourselves back in Guatemala City, and doing a tour of said palace.
---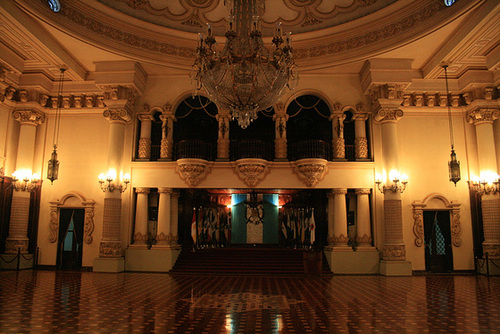 Reception Hall
The beautiful reception hall of the Palacio Nacional de la Cultura, Guatemala City. The chandelier allegedly weighs in at two tonnes!
---
One of the things that we really wanted to catch was a daily ceremony at the monument for peace, which is in one of the courtyards of the palace. This short and simple ceremony involves a military guard who takes yesterday's rose off the monument and replaces it with a fresh one. Not wanting to risk missing it, we asked a couple of people about it. Before we really knew it, Jo was asked if she would like the honour of performing the ceremony. She naturally accepted, and some minutes later was humbly carrying in a tray with a fresh rose. There was a small group of onlookers, from the general public, and we were both asked if we would like to say a few words. It was an extremely moving experience.
---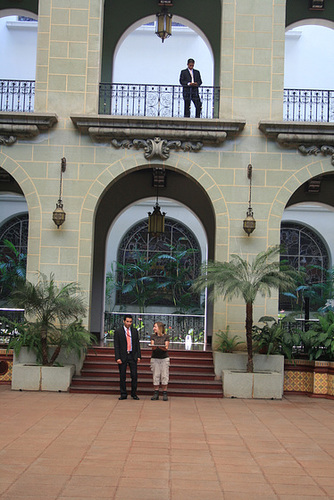 Jo Brings In The New Rose
Jo carries in a tray with a fresh rose, to be placed on the Peace Monument in Guatemala City. It was an honour for us to be chosen to perform this ceremony. It is usually performed by a guard, and sometimes by important visitors (e.g. the Dalai Lama, or visiting Heads of State), so Jo is now in some very good company. We also received certificates declaring that we are Ambassadors of Peace in Guatemala.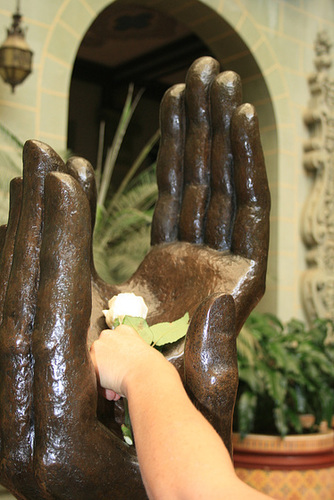 Jo Places A Fresh Rose
A fresh rose is placed on the Peace Monument in The Palacio Nacional de la Cultura, Guatemala City.
---
OK, so I've recently been talking about buses and pickups. In today's blog we'll cover minibuses and pickups. Why? Because our minibus broke down and we transferred to a truck! :D OK, so minibuses don't vary from chicken buses by a lot. They are just as slow in town, and just as fast on the road. The significant difference is that you NEVER have much room. Even if they are only half full, you still have your knees around your ears. Even more-so if you have to sit on the folding seat, and then are expected to squeeze four on to the three seats. The assistant still has similar functions, but he spends more time hanging precariously out of the open door, and sometimes that's the only space left for him. Trucks are a new domain. Adult male dominated, they are usually taking workmen to or from town, and may make room for others, but that is just bonus income for the driver. They are generally not so crowded – most men just sit up on the sides, while others sprawl out on the floor. These trucks are about the slowest way to get from A to B.
Yes, our minibus died. Upon hearing awful sounds from the wheel, we pulled over. Twenty minutes later, there was a mess. The wheel mount was completely disassembled, with tools and parts spread all around the poor driver, who couldn't undo a few nuts and bolts due to poor tools. A truck appeared, going our way, so we bailed on the poor guy, and thanked him, while he needlessly apologised. Jo got offered a seat in the front of the truck, while I was expected to find my own space in the rear. I must say, I was rather surprised that Jo was so comfortable with hopping in to a truck with over 30 men. She must have been OK with it due to my being there to keep an eye on the situation.
---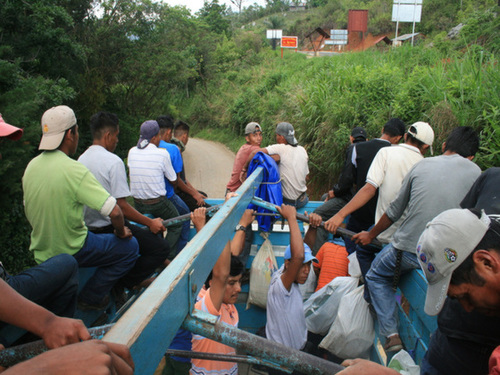 First Class Travel
Well, only class travel. A few stay in the truck, the rest ride on the walls. With transport, sometimes beggars can't be choosers, but they just have to make the best with what comes along.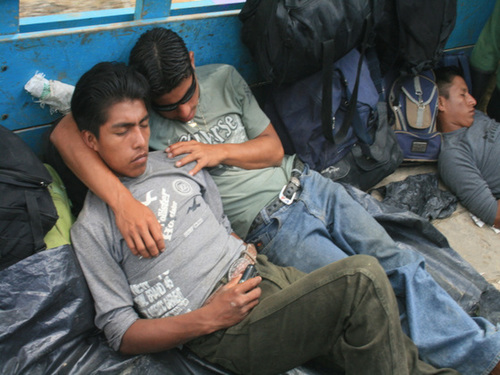 Good Friends
Good friends, or at least we hope so. If you can't find something comfortable to sleep on, find someone comfortable.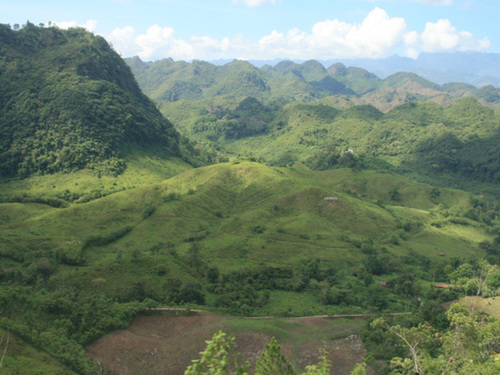 Scenery En-Route
Taken while riding on a truck to Lanquín.
---
Semuc Champey is a series of beautiful pools formed in limestone, connected by little waterfalls. Most are swimmable, and all are picturesque. There were lots of little fish that enjoyed our company, or at least enjoyed us. They swam around, darting in to bite at the hairs on my arms, legs, and chest. They even took little nips at Jo (who is not hairy, I should point out). I think they were eating flecks of dead skin, sort of like a natural fish exfoliation.
---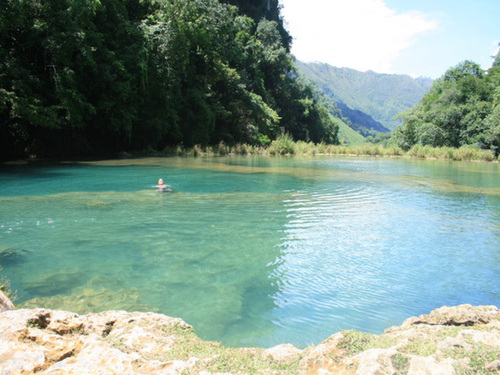 Swimming At Semuc Champey
Swimming in one of the numerous turquoise pools at Semuc Champey.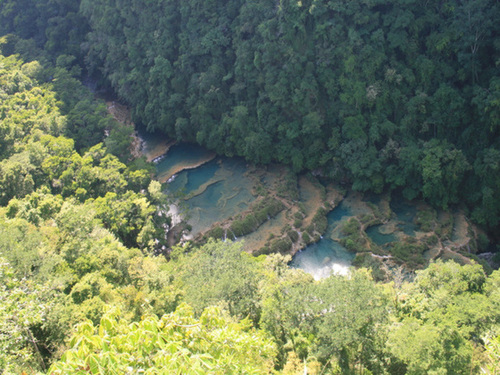 Semuc Champey, From The Mirador
This is the postcard angle. It took about 15 to 20 minutes to climb from the pools to this breathtaking viewpoint.
---
Fish were not the only wildlife encounter. A long green snake caused quite a stir and became the centre of attention for a while.
---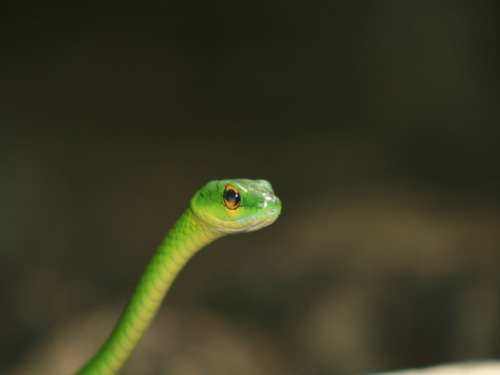 Snake, Posing
OK, the debate is raging. We were told on site that this was a poisonous snake, either a viper or a vine snake. Later, someone who seems to know a lot about snakes identified this as a parrot snake, which he said was not venomous, but was "all show". He seemed to be the most knowledgeable, so we'll stick with that for the moment. This beautiful creature was certainly quite the showman, and quite a long beast, too, approaching two metres in length. He stuck his head up and remained in a strike pose, for a few minutes, then quickly shimmied somewhere else, where he would go back in to his defensive (or offensive) posture. Then down again, under some branches, and his head would just pop out from somewhere unexpected. This he managed to keep up for about 15 minutes. All the while, we kept a healthy distance, especially when we saw just how quickly he was capable of moving when he wanted to.
---
After a horribly long trip of multiple buses, we arrive in Flores, in the north of Guatemala. This is the base for trips to the magnificent Mayan ruins of Tikal.
---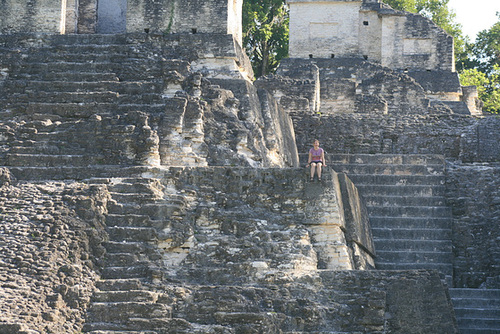 Jo, Dwarfed
Some of the imposing structures at Tikal.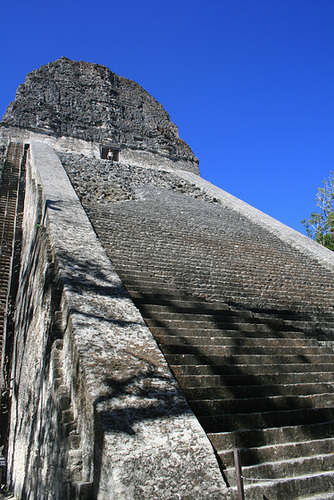 Watch That First Step, It's A Doozy!
They're steep, and they're hard. Steps up to the top of one of the Mayan temples in Tikal. You really don't want to miss your footing!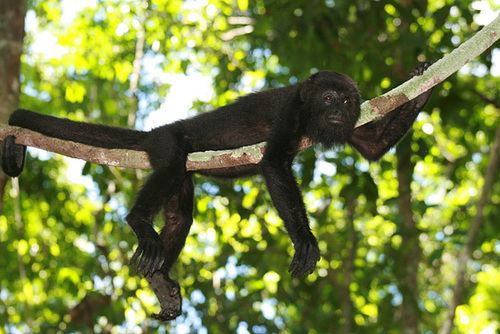 Lazy
This black howler monkey came down to check us out. The ruins of Tikal are still in thick jungle, with very little vegetation cleared. The wildlife around the temples was a highlight.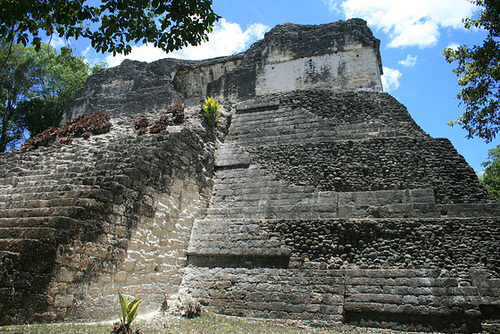 A Picturesque Mayan Temple
One of the outer temples of Tikal.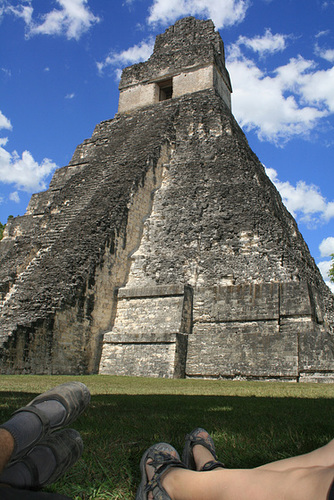 Temple I
Relaxing in the Great Plaza of Tikal.
---