15 to 18 May, 2009 – Copán and Gracias, Honduras
Copán. One of the principal Mayan sites, but especially known for its beautiful sculptures. Really, there's not a lot to say, I'll let the photos speak. Note the lack of crowds – the reward for early risers.
---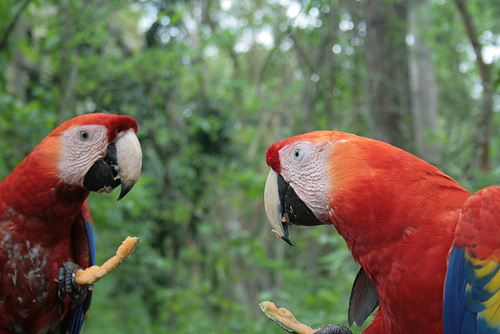 Conversing Over Morning Tea
A pair of scarlet macaws stuff themselves on snacks left out by rangers at the Copán Ruins.



"I'm The King Of The Castle"
Jo imagines herself to be a Mayan ruler looking down at her imaginary loyal subjects. We were early in the Copán ruins site, and had most of it to ourselves for much of the time.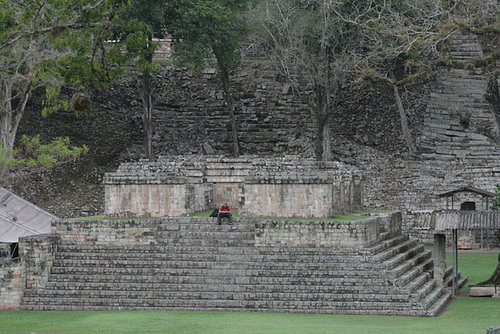 It's Nice To Have Your Own Mayan Temple
Doing some background reading atop a Mayan temple at Copán. Again, being early has benefits of uncrowded enjoyment.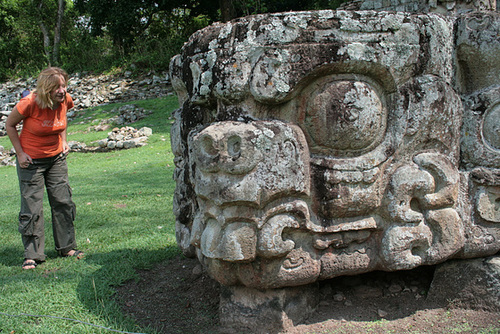 Jo Eyeballs A Rain God
A rather large altar to Chac, the Mayan god of rain. According to ancient Mayans, it rains when Chac sneezes. Euwwww!!!!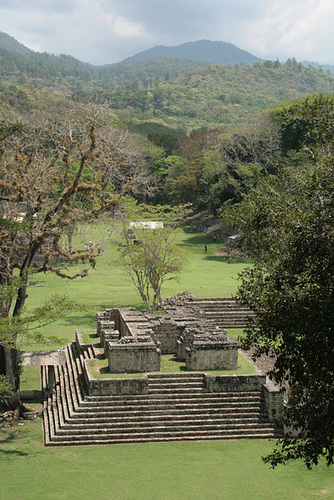 Copán's Great Plaza
Beautiful views down from the highest structures over the Great Plaza and ball court of Copán.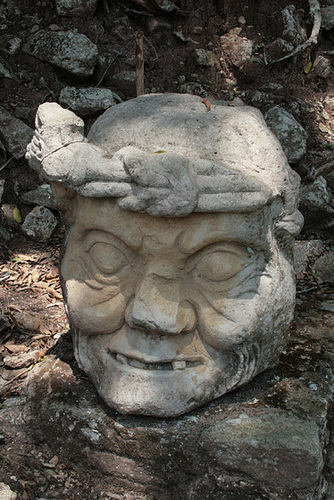 The Old Man Of Copán
One of the fantastic Mayan sculptures found at Copán.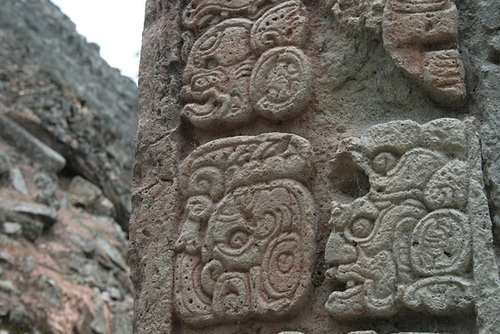 Glyphs
Mayan glyphs from one of the statues, with a pyramid behind.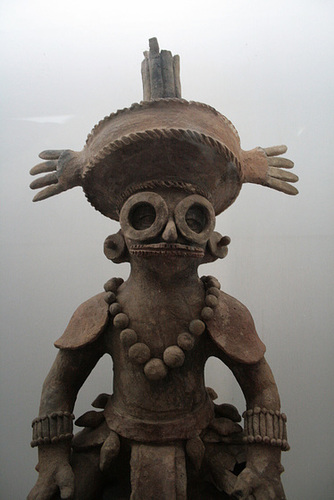 A Funky Mayan Ruler
Some clay statues were found of various rulers. This one, I believe he may have been the first, seems to have been a bit of a card, really. I think the hat may have come out when he was drinking with the boys. And as for the Elton John glasses...
---
I would like to add that the term "whinging Pom" certainly springs to mind when you start talking to somebody and they spend 15 minutes telling you why this is not as good as others, why they don't like certain things about town, how some people shouldn't do certain things, etc, etc. When she finally stopped for a breath, I excused myself. Negative people can be such downers. Jo had somehow manage to slip away after about 30 seconds – It was a while before I even realised she had gone and left me as this pessimist's sole listener.
Our last stop for Honduras was in the beautifully named town of Gracias. At the bus station, we were a little distraught at having made such a large detour for what initially appeared to be a rather unappealing town. However, a few blocks away we started to find the charm. Quaint street scenes, a couple of colonial gems, and one of the best meals we have had in Central America. Lenca food. The woman who cooked it described her passion for good food, and how she had received the recipes from her grandmother. The movie "Like Water For Chocolate" sprang to mind!
---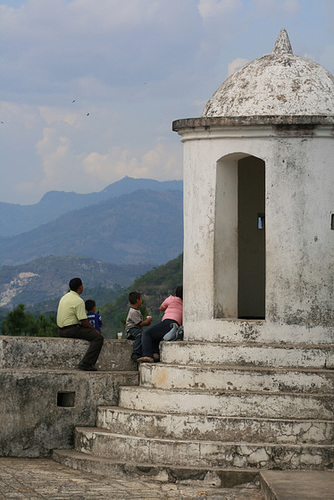 Looking Out
A family on the walls of the fort above Gracias.



Our New Friend, Nancy
Nancy, an exuberant and amicable local girl, enjoys the view from a fort overlooking the Colonial town of Gracias.



Iglesia de Las Mercedes
Beautiful colonial church in Gracias.
---
The fort overlooking town was really a nice spot, but it was made great by the fact that it was Sunday and scores of locals were enjoying the place, too. Some fantastic people watching was to be had.