7 to 15 May, 2009 – La Ceiba, Bay Islands, Cuero Y Salado, Cayos Cochinos
ma
La Ceiba is Honduras' third largest city, and it has very few tourist sights. However, it is a stone's throw from quite a few worthwhile things.
First time through, we headed out to Utila, one of the Bay Islands. Really, we had only one aim. We wanted to snorkel with whale sharks. Whale sharks are the largest fish in the sea, up to 17 or 18 metres, I believe (although I did read reports of occasional monsters of 20 metres). They are also extremely docile sharks, and very approachable, mainly eating plankton. So we fitted up with snorkelling gear, and headed out. Unfortunately, the wind really picked up, making it impossible for the spotters to see the tell-tale signs of a possible whale shark. Also, the wind turned the water surface in to a choppy mess, making snorkelling difficult, and possibly dangerous for the boat to pick us up if we did go in the water. So, it soon became apparent that we were going to have to call the trip off, which we did, heading to a reef for some standard snorkelling amongst the corals.
---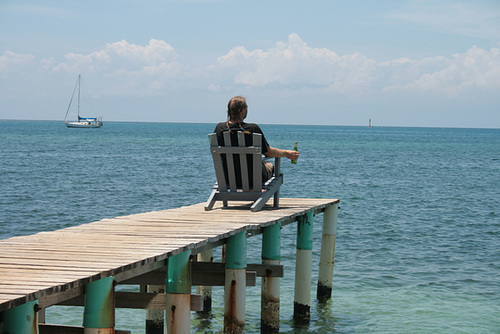 Life's Tough, Hey
Our "private" jetty, Utila, Bay Islands.
---
Due to the absence of a scheduled public boat between Utila and Roatán, we had to take the ferry back to La Ceiba, and then out to the second of the Bay Islands. Fantastic snorkelling! We bought a disposable underwater camera – you know the old fashioned type with a film which we have to go and get developed at some point. Can't wait!
---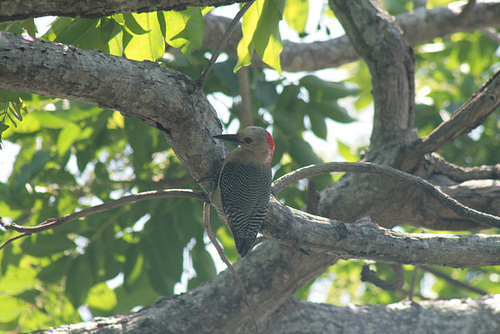 Woodpecker
Outside our room.



Caribbean Island Beach
West Bay, on the island Roatán, Bay Islands.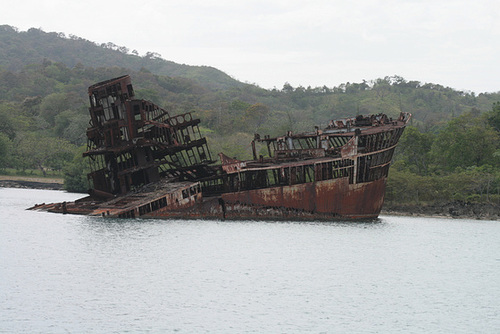 Rusting Wreck
One of a couple of wrecks in the main harbour of Roatán.
---
After a few days, we decided it was time for a break from beaches. So, back to La Ceiba (are you counting?, that's 3) and out to a nearby wildlife reserve. Getting in and out was part of the fun. After taking a bus, we had to board the "trencito". This is a little train (well, a pair, as we had to change after a few kilometres due to track maintenance work) that winds through banana and coconut plantations. It has been running for 90 odd years (the service – the little trains themselves were a fraction newer), and the wonks and warps in the tracks did not seem to bother anyone. Every now and then we would hit a serious kink which would send the carriages into a wobble for a few dozen metres.
---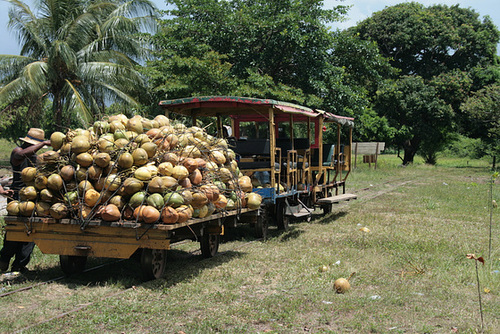 Trencito
The little train that accesses the wildlife reserve, working its way through banana and coconut plantations. The track has been in use for 90 odd years, and still operates largely for its original purpose of transporting produce.
---
At the end of the line is a small village, and the entrance to the park. We camped, and we went out into the reserve on canoes.
---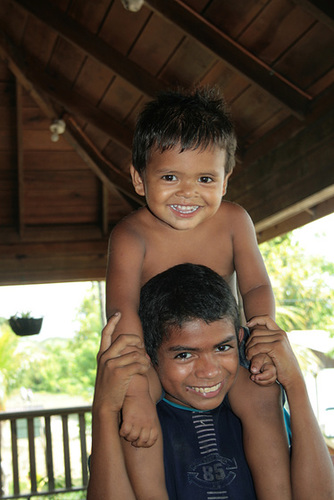 Cousins
Two boys from the Garífuna village near the park.
---
We saw many birds. We saw lizards. And we saw what we dreamt of seeing, but could never have counted on. A manatee. One of the more elusive creatures that we have gone looking for a number of occasions. It was quite a way off, at first, just munching away on some plants growing on the surface. We were able to watch it for about a minute, floating quietly closer and closer. But suddenly, it saw (or heard) us, and with an almighty splash, it was gone.
---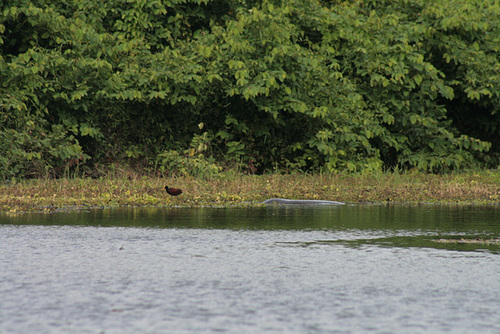 It's A Manatee!
Really, it is! The photo is not great, but it reminds us. We actually saw it quite well, munching away at the surface vegetation. When it saw us, it left with a big splash. Oh, btw, a manatee is sort-of a sea-cow, well sort-of. A mammal, weighing up to 600kg, looking like a very rotund seal.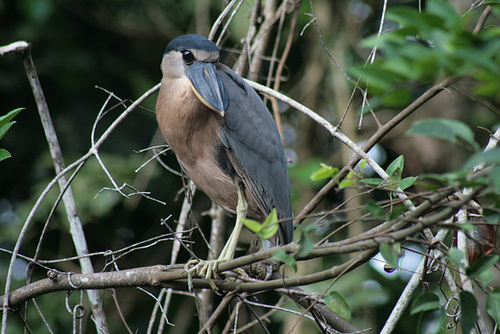 Boat-Billed Heron
A gorgeous heron watches us warily as we glide by in a canoe.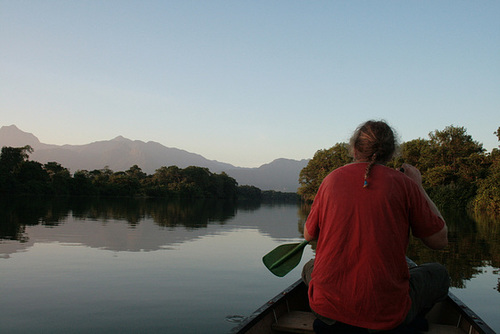 Heading Across The Mirror Trail
We canoed up a section of river known as the mirror trail. With good reason.



Basilisk
A different sort to the ones we saw in Costa Rica (brown instead of green). However, still with that distinctive head.
---
We spent one night in the park, making two trips out on to the water. And then we returned to La Ceiba for the fourth time, en-route to a small group of pristine islands called Cayos Cochinos.
This coming weekend is a big one on the La Ceiba calendar, with one of the biggest festivals in Central America due on Saturday. This whole week is a build up, with mini carnivals in various barrios of the city. So, we headed out to one. It was so cute, like a giant street party. Our only complaint was that there was not a lot of eating variety. Lots of people selling the same things, over and over again.
We decided to make our snorkellng trip on Cayos Cochinos just a day trip. And it was a magnificent day, well worth the early start and longish travel time. The snorkelling was first rate, and we met some great people, and the islands were very picturesque. The boat trips out and back were adventures in their own right, though. Out, we headed in to the wind. We slapped the oncoming waves hard and fast, jarring our bodies a number of times. Coming back, was "smoother", although the boat struggled in some of the bigger swells, sometimes almost being swamped. And we got soooo wet on that return trip!
---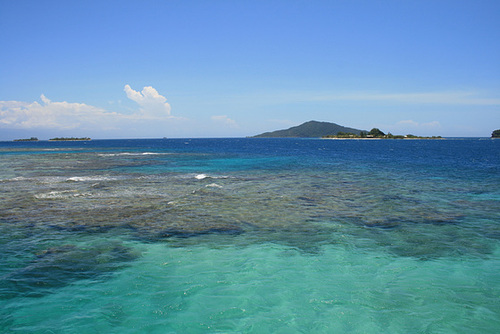 Such Great Snorkelling
An idyllic scene at Cayos Cochinos, off the Caribbean coast of Honduras.
---
And finally, through La Ceiba once more. That's five times, but who's counting!