30 Apr to 2 May, 2009 – León, and surrounds
León. It's sort-of like Granada, without make-up. But that doesn't mean it is less pretty – well, maybe to some. To us, it means the beauty is somewhat more authentic. It shows that the paint job is not always necessary.
One advantage of visiting the less flashy city is that the crowds tend to skip it. Granada feels like it exists for the tourists, and the hordes do fill the restaurants and shops close to the centre. León just feels like a beautiful city full of Nicaraguans, and a handful of tourists.
---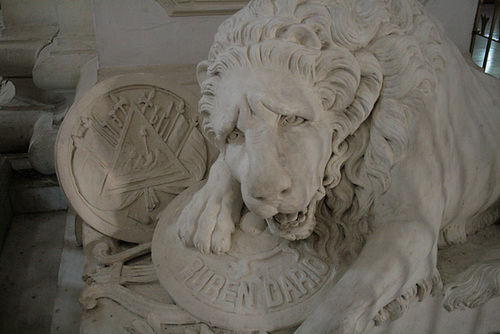 Tomb of Ruben Dario
The fantastic tomb of Nicaraguan (and more specifically, Leonese) poet, Ruben Dario. Inside the magnificent cathedral of Leon.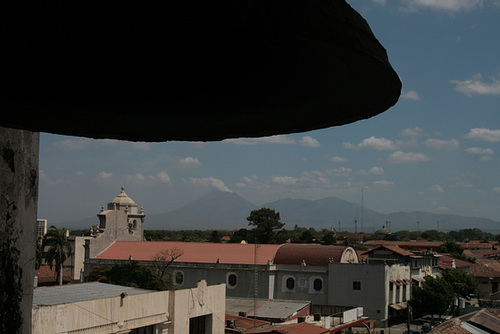 Active Volcano View From Cathedral
Some of the eleven volcanoes that can be seen from the roof of the Leon Cathedral. Not all of them smoke, and those that do, billow more on some days than others.



View Of Leon And Momotombo
Momotombo looming in the distance beyond the Leonese rooftops.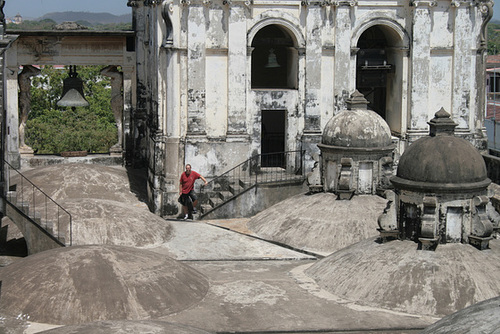 "Up On The Roof"
Exploring the roof of the Leon Cathedral.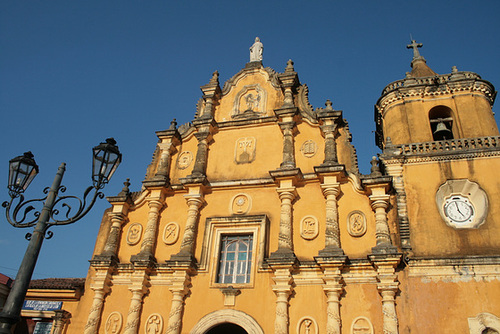 The Mexican Styled Iglesia De La Recolección
The beautiful facade of the Iglesia De La Recolección in Leon.
---
There were small trips to nearby towns, and an ex-town. León Viejo was abandoned after Volcán Momotombo decided to wake up and spew ash and lava all over it. The highlights of our visit there, though, were the birds, not the ruins!
---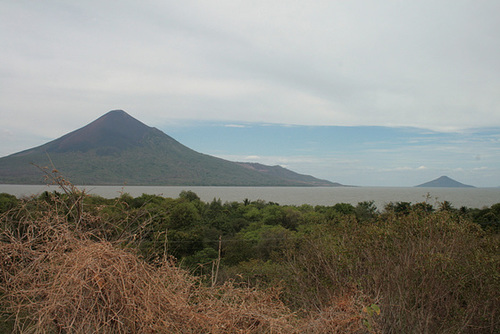 Father And Son
The fantastically named Momotombo Volcano, and the island baby that he produced, Momotombito. Viewed from León Viejo.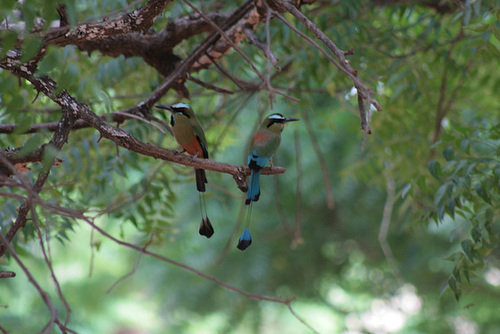 A Pair Of Spectacular Mot-Mots.
Or at least I think they are Mot-Mots, if anyone can confirm or reject this. We have been led to believe this bird is the national bird of Nicaragua.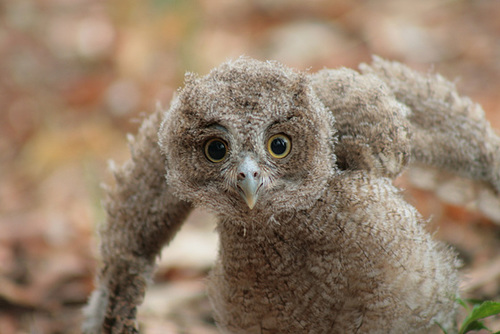 Baby Owl
This baby owl had fallen from the tree. It was trying very hard to be scarey.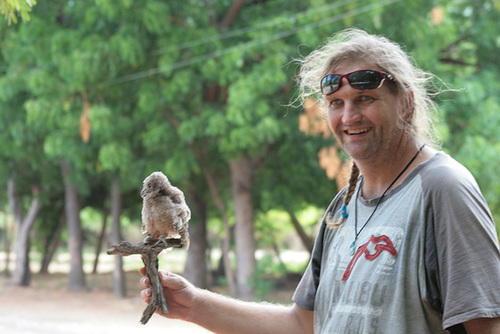 The Rescue
After working at the wildlife rescue centre, maybe it has all gone to my head. Anyway, the poor baby owl was just sitting on the ground, minding its own business, trying to remain inconspicuous until night, and other birds starting swooping down and attacking it, pecking at its head. Well, maybe that is just nature, but we just couldn't bear to see them attacking such a defenceless young thing. At first, we just sort of guarded him, but of course, that was only going to be temporary. With some assistance, but without handling him, we managed to get it to grip on to the little branch, and then we put him in the closest tree. Hopefully, mum found him, although he didn't seem to far from being self-sufficient. In any case, being off the ground and close to the trunk of the tree, we hope we gave him a chance.
---