2 to 5 May, 2009 – Matagalpa and Surrounds, Nicaragua
We have spent a fair bit longer in Nicaragua than we would have thought, at first. I believe we could have spent longer, but feeling that it was time to keep moving, we have skimmed through a few sights that we may ordinarily have made more effort with.
However, there were a few things we were tempted to skip that we ended up going to. And two of those ended up being well worth the efforts involved. Both near Matagalpa, and both art related, but in such different ways.
First, there were the Petroglyphs, near Chagüitillo, a few kilometres out of town. Local youths are available to take visitors hiking to visit them. Normally, only one is included, but we got quite an entourage! The petroglyphs were a highlight, perhaps amongst the best we have ever seen.
---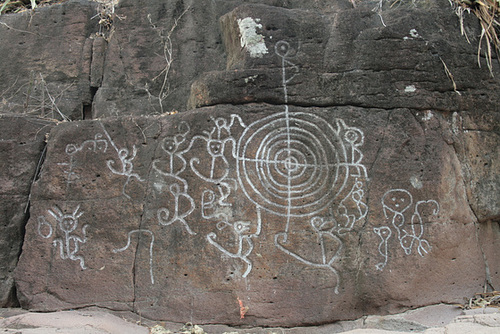 Petroglyphs
Some sort of calendar (at least, that's the theory) amongst the petroglyphs near Chagüitillo close to Matagalpa.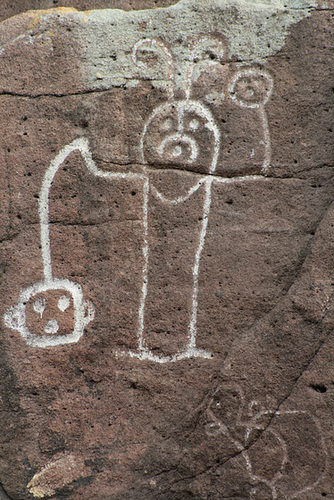 Looking Cheery Holding Two Decapitated Heads
What happened appears to be accurately portrayed. The reason for the beheadings is a little more unclear.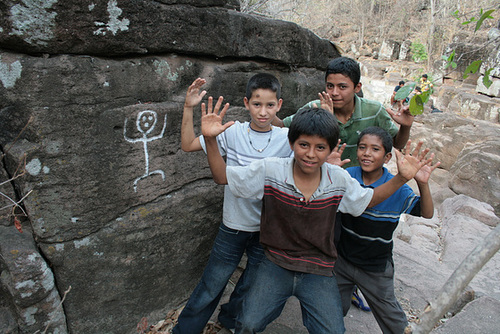 Sundry Guides Bring A Petroglyph To Life
We hired a muchacho to take us to the petroglyphs near Chagüitillo, close to Matagalpa. Being a Sunday afternoon, a half dozen bored youths decided to tag along. Four of them tried to recreate how the model for this petroglyph may have been standing.
---
And finally, the church in San Rafael Del Norte, which is closed on Mondays. Enquiries led us to a house where a lady emerged with a huge bunch of keys. Luckily, as we were not really going to wait around for a day, even if there was a very Australian connection with the church.
---

Church Interior, San Rafael del Norte
The inside of Templo Parroquial de San Rafael Arcángel, in San Rafael. The murals were painted by an Australian artist, John Fuchs Holl, in the late 1960's.
---