18 to 23 May, 2009 – La Palma, San Salvador, and around Perquín, El Salvador
We crossed from Honduras in to a northern town of El Salvador. A relaxed border, with a cursory passport check, and no stamp. We crossed with Emma. We had met Emma two buses earlier, when she approached us to clarify where exactly we would be deposited in relation to the border. What separates Emma from the average backpacker we encounter was her age. I'm guessing she was in her 70's, or maybe she just looks a little older than she is because she had two strokes last year and now gets about with the aid of a wheeled frame. Upon arrival at the border, they passed her frame down, and she hung two bags from the handles. A small day pack was slung on her back, and off we set. She shunned the offer of a rickshaw like transport, and we walked through to the El Salvadorian bus stop, about one kilometre away. She has travelled down from Mexico and is heading to Costa Rica. "I might have another stroke, but if I do, I would rather be dong something I love than sitting at home." We think her family may have had one or two since she told them her plans! We think she's an inspiration!
La Palma was our first stop. A small town with a few colonial buildings, but these were not our reason for coming. We came for the folk art. We thought we would have to seek the artesanía shops to find it. And while there were plenty of shops, and they were full of examples of the style this town is known for, these were not the only places. On the main streets, practically every building was decorated. Either with the basic style, or some evolution of it. Lamp posts, too, and rubbish bins. Mosaics on benches and walls. Even shapes and pictures drawn in the concrete. It was a great town, other than the fact that we couldn't find a proper dinner. Two places offered us the same meal the had listed as breakfast – beans, plantains, scrambled eggs, and corn tortillas!
---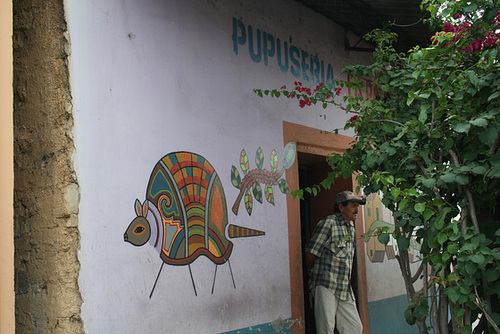 Armadillo
Wall art in La Plama, El Salvador.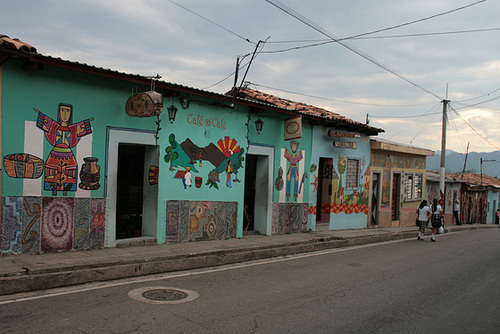 Folk Art Everywhere
On the main streets, and on the lamp posts, barely a surface is left undecorated. La Palma, El Salvador.



Main Square, La Palma
Mosaics too, not just paintings.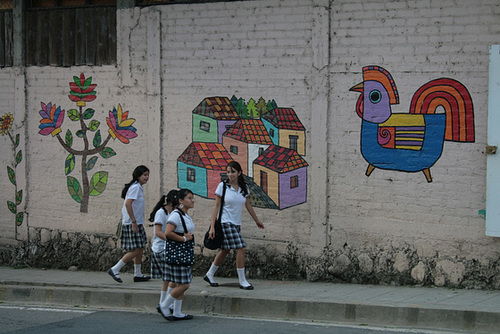 The Basic Style
There are variations, but these paintings show the basic style that this town is known for. Many people have learnt the style, and now, a good proportion of the population make a living from it.
---
In San Salvador, we got in to the civil war memories of the country. First, an enlightening museum for some martyred priests, including Cardinal Romero, who is now considered a Saint by many Salvadoreños. He was killed by a gunman while giving mass. He had frequently spoken out against the government, and paid with his life. Nearly ten years later, six priests and their housemaid and her daughter were found murdered in a building in the university complex. The museum was built on the site of that building (which had been set alight after the murder).
In one of the parks, there was a very moving memorial to the 30,000 or so Salvadoreños who had either been killed or gone missing during the ten year war and the repression leading up to it. And not far away, the "Museum of Words and Images" has some temporary and permanent displays. Generally, they deal with aspects of the war.
---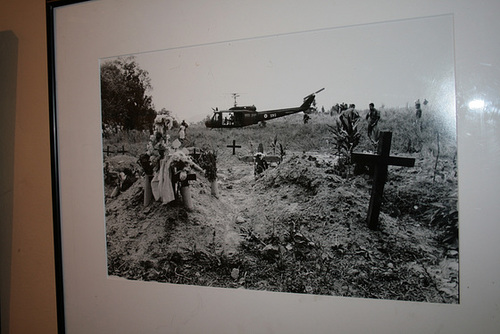 Civil War Photo
One of the many images that are displayed in museums and memorials. This is recent memory for Salvadoreños, and we need to keep in mind that most of the people we meet have lived through this horrific page of their history.
---
Needless to say, we found these sights to be emotionally draining. We were able to break it all up a bit by interspersing some more traditional visits. Some churches and plazas, and a fabulous museum of popular art.
---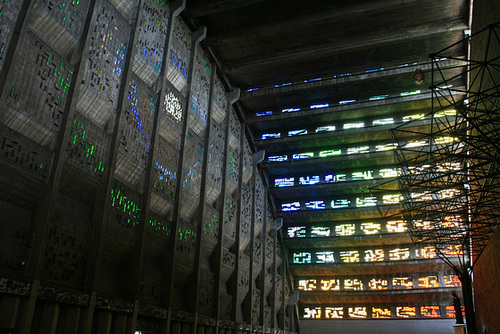 Industrial Art Styled Church
The hangar-like interior of Iglesia El Rosario, San Salvador.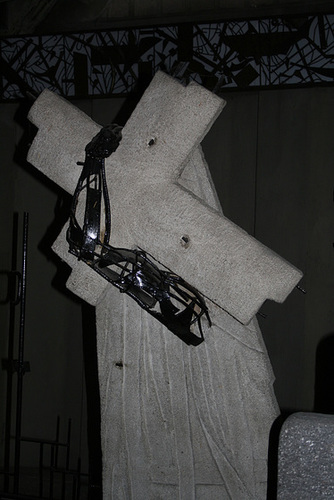 Concrete And Steel
Wonderful representation of Christ with the cross.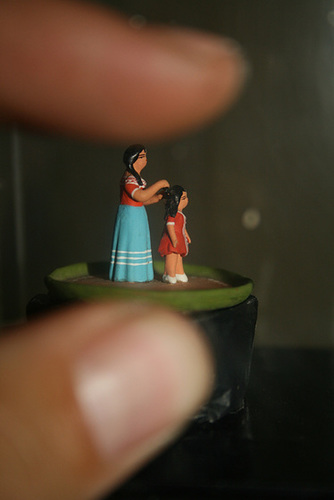 Una Sorpresa
Amazingly detailed tiny figures, hidden inside a ceramic egg.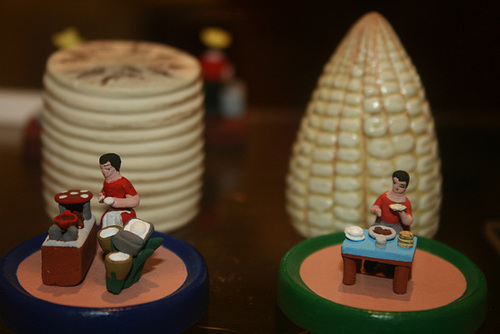 More Sorpresas
More tiny figures, and the tiny "eggs" (which are obviously not eggs in this case) that enclose them.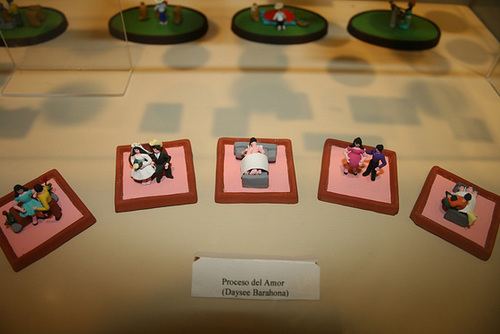 The Cycle Of Life
Courtship, Marriage, Sex, Pregnancy, and Children. Represented in tiny miniatures and intricate detail.
---
In the northeast, in the mountains, especially around a town called Perquín, the revolutionary movement was strong. The underground rebel radio station broadcast from here, and there were many bloody confrontations.
---

Remains Of A Chopper
A helicopter that was downed with a booby trap.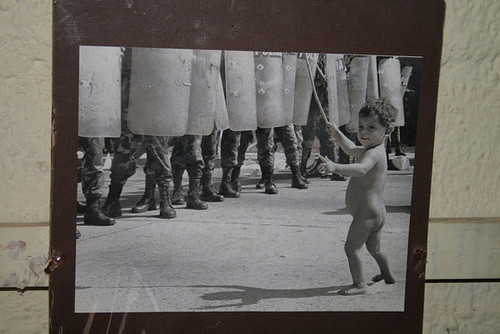 Naked Innocence
Another powerful civil war image.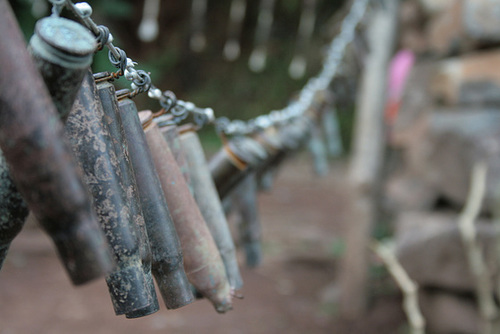 Fence
A fence in Perquín, decorated with spent shells.
---
There were many massacres during the war years. One of the worst occurred near Perquín, at a village called El Mozote. Having received assurances from a local military leader that the town would be safe, many people came to it for refuge. On December 11 1981, the military came in. Over 3 days, the butchered and tortured them all. At least 767 people. A group of children were locked in the church and machine gunned through the windows. The youngest identified victim that we saw noted on a plaque was 2 days old. The government and the U.S. administration of the day denied that it happened, despite evidence being presented. Ten years later, exhumations and forensic analysis at the site identified just how bad the event really had been.
---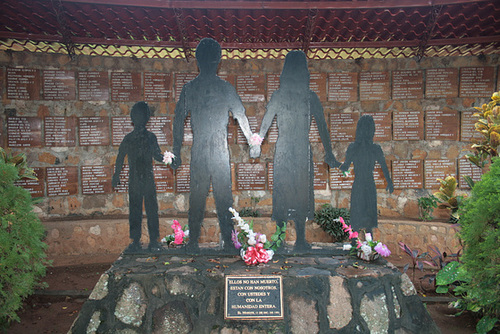 Massacre Memorial
El Mozote, the site of a 1981 massacre of the entire town's population, and more from the surrounding areas. In 3 days, at least 767 people were tortured and killed, men, women, and children. The youngest we saw listed amonst the names was 2 days old./small>



Shattered
A broken mirror in the garden memorial to children killed in the El Mozote massacre.



Hope
One of the images in the El Mozote children's memorial garden.
---
Needless to say, this was another emotionally draining day.