25 to 29 Apr, 2009 – Corn Islands
A smallish plane, 35-40 seats or so, whisked us from Managua to the Corn Islands, stopping for 10 minutes or so en-route at the town of Bluefields. It may have been the more expensive option, but the land and ferry option was going to be a drawn out affair, requiring co-ordination with a once a week fast-ferry passenger connection or the 10 hour cargo boat. On top of this, we had heard some stories of cancelled boats and rough seas. So, we flew. And we now know what a good choice that was! Last week's boat was cancelled, causing people to either have to wait for the cargo boat or try and get a last minute seat on the flight. Those who waited for the other boat described sitting up the whole night, without being given information, waiting for the 20 hour delayed departure of the boat. Then, there was the horror crossing, with people being sick, and many even fearful, as the boat was tossed around. Oh yes, we were thankful we had chosen to fly!
We transferred straight from the airport on Big Corn Island to the roadless Little Corn Island, found ourselves a great stretch of white sand beach with some cabins, and had some days of nothing. Or close to, anyway. We walked to "The Village" a few times, mainly to eat. $8 lobster in garlic butter is pretty hard to beat! For lunch, we snacked on freshly baked coconut or cinnamon bread – sold by kids walking the beaches with baskets on their arms.
---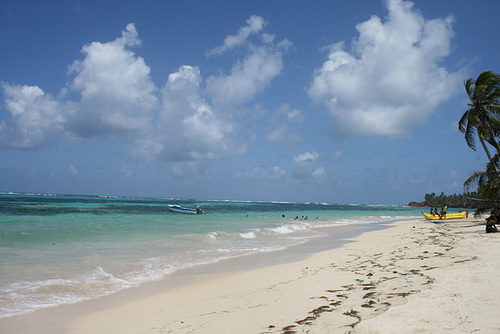 Our Little Beach
The stretch of beach in front of the cabins where we stayed. Little Corn Island.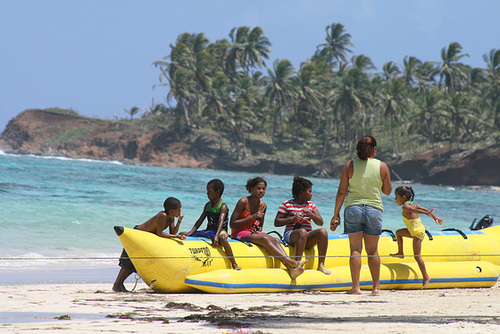 Locals At The Beach
It really is nice that locals still use the beaches. We often fear that these places might only have foreigners using them, but thankfully, that was not the case here.



View Up The Coast
A great little spot above a rocky headland, with good coffee and a marvellous view. This view takes in almost the complete length of the island.
---
And of course, we swam. A couple of times a day, straight in to those beautifully warm Caribbean waters... Mmmmm... On the last day, we went out snorkelling. A guy in a boat took us to some reefs, quite a way out from shore, maybe 500 metres or more, where we swam with eaglerays, sharks, stingrays, and all manner of brightly coloured fish, living amongst huge and bright coral formations. We may have felt waterlogged, afterwards, having spent nearly three hours out there, but we dried out in some hammocks. Making you jealous?! Oh, sorry! ;)
---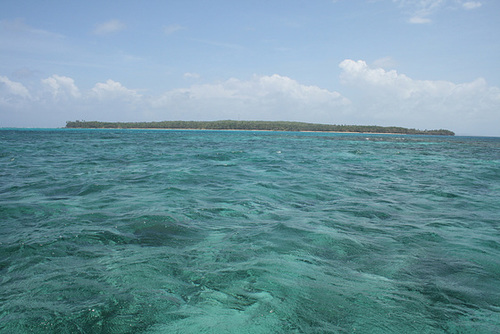 Looking Back At Little Corn
This was where we snorkelled, at a reef, with Little Corn Island in the distance.



Now, That's What You Call Aqua!
Looking over the idyllic waters to the northern beaches of Little Corn Island.
---
The return flight was in a much smaller 12 seater that felt all the bumps and vibrations much worse.
---

Should The Pilot Really Cover His Window?
OK, it was sunny and very bright. And OK, we were in level flight. And OK, it was only the co-pilot. But still, one does not like to know that there is a shade in the windscreen of one's plane!
---