5 to 7 May, 2009 – Danlí and Tegucigalpa
Not far from the border with Nicaragua is Honduras' premier cigar area. Growing high quality tobacco, Cuban emigrants in the 50's and 60's put this corner of the world on the map with fine hand-rolled cigars. We visited two of the factories. One known for its size, employing 2000 or more workers, an operation on a large scale exporting tobacco in many forms and qualities. The other, a much smaller operation, producing cigars only, in 19 different sizes.
---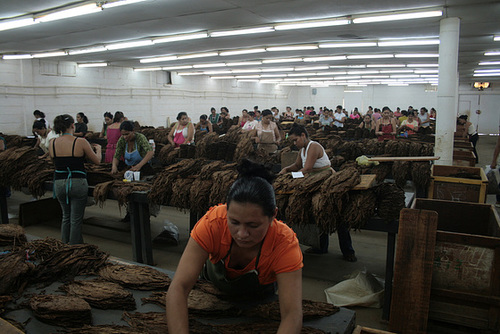 Sorting Dried Tobacco Leaves
Honduran cigars are world renowned as being amongst the finest available. The Plasencia Tobacco factory is reputed to be the largest factory. Over 2000 people are employed here. The workers here are sorting and grading dried leaves. Some are destined to be exported as-is (i.e. as dried leaves), while the rest are sent to other areas to be hand rolled in to cigars. The dried leaves are amazingly durable, and far less brittle than we imagined. They are very fine, and have a texture not dissimilar to silk. This workplace must take a toll on worker's health, as we found the environment to be quite overwhelming – you can feel the odour in your chest, like fumes. We both had trouble stifling coughs and sneezes.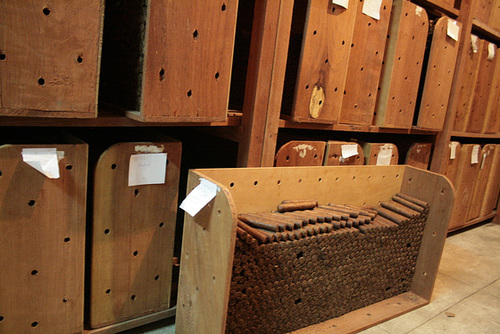 Cigars Aging
Cigars go in to storage (environmentally controlled, of course) for quite a few years, depending on the style. Four years was a figure quoted, but many racks we passed were dated 6 or 7 years ago. This was the Puros Aliados factory, rolling some of the finest (and strongest) cigars in the world.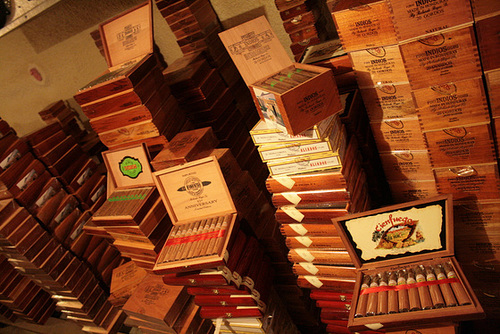 Boxed Cigars
Packaged and ready for export.
---
Tegucigalpa is the capital of Honduras. How many of you knew that 5 seconds ago? (Don't worry, we have only just managed to memorise it!) We stayed downtown, close to the heart. With not too many real sights, a day was sufficient, but a couple of surprises made it a worthwhile stop. A couple of the squares were pleasant, with some nice churches. The National Gallery of Art was a highlight.
Most memorable sight, though, goes to the restaurant toilet that has been turned in to a shrine for the patron saint of Central America. In the 1980's, the small wooden statue of La Virgen de Suyapa was stolen. Less than 24 hours later, it was found on the floor of the men's room at this restaurant. The plumbing has been removed, the cubicle is decorated with pictures of the statue, and the walls are covered in newspaper articles covering the theft and recovery. Oh, and they do a pretty good fillet mignon!
---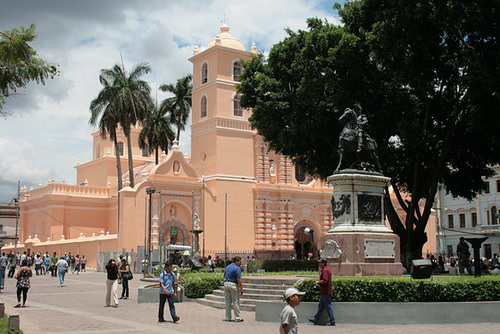 Plaza Morazán
The parque central (aka Plaza Morazán) of Tegucigalpa, with a statue of Morazán in the middle and the cathedral behind. Clouds add a touch of drama to the picture.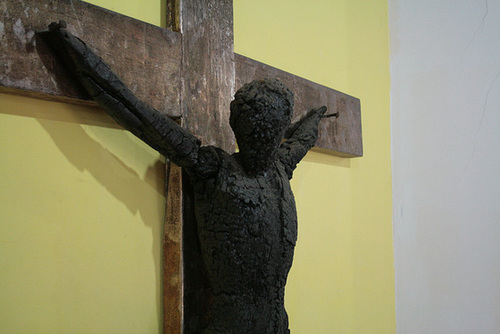 Stirring Remains
The charcoal remnants of an old statue of Christ, after an altar caught fire from a falling candle. We found this to be a particularly evocative image, now housed in the National Gallery of Art, Tegucigalpa.
---