27 December, 2016 to 1 January, 2017 - Koror - (Palau)
Sunsets from planes. Yes, cliched, but looking so good at times.
---

Descending
On our final approach in to a transit stop at Manila.

---
OK, I am going to begin with a whinge, and get it over with. We do understand that there is a need to charge some sort of fee for entering the rock islands area of Palau. Let's call it a National Park entry fee, a visitor permit, or whatever. At $50 U.S., we thought it steep. Although valid for 10 days, it hurts the wallet for those of us only going in for one day. OK, so we paid it, and moved on, because that's the way it is. Then, it was a rude shock when we had to pay another $50 to leave the country, called an environmental protection tax, or something similar. Had us leaving the country with a bit of a bad aftertaste.
Speaking of aftertaste, we think it is important to try local foods, particularly if they vary from the norm of what we would get in Australia. Sometimes, it takes a lot of guts to order something. Usually, it doesn't quite marry up with our expectations, whether better, worse, or just different.
---

Tastes Like Chicken
We ordered fruit bat soup, not quite expecting to find a whole fruit bat in the bowl of broth. After posing for a picture, the boiled bat was taken to the kitchen, fully prepared, and returned for consumption. And yes, really, it did taste a lot like chicken.

---
The first two days here, we did next to nothing. We went for a few swims, and we ate and drank.
We did make quite an entrance, one evening. We went to a restaurant, were enthusiastically welcomed, and gestures indicated we could sit round the side, at some waterfront seats. On the way, we had to step around the person singing and playing his keyboard. On the way, we had to stop over the cord for the entertainer. On the way, we tripped over an extension cord. On the way, we killed the entertainment.
---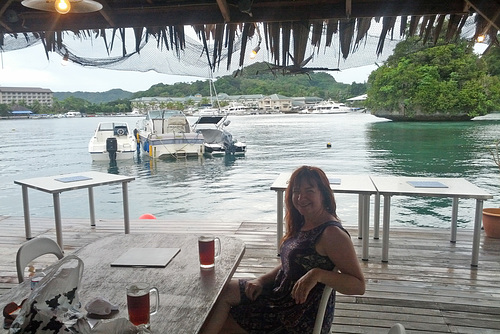 Waterfront Happy Hour
Koror, Palau.

---
Eventually, we had to do something other than sit around. We were here, afterall, for the water wonders of Palau. Unfortunately, the famous jellyfish lake is currently not worth visiting. Jellyfish numbers apparently have dwindled, and the site is under serious threat. So, we went kayaking and snorkelling in the rock islands.
---

Islands
Islands in Nikko Bay, Palau.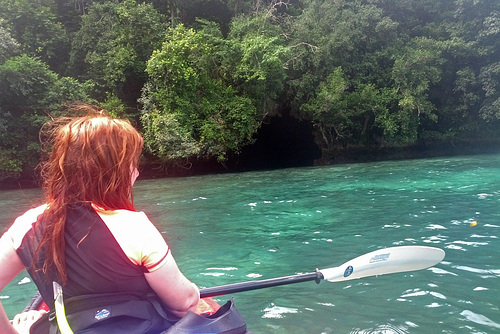 Kayaking
Approach to Cathedral Cave.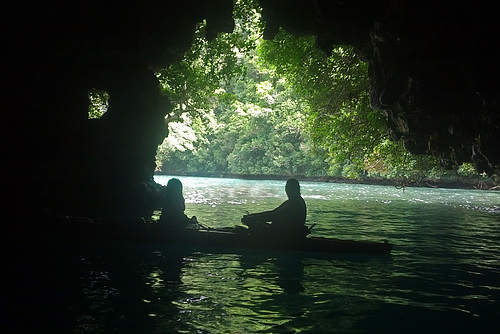 Cathedral Cave
View from the inside.



Magnificent Fan Corals
Corals in the World Heritage listed lagoon of Palau.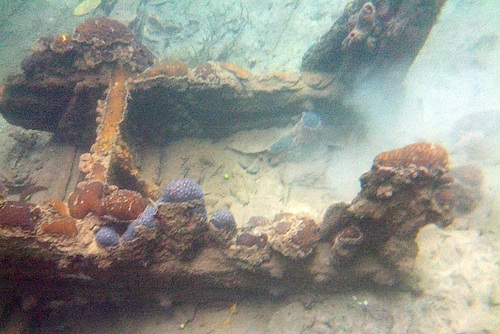 World War II Wreck
The remains of a Japanese cargo ship, sunk by an American air attack during World War II.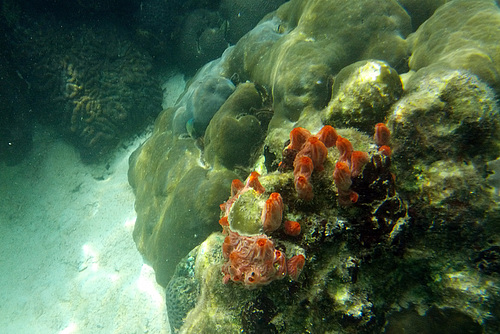 Coral Formation
We snorkelled through a tunnel and in to a shallow salt water lake filled with a huge variety of corals and fish.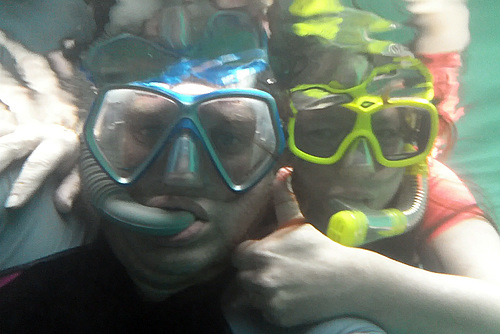 Underwater Selfie
Didn't even use a selfie-stick.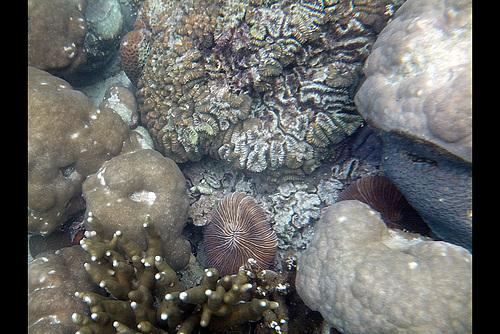 More Coral Formations
Didn't even use a selfie-stick.

---
A nice dinner for New Years, another lazy day, and then it's time to move on from Palau.
---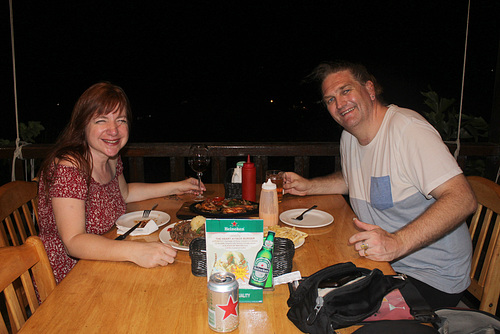 NYE
Sizzling prawns and a mountain of sirloin and a view over Koror. Happy New Year.

---