2 to 5 January, 2017 - Tamuning - (Guam)
Bleary eyed, we arrived at the poshly named "Tamuning Plaza Hotel". We had only talked to them the night before, on the phone, to ensure we would have a room waiting when we arrived at the ungodly hour of 5:45. It seems our room had been given away. Miscommunication led the night manager to treat us as an unconfirmed booking. So now, he found another room on the list where the bookers had not arrived, and he gave that one to us. Chances are, an hour later, he was going to be repeating the process when those people turned up! Not our problem, at least we had a bed to crawl in to.
While snorkelling at Gun Beach, we heard a plane flying low overhead, on its final approach. I had to look up and see what it was. Jo says that's just being a boy. I knew where we were swimming had us under the flight path for the air force base. We had already seen a few fighters to confirm my orientation. But this was a shape I had only seen in books and on the web. The distinctive shape of a B-1 bomber, swing wings at their widest for landing, and the signature four jet exhausts, side by side in a row under the body. I was a little thrilled.
---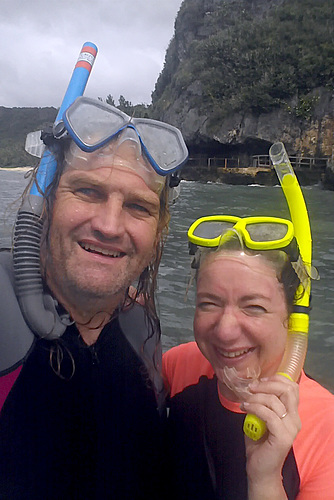 Snorkelling, Gun Beach
Gun Beach, near Tumon, Guam.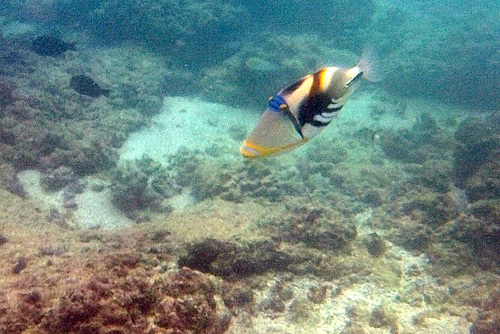 Picasso Triggerfish, Gun Beach
We saw heaps of these "80's" fish - too much blue eye shadow.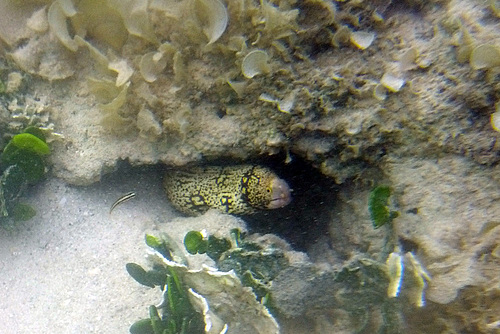 Snowflake Moray Eel
A very shy thing. We watched him for about 10 minutes, and he certainly got an impression that he was quite long. We could watch his body sliding around through an opening, Unfortunately, he was way too aware of us to come out. Taken at Piti Bomb Holes, Guam.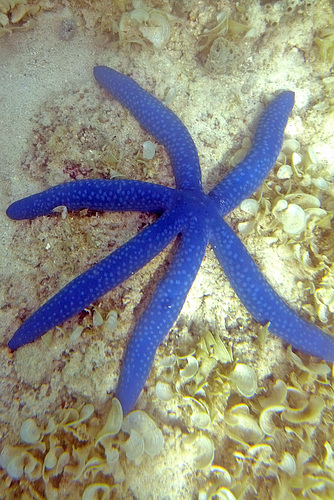 A Sea Star with Six Arms
Sea stars have a great ability to regenerate lost limbs. But this ability also leads to occasional abnormalities. This blue sea star (common name, and I'm not joking, Blue Starfish, scientific name Linckia Laevigata) has an extra arm. Taken at Piti Bomb Holes, Guam.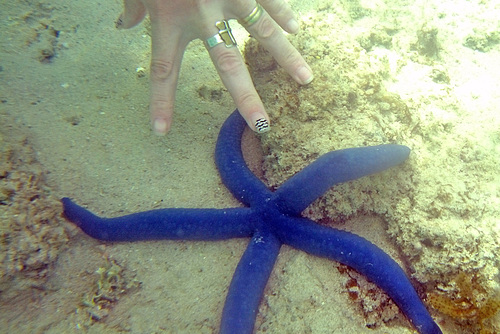 Hand for Scale
A regular, five armed Blue Starfish. Piti Bomb Holes.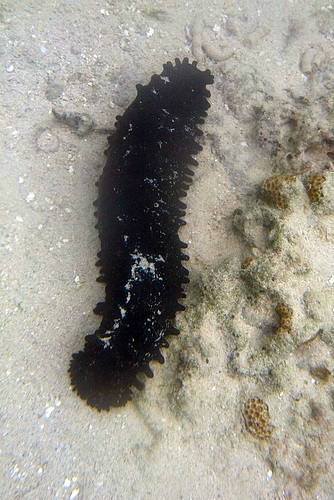 Black Knobby Sea Cucumber
There were loads of sea cucumbers at Piti Bomb Holes, but this was the only one we saw of this variety.

---
Four days with a hire car on a perfect size island for driving around. We could easily have filled in one more day, assuming the great weather continued. We would have visited one or two more beaches, done one or two more snorkelling outings, but all in all, we left satisfied with what we did.
---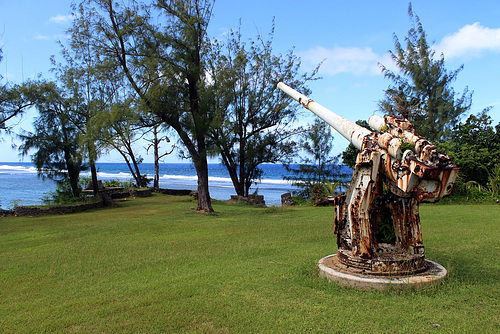 Defensive Cannon
Guam, and World War II. The island is defined in so many ways by what happened in just a few years in the 1940's.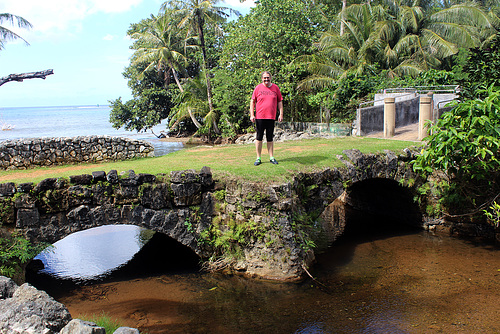 Spanish Bridge
A reminder of early colonialism, western Guam.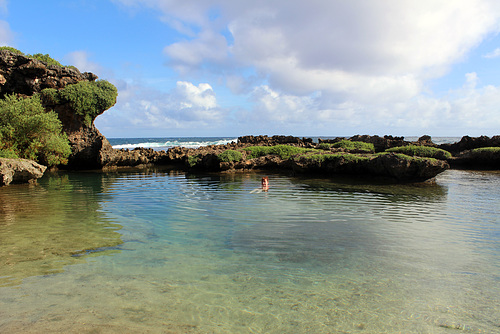 Swimming, Inarajan Natural Pools
Enjoying the wonderfully beautiful natural pools at Inarajan. Waves crash over the rocks and the water can't get back out to sea via the same path. The water flows through a series of scenic pools of varied depth before returning to the ocean a hundred metres or more further along the coast.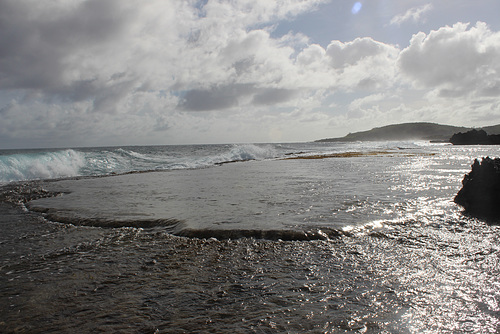 Water Flowing In
After the wave crashes on the rocks, the water begins its flow over the rocks, into the Inarajan Natural Pools.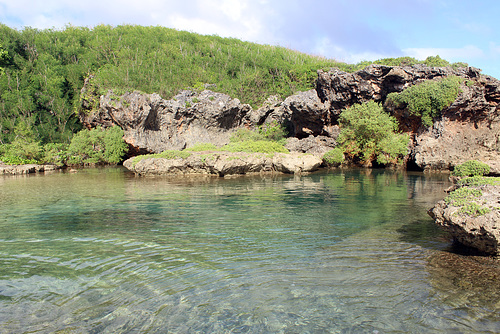 One of the Inarajan Natural Pools
Such a beautiful place to swim.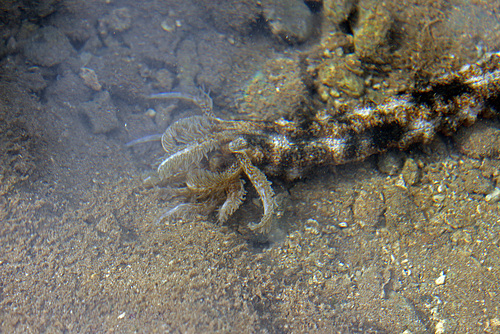 Synaptid Sea Cucumber
We watched this wonderful creature for quite some time. Using its feathery tentacles, it shovelled sand in to its mouth, extending itself, growing longer and longer, eventually retracting to a shorter bunched up shape and starting again.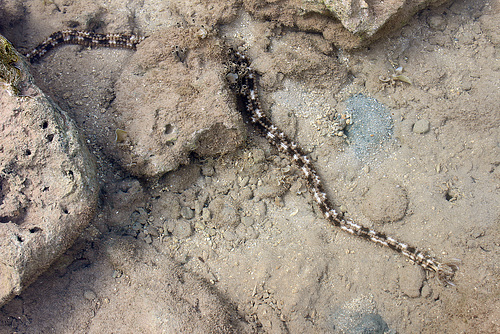 Synaptid Sea Cucumber
This wonderfully enchanting sea cucumber, Inarajan Natural Pools, was more than a metre long.

---