3 to 9 July, 2016 - Gifu, Magome, Tsumago, Tokyo, Nikko, Mt Fuji - (Japan)
Oh, I do hate myself for finding amusement in the Japanese accent. They are, after all, speaking way more English than I am speaking Japanese. But when the "Toirets are in the lear carriage", when you "cannot use frash when taking photos", and you are flying on "Qantas fright 26", then it is hard to keep a straight face.
One thing that had interested me some years ago was when I first heard about the ancient Japanese practice of cormorant fishing - where cormorants are used by the fisherman to get the fish! Well, it wasn't far out of our way, so we ended up spending a night in Gifu to witness the fascinating practice.
---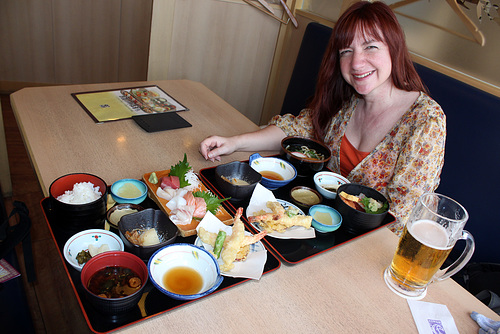 A Quick Bite at Gifu Station
Sashimi and tempura platter.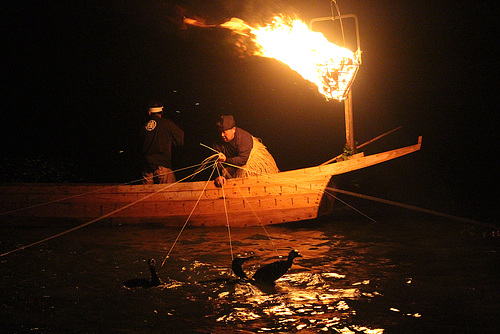 Cormorant Fishing
At Gifu, we went to see the 1300 year old practice of cormorant fishing. The master fishers, of which there are 6 in Gifu, own the cormorants. Each boat has a master fisher and 2 crew. They hang iron lanterns with blazing fires out the front of the boats, and the 10-12 cormorants dive for fish. The small ones, they swallow, the ones which are too big are regurgitated and collected by the master. It is fascinating to watch, and the fires make it a real spectacle.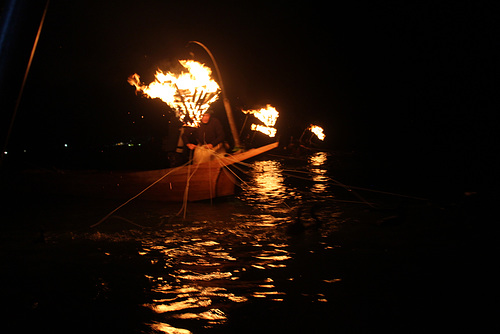 Cormorant Fishing
All the boats working together in a line to herd the fish.

---
Being a quick trip, we couldn't allocate too much time to any one thing. Doing a short hike between two villages, though, did get us a small taste of some of the nature that Japan has. What's more, it was a perfect opportunity to experience a ryokan, a super traditional Japanese accommodation.
---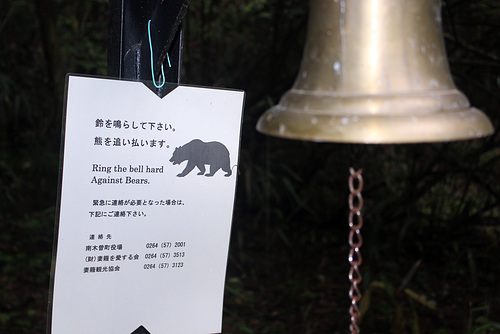 The Dinner Bell
We wondered if ringing the bell would get the bears salivating "Pavlov's Dogs" style in anticipation of a nice meal of "mountain trekker with seasonal vegetables".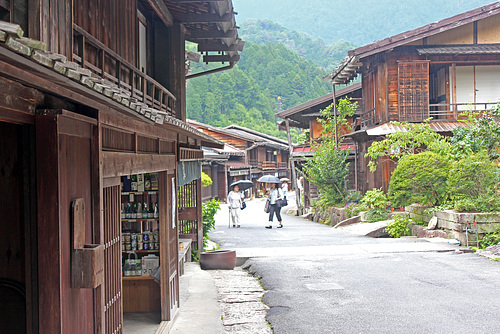 Tsumago
The beautiful mountain village of Tsumago. This ancient post town is apparently oft used in Japanese movies and television shows. It is on a long mountain trail, which we hiked a small section of.


Ryokan Fujioto - Tsumago
Click on photo to change focus and perspective.



Just One of Ten Courses
We stayed in a ryokan in Tsumago. A ryokan is a traditional Japanese accommodation. Like inns and hotels, they can vary in quality, but generally they are very high class and make you feel special. The best ones also offer some of the best dining in Japan. We had 10 impeccable courses.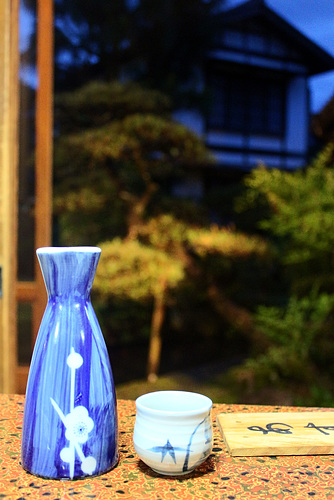 Hot Sake
To round off the meal, a few shots of hot sake.

---
One thing we are having trouble with is the tendency of Japanese maps to not necessarily put north at the top. Particularly on signs with maps where the norm seems to line the map up with the orientation of the sign. It is not wrong, just different. And it surprised me how hard it is to change one's thinking. More than once, we nearly headed off in the wrong direction after assuming the wrong thing...
The last four nights we spent in Tokyo, making day trips or wandering in the city.
Day trip one - world heritage site of Tosho-gu at Nikko.
---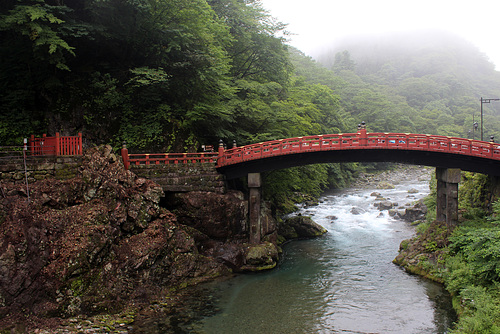 Shin-kyo
A footbridge in Nikko - where some dude was carried over the river by a pair of serpents.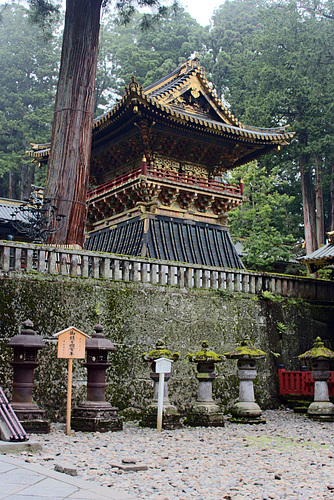 Bell Tower of Tosho-gu
World heritage site in Nikko, near Tokyo.


Toshu-gu - Nikko
Click on photo to change focus and perspective.


Toshu-gu - Nikko
Click on photo to change focus and perspective.

---
Back in Tokyo, we seemed to spend a large amount of our time eating and drinking. We found one particularly authentic bar near the hotel which we frequented a few times. Ordering drinks was straightforward, but food was a bit more challenging. Even when we gestured at some skewers of meat that looked quite nice, they seemed skeptical that we would be wanting them. Eventually, one began charades, pointing at his brain, his heart, and his bum. We decided it may not be the perfect delicacy we were anticipating.
But never fear, it would be hard to go hungry in Japan.
---

"Crams" in Sake
One of the little places near our hotel.

---
Our second last day was "Tokyo super-kitsch". Focusing on Harajuka and neighbouring areas, we got to see and experience some of the Tokyo's most bizarre.
---

Electronic Pets
She was very contented playing with her robot dog and cat.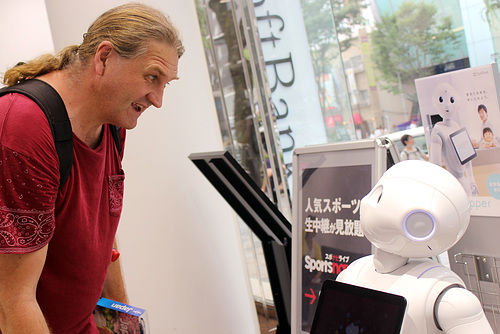 Richard Making a Friend
Trying to work out if Pepper the robot understands any English. Pepper responded to our Konichiwa, but seemed to get disinterested when I tried some English.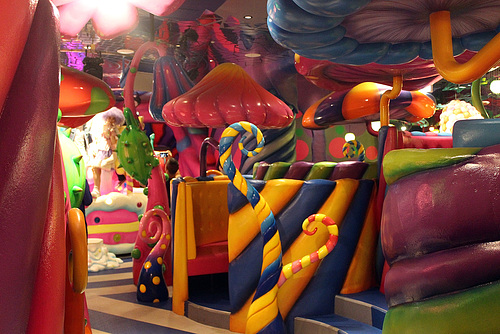 Monster Cafe Wonderland
Some of the tables around the bizarre "Monster Cafe".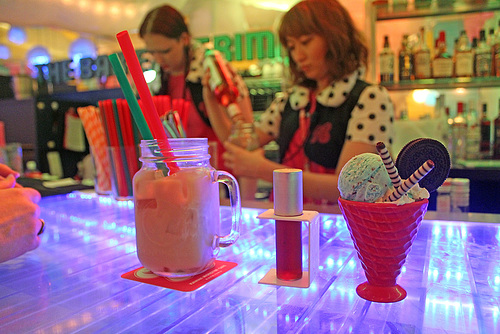 Drinks and Icecream, Monster Style
At the bar of the Tokyo Monster Cafe.



When A "Monster" Pulls You Up to Dance...
Was Jo chosen because she was clapping along too enthusiastically, or not enthusiastic enough? Either way, she starred on the cake merry go round with the three "monster" dancers.



A Giant Robot Serpent
This giant serpent, representing the living creatures of the sea and the forest in the bizarre battle of robots versus living creatures. Ironically, yes it was a robot...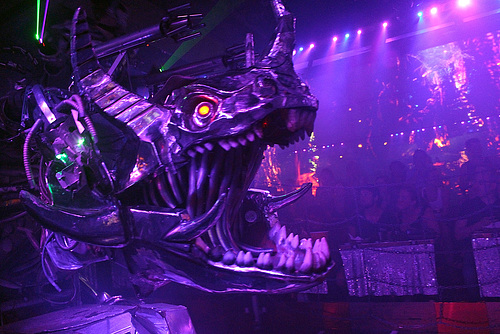 A Giant Robot Robot
And representing the robots was this robot... made to look sort of like a dragon or monster or living creature of some sort. The "story" was not big on plot - like a twelve year old boy might write. "And then a bigger creature comes out, and then an even bigger robot, and then a super serpent, and then a gigantic robot, and then a fire breathing dinosaur, and they fight and the good guys win". You get the idea.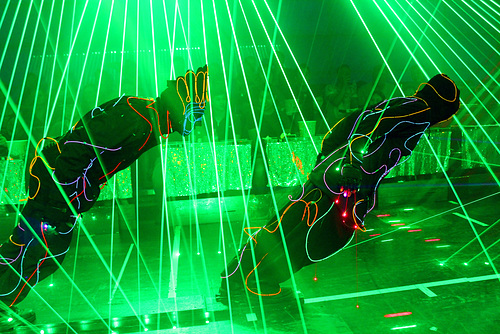 Dancers
Robot Restaurant.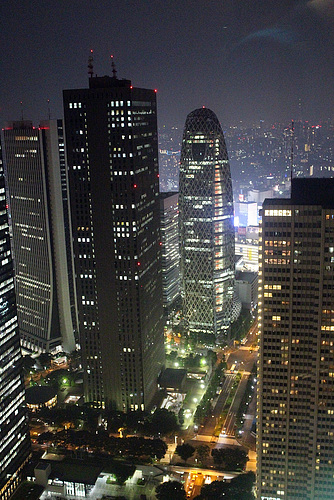 Tokyo at Night
View from the observation deck in the Tokyo Metropolitan Government Offices.

---