11 to 19 January, 2017 - Larena-Siquijor, Tagbilaran-Bohol, Doljo Beach - (Philippines)
A blog about the multitudes at Siquijor, and the miniatures on Bohol.
Although we did do some fantastic snorkelling at Siquijor, the wonderful marine life that enthralled us for hours did not require us to do much more than wade in. At low tide, before even getting our feet wet, we watched battalions of soldier crabs rippling across the sand bar. From a distance, each wave was just a single dark mass, like a shadow, morphing into different shapes as it moved.
Further along the squishy sandbar, maintaining their own territory free of crabs, were the scores of sandy coloured sea stars. Sometimes, it was hard to identify if the star was a living creature, or just an impression left behind in the sand by one which had moved on.
And out in the water near the dark patches of spiny sea urchins, were the red, orange, and ochre sea stars, with their blackened knobbly spines.
---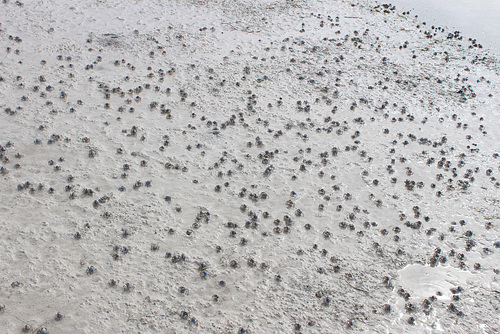 An Army of Blue Soldier Crabs
For about half an hour, while the tide was at the its lowest point, thousands upon thousands of tiny crabs scuttled across the beach. Taking a step towards them, they would bury themselves in the sand, and in seconds, there was almost no evidence they had even been there.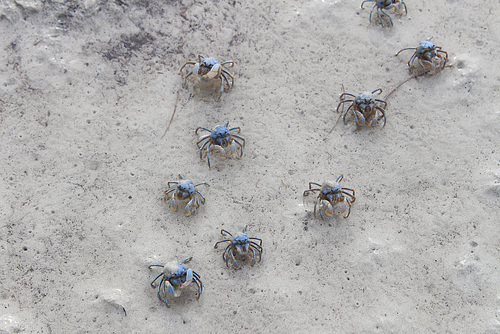 Crab Individuals - Blue Soldier Crabs
If we stood still for a few minutes, the buried crabs would bravely emerge from their sandy hiding places. They just didn't notice us when we were not moving.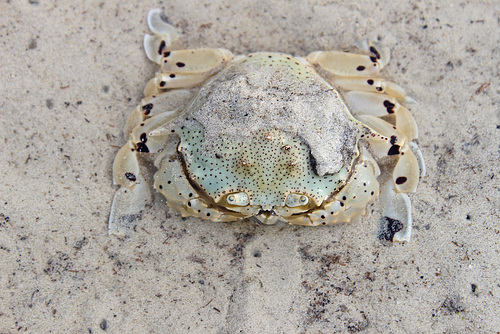 A Spotted Moon Crab
Claws and legs pulled in nice and tight, flattened so that all the toughest shell locks together to create a defensive armour. On the shore, Siquijor island.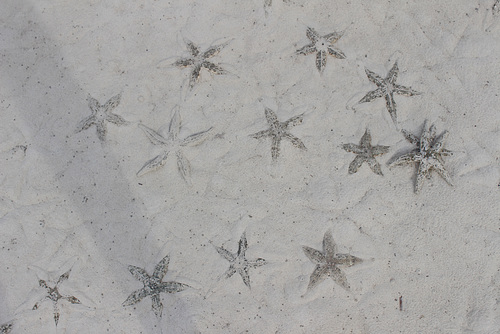 Various Sea Stars on the Sand
Generally, they were just laying on the wet sand. At first, we thought they were dead. Every now and then, one or two decided to get moving, and they could muster quite a cracking pace, considering they were out of the water.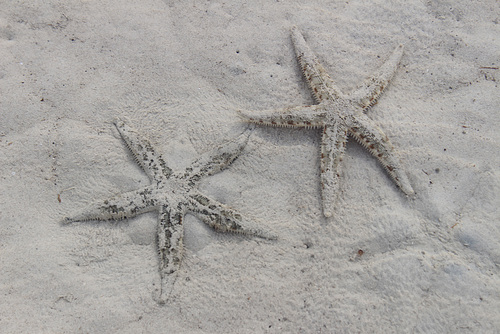 Sea Stars
A fleeting encounter between two sea stars.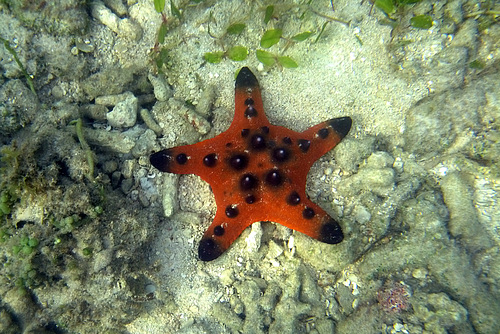 A Small Knobby Sea Star
Going by a variety of names (see the next picture), we grew quite fond of these abundant echinoderms. Wonderfully colourful and abundant in knee to waist deep water, Siquijor.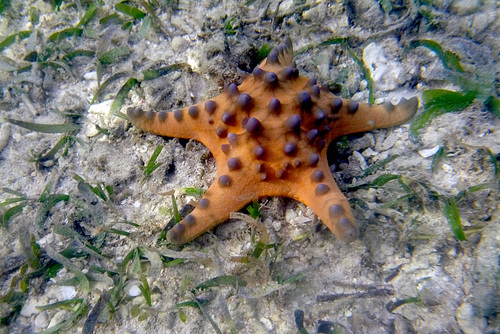 Chocolate Chip Starfish
Protoreaster Nodosus, Horned Sea Star, Knobby Sea Star, or Chocolate Chip Starfish.

---
After a few days enjoying the sun and water at Siquijor, we ferried to Bohol. Day one, take a motorbike out and about, visiting the miniature primates and the miniature mountains.
---

Philippine Tarsier
Say hello to one of the smallest primates. An impossibly cute nocturnal creature, rarely seen in the wild. The island of Bohol is one of the few places where it is almost guaranteed to see them, in the sanctuaries. This photo was taken in a well known and long established sanctuary near Corella.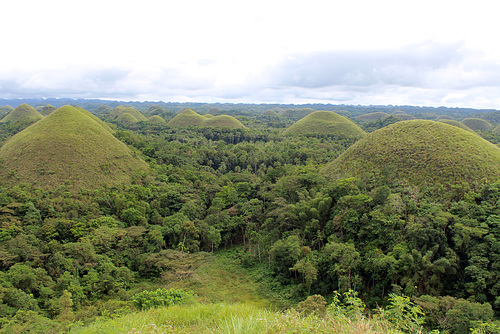 The Chocolate Hills
Looking a little greener than we expected. The miniature mounds dot the landscape as far as we could see. The name comes from the colour during dry season, particularly at dawn or dusk. Not seeing them in their namesake colour did not take away from the experience.

---
After riding about, before returning to Tagbilaran, we decided to look for somewhere to spend the last couple of nights in Bohol, at the beach. Alona beach is where it is all happening, so we thought we would start there. Oh, it was awful. The crowds; the noise; the gringos; the general "holiday makers are here"; the overpriced accommodation. And the beach was not that wonderful. There was not going to be any possibility of getting something beachfront, without paying through the nose. So we spent some time looking at nearby beaches, getting disheartened, and finally, in the failing light, decided to give up and go back to Tagbilaran and "re=group" - assess our options and maybe hop on a bus to somewhere else entirely.
Returning to town, I missed a turn off. (I blamed the poor light, but the next day I realised there wasn't a sign, anyway, and I would have missed it regardless). After a while, we realised we had made a mistake and were not where we wanted to be and would have to double back. It was under these odd circumstances that we stumbled across the much less touristy Doljo Beach. Far quieter, and far better value. Sometimes, we feel so looked after.
The next day, it rained, and rained, and rained. Not torrential, but pretty consistent. And the wind (at the beach, at least), did not ever relax. The windsurfers and kite surfers were loving it, racing past us as we sheltered under the terrace. Occasional let ups meant we could escape and go for a walk for a (wonderful) seafood dinner (chilli crabs and sizzling calamari), but we were a little restricted in our range due to the fear of getting soaked.
The weather stayed somber, but the rain abated the following day. Not beach weather, but we motored around on a scooter for a while before deciding to ride to the Abatan River to do firefly watching. Both multitudal and miniature, it was beautiful to sit on a kayak in the still and quiet night, watching the blinking dots swarm over their selected trees. Just a tree here and there, with a few stray insects wandering to the neighbouring bushes, but the chosen trees receiving a lot of firefly attention. Sometimes, almost all of them would blink in near unison, creating a throbbing and pulsing impression like a firefly night club. Other times, the light would shimmer across the mass like a wave. And then there were times where every firefly seemed to be blinking to their own individual rhythm and style. No matter how, though, they always just looked like Christmas trees with living lights.
---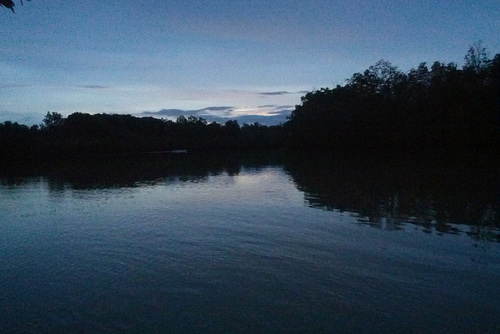 Dusk at the Abatan River
We were unable to capture the fireflies in photos. Sitting on a kayak in near total darkness taking pictures of hundreds of pinpoints of flashing lights is a near impossible task with good equipment, but since we were getting wet I was only willing to try photos with the phone in the waterproof sleeve. This turned near impossible to totally impossible. So, here is a "before setting out" picture to act as a memory jogger.

---