5 to 11 January, 2017 - Manila, Cebu, Argao, Boljoon, Moalboal - (Philippines)
We really did it in style, in Manila. Being our anniversary, we splurged at a 5 star hotel (and casino) for a couple of nights. Although we did not make use of the gaming rooms, we certainly made the the most of the included buffet breakfast!
For our anniversary dinner, we headed in to the region known as Malate. Our goal was to find the same restaurant we had dined at, three years ago, for their signature pork dish, and the crispy softshell crabs. We succeeded!
Arriving at Cebu, we checked in to a hotel which, fair to say, could be described as the almost exact opposite of where we spent the night before. It was a room, with a bed, and a spray of water from a hose called a "shower". Clean enough, and well located. "Are you here for Sinulog?" they inquired. "?", we replied. "The festival, are you here for that?" Sounds great, arriving perfectly timed for a festival. Sometimes it is, sometimes it isn't. Parties are fun; crowds not so much. Cheap street food is awesome; jacked up prices for stuff is a pain. Seeing stuff that only happens once a year is random and interesting; missing stuff that is closed or too crowded just has to be stomached.
---

Sinulog Festival
There was little chance of us getting in to the cathedral in Cebu with the Sunulog Festival on, one of the biggest in this part of the world. We found a good view in an upstairs dining area of 7-Eleven, watching the crowds partaking of mass on big screens.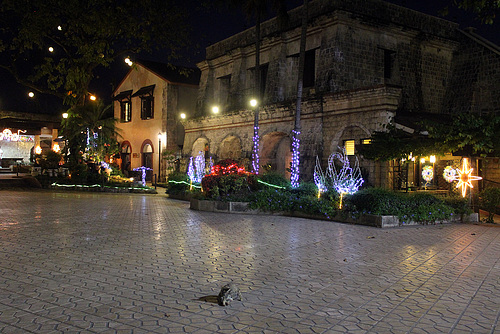 Fort San Pedro
Hardly anyone was in the fort. I think everyone was at the mass at the cathedral!

---
Cebu is known for lechon, roast pork. So incredibly good...
We decided to clear out of Cebu city, and head to some more islands. But a typhoon warning shut down all the ferries. Potentially two or three days, we were told. So, it was time to make the most of Cebu, the island as a whole.
---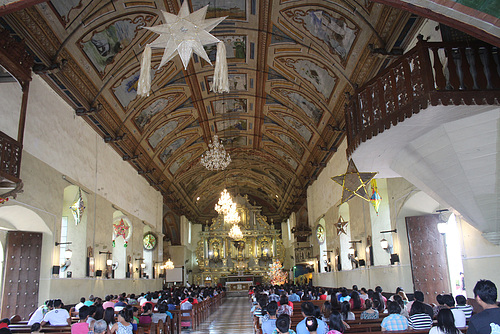 Interior, St Michaels
St Michaels Church, Argao. The wonderful ceiling murals are considered amongst the finest in Cebu.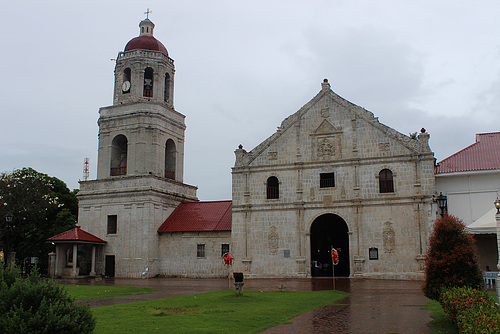 St Michaels, Argao
The 200 year old church on the east coast of Cebu island.

---
From the bus, we spied the town of Boljoon. The church looked beautiful and the town seemed to have promise. So, we decided to have a punt and just get off here.
---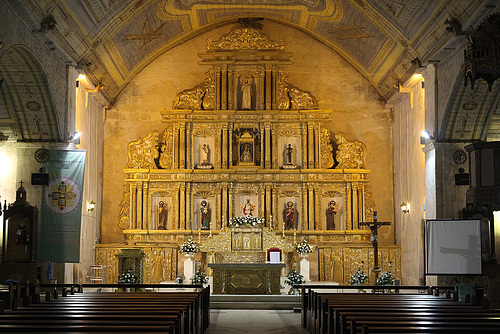 Altar
The altar of the church of Boljoon, the oldest in Cebu.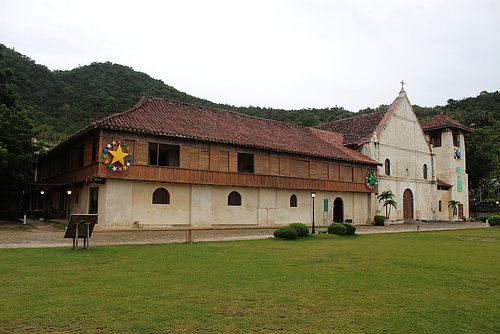 Church of Boljoon
Another wonderful building on the eastern coast of Cebu.

---
The first accommodation we saw looked nice, but was way overpriced for what was included (or not, depending how you look at it), so we thought we would find somewhere else. Trudging through town, not finding anything, we were feeling a little disheartened. Until a couple driving by stopped and offered to take us to their place, where they had a room they rented out. "It's right on the water", they told us. Sure, it was a few kilometres from town, but their place was squeezed on a tiny strip of land between the coastal road and the sea. The room was tiny, basic, and had a balcony where our feet got sprayed on when larger waves broke.
---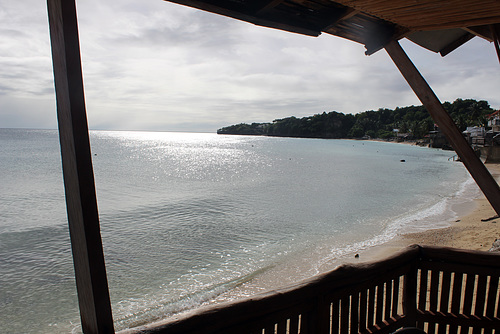 Our Boljoon Find
Sometimes, when you can't find a place to stay, a place to stay finds you! Wandering, bedraggled and disheartened, a couple driving past said they had a room they could rent to us. This was our outlook.

---
Finally for Cebu, we went to Panagsama Beach, better known as Moalboal. For snorkelling, and for the nearby waterfall. This town was overrun with tourist amenities. Not just hostels, bars, restaurants, diveshops, but the horror of nightclubs. You can't see them during the day. You choose a secluded place at the edge of town, where you THINK it will be nice and quiet. You get the room with a balcony overlooking the water, and you go out for dinner. When you come back from dinner, you find that there is a nightclub, and although it is a few hundred metres away, it is still bloody loud. And your room shakes. And you can hear the bass through your pillow. And earplugs don't help. And putting headphones in and playing your own music doesn't help. And it goes until 6:30 in the morning, seemingly getting louder and louder. We apologised to the hotel staff as we checked out and moved, after all, it is not their fault. However, we should not put up with it out of pity for the hotel.
---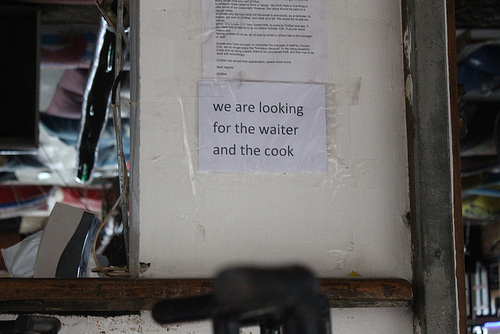 I Wonder Where They Went
A sign at Panagsama Beach, Moalboal.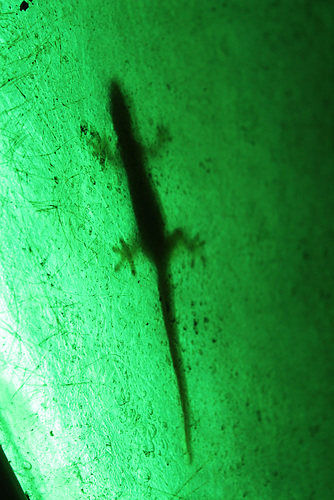 A Gecko, Hiding
A gecko underside, on a green lampshade.

---
The highlight of our stay here, though, was snorkelling. I must say, I never thought swimming with thousands of sardines would be so easily achievable, snorkelling and not diving, and from the beach instead of going far out in a boat.
---

Swimming With Sardines
Sorry about the bad photo, but 1) it's a phone photo, 2) the case slipped and the lens was not pointing through the clear part, 3) it was too hard to see what I was photographing, and 4) they were hard to photograph, anyway. So I just took dozens of bad photos. However, this sort of shows the sardines. There were thousands, swimming like a swarm. Like an entity unto themselves. Reaching out or diving down, the mass of black would open up and conform to your shape. It was a beautiful experience.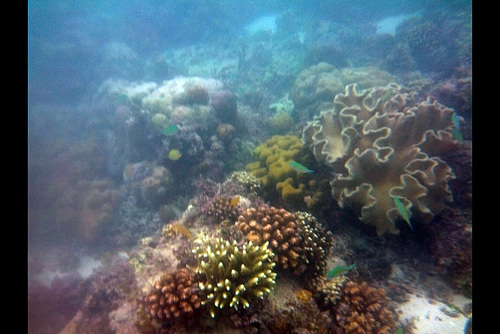 A Hint of the Beauty at Panagsama (Moalboal)
Again, many apologies for the bad photo, but I really did want to show something of how beautiful it was in the water here.

---