21 to 25 January, 2012 – Barichara, Bogotá (Colombia)
So, it happened again. Avianca flight from San Andrés to Bogotá was running late, leaving us with an extremely shortened connection for our flight to Bucaramanga. Huffing and puffing our way through Bogotá airport is becoming the norm, for us! Off the plane, out of arrivals, around, in we go, and straight on.
Landing in Bucamaranga was amazing. The city sits in valleys, while the airport is on a "meseta", hundreds of metres higher in altitude. Coming in, at dusk, we were admiring the city, when all of a sudden, out of nowhere, land appeared just off from the wing. As I was about to comment to Jo that we were passing a mountain awfully close, we landed on that very piece of land.
The drive between Bucamaranga and San Gil is also amazing. Winding down into a cavernous canyon and ascending the other side. Beautiful, but hairraising. Our nerves were not helped by the fact that in Colombia, double lines are treated as a suggestion to not pass...
---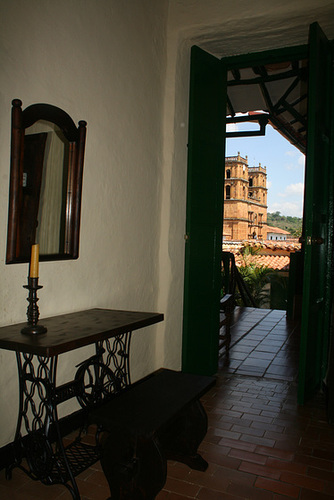 From Our Delightful Room - Barichara, Colombia
The hotel is almost 300 years old, and the room was decorated with antiques. But the best thing? Hot water! Haven't had hot water for about a month. And here, it ran very hot, very steady. I had the longest shower I've had on this trip.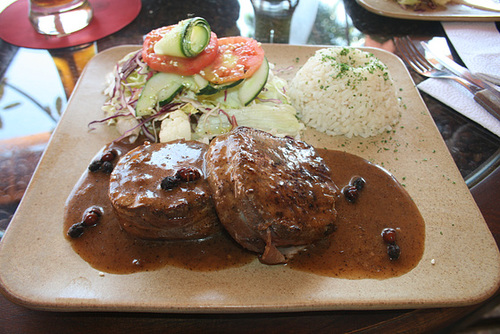 Filet Mignon - With Ant Sauce
Yes, that's right. Hormigas culonas, or fat bottomed ants. Steak, with an ant sauce, topped off with a handful of fried ants. Actually, it was a tasty dish. Although, the fried ants themselves actually resembled, in both taste and texture, burnt peanuts. Barichara, Colombia.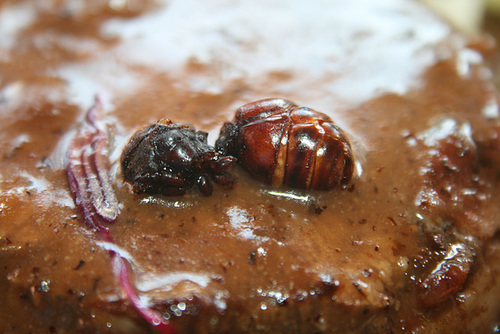 A Close-up of an Ant on My Steak
One of the fried fat-bottomed ants on my steak. Hormigas culonas are a regional culinary tradition, around Barichara (Colombia). Apparently, they are quite the aphrodisiac...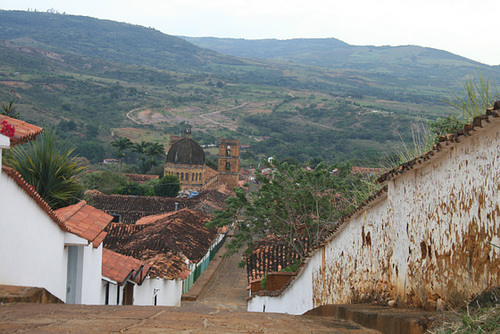 A gorgeous, non-touristy Colonial village in Colombia. An enchanting place to stay.
A gorgeous, non-touristy Colonial village in Colombia. An enchanting place to stay.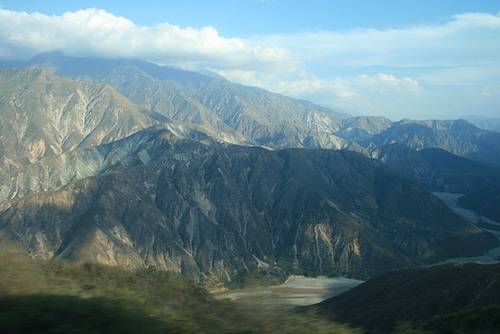 Snapped From a Hurtling Bus...
While rocketing between San Gil and Bucaramanga, we wound to the bottom of this canyon and followed a river out of it again. An incredibly beautiful part of Colombia, and it allowed us to take our mind of the erratic driving for a bit. Did you know, for instance, that double lines in Colombia indicate that you have to drive faster to overtake another vehicle? "High accident zone" on a sign indicates that you must drive in a fashion that allows this zone to hold on to it's title. And numbers on signs with red circles, while elsewhere in the world this may indicate a limit of some sort, here it indicates a bare minimum speed.
---