28 December, 2012 to 3 January, 2013 – Dhaka, Hularhut, Bagerhat, Mongla - (Bangladesh)
"I think we're going to die doing a u-turn", Jo said. "From where I'm sitting, I can't see any other possible outcome." Having picked up a taxi on the road outside the airport, we got our first taste of the madness that is traffic in Dhaka. In the days that followed, we experienced a multitude of similar moments. Driving directly in to on-coming traffic. Squeezing through tiny gaps between buses. Weaving in front of trucks. Turning in front of waves of vehicles. Oh, and watch out for those pedestrians. Rickshaws with no lights at night. Extraordinarily long and wide loads. Loose power and telephone cables hanging over the roads. I can tell you, that we have seen some chaotic roads in our travels, but I don't think any city quite compares. Even Cairo seems sedate and composed in comparison.
Some cities, you fall in love with. Others, you learn to tolerate. Dhaka probably falls in the latter category, although we haven't spent enough time for even that to have happened.
---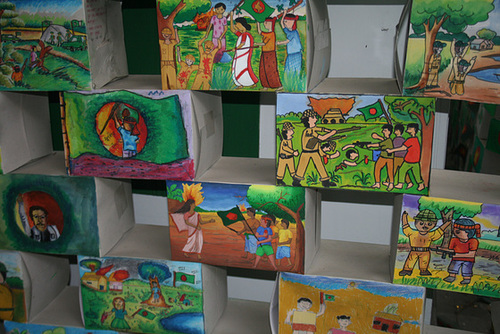 Bangladesh Liberation Museum
Children's artwork at the Liberation Museum.


Pink Palace
---
The rocket is a name given to the paddle steamer boats that ply between Dhaka and Khulna, although the last part of the service is currently suspended. Although powered by diesel, they still exude a romanticism that is authentic and hard to replicate. Travelling in first class, which costs a pittance, in our wood panelled cabin. The first class "lounge" with long dining table and guests dining off fine china. There are second class cabins, and a few hundred people sleeping on the decks. But, the true beauty is that this is no tourist attraction. This is a working boat, fulfilling a need which it has done so for 100 years. There is one Japanese couple, and us, and everyone else is Bangladeshi. So, we counted down New Year at the railing on the front lower deck, and toasted with some mango juice. (Being a Muslim nation, alcohol is decidedly difficult to encounter.)
---

The Rocket
Century old local mode of transport from Dhaka to the south of Bangladesh. We first classed, for a pittance, and welcomed in the new year on board.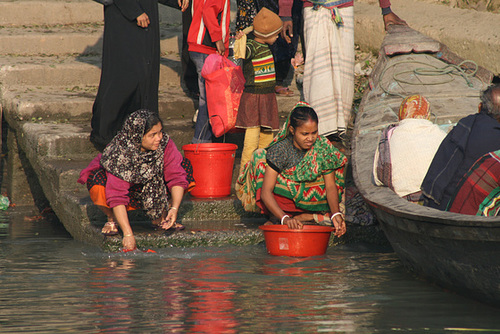 A Glimpse of River Life
---
From the rocket, we headed (with stops) to the Sundarbans, in search of a glimpse of the elusive Bengal tiger.
---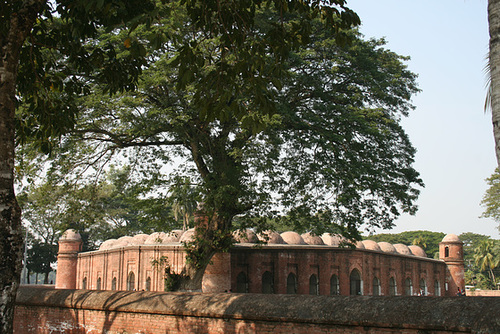 Very Old and Misnamed
15th century mosque, called the "temple of 60 domes", but it actually has 77. Wondering who named it...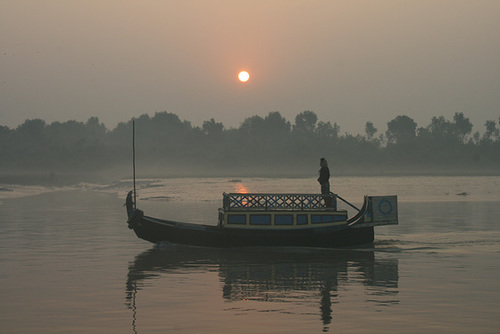 Sunrise on the Mongla River
The sun attempting to break through the fog.



Only a Few Minutes Old
According to the armed guard we are required to have when visiting this part of the forest, this tiger footprint is extremely fresh. Given, that they walk through the same areas many times a day, they know when things like this are new. Rarely spotted, but in large numbers, we never actually saw the Bengal tiger which left this print.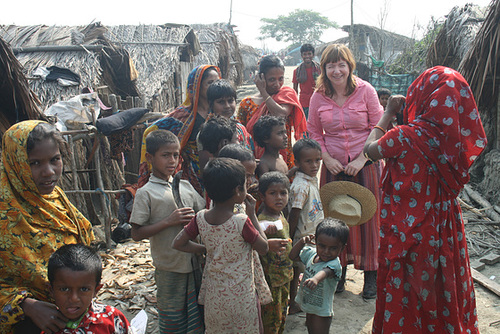 The Locals Even Photograph Us
Here we were, thinking we were going to be taking photos of the locals. But it works both ways, as they produce cameras and phones and take photos of us. Some times we catch them secretly doing so, and others, like this, when they boldly come up and ask. The whole village wanted to come out and join in the spectacle.

---