5 to 12 January, 2012 – Tolú, Cartagena (Colombia)
After a long haul on the bus, we arrived at the Caribbean coast, at a town called Tolú. Largely bypassed by foreign visitors, but a popular place with Colombian tourists, the town partied till all hours. Tolú is a base for boat trips to the Islas San Bernardo, tiny Caribbean islands with white sand beaches surrounded by mangroves. Despite the disappointing snorkelling, we had a great day trip, enjoying some sun, some swimming, and a beer or two.
---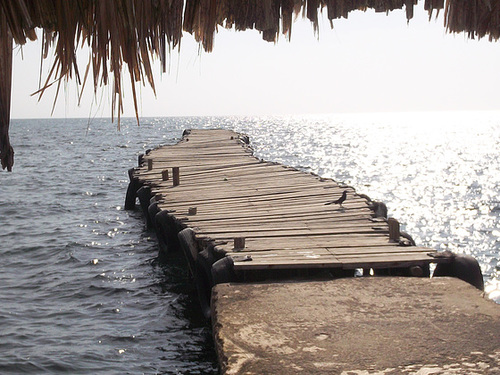 Wonky
A pier on a tiny island in the Caribbean archipelago, Islas de San Bernardo, near Tolú, Colombia.
---
Those parties? They happen anywhere and everywhere. Even at our hotel! One guy had a pair of speakers, about a metre high, in the doorway of his room, plugged in to his laptop. A variety of music blasted out for many hours, on to the terrace and across to all the rooms. Surprisingly, this is not something that a Colombian hotel thinks is a problem. At one point, amongst the random tunes, a couple of tango numbers made an appearance. Jo commented that "Unless they are actually doing a tango, there is no excuse for the music to be that loud." I had to look - and yes, a few couples were out of their rooms and on the terrace, tangoing!
But, it was a nice place to be to celebrate 22 years of marriage – you can't complain when you are at the Caribbean, can you. We did have to leave our anniversary dinner until we were in Cartagena. Limited options in Tolú meant that, despite our seafood stew there being one of the most amazing dishes we have ever eaten, the atmosphere was lacking somewhat.
Cartagena, on the other hand, overflows with atmosphere. The centre is full of centuries old Colonial architecture, photogenic on every turn. It turned in to nearly a full week. Much of that time was spent wandering, exploring, discovering.
---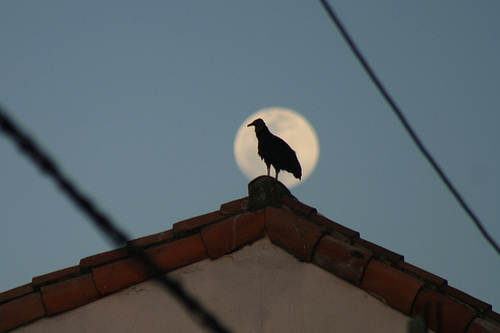 Luna Llena
The full moon rises, Cartagena.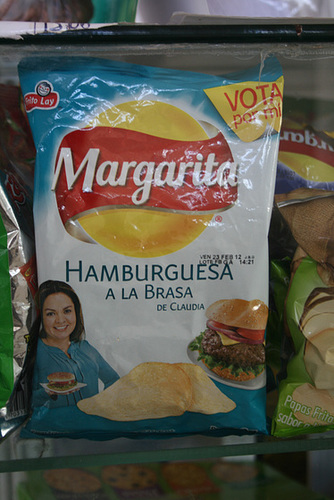 Hamburger Flavoured?
The picture implies it is not just mince meat flavour, but tomato, lettuce, cheese, and bun. That's a lot of tastes to cram in to a chip.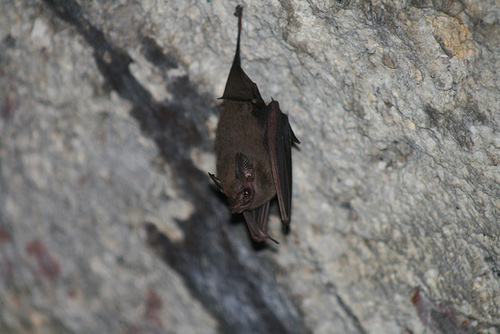 Cheeky
A bat in the old storerooms of a fort near Cartagena, looking up to pose for the camera.



Cartagena
A plaza in Cartagena, Colombia.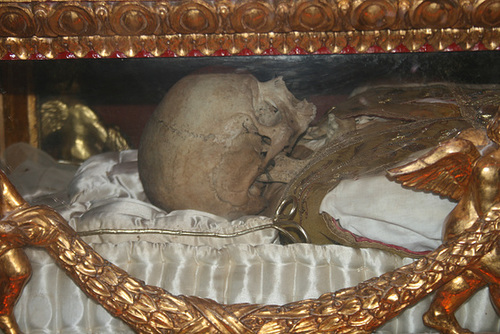 Saintly Skull
A monk, known for devoting his life ministering to the slaves of Cartagena, now entombed in a glass coffin in the church altar.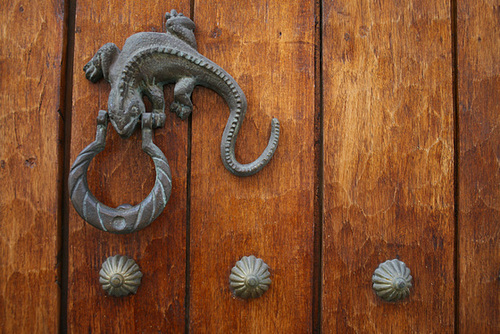 Iguana Door Knocker
Cartagena, Colombia.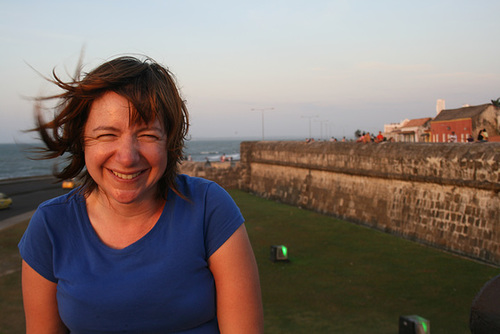 Smiling Wife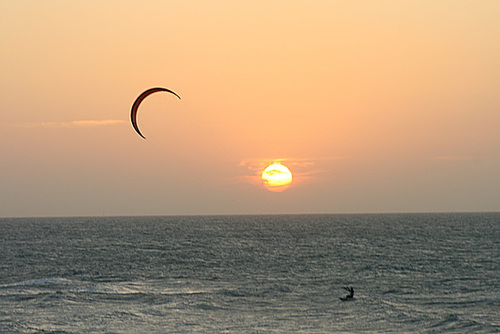 Cartagena, Colmobia.
Cartagena, Colmobia.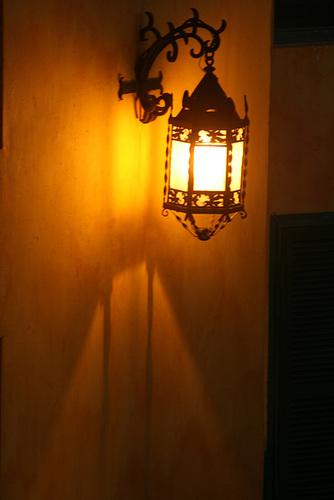 Cartagena Street-lamp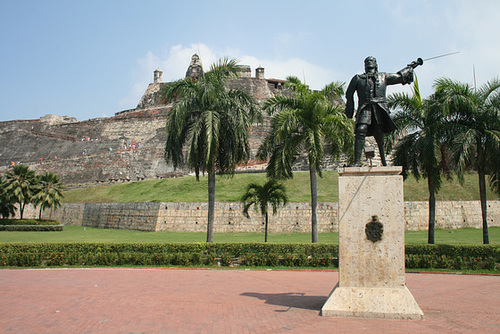 A One-eyed, One-armed, One-legged Hero
Statue of Blas de Lezo. In previous battles, he lost an eye, an arm, and a leg, Despite this, and against all odds (25,000 to 2,500), this Spaniard successfully led the defence of Cartagena from a British naval attack. In the process, he lost his other leg, and ultimately his life. But he did get to become a statue!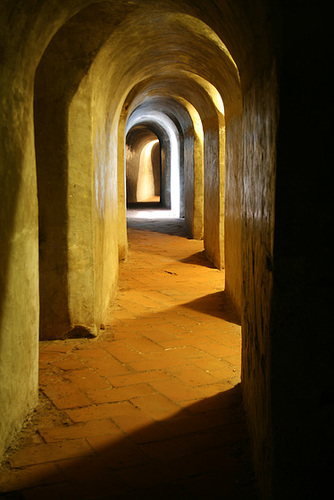 Part of the Maze
One of the many tunnels that twists and winds underneath Castillo de San Felipe de Barajas. This clever network includes dead ends and false passages to confuse attackers, and runs at multiple levels.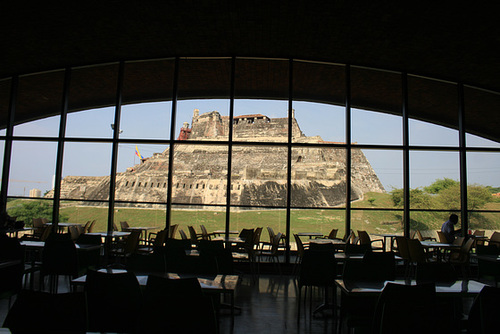 The Magnificent Castle of Cartagena
The Castillo de San Felipe de Barajas, an impressive fort of Cartagena. This view is from a nearby shopping centre food court, a nice air conditioned spot for a break and a bite after a few hours exploring.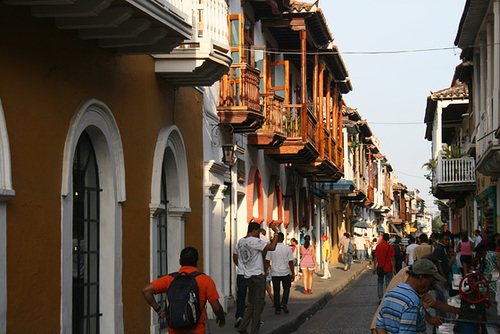 Cartagena, Colombia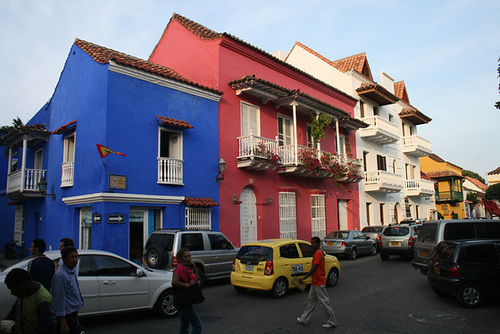 Cartagena, Colombia
---
There were a couple of day trips, too.
---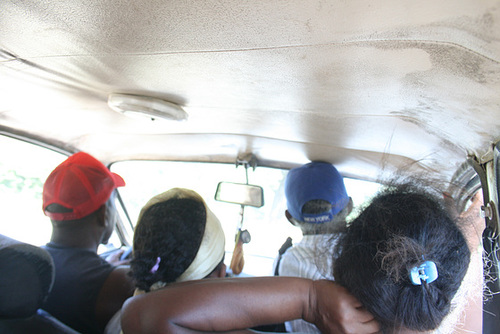 Three Adults Share the Front Seat in a Taxi
After a convoluted sequence of transport changes, we ended up in an overloaded and cramped taxi, which then stopped to pick up two more passengers! I really didn't think there was space, but apparently I was wrong.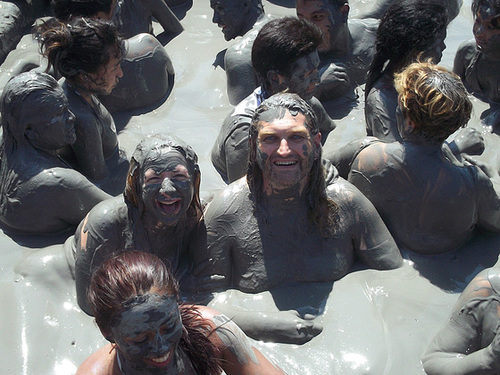 Mudding Up
This was in Volcán de Lodo el Totumo., Colombia. After ascending this tiny volcano of mud, we joined the hordes of Colombians and immersed ourselves. The mud was thick, almost like a gel, and kept us extremely buoyant. The bottom could not be touched, but sinking would not even be possible. The biggest danger was letting your feet get near the surface, because the most difficult thing was fighting the tendency to float, and get your legs and feet back down.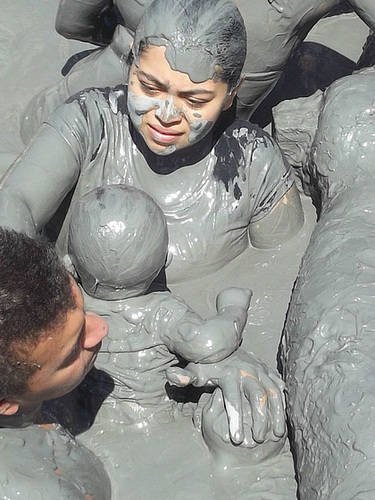 Everyone Gets In The Mud
Fun for all the family. Volcán de Lodo el Totumo, Colombia.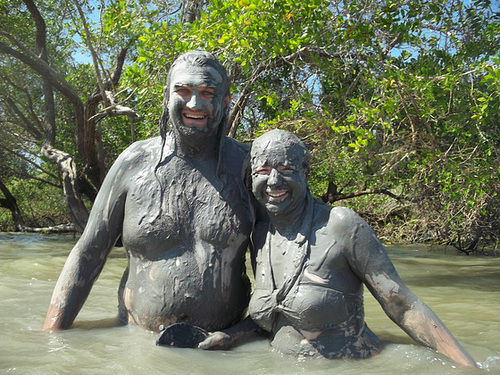 Rinsing Off
After the mud bath, it is down to the river to swim yourself clean. Volcán de Lodo el Totumo, Colombia.
---
On an entirely different note, there are the odd products one finds for sale in foreign countries. I'm not just referring to hamburger flavoured chips, but how about hair products with sheep placenta to help stop hair falling out and encourage regrowth. Or bottles of treatments made from "real duck embryos". Hmmmm....