2 to 4 January, 2012 – Medellín, Santa Fe de Antioquia, Guatapé (Colombia)
---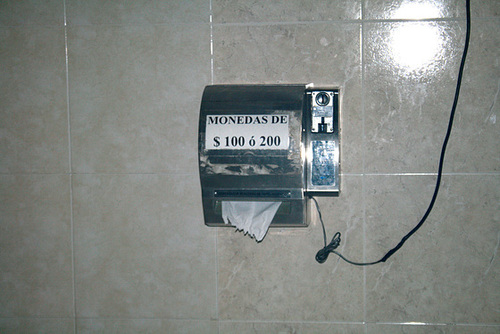 Toilet Paper Vending Machine
We have encountered places where you are required to pay for toilet paper, before, but toilet paper vending machines are common, and in fact, the norm, in Colombia.
---
Medellín turned out to be a very pleasant city to pass a few days, particularly with the day trips to be had.
Again, as in Bogotá, an appreciation of all things fat is garnered by numerous artworks by Botero. His gordo paintings and sculptures can be found in many nooks and crannies in town, including advertising, but especially in the sculpture park, which is entirely dedicated to him.
---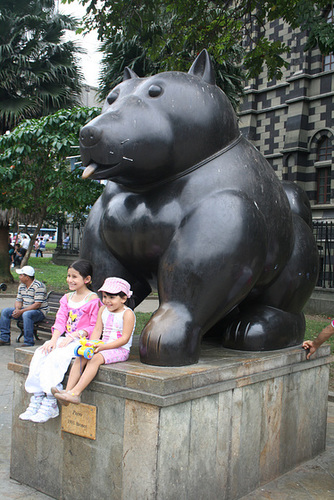 Kids with Botero
Medellin has a sculpture park full of Botero's gordos (fatties).



A Random Corridor
A nice building, open, and we wandered through.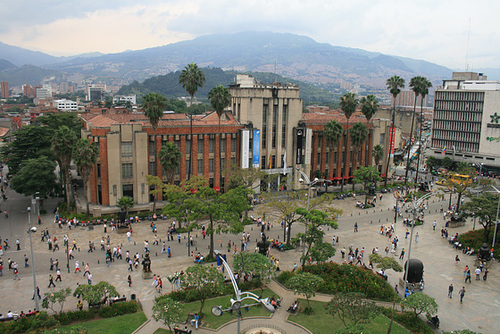 Looking Down - Sculture Park
Looking down to the park full of Botero sculptures, Medellin.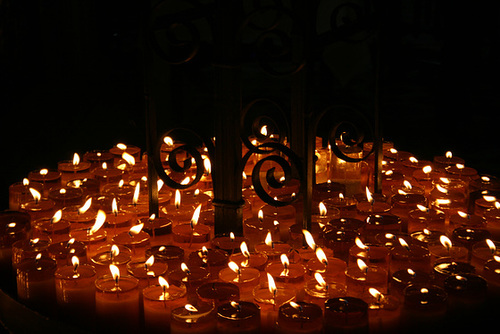 Candles, Church, Medellin, Colombia

Monumento a la Raza
Impressive and dramatic sculpture in Medellin.
---
Perhaps typical of cities in this part of the world, we encountered great difficulty in finding somewhere to eat in the centro, particularly later. At 8 p.m., we wandered the streets to find no restaurants open, and the majority of snack bars pulling down their shutters and washing their floors. Finally, one little bar took pity on us. Despite having most chairs on tables and counting the till, they invited us to a table and sold us some empanadas.
The first of two great day trips we made from Medellín was to Santa Fe de Antioquia, and the nearby Puente Occidente. The main transport around town, and to the bridge, is provided by a fleet of seemingly out-of-place Indian styled moto-taxis. Back in Santa Fe, we discussed who might come and visit us in this remote Colombian village if we bought that cute place that was for sale right on the plaza.
---

Distraction...
Some locals, just out of frame, started telling their friend off for walking in to the shot. They berated him, pointing at Jo and myself, and highlighting his complete lack of awareness!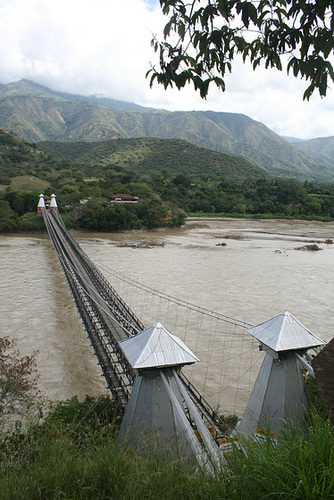 Puente de Occidente
An impressive 19th century suspension bridge, one of the first on the continent. Now a national monument and closed to traffic.



Church in Santa Fe
Santa Fe de Antioquia, Colombia.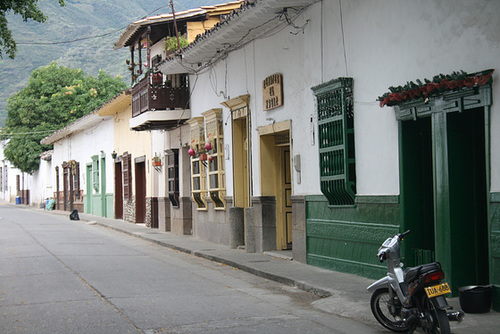 Santa Fe Streetscape
Santa Fe de Antioquia, Colombia.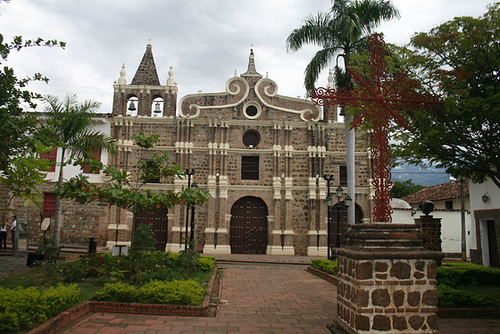 Church and Plaza
Santa Fe de Antioquia, Colombia.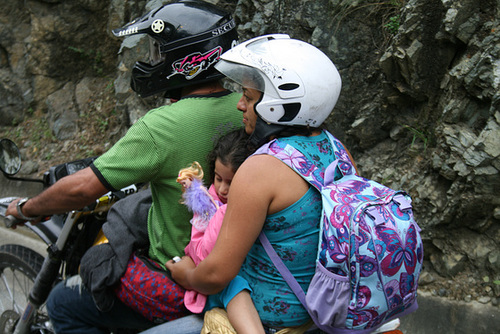 Comfortable Enough to Sleep
But with dolly to keep you company, anywhere can be bed...
---
Our second full day excursion had us climbing a monolithic rock before heading in to the nearby village of Guatapé. Excuse the large number of photos we have decided to include, but seriously, Guatapé was just too cute for words!
---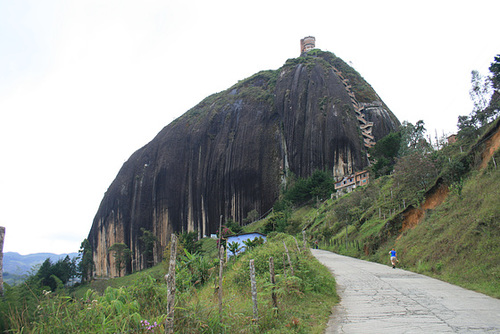 Heading Up to La Piedra, or "The Rock"
The approach to La Piedra, from the highway. The greater part of the climb lies ahead.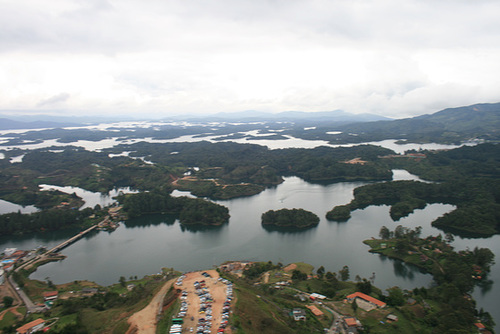 View From La Piedra
The island filled lake spread out below La Piedra, Guatapé, Colombia.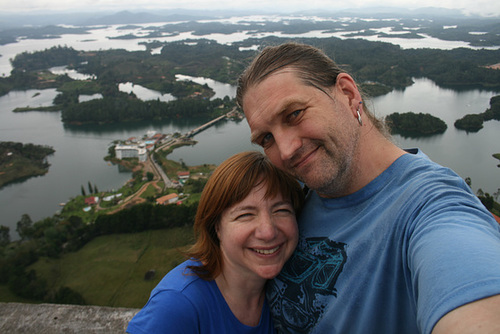 A Couple at the Top of "The Rock"
Matching blue shirts for the day.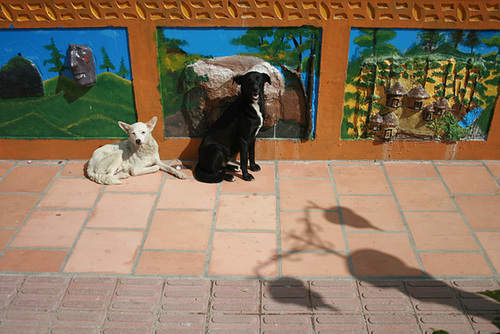 Two Dogs in Gatapé
The shadow of a street lamp, two dogs, and some painted reliefs, Guatapé, Colombia.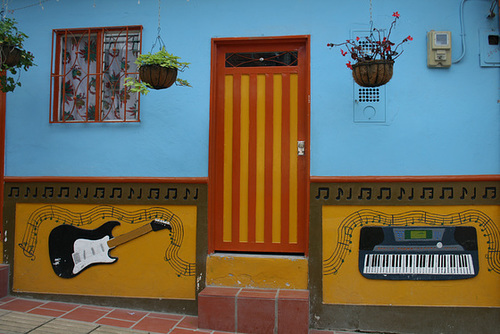 A Music Shop in Guatapé
Almost all houses and businesses in town have painted reliefs and colourful doors. Guatapé, Colombia.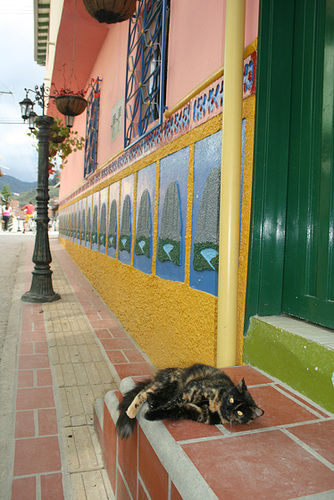 A Lounging Gatito
A wriggling and sprawling Colombian cat.



House Decoration
Guatapé, Colombia.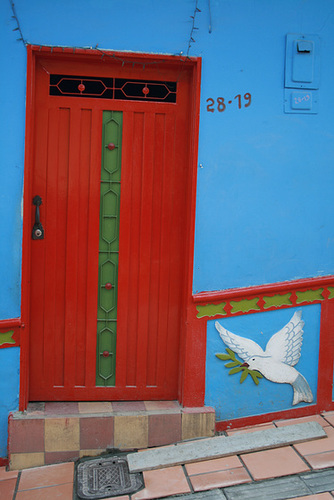 The House Next Door, Guatapé
Another beautifully decorated home, Guatapé, Colombia. The uniqueness of each home's patterns and colours shows much thought on the part of the residents. Barely a single building lacked some such adornment.



Typical Streetscape
Looking down an average and typical street in Guatapé, Colombia.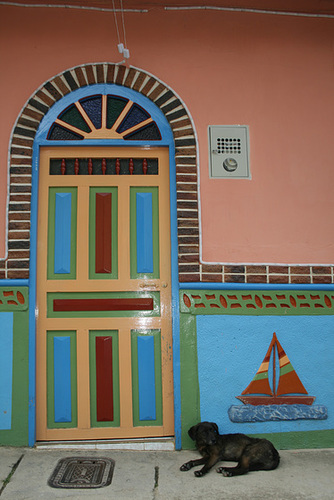 Another Guatapé Door – Another Guatapé Animal Lounging
Sailboats decorate this home, representative of the lake which Guatapé sits beside.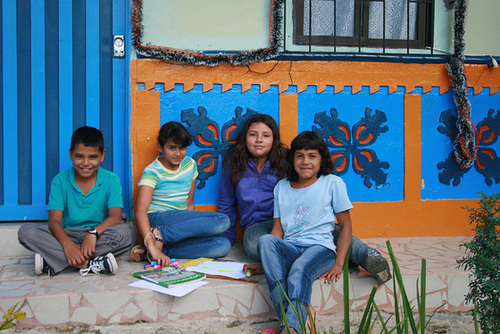 Guatapé Children Doing Homework
Christmas decorations yet to be taken down, but it's hard to believe they even feel a need to put any up! The colourful town must always feel ready for a party of some sort.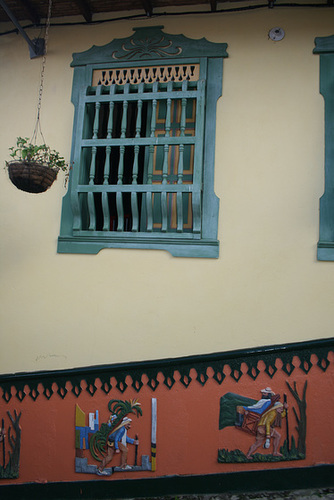 Guatapé Museum
These painted reliefs decorate the building housing the Museum in Guatapé, Colombia.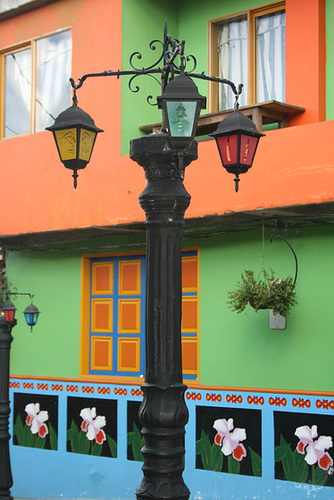 Street Lamps
The glass of the street lamps have been changed to cast Christmas motifs. Guatapé, Colombia.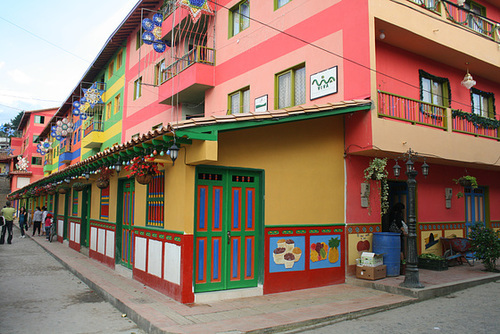 Colourful Apartment Buildings
Even the apartment buildings in Guatapé get in on the action.
---