25 to 29 Jan, 2009 – San Blás Islands, Panama
Here I sit, on a hammock. It is pitch black. The sun went down an hour ago, and there is no moon. We are staying in a bamboo hut on an island. It's just us. Well, there are birds and crabs, but no people. The island is about 50 or 60 metres long, and maybe 30 or so wide. Jo is reading to the light of a torch that requires frequent winding to keep it going. There is no electricity, no water, three trees, and a hut. No floor, no bathroom, no bed, just two hammocks.
---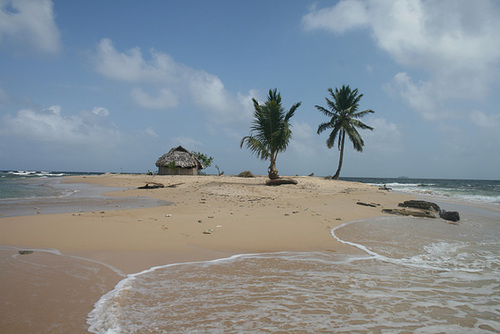 This was our island for 2 nights
Huge, isn't it. This was all ours. Yep, there's not much more behind the hut.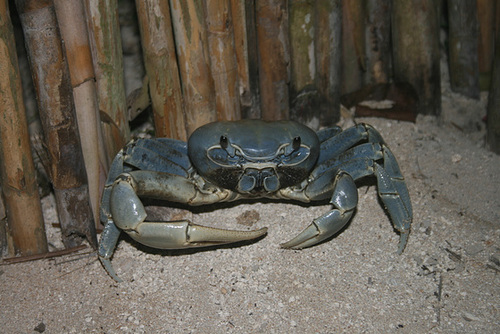 Crab
Mean looking, but he was our companion, for two nights, on our private island.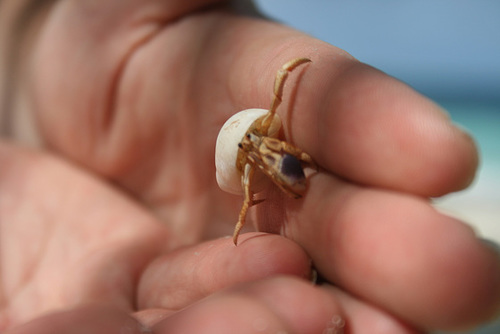 Hermit crab
This little guy was found in my shorts while they lay on the beach, just before I put them back on.
---
The wind doesn't let up. It has never been worrying or threatening, but we have had no lulls. I'm not complaining, though, as it means we feel the humidity less. It also means it's never quiet. The rustling of the thatched roof, the creaking of the beams, and the surf breaking on our beach. The wind means you also don get on a boat expecting to stay dry. The waves pick up and crash over the bow of the little boats, and the spray drenches everyone and everything. We were soaked to the skin on arrival.
We are not super isolated – neighbouring islands are inhabited, and people sailing past in dugout canoes on their way to some island or another give us a wave if we are on the beach or in the water, but still, it's just us for a couple of nights. Someone said the island has a name, but it seems to be of little consequence.
Also, there is the magic food man. Without warning, a boat lands, and a man appears with two plates of food. Not necessarily at meal times, but that comes down to Kuna timing, which I will go in to later. However, he brings two plates, with rice, salad, and some product from the sea. Fish, mainly, smoked or grilled or stewed. However, one time, it was crayfish. Always something different, or prepared differently, but always a seafood of some kind.
---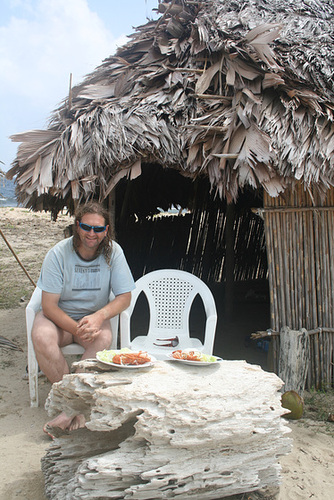 Crayfish meal on our island
Crayfish for lunch, one day. Magically delivered to us on our private island.
---
This is one of the hundreds of islands of San Blás. an archipelago in the Caribbean inhabited by the independent indigenous Kuna people. They live quite autonomously here, with little direct influence by the Panamanian government. We started on the very crowded island of Cartí, but arranged to spend two nights out here on out own island. In theory, a boat will collect us tomorrow morning.
Cartí is huts, end to end, with a bit of space between them to allow pedestrian movement around the island. Many of the inhabited islands appear to be crowded to more or less the same extent, particularly close to the mainland. Uninhabited outlying islands are the stuff of travel brochures and cartoons. Larger ones are chock full of palms and pristine sands ring them, Smaller ones are a tiny patch of sand with a single tree – you almost expect to find a man with a stubbled chin and torn clothing stuffing a message in to a bottle.
---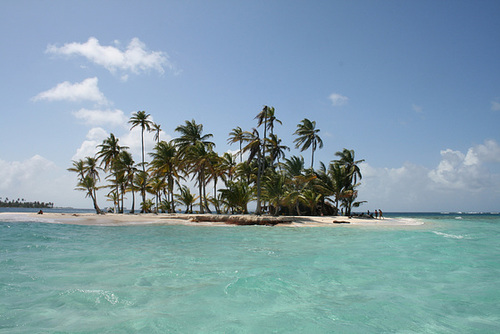 A typical San Blás Island
Isla Pelicano, our first beach stop in the San Blás archipelago.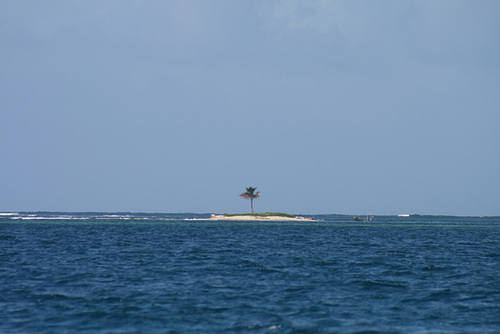 A cartoon island
Isn't this just sooo cute! Where's the marooned sailor in torn trousers?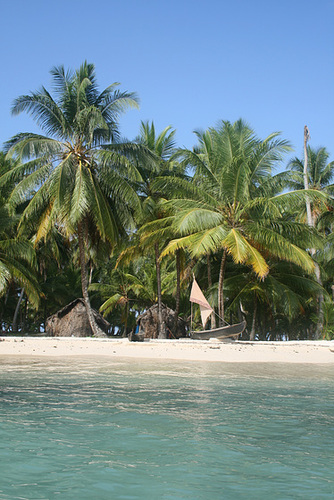 Yet another idyllic island scene
On our last day, we visited this island.


San Blás beach scene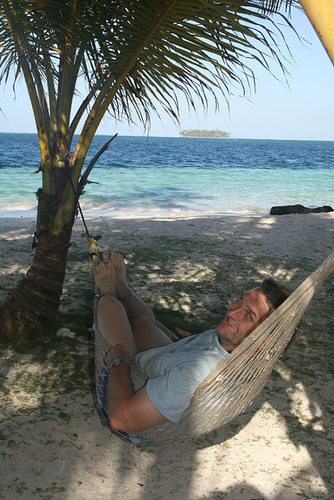 Richard, relaxing
On Isla Pelicano.


Jo waving - locals fishing
---
The Kuna are a proud group of people. They have their own language, but most speak some Spanish. The women look beautiful in their traditional dress. Bright colours, woven in to arm or leg decorations. Beautiful dresses, too. The men generally wear modern western clothing. The women are skilled in embroidery, too. They make brightly coloured squares with pictures on them, called molas. The molas are as simple as two or three layers of cotton with a geometric pattern, and can be large and intricate with many colours and days or weeks of work.
---

A Kuna lady
A slightly camera shy Kuna lady shows us some molas.


Kuna children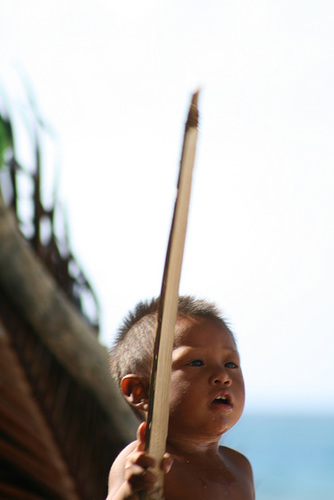 A future warrior, perhaps?
---
The Kuna attitude to times and punctuality make the average Latino seem prompt. We can spend hours just sitting, uninformed, just aware that something is due to happen, then without warning - "¿Listos? ¡Vamos!" It can be easy to slip in to this way of thinking...
Food. Seafood. Fish. Crabs. Lobster. Crayfish. Always with rice and a very basic salad. Jo has promised to cook steak or something similar. Mmmm, steak, ....