7 to 14 Jan, 2009 – San Francisco, USA
Seven nights in San Francisco. Would it be too long? Sure, there are a number of must do sights. Golden Gate Bridge. Lombard Street (the world's crookedest). Alcatraz. Fisherman's Wharf. But they could be accomplished in one or two full-on days, could they not?
---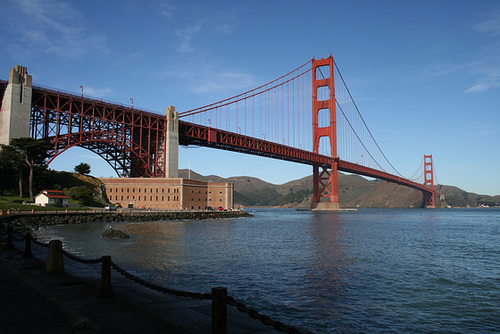 The Golden Gate Bridge

Looking up
While walking across the Golden Gate Bridge.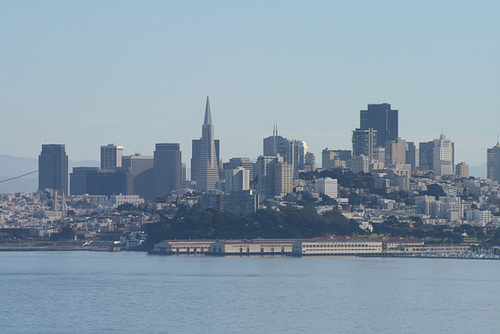 San Francisco skyline
San Francisco, viewed from "the other side" after walking the bridge.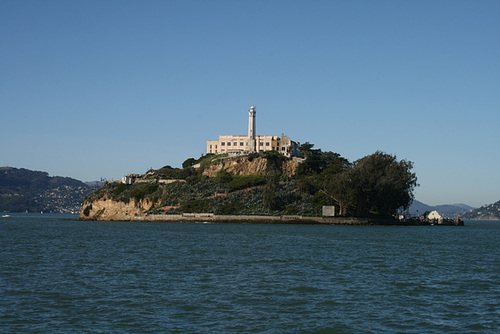 Approaching Alcatraz
---
Well, this certainly proved to be a great city to spend some time. We were able to really get under its skin, exploring nooks and crannies, taking plenty of time, and never felling bored or impatient.
---

The Transamerican Pyramid
A San Francisco icon.
---
The weather has been glorious! Certainly not typical for San Francisco winters, we have been told, and we certainly believe them. One foggy day only, in Fog City. Top temperatures in the high 60's (that's like 18-21 degrees for all us metric types using centigrade). And not one drop from the sky.
The first couple of days, we had Alex (a friend from Melbourne) staying in the same hotel, just 2 floors below us. I probably should diverge at this point and give a little description of Hotel Des Arts. A quirky place, with each room unique, decorated by locals artists. While Alex's room was pink with large pigs, ours had greens, blues, and peach hues, with a mermaid. The corridors are lined with artworks of many different styles, and it is a very funky place to spend a week. Anyway, Alex was over for a conference, so we breakfasted and spent the evenings with him until he left.
---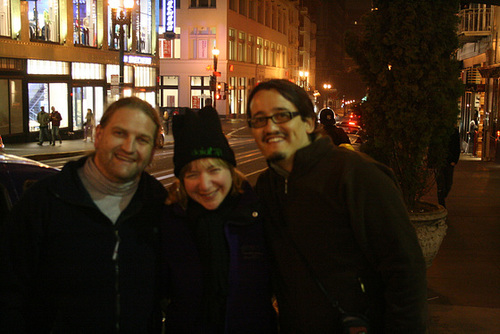 With Alex
One of our bestest Melbourne friends was here for a conference. Great to catch up, Alex!!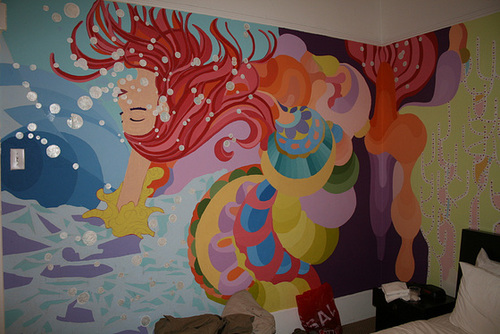 Our room
One wall of our room in Hotel Des Arts.
---
We walked, and we walked some more. Walked the waterfront. Clam chowder on Fisherman's Wharf. Drinks in the Fog City Diner, Walked through the back streets of China Town and the very Italian North Shore. Walked to the top of Telegraph Hill and Coit's Tower, and through the redwoods at the base of "The Pyramid". Walked to the cathedral, and down the eight z-bends of Lombard Street. Ferried to Alcatraz where we walked around the remains of the prison. We trammed to the Mission district where we dined on some fabulous burritos, but walked back to burn it off. One day, we bussed a lot. Bussed to Land's End, where we walked the Coastal Trail, and bussed to Golden Gate Park, where we walked even more. On another day, we commuted to The Golden Gate Bridge, walked across, and walked to Sausalito. On our final day, we really got some walking done. We explored the murals of the Mission district. Starting at Balmy Alley, we went back and forth, up and down, around and around, working our way through the streets until we finished at the oldest building in San Francisco, Mission Dolores. (Incidently, scenes from Vertigo were shot in the graveyard, here!) We also visited a Warhol exhibition in the Jewish Museum, and had drinks in a 1920's bar.
---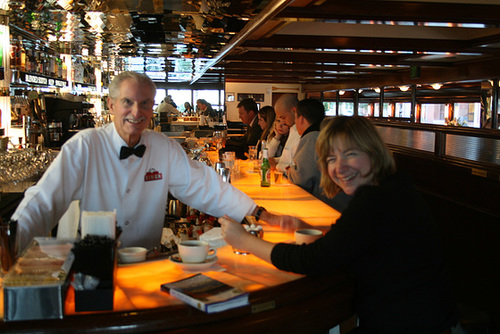 Roger, our barman
Take a step back in time, sit at the bar of a 1930s diner. Fog City Diner is supposed to be one of the best. My goodness, we felt we got the full States experience in an hour here!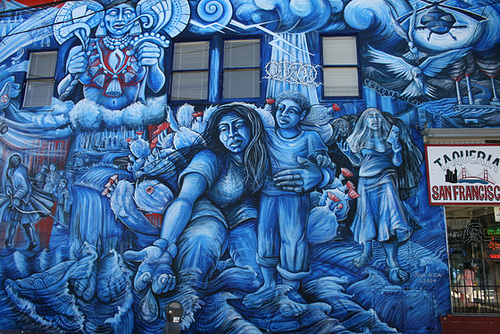 Mission District Mural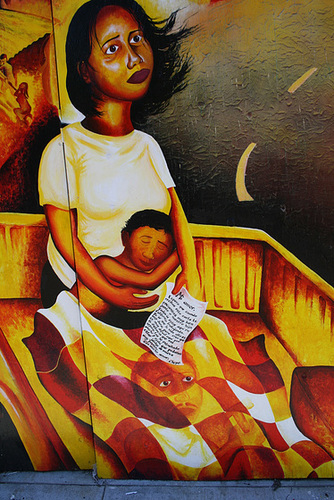 Mission District Mural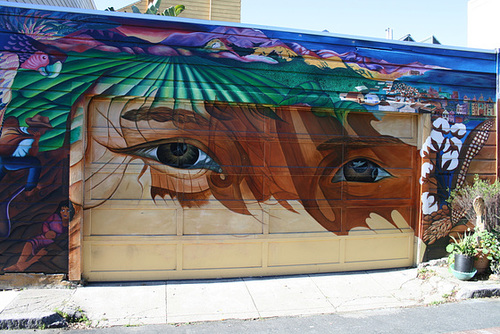 Mission District Mural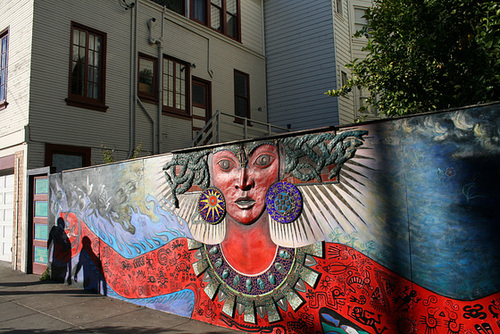 Mission District Mural

Lombard Street
Called the world's crookedest street, this short section of Lombard Street has 10 z-bends.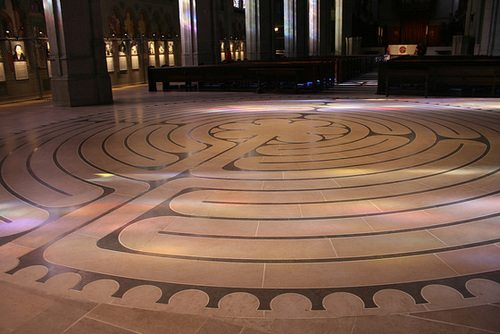 The Labrynth
On the floor of Grace Cathedral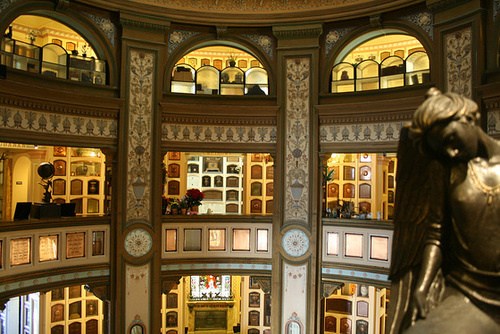 The Columbarium
A mausoleum in suburban San Francisco.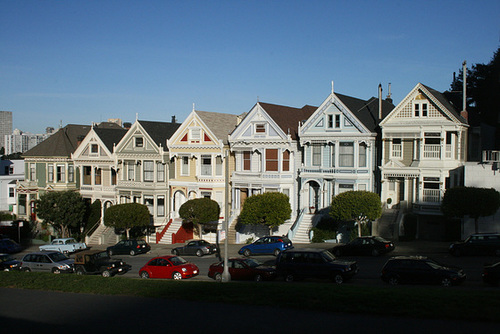 The Six Sisters at Alamo Square
Glorious Victorian houses, on more postcards than any other.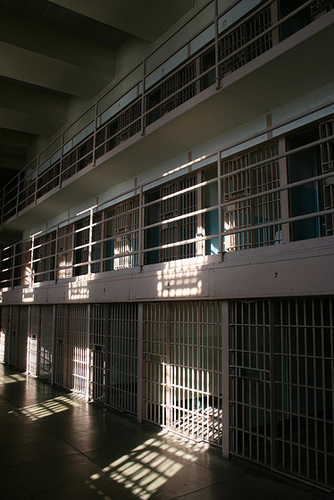 Solitary confinement cells, Alcatraz
---
We ate quite a variety, too. Chinese, American, Indian, Italian, Mexican, Turkish, and Pakistani. Supposedly, there is 1 restaurant for every 28 residents. Not so sure I believe that figure, but it probably isn't too far wrong, judging by the density of eateries in some neighbourhoods we've been through!
All in all, we had a superb time in San Fran.