14 to 19 Jan, 2009 – Los Angeles, USA
Adam was at the airport to pick us up. He lives in Orange County, a little southeast of Los Angeles. This is continent number three, for meeting up with Adam. We met him, 11 years ago in Vietnam, and our paths crossed again in 2005 in Peru. The day stayed pretty low key, with lots of talking, stories, and only venturing out to eat. We had a magnificent dinner at a Persian restaurant, the highlight being the chicken in pomegranate sauce.
The following day, we dragged Adam off to do some sights. We spent a few good hours in downtown LA, although it would have been less had we not all lost each other in the mausoleum underneath the cathedral. The later part of the day was spent at the La Brea tar pits, where oil still bubbles to the surface in a number of spots, mixing with sand and water and vegetation debris to create sticky tar pools. But the most interesting part is that this has been going on for many thousands of years, and there are thousands upon thousands of fossils being recovered from hundreds of species of animals that became stuck in the tar and died there. The tar then effectively preserved the bones. Significant animals trapped included giant sloths, mastodons and mammoths, camels, wolves, saber-toothed cats, but the full list is incredible. A definite highlight.
---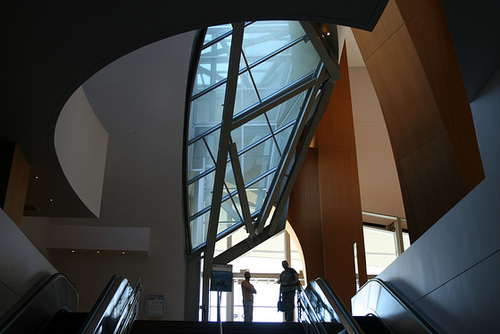 Adam and Richard in downtown L.A.
Interior of Walt Disney Theatre, L.A.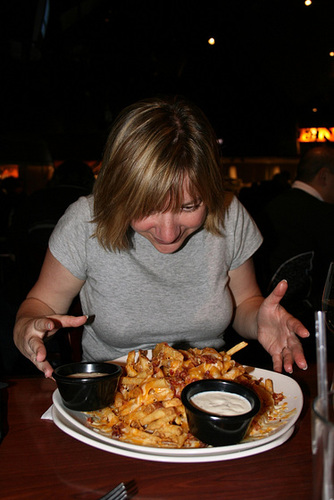 Oooh, cheesey fries....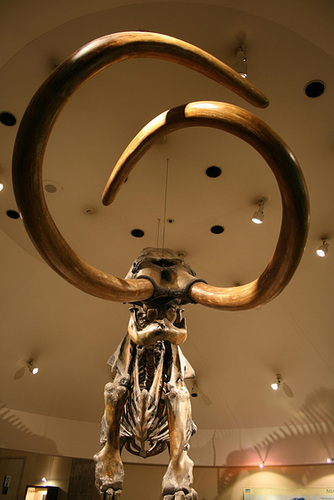 A towering mammoth
I don't know if this would be any less daunting if it still had flesh and skin and hair and eyes and a trunk...



One big mumma of a mammoth
One of the skeletons recovered from the La Brea Tar Pits in Los Angeles.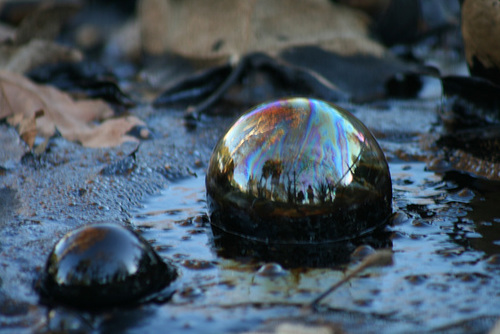 Tar bubbles
Oily bubbles still rise to the surface of muddy pools in the La Brea Tar Pits
---
Adam generously let us use his car on Friday, so he could stay at home and work while we went out star-spotting. We started with graves at Westwood Memorial Park. Marilyn Monroe, with no message – Just her name and the years of birth and death. Rodney Dangerfield - "There goes the neighborhood". Bettie Mae Page - "Queen of Pin-Ups". Merv Griffin - "I will NOT be right back after this message".
---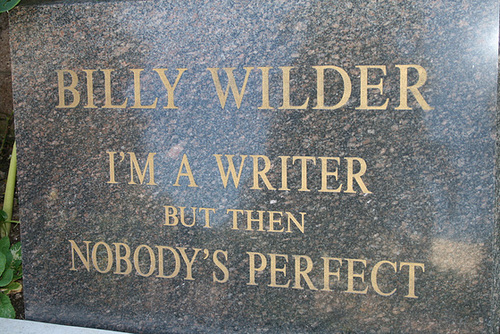 Grave at Westwood Memorial Park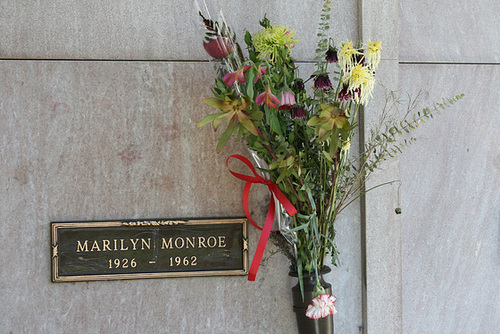 Grave of Marilyn Monroe
Westwood Memorial Park.
---
We drove through Beverley Hills to Hollywood, driving on Sunset Boulevard and Santa Monica Boulevard. In Hollywood, we had to deal with the freak show of dozens of people dressed up as movie characters who wandered the streets trying to entice people in to taking photos with them for a fee. We checked the main things out – Stars embedded in the sidewalk of the Walk of Fame on Hollywood Boulevard; the Kodak Theater, site of the Academy Awards; and Grauman's Chinese Theater, with celebrity hand prints, foot prints, and even a nose print in the concrete of the forecourt.
---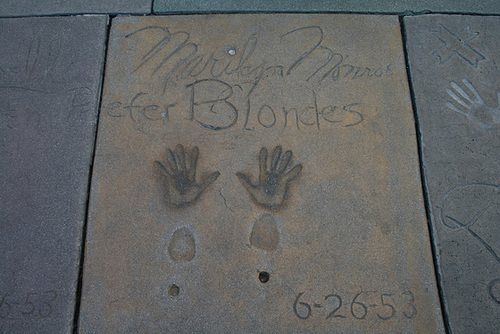 Marilyn Monroe hand and foot prints
Hand prints in cement, outside Grauman's Chinese Theatre, Hollywood.



Shirley Temple's prints in cement
Outside Grauman's Chinese Theatre, Hollywood.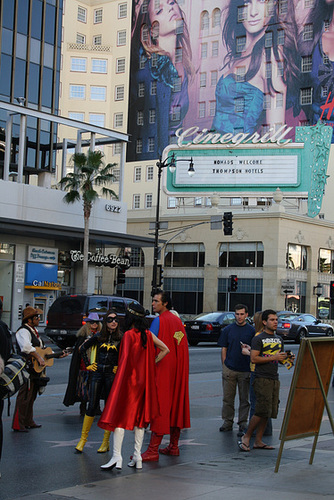 Superman, Batgirl, and Wonderwoman cruise Hollywood for tips
Three of the nutty people who dress as famous people and cruise the boulevard hoping that tourists will want to photograph them for a tip.
---
Venice Beach was nowhere near as weird as we expected, but it was still a bit of a sideshow atmosphere. Tattoo parlours and psychics fight with ice creameries for frontage along one side of the path, while people with blankets of handcrafts and jewellery mix with buskers (of varying quality) down the other. One man selling wallets had a sign up - "Will work for marijuana". Not the only one, I'm sure – I got the feeling that dope would be seen as a currency roughly as desirable as cash. Things in Venice got a lot more our style up at Abbot Kinney Boulevard, with eclectic shops filled with knick-knacks and quirky furniture, restaurants, and fantastic book shops.
---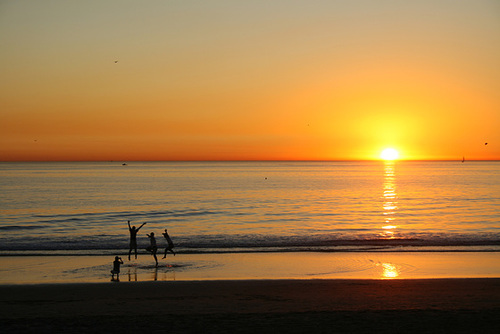 Silhouettes at sunset, Venice Beach
Apparently, jumping silhouettes is quite the craze at the moment.
---
We dined in the Third Street Promenade in Santa Monica, which was a fun and vibrant atmosphere, despite the tinge of glitz and dazzle. Had a great dinner. We are learning to order appropriate to U.S. serving sizes. Generally speaking, portions are generous. So, while dining out is generally a pricier affair than at home, especially once you factor "plus tax plus tip" in to the equation, we find that we can eat well with just one course, or perhaps even one entrée (or appetizer, as called locally) to share and one main (or entrée, as called locally) to share. Note the different usage of entrée? We didn't at first, and thought some establishments particularly pricey - "If that's what they charge for entrée, imagine how much the main courses are going to cost!"
One evening, we had cheese and wine on the beach while we watched the sunset. We followed that with a bucket of prawns and some margaritas. Dessert was ice creams at "Coldstone", where you choose your base ice cream and they chop up whatever you want to add to it, from fruits and berries to nuts and chocolate bars.
---

Enjoying sunset, L.A. style
My goodness, life is tough, isn't it. Cheese, and "water" ;) at Newport Beach.
---
The next morning, we sat at almost exactly the same spot and enjoyed breakfast burritos. While we ate our burritos, a pod of dolphins swam past no more than 30 or 40 metres from the shore, just beyond the surfers. Within five minutes, a flock of pelicans flew past, only centimetres above the water, rising a little to allow breaking waves to pass beneath them. Life is tough, hey.
We made it to church on Sunday – Rock Harbor, a church plant from The Mariner's. Wonderful worship, and a fantastic message.
Our final evening was spent at a brew house and pizzeria with Ryan and Dan, as well as Adam. We met Ryan and Dan in Peru/Bolivia nearly four years ago, and trekked a few days with them around Isla Del Sol on Lake Titicaca. We had such a blast of an evening that we didn't feel obliged to rush home and get an early night, even though our airport transfer was booked for 3:30 the following morning.
---
Beer sampler plate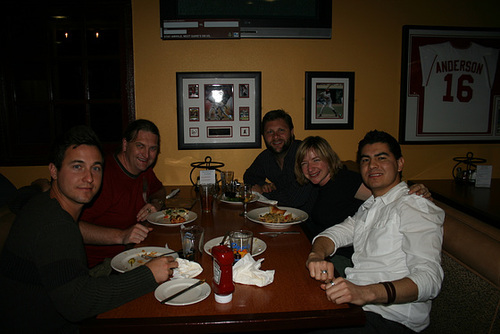 With Ryan, Adam, and Dan
All three were met on previous trips.
---
We must say that our States stop-off has far exceeded expectations. While the fantastic weather helped, it was so much more. Friendly people all round (and not just the friends we met up with!) Plenty of interesting sights without needing to resort to Disneyland or Universal Studios. While a little pricey, especially with our dollar struggling at the moment, we still had some fantastic feeds. In fact, Jo and I feel we may campaign for greater immigration intakes for Central Americans in to Australia, as we desperately need to lift the standard of our tacos and burritos! (Note: need to import Coffemate flavoured coffee milks, and a Coldstone ice cream franchise.) We don't know when we'll make it back, but we will face that with far less trepidation, now.