4 to 7 Jan 2009 - Hawaii, USA
Well, as most of our Melbourne friends know, we decided that having to stop in Honolulu en-route to the start of our adventure was reason enough to spend a few days. A few years ago, while in Cambodia, we met Shannon. When she came to Melbourne, she stayed with us. I'm not sure if they knew at the time, but she was only too willing to invite us to stay with her Mum (Mom ;) ) and Step-Dad if we ever made it to Hawaii. Well, some time has passed since then, but when we mentioned to Shannon that we were stopping in Honolulu, she once again offered (on their behalf, lol). We soon learnt that the offer could be so easily made because Candace and Jerry are a couple of the most hospitable people you could encounter.
Day 1 in Hawaii was a repeat of the day before, having crossed the date line and having the 4th of January again. Picked up our VERY cheap rental car, paid the VERY steep insurance. Little PT Cruiser – Very cute. Spent the day driving around the south coast of the island, and we dined at the Summit Restaurant.
---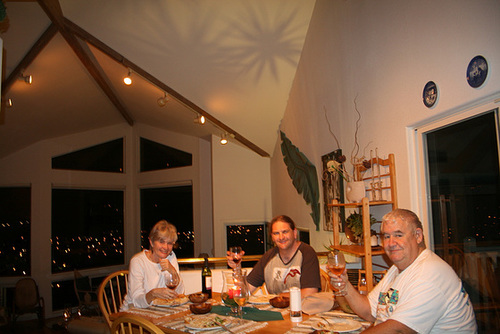 With Candace and Jerry.
Candace and Jerry, our superb hosts for our Hawaii stopover. The lights of Kailua are behind us.
---
I should explain that Candace and Jerry live close to the top of a reasonable hill, overlooking Kailua on the east coast of Oahu, about 30 minutes drive from Honolulu. Jerry loves to cook, and that, combined with the fantastic views from the living/dining area of their home, leads to the affectionate dubbing of the house as the Summit Restaurant.
The 5th began with sausages, French toast, and blueberry sauce for breakfast, (a nice touch of typical Americana with the blueberry sauce, there!)
A visit to the USS Arizona Memorial was a great way to get some appreciation of what actually happened at Pearl Harbor on December 7, 1941. A very moving tribute to all lives lost on that day, and a great insight in to some personal stories of the day. The actual memorial is built on the water, over the shallow wreck of the battleship Arizona. Almost 1200 lives were lost on that ship alone. The ship alone, rusting away, just below the surface, oil still surfacing; that was enough on its own to stir emotions.
---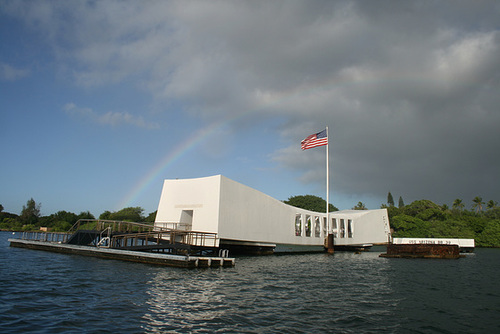 USS Arizona Memorial, Pearl Harbor.
A rainbow frames the memorial over the USS Arizona, Pearl Harbor.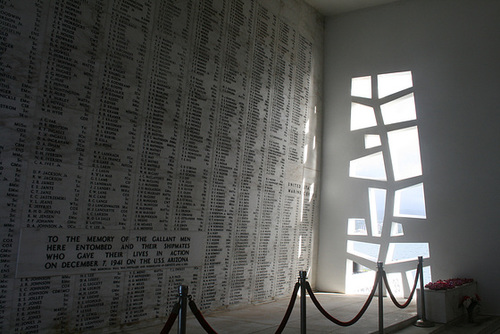 USS Arizona Memorial
Wall of names, USS Arizona Memorial.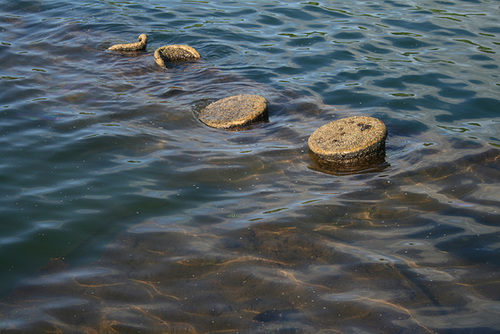 Part of the "USS Arizona"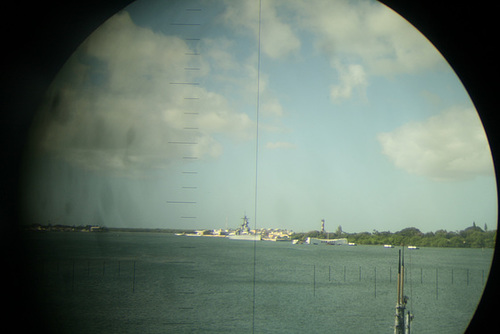 USS Missouri, through a periscope.
The USS Missouri, viewed through the periscope of a submarine, Pearl Harbor.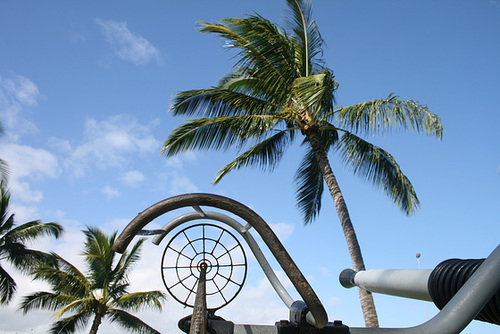 Taking aim
Pearl Harbor, anti aircraft gun
---
The rest of the day, we circled the island, along the north shore, famous for its incredible surf. It was a great day getting a feel of real Hawaiian life in the towns, and a glimpse of the life in the big surf, but unfortunately, it was far from a big surf day. The surf report on the radio described it as less than half the size of the previous day, and hardly worth getting out of bed for...
Coffee in a beach-side establishment, where Bill Clinton once dined or drank, and then dinner in the Summit Restaurant again!
Jerry and Candace outdid themselves the next morning, our anniversary. Breakfast was served by the window, in true restaurant style. Eggs, ham, potatoes, and biscuits (American biscuits, not what we would call biscuits – don't know what we would call them!) I could almost have cried, it was so beautiful. Happy 19 years, Jo!!
---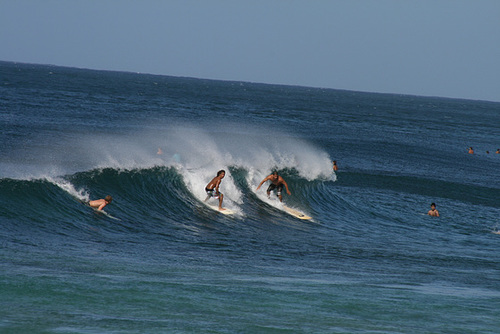 Catching waves
North shore surfers.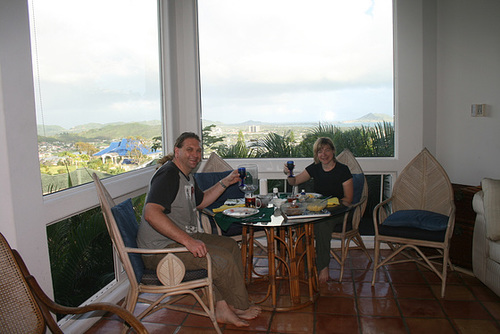 Anniversary breakfast
Anniversary breakfast at the Summit Restaurant, a.k.a the home of Candace and Jerry Foster.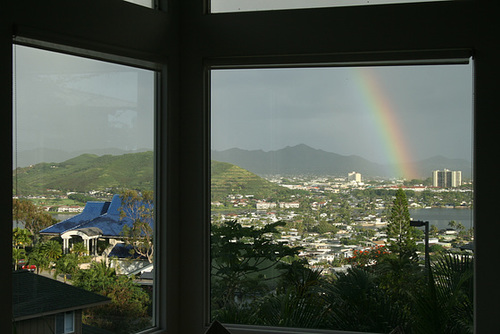 Rainbow from the Sumit Restaurant
Rainbow from Candace and Jerry's. Kailua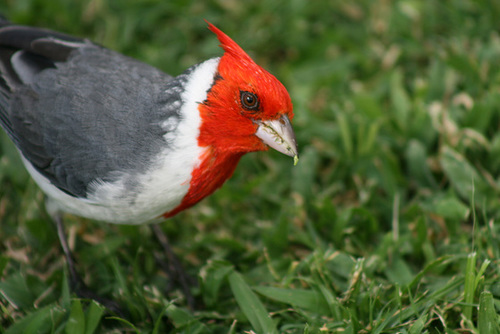 Curiosity...
A cute bird checks us out.
---
Honolulu for sight-seeing; Waikiki for some beach (including a mochacino shaved ice snow-cone and a sunset cocktail); a bit of a splurge at a waterside terrace for our anniversary dinner; and then, our last full day in Hawaii was complete.