19 to 25 Jan, 2009 – Panama City and canal, Panama
It took quite a while for us to get Van Halen out of our minds, after landing. I'm sure the automatic neural response to start singing THAT song every time somebody says "Panama" will eventually fade. I certainly hope so, anyway.
So we ultimately find ourselves at Luna's Castle, in Casco Viejo, the old part of town in Panama City. This backpacker hostel is pretty happening all the time, but we have been blessed with a quiet room upstairs, and a view from our bed out to the roofs of the old town and across the bay to the soaring new part of the city. Here, we have killed some days getting back in to the travel swing of things. Our systems are getting back in to the swing of it all, too, or at least mine has, with a bit of an upset stomach for a day or two. All good again, now. Jo likes having access to a kitchen every now and then, so we are having a bit of our own cooking, but never fear, we are still getting some local fare as well.
---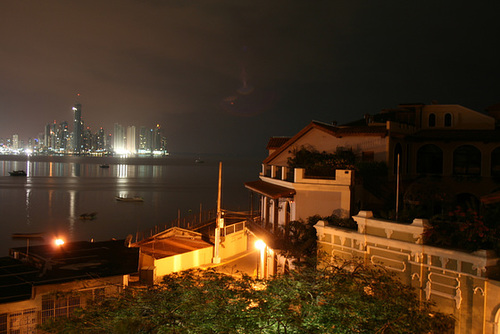 View from our bed
Luna's Castle, a hostel in Panama City.
---
The hostel seems to be a mix of a handful of people spending a week or more doing nothing but enjoying some down time, and almost everyone else seems to breeze in for a night and then leave for a plane or bus or boat to a far-flung destination – few in between.
The extremes also exist in the buildings of Casco Vieojo. Beautifully renovated mansions interspersed with dilapidated fire traps and literal ruins. A few buildings are in the process of being restored, but the views down many streets and out the back windows of the hostel look like shantytowns with one or two beautiful structures to dropped amongst them. Black headed vultures sit on all sorts of things, as birds do, but given their size and almost ominous shape and the macabre connotations that accompany these scavengers, the scenes take on a touch of surrealism.
---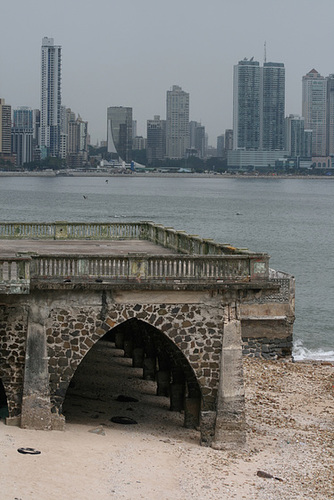 View from old town, Panama City
View across the bay to the new part of town and financial district.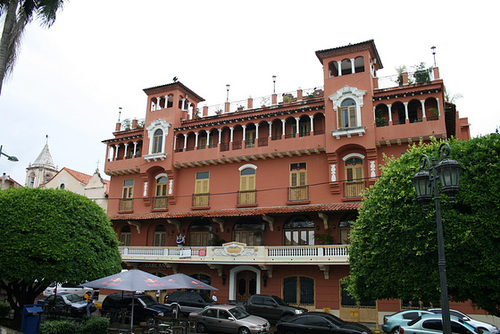 For sale - Anyone interested?
Room for all the family. Lovely building in Casco Viejo, on a nice square, and it's available.


Very attractive building, old town, Panama City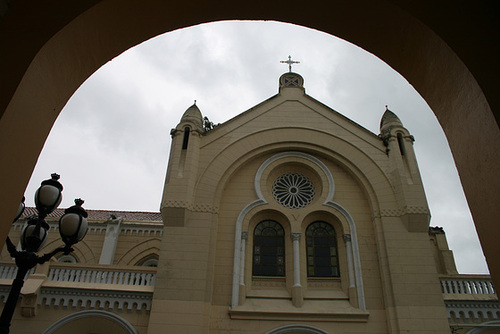 Church in Casco Viejo
---
We did find our time at the canal itself to be a far more interesting sight than we had anticipated. We spent hours there, but the Maltese cruise ship was great to watch. Especially with the hundreds of waving people on the decks or on their private balconies.
---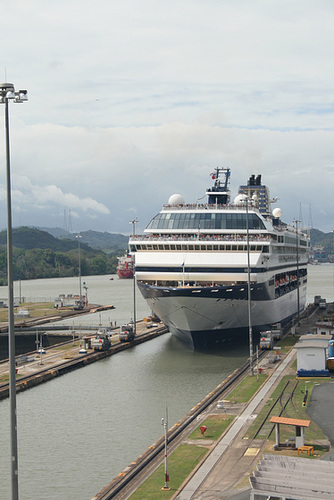 Cruise ship entering the locks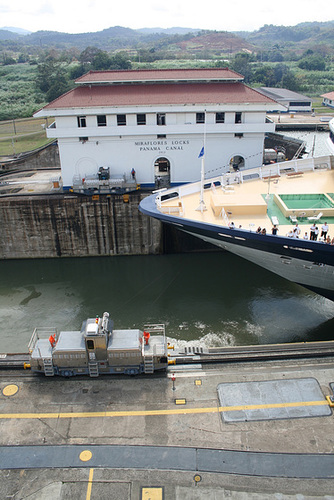 Mules at work
Electric engines, aka mules, guide the ship through. The ship is not pulled through, it uses its own power for propulsion - the mules simply steady and guide her progress, and assist in braking.



Crew on cargo ship
Happy waves from the crew of a ship carrying cars, as they pass through the Mirafllores locks of the Panama Canal.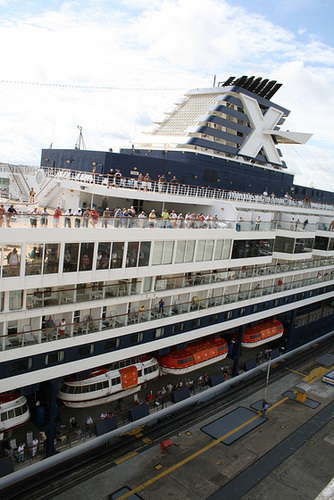 She fits, but only just
There's not a lot of room for error as this cruise ship passes us in the Miraflores Locks of the Panama Canal.
---
I know, I've barely covered the country, but of course, that will come in the following entries. And the hats? We did see some very touristy ones for sale at a plaza...