11 to 16 January, 2016 - St Joseph, Cirque de Cilaos, Piton St-Leu - (Reunion/France)
So, around the south and up the west, our time in Reunion (and this adventure) draws towards a close. We are definitely not running out of things to do here. Another week would be easy to fill in! Unfortunately, we do not have that, so now it is a matter of choosing what to do to out of what has not been done.
One thing we had been particularly planning all along was some walking in the interior, going to the famed "cirques" of Reunion. Cirque de Cilaos seems often listed as the most impressive of the three, so into the interior we went. A wonderful drive of 400 plus twists and turns, not too much of a climb overall, but we went up to passes, down along ravines, over and under, to be ultimately at Cilaos.
---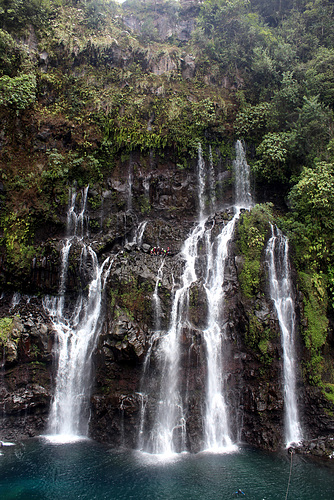 Look Carefully...
If you look carefully, you will see the "canyoners" making their way down the falls. Nice, because it gives perspective. Cascade de la Grande Ravine.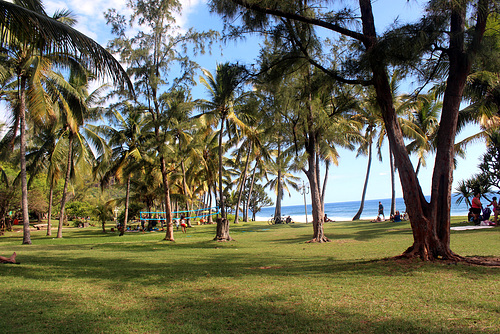 Grande Anse
Beach time on Reunion's south coast.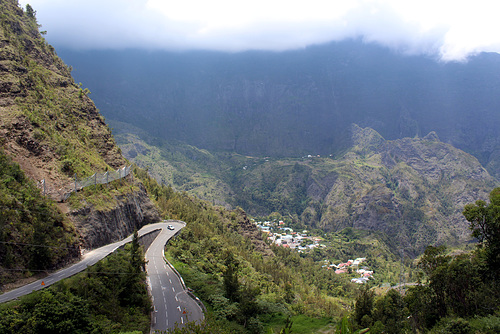 Road to Cirque de Cilaos
There are more than 400 twists and turns on the 37 kilometre road to Cirque de Cilaos. Many of them are hairpins. One is even a 270 degree rotation where the road passes back over itself on a bridge. An exciting drive indeed, punctuated by many viewpoints and lookouts.



Peak in Cirque de Cilaos
One of the peaks en-route to Cirque de Cilaos. Just to the left of the peak, keen eyes can pick out the road tunnel passing through the massif of rock.

---
Well, here we are. This part of the blog comes to you from where we are "stranded" in the mountains. Not entirely cut off, so I don't want to over-dramatise. We are at Ilet a Cordes. It is 10 km from Cilaos. The views are incredibly beautiful. Anyway, Cilaos almost feels like the end of the world as it is. But it is not the end - 10 km further is Ilet a Cordes. We came here for even more views. And now we are stuck. A rock face has collapsed and closed the only road. How long for? Nobody seems to know. 4 hours in, and some engineers have been helicoptered in to begin assessment. Initial assessment has them saying we should be out of here tonight. But it is past lunch time, and not one pebble has been moved yet. The retaining mesh for the rocks has been ripped off and I think that is probably their first concern.
---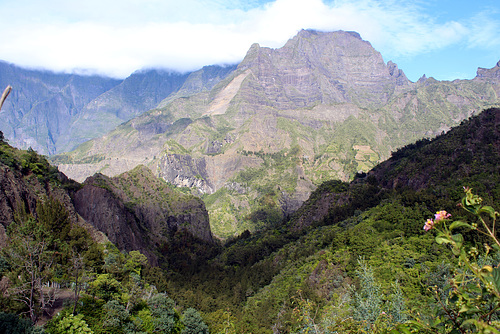 Morning - Cirque de Cilaos
The mornings generally bring better views. The clouds tend to be higher or non-existant. In the high parts of Reunion, as the day progresses, so does the deterioration of the weather.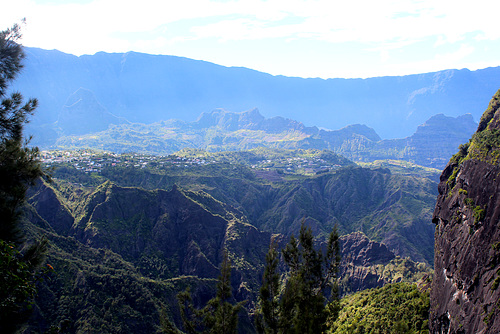 Looking Back at Cilaos
When you are in Cilaos, it is harder to appreciate its location than when you look at it.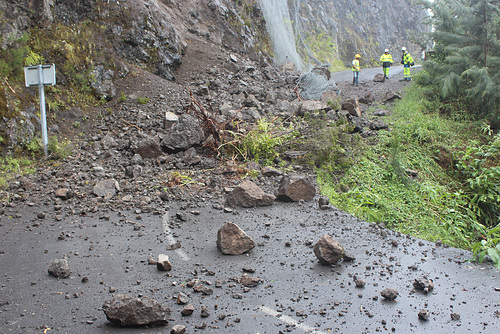 Road Closed
Workmen survey the rock fall on the road from Ilet a Cordes to Cilaos. This had the road closed for nearly six hours, primarily while we waited for engineers to be helicoptered in, who then abseiled down the cliff, dislodging all loose boulders and rubble as they went. It seems the problem was not the rocks which had fallen, but the rocks which were yet to fall!

---
Well, by 5:00, we were back in town with a glass of wine in hand. It was around six hours we were held up. Really, nothing to complain about, just another adventure.
---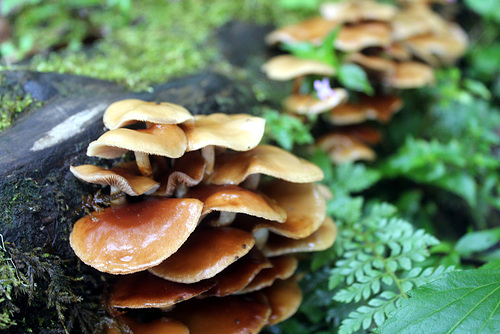 Mushrooms Along the Way
Along one of the trails we walked in Cirque de Cilaos.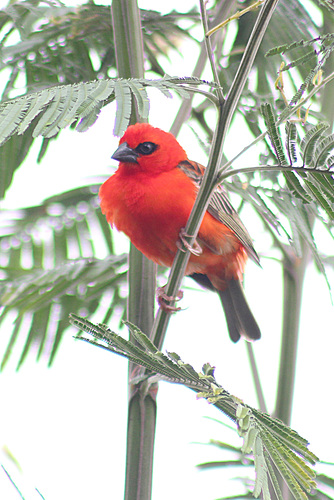 Cardinal
Ubiquitous throughout Reunion.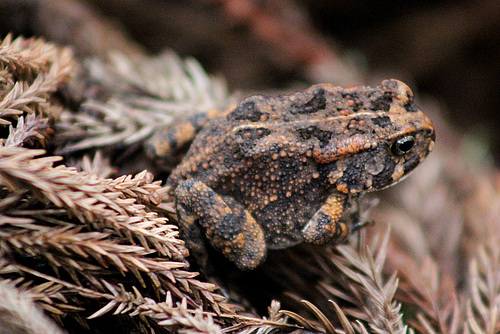 A Comouflaged Frog
Trying to hide in the undergrowth, I managed to get a shot as he scuttled from one pile of dead leaves to another.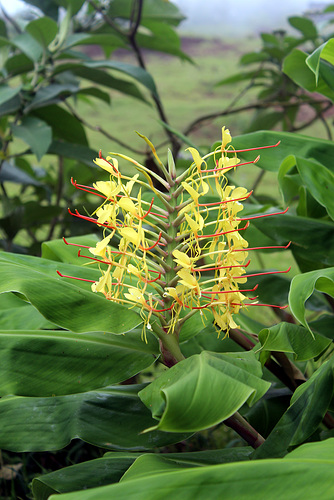 Longose
A beautiful flower, but unfortunately, it is a weed.

---
Back to the coast, to couchsurf with Marion and Benoit, and their children Alix and Basile. We met this family in Rodrigues, and they invited us to stay when we passed through.
On our second last day, we headed up to "La Fenetre", the window, to try and get some views. Unfortunately, cloud meant we never saw the whole view at once. Most of the time, we were staring at white nothing. Occasionally a break in the clouds revealed a tiny snippet of the overall vista, but a lot of imagination was needed to piece it all together.
So we headed down to the beach, and ended up at l'Etang-Sale les Bains, which has a black sand beach. If you think a normal beach can get hot, try black sand. We decided to leave our things in the shade, high above the water line, and make a dash to the water. I realised it was hot, but was committed and just kept on going with the cool waters as my target. What I didn't realise was that I was seriously burning my feet in the process. It was too late, and now I am nursing seriously blistered feet and toes. Jo has asked me to please be more careful with my feet the day before leaving an island. This makes two in a row.
Final day was relaxed, with not too much planned. This is par for the course when there is an afternoon flight. It is hard to enjoy things with the thought of flights and formalities looming - better to underplan, and finish with a wonderful meal of octopus and prawns and a carafe of red wine.