7 to 10 January, 2016 - St-Andre, Piton de la Fornaise, La Brule - (Reunion/France)
Reunion. A French department in the Indian Ocean. Geographically, it's Africa. Culturally, it's laid back France. Magnificent topography, formed by numerous volcanoes, not all of them extinct.
We picked up a hire car, dealt with odd opening hours, discovered how little English was spoken here, and dined on take-away Creole food and a bottle of red. That was day one.
The second day saw us discovering some of the beautiful natural wonders of this island. The afternoon had us climbing high to spend the night close to the volcanic heart of Reunion.
---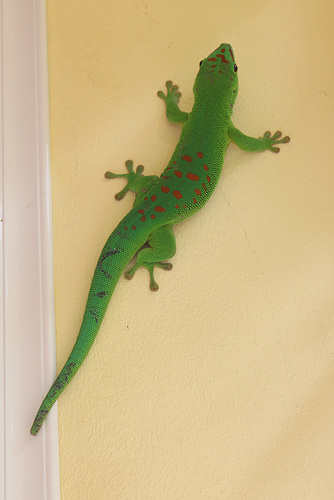 A Beautiful Local
Being French, geckos here care about fashion. I wonder if a gecko in Reunion calls in French?



Gecko Attitude
I love how much detail has been picked up with this photo. He almost seems expressive, don't you think?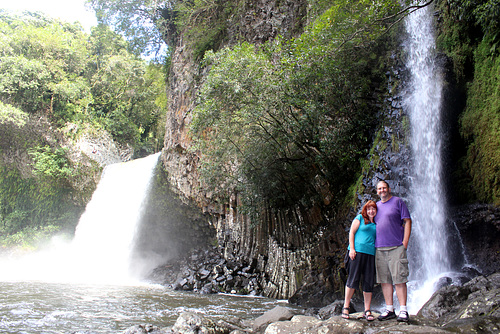 Falls at Bassin La Paix
Two of four waterfalls pouring in to this magnificently picturesque large pool.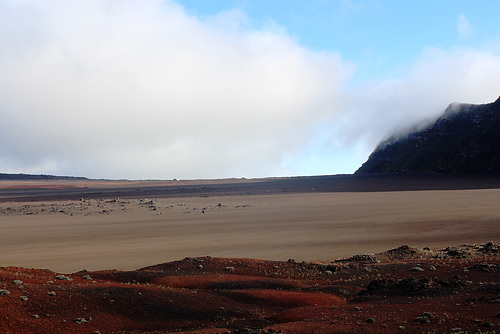 Route du Volcan
The last few kilometres to Pas de Bellcombe (Piton de la Fornaise) are across this magnificent landscape. This is Route du Volcan - Volcano Route. I almost expected to encounter the Mars Rover!

---
We arose early - almost an hour before sunrise, so had already descended a couple of hundred metres to the lava field when the sun first appeared. The volcano itself cast a long shadow, keeping us out of the sun for at least another hour. By this time, we were some way up the side of the cone that houses the main crater. The going was relatively difficult - the dry lava underfoot being uneven and unyielding. But the views into the crater were amazing. We were so blessed, too. We were alone some ten to fifteen minutes before anyone else reached the viewpoint. Also, by the time they arrived, the clouds had began to roll in. They had to piece together the overall vista, as clouds rolled in and out and around. We expected to walk back in baking sun. Instead, it was moisture soaked fog. And somehow, we still got back to the car feeling dry and dehydrated. A wonderful experience, though, and still different to other things we have done.
---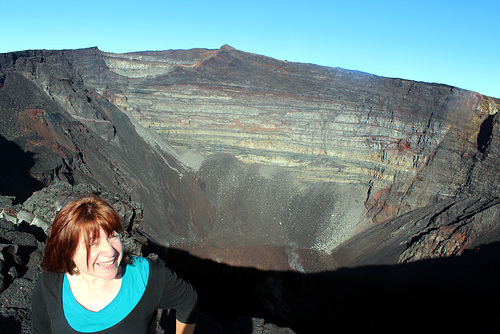 Jo and the Volcano
Piton de la Fornaise, a very active volcano on Reunion. Reached by trekking 2-3 hours over lava fields. This viewpoint is reached after ascending to the eastern rim.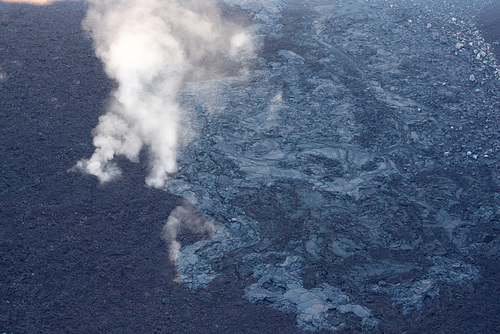 Smoking!
From the rim, the Dolomieu Crater floor can be viewed, some 350 metres below, smoking and steaming, just to remind observers that it is not dead, just asleep.

---
Driving along the south eastern coast of the island has you crossing the "Grand Brule". This is the lava field where the spewings of countless eruptions have made their way to the sea. Some are marked - 2001, 1986. The greatest flow is from the 2007 eruption.
---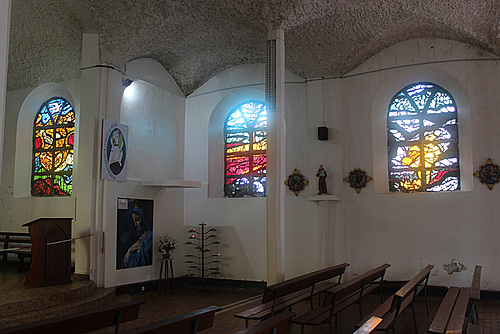 Lava Flows in Stained Glass
The church in Piton Ste-Rose. In 1977, a lava flow split and went around the church. The stained glass of commemorates this miracle. The church is now know as Notre Dame des Laves.



Driving Across Grand Brule
Older lava flows have significant vegetation growing. This lava field was from 2001.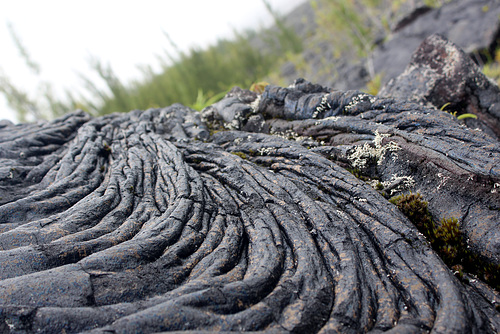 Rippled and Rolled Lava
Some of the beautiful forms left when lava flows solidified.

---