26 June to 3 July, 2016 - Narita, Kyoto, Hiroshima, Hijemi - (Japan)
So, a short adventure begins. Thank you to Qantas Frequent Flyer for the flights. Although, me-thinks the general costs are going to out-weigh any savings from the flights. I tried to use Jo's birthday as much as possible - however no business class upgrade :( - but we did manage to get some French Champagne down in economy :) - little blessings...
And, for the first time, I am playing with my new toy. A Lytro Illum camera. A depth of field camera that allows the taking of some amazing interactive pictures. They are interspersed below.
---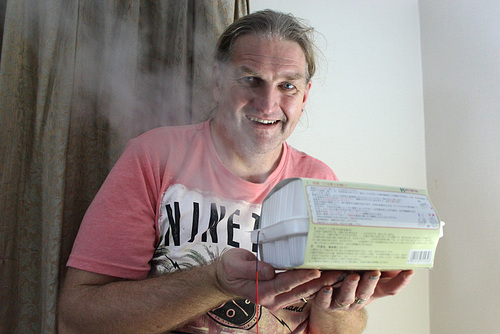 First Meal in Japan
So, we flew in late. We got to our hotel, and decided we could NOT be bothered going out to find something to eat. The vending machine in the hall had "hot meals in 8 minutes". Basically, after putting the ingredients in the correct spot, you pull the string. A chemical reaction begins inside and cooks your dinner. At one point, I felt like I was holding a bomb and might need to throw it out the window before bringing the building down.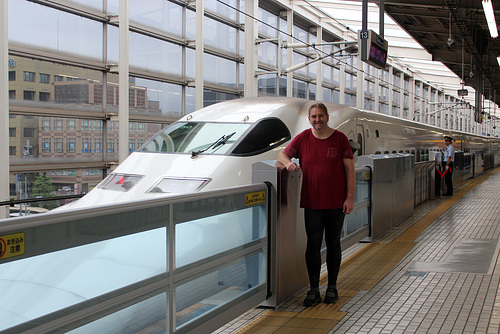 Shinkansen Bullet Train
Photo taken especially for Ben.

---
Our first bullet train ride had us in Kyoto in no time. OK, so no time is a bit of an exaggeration, it was a few hours, but it was fast considering. We got an iconic Mt Fuji vista (I do believe most people see it from the bullet train first)! We found our little house in the back streets of Kyoto, found our local supermarket, and headed out to celebrate Jo's birthday with a proper meal.
We are loving our little house. It has a traditional pot bathtub, and there are some lovely antique furnishings. The bedroom has latticed paper walls, and there is a magnificent round window that screams Japanese. Yes, it is tiny. Downstairs is a toilet, a bathroom (same size as the toilet), a kitchen/living area (a bit bigger than the bathroom), and a stairway that is almost steep enough to be classified a ladder. Upstairs is a bedroom. It is about 2 or 3 times bigger than the double bed it contains. It's small, but it is everything we need. The amazing thing is that we are sure there are many families living in similar size houses. Home, for the week.
---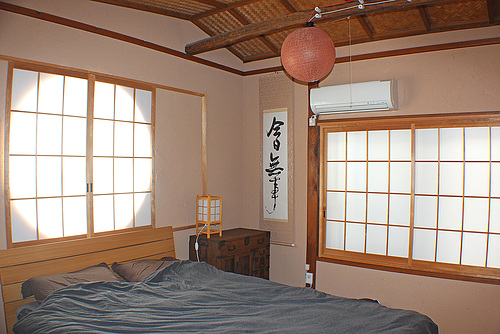 Jizo-an - Our Kyoto Home
The entire upstairs of our house in Kyoto. It is gorgeous in a quiet residential neighbourhood.

---
So, we interspersed site-seeing in Kyoto with day trips. We had one rainy day. Oh boy, did it rain. We had thought about grabbing the umbrellas because of the forecast, but when the skies are clear it is hard to imagine them changing. As we sheltered in a little cafe with our noodles, we regretted leaving those umbrellas. As we ran from temple to tree to eave, we regretted ignoring that forecast. You would think we were novices or something...
Anyway, we came back to our abode, warmed up, dried out, and had some sushi. Our dinners have generally been sushi, tempura, and something else. We have been eating lunch out, and dinner back in our room. Cheap sushi and sashimi is the staple. A bottle of imported wine always helps, or a local beer. Haven't quite taken to the saki.
---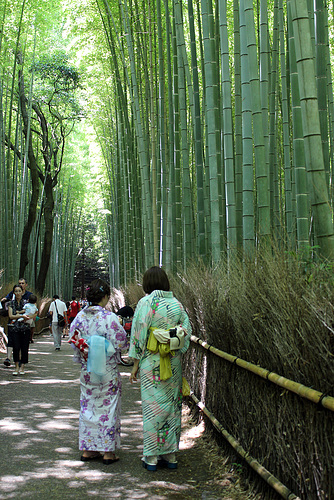 Arashiyama Bamboo Grove
Kimono clad young ladies in the magnificent Bamboo Grove in western Kyoto.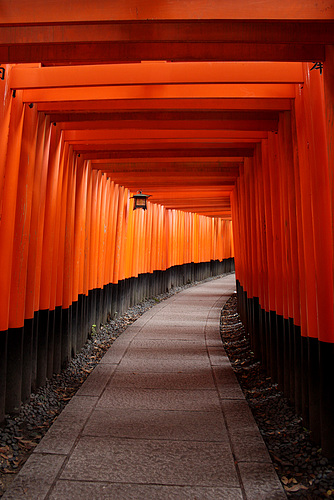 Path at Fushimi Inari-Taisha
Some of the thousands of torii for the Shinto shrine of Fushimi Inari-Taisha.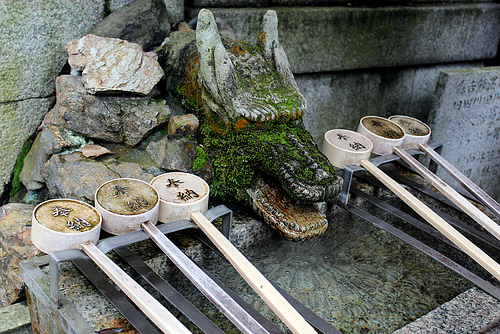 Fox Carving
Spring for ritualistic washing and cleansing. Fushimi Inari-Taisha.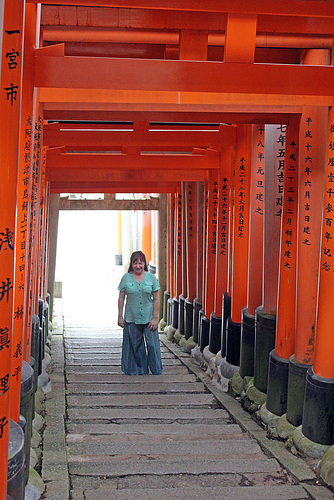 Jo at Fushimi Inari-Taisha
Under the torii.


Lanterns at Fushimi Inari-Taishi - Kyoto
Click on photo to change focus and perspective.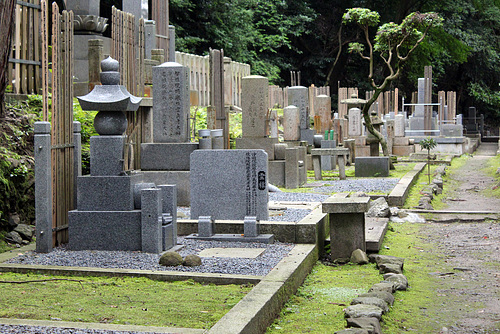 Cemetery, Kyoto


Cemetery - Kyoto
Click on photo to change focus and perspective.



Kinkaku-ji
The "golden pavilion" of Kinkaku-ji.


Drinks in Kyoto
Click on photo to change focus and perspective.


Dragon at Kiyomizu-dera - Kyoto
Click on photo to change focus and perspective.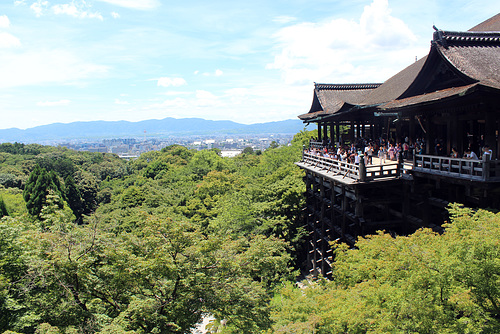 Kiyomizu-dera
A very large temple complex in eastern Kyoto, with this view being a highlight.



Higashi Hongan-ji
Incredible temple in the heart of Kyoto. Nearly as big was the coil of rope made from human hair.


Kyoto Tower viewed from Higashi Hongan-ji
Click on photo to change focus and perspective.

---
Our two day trips from Kyoto were both amazing. Hiroshima, for one reason, and Himeji, for another.
In reality, there was no preparing for how we felt at Hiroshima. Speaking for myself, I felt that I came ready for certain feelings. I had already decided what my reactions would be, and what emotional impact the experience would have on me. Ten minutes in front of the dome, and all bets were off. It was not necessarily sadder than I expected, but it certainly cut deeper.
---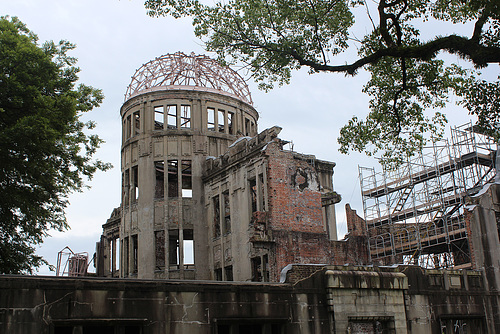 A-Bomb Dome
Almost directly under the spot where the world's first atomic bomb was dropped in August 1945. Hiroshima.


Ground-zero - Hiroshima
A paper crane at the Atomic Bomb Dome. 6 August 1945 should not be forgotten.
Click on photo to change focus and perspective.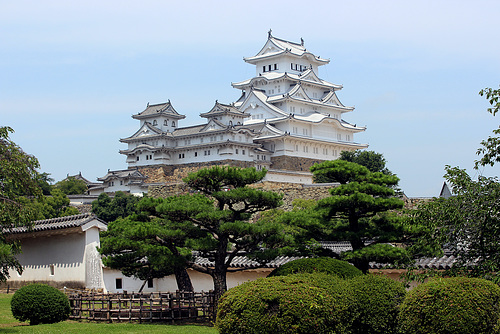 Himeji Jo
The magnificent castle of Himeji.

---