1 to 7 January, 2016 - Mahebourg, Graviers - (Mauritius)
Mauritius, or at least the main island of Mauritius, is more of a staging point for us than a destination in itself. We spent a couple of nights to get a little feel for it all, but then we were on a small plane to Rodrigues.
Rodrigues Island, of around 30,000 people, lies almost 700 km east of the main island. There are 2 or 3 "resorts", but overall, it is very underdeveloped and incredibly underrated. In our eyes, perfect. Sometimes, we had entire beaches to ourselves. Crowded beaches were those with 3 or 4 large families. Being the middle of high season, with public holidays and weekends and close to New Year, there were extended families barbecuing and camping in all sorts of spots. But it never once felt busy!
Snorkelling, sun, beaches, food and drink, and a 26th anniversary slap up lunch. Absolutely perfect.
---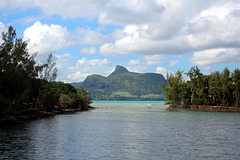 Lion Mountain
Near Mahebourg, Mauritius.



Rodrigues Lagoon
Coming in to land at Rodrigues Island, Mauritius. The lagoon around the island is twice the size of the island itself. Unfortunately, the clouds obscured the peaks of the interior.



Idyllic Beach on Rodrigues
On the west coast of the island are a series of beaches that can only be reached on foot. Beautiful sand enclosed by cliffs, and the reefs are not far off shore. We walked from St Francois to Graviers (where we are staying), visiting them all. Unfortunately, I stepped on a rock at our second swim, and took a small chunk out of the sole of my foot. Ouch. I had to hobble for a few hours to finish the walk, and the final swim and snorkel was accordingly cancelled :(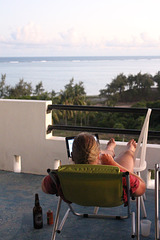 Our Outlook
After a wonderful anniversary lunch in town, where we had well and truly eaten our fill and imbibed a bottle of wine (and a couple of cocktails). All we could manage was to collapse with a late afternoon beer and enjoy our last evening in Rodrigues.

---
Flying out, we were treated by the pilot to a bit of an aerial tour. Very soon after take-off, he stopped the climb, and rather than turning abruptly to head direct to Mauritius, he did a low-level complete circuit of the island. And it meant so much more to see it that way having completed our visit. We could point out the places we'd been to, identify the beaches where we had swum.
---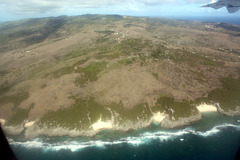 The South-Eastern Beaches
An aerial view of the beaches we had hiked to on the south-east coast of Rodrigues. These lie between St Francois and Graviers, the location of the B&B we were staying at. From the air you can appreciate just how close the reef comes to the coast. The first beach is the "bottle neck". The third one along is where I injured my foot. Sorry, I wrote that more so I would remember, not because I think anyone really cares which beach I hurt my foot on!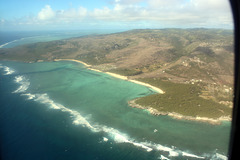 Long Stretches of Sand
The beaches of St Francois and Cotton Bay.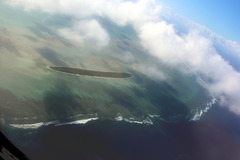 Coco Island, Rodrigues
A small island near the edge of the Rodrigues Island lagoon.

---