27 December, 2015 to 1 January, 2016 - Champagne Valley, Giants Castle, Durban - (South Africa)
We borrowed my cousin's car for a few days and headed in to the Drakensburg Mountains. Unfotunately, it was returned bruised and battered. :( We had a horrendous hailstorm. Chunks of ice about one centimetre across. We ran through the weather to move the car under a tree, to little avail as the trees did not slow down the stones very much.
Hail aside, the daily electrical storms were something to behold. Thankfully, only rolling through in the late part of the afternoons, they did not at all prevent us from enjoying a magnificent part of the country. One reasonable day walk near Cathkin Peak, and a small walk to a cave with ancient paintings near Giants Castle.
---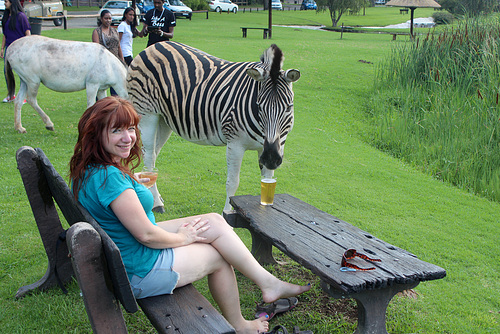 A Zebra Tries to Steal My Beer!
I step back to take a photo of our outlook to the Drakensburg Mountains, and in the meantime, a zebra sneaks up and investigates my beer. Don't worry, Jo turned in time to stop him getting any.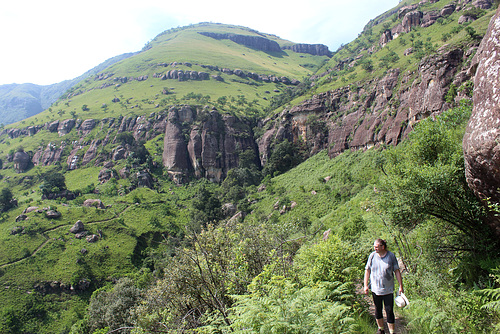 Ascending in the Drakensburgs
Climbing from Champagne Valley to Blind Man's Corner, near the base of Cathkin Peak.



The Peaks Ahead, Our Climb Continues
Heading towards Cathkin Peak.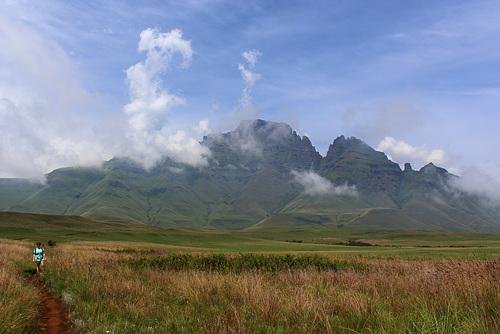 Crossing the First Plateau
The climbing complete, we were now about 600 metres higher than the car park. A few kilometres of delightful flat walking through the grasses and flowers.



San Cave Art, Drakensburg
Ancient art in a cave in the Drakensburgs, near Giant's Castle. The person on the right is a medicine man, jumping on one leg, probably in a trance.

---
Then, back to Durban for waaaay too much eating and drinking. Ox-tail potjie (see photo), wood-fired pizza, braai, South African wines and beers, caiparinhas and Amarula. All punctuated with some dips in the pool.
Joke of the week has to be the South African request for frozen water. No matter how hard Sharon tries, it sounds like she wants arse in her drink! Did we want arse in ours? There's plenty of arse in the cooler box!
We did get out for New Years Eve, and made a visit to the shark centre for a dissection.
---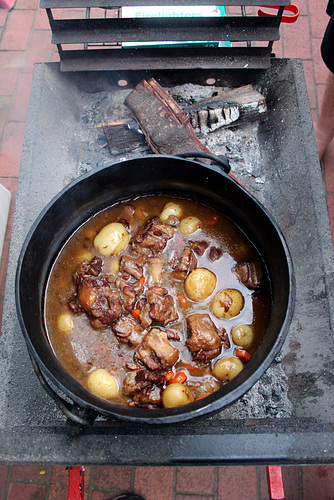 Ox-tail Potjie
Wierldly, potjie is pronounced "poy-kee". No matter how you pronounce it, it tastes amazing. It was cooking for about 8 hours on coals. Amazing. Incredible. So tasty, and so tender. The meat just fell away. Thanks, Tony, it was beautiful.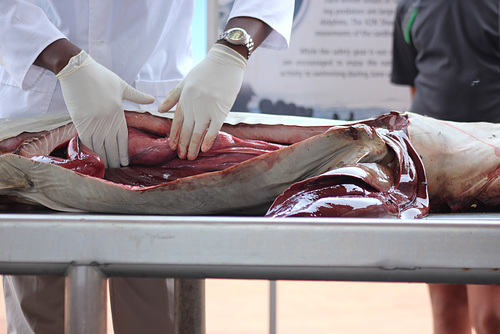 Hammerhead Shark Dissection
We went to the shark research centre in Durban. Six times a week, the audio-visual presentation is followed by a shark dissection. Today, it was a hammerhead shark.

---