20 to 26 March, 2013 – Bakuriani, Gori, Stepnasminda - (Georgia)
Trying to map out a few days travel, and realising that the snow was interfering with some of our plans, we decided to take advantage of the sunny days and that aforementioned snow and we went skiing. The timing was perfect. Admittedly, not many runs were open any more, but enough for us to be happy for a day. Hardly another skier there, either. The tickets were cheap, the ski rental was cheaper, and the accommodation was already charging off season rates. It was the perfect thing to do for that moment.
---


View from Our Balcony
Our view in Bakuriani, one of Georgia's ski resorts.



Caucasus Behind
Spring skiing at Bakuriani. The snow is disappearing, but grooming keeps some runs open. But this might just about be the last few days of the season. We practically had the slopes to ourselves, with maybe 20 people in total skiing or boarding. The majority of people using the cable car were sightseers.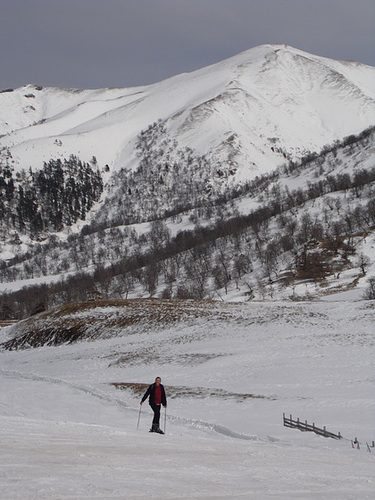 Bakuriani Skiing
Snow was good, weather great, and scenery, fantastic.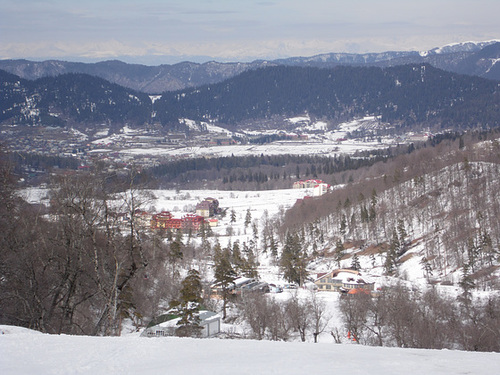 Bakuriani Village
View down the slopes to Bakuriani.

---
Gori. It is the birthplace of a boy who went on to be known to the world as Josep Stalin. The Stalin museum still operates and is proud of this link, but overall, I'm not sure if Georgians feel the same about this link as they did a few decades ago. We had a guide in the museum who had been leading visitors for over 30 years. Our vote for best comment regarding Stalin and communism went to the off-handed "They made some mistakes, but..."
More significantly for us, Gori was a great place for a day excursion. We hopped from one bus to another, and walked quite some distances.
We first went to Ateni Sioni, only to find it shut up. We walked to town to fill in some time in case it opened a little later, then walked back to find it still locked. So, back to town to see if we could find a person with a key. But to no avail.
---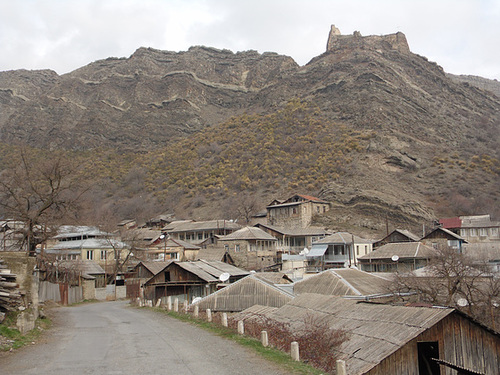 Ateni Village
Ruins overlook the village of Ateni, not far from Gori, Georgia.

---
Slightly disheartened, we went to our second destination for the day, Uplistsikhe.
---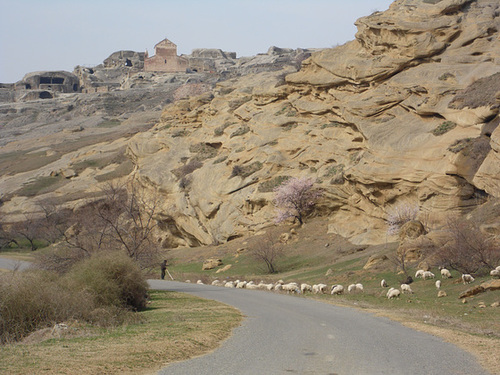 Approaching Uplistsikhe
A church on the hilltop above the cave city of Uplistsikhe. Sheep grazing by the approach road looked after by a shepherd with a staff.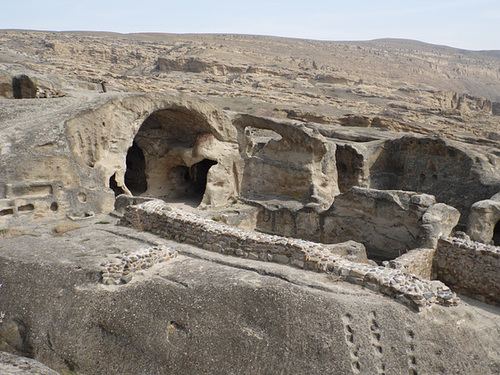 Remains of an Old Temple, Uplistsikhe
The cave city of Uplistsikhe lies largely in ruins, but some remains are quite distinct, including pagan temples (later converted to churches) and dwellings.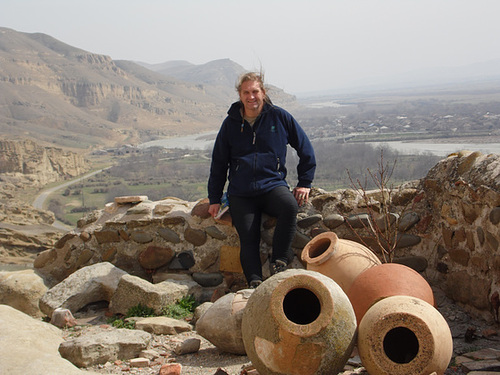 Me, Some Wine Jars, and a View
The view up and down the river from Uplistsikhe is quite extensive and very pretty.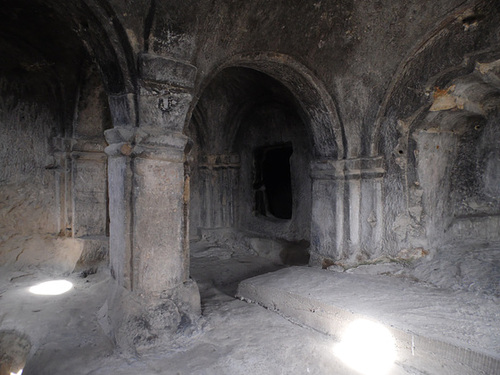 "Single Column Cave"
We nearly missed this cave, as it was a bit awkward to get to, but since it was one of the very few which had a sign, we made a bigger effort. And glad we did. The carved arches and the work around the column made it a highlight.

---
The cave city of Uplistsikhe was an interesting place, in its own right, but going there was greatly enhanced by our cultural interchange with a group of Year 10 students from Tbilisi. We first saw this group of students amongst the ruins. However, afterwards, we had a 2 km walk back to town to look for transport back to Gori. Along the road, we passed the group. They were stopped in a clearing by the side of the road, having a picnic. After waving from the road and receiving many waves back, a few of the students came running after us. Would we join their picnic? Why not. Home made food, some bought snacks, soft drinks, and vodka. Yes, vodka. "It is traditional. Of course we have vodka" explained one 16 year old.
---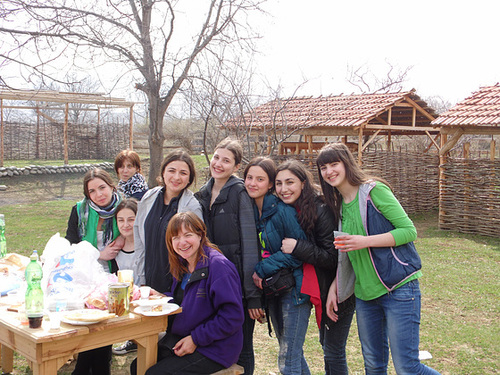 The Year 10's
Some of the kids who were on an excursion who invited us to join them for their picnic. The food was made up of various things that they had brought along to share, including some fantastic home made treats. The most surprising thing to see was, amongst the bottles of Coke and lemonade, a few bottles of vodka. Upon arrival at the picnic, we were presented with a plate and a small plastic "shot cup" of vodka, and gestures were made to the immense quantities of food to help ourselves. But apparently we didn't help ourselves enough as food was brought to us and put on our plates.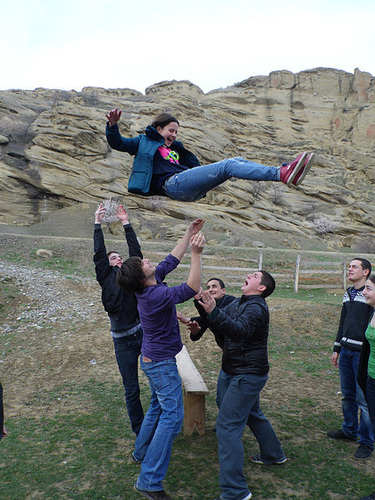 It's All Fun and Games Until...
After the picnic, the kids had some time to fill before they had to return to Tbilisi. They pulled out speakers and put on music and sang a few songs, including Georgian hits as well as stuff we knew like Coldplay. The activities got more boisterous, with students swinging each other around, fairly violently, and culminating in recreations of Georgian sword dances. Apparently, throwing each other in the air is part of those dances. I guess we just have to believe them. Jo did not seem to offend them by politely declining persistent invitations to be one of the thrown.

---
Since it was not too late when we were heading back to Gori, and it was not too much of a detour, we thought it prudent to attempt one last time to visit Ateni Sioni. When we arrived and the gate was still locked, I made a decision. Apparently, some of the nice details on the church are on the outside of the building. And the fence was not too high. So, having exhausted all possibilities, I didn't feel too bad about jumping that fence to see what we could. I had just got my leg over the top, and was straddled there, when a car pulled up. And a caretaker with keys arrived. Red-faced, I scrambled back over the way I had come, and waited while he unlocked the gate for us. He did not appear to be upset, and made no reference to what we were up to, but I was a tad embarrassed all the same.
Back in Gori, having dinner in a pub, a couple of guys at another table started playing the piano accordion and drum, and sang. It was all rather spontaneous and a lot of fun. One of them turned out to be quite the entertainer.
---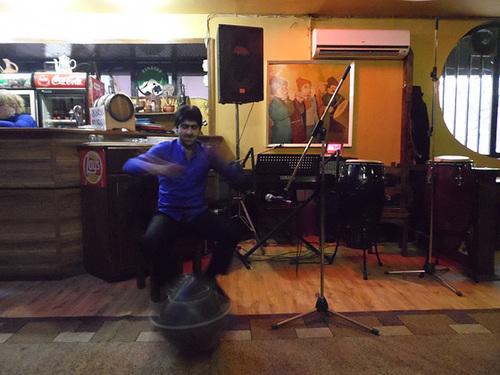 Gori Pub Entertainment
We never worked out if this guy was supposed to be putting on a show at the pub, or whether he was just a talented patron. He and a friend sang songs at their table, playing the piano accordion and a drum. When we acknowledged them with a smile and a little applause, he moved up to the "stage" area, where some equipment was set up, and he put on some music. He accompanied the music with some rhythms, throwing his drum in the air, rolling it around his body, arms, and legs, spinning it on his foot, and as caught in the photo, twirling it on the floor.

---
Heading to Kazbegi had us going through one of only three motorable roads that crosses the Caucasus Mountains. This high pass is open most of the year, but it was not the snow that delayed us. We were stuck for an hour, and eventually it was revealed what had blocked the road. A broken down B-double. Problem was, that even with two massive (and I mean massive) army trucks with snow chains could not pull it up the incline. Wheels spinning on the icy roads, spitting oil and black smoke over the snow by the road. It was very dramatic. Two days later, the truck was still by the road when we passed on our way back down.
The hike from Stepantsminda up to the beautifully picturesque church of Tsminda Sameba was gorgeous. Although, being some of the first people to go up for the day meant making our own path through the snow and forest. We had to turn back a couple of times and find an alternate approach, when we found ourselves trying to struggle up the slope in snow which was almost thigh deep. Arriving, though, took our breath away. The church, and its picturesque setting.
---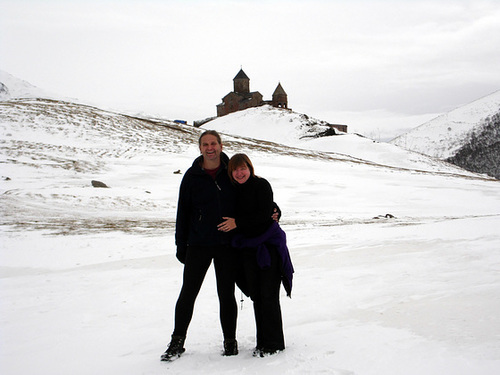 Approach to the Church of Kazbegi
The walk up through the soft snow was a bit of work, but to come over the rise and see the church was uplifting.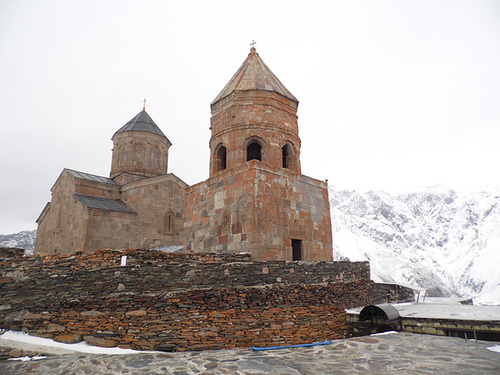 Tsminda Sameba Up Close
The Kazbegi church itself is old and interesting in its own right.  However, its fame and lure is greater because of its location and history, and it is quite the symbol for Georgians.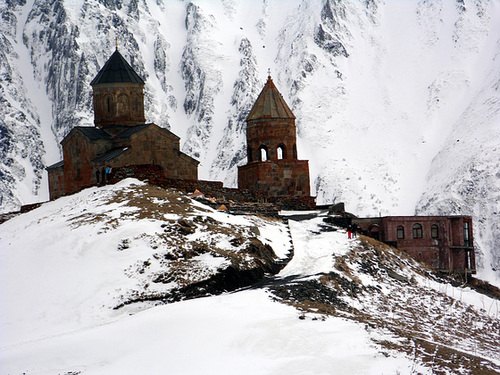 Another View of the Church
The church of Kazbegi.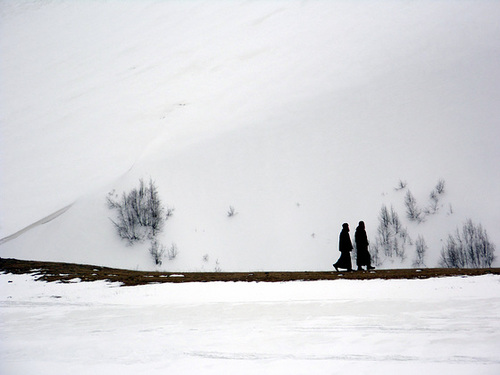 Priests Heading Through the Snow
We have no idea where they were off to.  We thought that the only likely direction from the church would be down, to the village below.  But they had headed in another direction entirely, and all we could think of was that there must be another church or chapel or shrine, somewhere close in the mountains.



Cliffs and Snow add Dramatic Effect
As I said, the location and setting is the main part of the attraction and fame of this church of Kazbegi.

---
A number of times we have come in to Georgian churches when services have been on. I tell you, the chanting is amazing. Georgian singing and chanting has a unique three-part harmony. And when the acoustics assist, the effect is overwhelming.
A stop at Ananuri, and through Tbilisi once more, before heading on the train to our next country.
---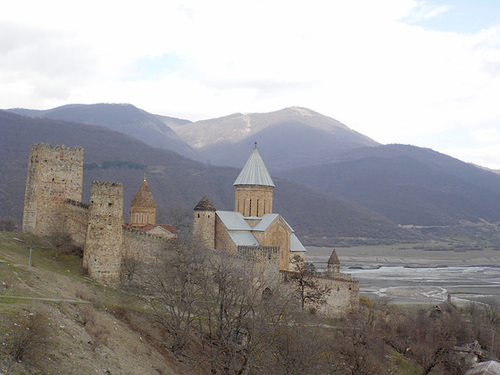 Ananuri
Fortress and churches of Ananuri, north of Tbilisi.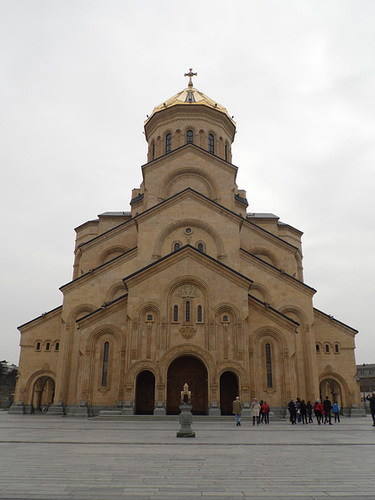 Tbilisi's New Cathedral
Tsminda Sameba Cathedral. A recent construction described as a "symbol of Georgia's post-Soviet religious revival". A marvellous building which is surprisingly light and open. Inside, the dome towers incredibly overhead.

---