11 to 19 March, 2013 – Tbilisi, Sighnaghi, Davit Gareja, Telavi - (Georgia)
We have only been a week in Georgia, and we have already had a number of times when words simply escape us. This is such an incredible country!
We started with a few days in the capital, Tbilisi. We need a visa processed, and a day or two to acclimatise after being in Africa. This place is definitely Europe. Geographically, it sits in Asia, often categorised as West Asia, but culturally, you could transport this and put it next to Hungary, Czech, Bulgaria, or Romania. The old town is pretty and absorbing.
---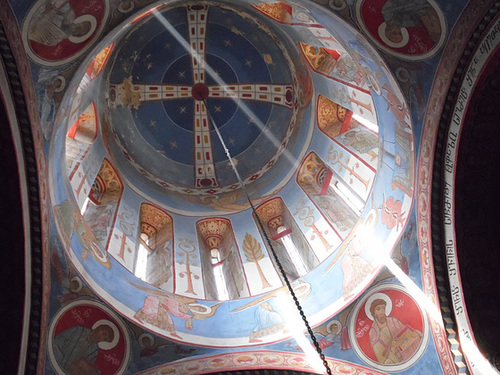 Ray of Light
Jvaris Mama church, Tbilisi.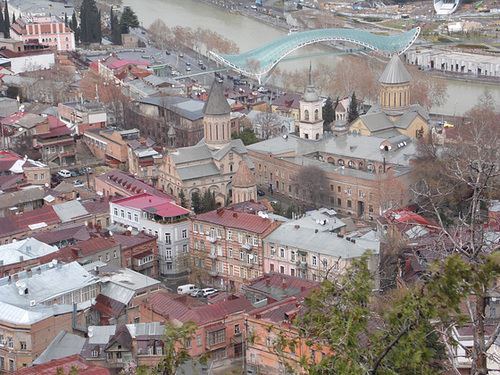 Tbilisi Old Town
The old town below, with the controversial modern "Peace Bridge" crossing the Mtkvari river. It has been nicknamed the "Always Bridge" due to looking a little like a hygiene product.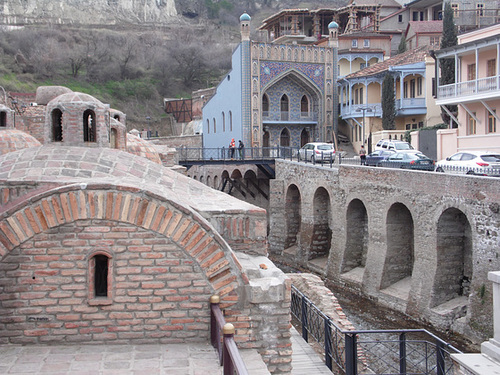 Tbilisi's Sulphur Baths
Tbilisi has hot sulphur springs. The domes on the left are the vents over the private baths, the Royal Baths. We spent an hour soaking in the hot (almost too hot) sulphurous waters in one of those private baths. Considering the day was overcast, chilly, and drizzling a bit, it was a great way to warm up and feel a little special at the same time. The tiled building in the back is another set of baths, the Orbeliani Baths. They have communal pools as well as private baths.

---
We have couchsurfed with a lady, Nana, while here in Tbilisi. We took her out to the marionette theatre. You may, like us, think that this sort of thing is not for you. I tell you, don't think puppets, think theatre. It was a great tale (with English subtitles, thankfully). But the variety of marionettes, and the skill with which they were manipulated to tell the tale, was amazing. We were so impressed.
We headed east from Tbilisi, to the wine region. About a quarter of the world's 2000 odd varieties of grapes originated in Georgia. There is apparently evidence of wine making dating back to the bronze age, and that is when vines began to be cultivated, not just growing wild. Anyway, suffice to say that wine making is a tradition that goes back a long time here.
Signaghi was our first port of call. On a hill top, with a fantastic intact city wall, a magnificent view over the expansive plateau of vineyards, and the Caucasus Mountains in the distance. Some wineries in town, and our first proper tastings. Yes, we drank Georgian wines in Tbilisi, but now we are starting to learn a bit about what we are drinking, and how the Georgian techniques vary from Western European techniques. Most predominantly, Georgian techniques do not use wood barrels for ageing, rather they use clay vessels called qvevri buried in the ground. Also, while Western techniques tend to use the juice discarding skins and stems, Georgian techniques tend to leave the whole lot in. (As one man said, the stems and skins are the mother of the grape, and the mother is needed to nurture the wine). Another statement made to us was how people don't make wine, wine makes itself, people just help create the right environment. We went to one venture which is endeavouring to make organic wines (although, essentially, almost all Georgian wines are organic, anyway). But this mob is trying to ensure that none of the current knowledge and techniques are lost. Including the fact that they now make wines from some grape varieties that have not been used for wine for half a century or more. It was very enlightening.
---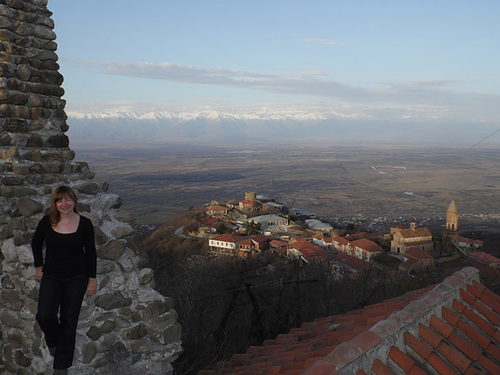 Sighnaghi
On the roof of a church, built in to the walls of Signaghi. Looking down over the town, and St Georges church. Behind that, the plains stretch out, the fertile grape growing region of eastern Georgia. And suddenly, in the distance, the snow-capped Caucasus Mountains rise up. This is so perfect.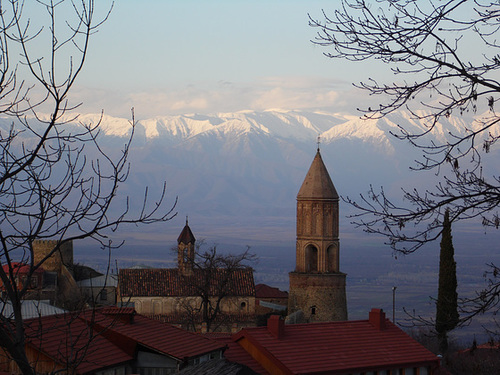 Evening Sun Hitting the Caucasus Mountains
In Signaghi, looking north.

---
The most beautiful thing was sitting on the balcony of the homestay we are at, with the sunset on the distant Caucasus Mountains.
From Sighnaghi, we were able to make a day trip to Davit Gareja, near the border of Azerbaijan. Beautiful in its own right, but perhaps even more-so because of the incredible setting in the semi-arid desert. It is actually a collection of monasteries, mainly based in caves, most of which have been long abandoned. But amazingly, this was once so significant, with thousands of monks working on translating and copying manuscripts.
---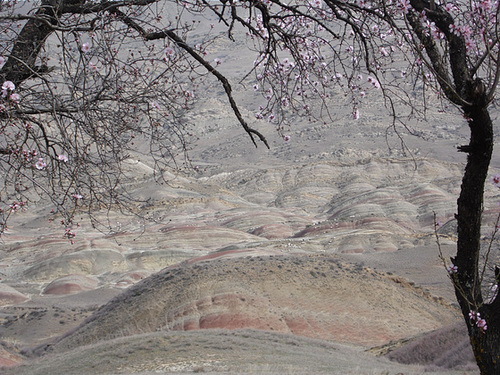 South Eastern Georgia
Spring is coming, and the first blossoms are breaking forth. Near the border of Azerbaijan, the semi arid desert can still support flocks of sheep and goats, though fairly sparsely. The interesting striated rocks that you can see here run in perfect parallels, stretching for a dozen or more kilometres out.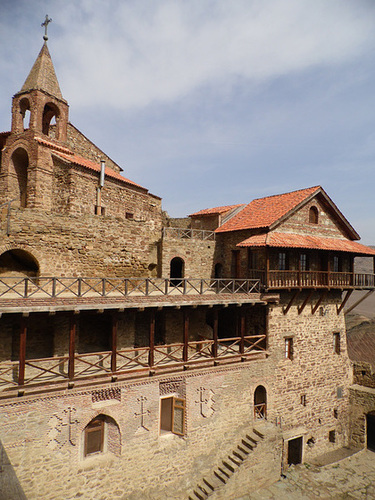 Lavra Monastery, Davit Gareja
Abandoned during the Soviet Era, and now recently re-inhabited by a small group of monks and priests who are ensuring it will continue to be a place of holiness as it has been for over a millennium already.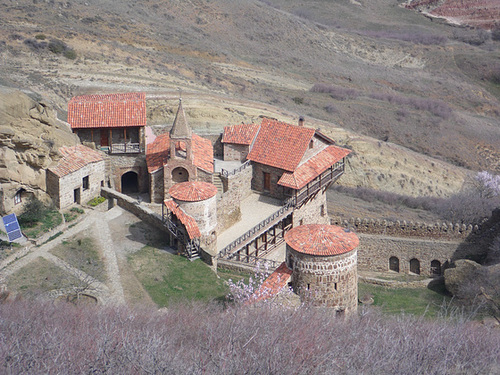 Lavra Monastery, Davit Gareja
The view in to Lavra Monastery as we ascended the hill rising behind it.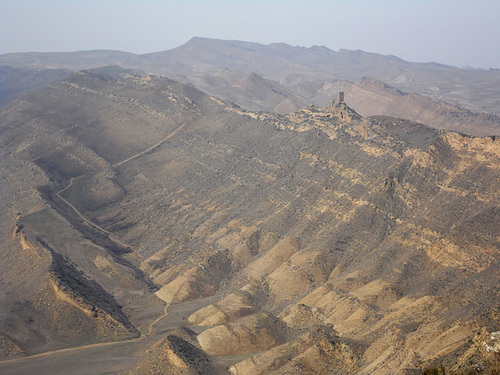 Border
This ridge defines part of the border between Georgia and Azerbaijan. An ancient tower looks down to the plains that are unseen in this picture but are laid out to the left of our point of view. The mountains and ridges to the right, behind the tower, are in Georgia.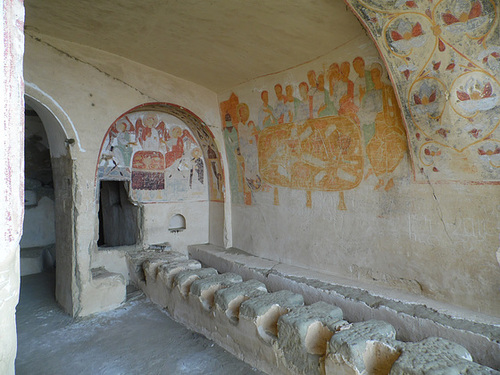 Cave Refectory
The frescoes here date from the 11th century, although the caves were used as part of the monastery complex for many centuries before that. These are part of the Udabno cave monastery, part of Davit Gareja. Monks would eat here, kneeling at the long stone benches.




Panorama at Davit Gareja
This shot takes in a lot of the Georgian side, and is an attempt to capture a bit of the amazing geology and geography that is evident on that side of the border.



Lavra Monastery, Davit Gareja
Another angle on this beautiful monastery. The little caves running up the back are where the monks live.
---
An hour or so drive from Sighnaghi had us in Telavi, well and truly in the heart of the wine district. A few days here meant ample time to visit a couple of wineries, as well as some of the old monasteries and citadels around. One morning, we woke and it was snowing. Thankfully, though, this should be increasingly rare as we head in to Spring. And although the snow did not stay on the ground in town, the dusting on the hills was very pretty.
---

In the Wine Cellar
In the cellar of the Chavchavadze family estate in Tsinandali.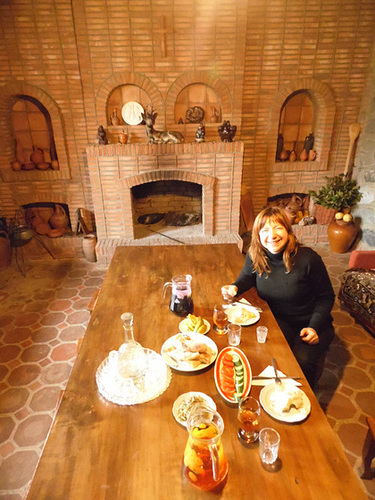 Wine Tasting, Georgian Style
We found this little winery in Tsinandali. We walked to it, and asked if they do tastings. The lady spoke reasonably good English, and said they did. 5 lari for wine tasting, and 10 lari for wine with some food. (That's about $3 and $6 respectively). So we decided to get some food as we had not eaten any lunch yet. After bringing out a stew, and a variety of salads and pickles, and a basket of home made bread, she brought out the wine for us to taste. One litre of white, and one litre of red! Oh, and there was some spirit called tchatcha (like grappa) to wash it all down with! Lucky we were walking!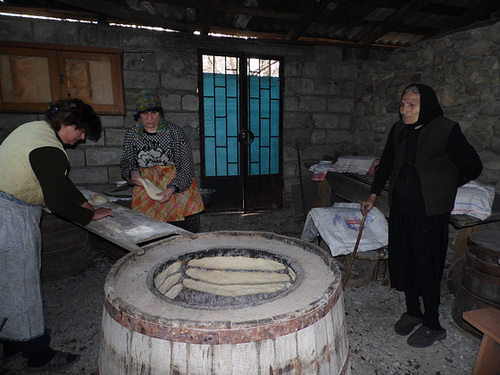 Baking Bread
After wine tasting, we were invited to have a look at how they bake their bread.



A Friendly Wave
Always friendly, some Georgians greet us to their country as they pass by.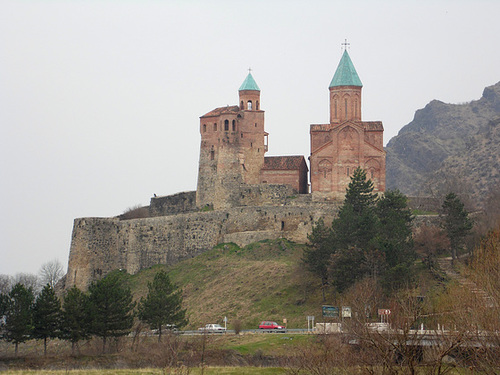 Citadel of Gremi
Gremi, close to Telavi in Georgia. It used to be the capital of the region known as Kakheti, from the 15th to 17th centuries.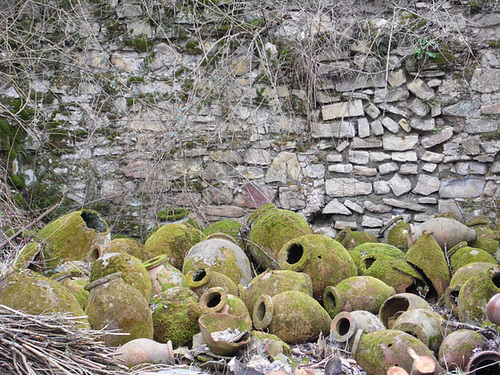 Wine Qvevri
These large clay pots are buried in the ground, and the wine is fermented in them.  These lie scattered near an old church.  Apparently, families bring them and leave them when they are unable to fulfil commitments they may have made.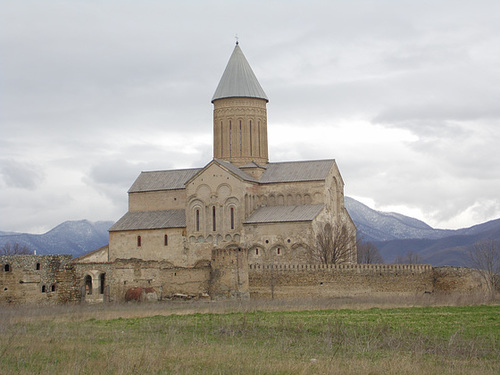 Alaverdi Cathedral
When this was built, in the 11th century, it was the tallest church in Georgia.  And it remained so for nearly 1,000 years.

---