23 February to 10 March, 2013 – Mombasa (K), Jumba La Mtwana (K), Bamburi Beach (K), Tiwi Beach (K), Wasini Island (K), Dar Es Salaam (T), Zanzibar (T), Nairobi (K) - (Kenya, Tanzania)
I'd like to share one of the great customs when dining in this part of the world. Due to the fact that many meals are partaken without cutlery, i.e. using one's fingers, hand-washing is extra important. For restaurants, this means always ensuring a tap and basin is convenient. However, in a home, the host brings a large tub, some soap, and a jug of hot water. It really is a great custom, and almost adds a touch of theatre.
In Mombasa, we decided to find a church service one Sunday morning. My goodness. What a lively event. The praise; the singing; the dancing. It was astonishing and wonderful.
---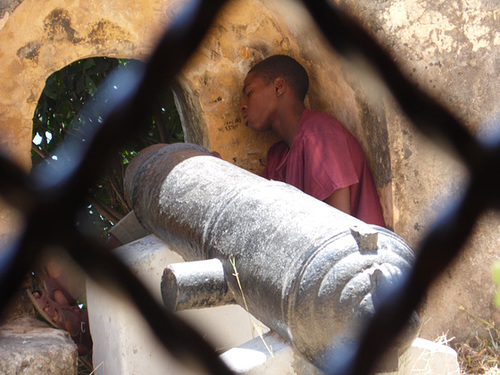 Nappin'
Finding a quiet nook in Fort Jesus, Mombasa.



Inside Fort Jesus
Portuguese fort, Mombasa, built from coral rocks.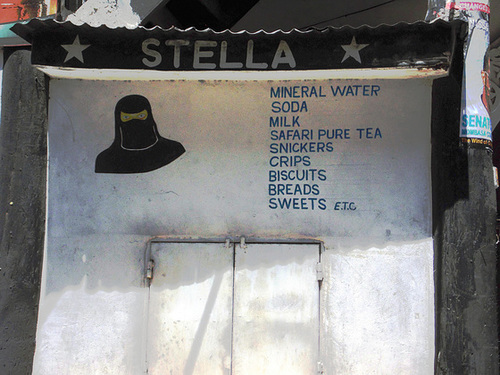 Stella Has A Shop With Her Picture On The Outside
I'm glad we know what she looks like, now. I'm sure we'll recognise her when we see her in the street.

---
From Mombasa, we worked our way through various beaches. Bamburi. Tiwi. Wasini Island. We snorkelled the reef at Kisite Marine National Park, spotting turtles and giant clams and uncountable beautiful fish. We got stung by numerous bright blue sea-jellies (jellyfish for those who are not so politically correct) at Tiwi beach. We ate fresh calamari and fish, grilled on the beach over an impromptu barbecue. We dined on an amazing octopus in coconut curry, with a very tasty seagrass accompaniment, at Mpunguti Lodge, Wasini Island, and watched some dolphins (at a little distance) while eating breakfast the next morning.
---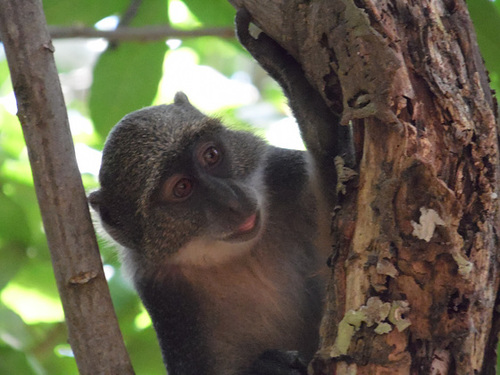 Sykes Monkey
Hanging around the ruins of Jumba la Mtwana were a number of these extremely cute monkeys.



So Pretty, and Ultimately, So Tasty
A lobster, destined for a dinner plate somewhere.



So, What You Looking At?
Outside a beachside mosque, at the northern end of Diani Beach.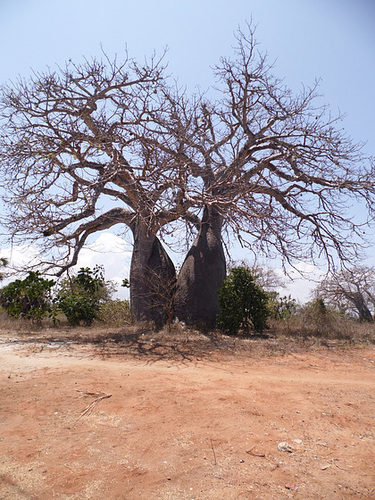 Aren't Boabab Trees the Coolest?
There is something so fantastic about them.  Are these two siblings?  A couple?  Or just good friends?  It doesn't matter, they have decided that nothing will ever come between them!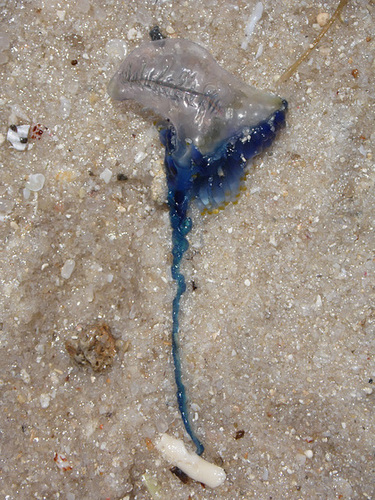 Sea-jelly
There were many of these sea-jellies (jellyfish) floating by while we were trying to enjoy the water at Tiwi Beach.  But those tentacles.  Initially, you would feel a stinging pain where they brushed past, then a tingling and numbing over the next 20 minutes or so, and then, eventually, they would just become itchy rashes taking, in a couple of cases, days to settle down.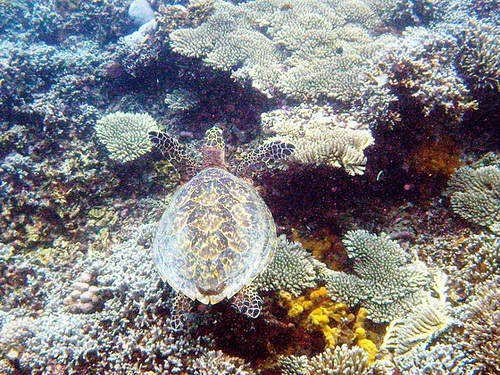 Turtle
Spotted while snorkelling Kisite Marine National Park.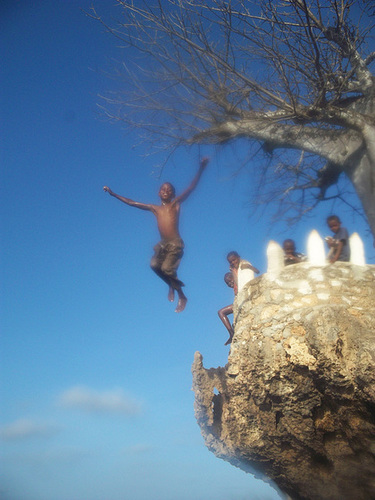 Weeee!!!
Wasini Island.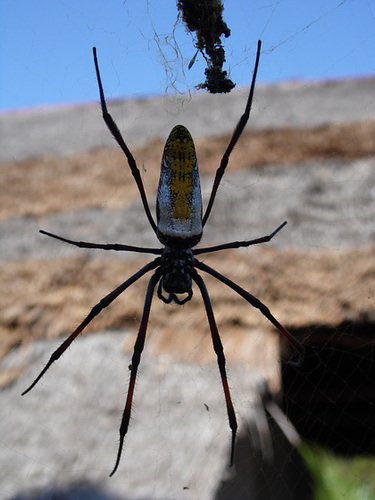 Welcoming Duty
This was next to the door.  The guys from the lodge said they were told numerous times not to move it, as it is quite the marvellous creature.  We tended to agree, as long as it understood its place was outside.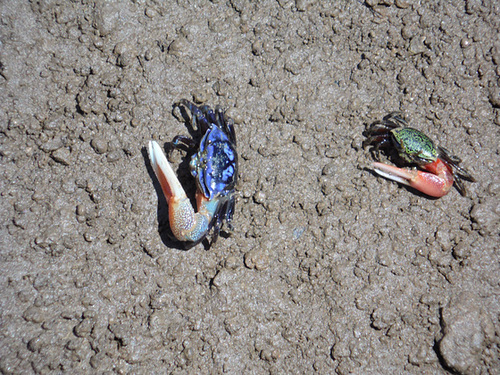 Asymmetrical Crabs
Do you think they walk in circles because they're out of balance?

---
Those poor guys at the island. Having not had rain for a while on an island with no fresh water meant they had to bring it all on boats from the mainland. Then fill the water tanks on the roof so the two mzungus could shower. Naturally, we felt obliged to keep the showers brief.
Due to the elections in Kenya, and given the history from the last elections (when post-election violence saw over 1000 people killed), we decided that it would probably be best to be out of the country by the 4th of March. If for no other reason than to avoid the possibility of being stuck somewhere if any essential services are interrupted, or if transport services are in any way disrupted. So, down to Dar es Salaam and Zanzibar, in Tanzania.
Dar es Salaam was a brief stop, and we managed to catch up with yet another relative in the extended family of Nick's, Millicent. Two nights, good food, and some fascinating stories. Seriously, this is one person who should be writing an autobiography.
One thing I am always proud of is my sense of direction and ability to orient myself. So, trust me, it is one hell of a confusing maze of alleyways that results in me looking at Jo and saying "I really don't know where we are." Yes, we were lost. In the labyrinth of nooks and lanes and alleys and paths of Stone Town, Zanzibar. Not worrying lost, in fact, even delightfully so. But nevertheless, lost. Doorways and balconies, and gorgeous old buildings, all different and somehow all looking the same, at every turn. Shops with different owners, but selling the same things. Different faces, but the same greetings. Thankfully, the low sun meant that we could work our way to the waterfront, but if it had been closer to midday, we may have been lost for a lot longer.
Our hotel has a breakfast dining room on the roof. "Fifty-four", Jo proudly announced while eating. I looked at her, inquisitive. "Archways", she said. "I can count fifty-four archways from here."
---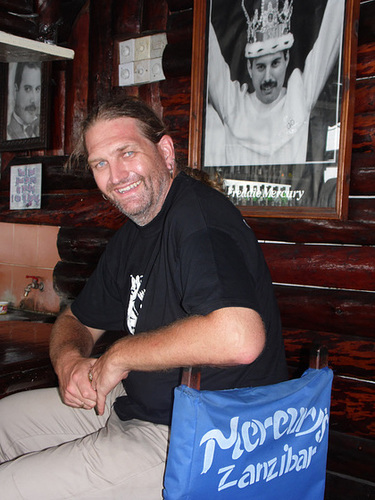 Mercury's, Zanzibar
Freddie Mercury, born Farrokh Bulsara on September 5, 1946 in Stone Town, Zanzibar.  Since he left when quite young, there is really nothing to see that is truly connected with him, but it is still an interesting fact to keep in mind.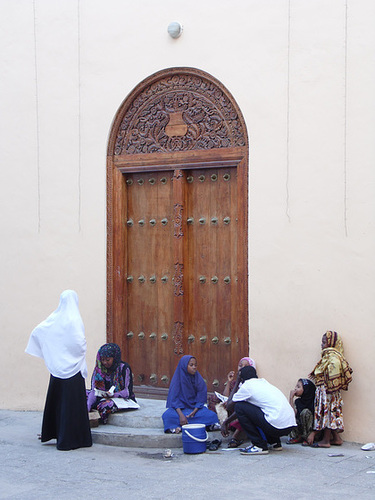 Zanzibari Doorway
A typical door in Stone Town, Zanzibar.  Most are not quite this elaborate, and many are not in as good a condition, but the work on many of them is magnificent.



Red Colobus
Beautiful colours and hair on the Zanzibar Red Colobus.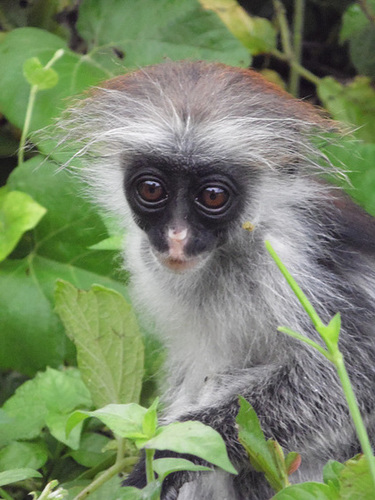 Baby Red Colobus

Mid Flight
It is hard to keep one's hair style neat when swinging through trees.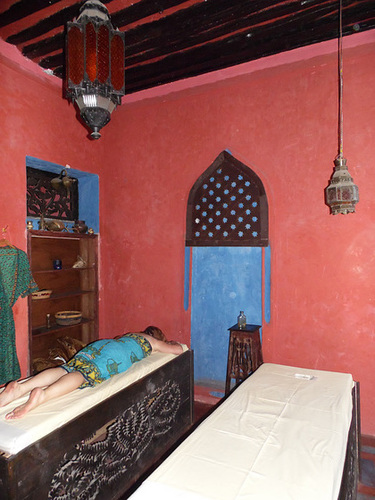 Massage
We felt we might try and re-create the decor of this room when we get back home.



Zanzibari Pizza
It's sort of like a crepe, but more savoury, and then stuffed and fried.  Savoury fillings like beef or tomato and cheese, or sweet fillings like fruit with chocolate.  All the varieties we tried were fantastic.

---
After the last election, when over 1,000 people were killed in post-election violence, we were careful about our timing. We thought waiting four or five days after the election before returning to Nairobi would be long enough to know what the mood was like. Plenty of time to get a result announced, and for us to find out if the people would accept the result without rioting... We watched the news and net as results came. And after they abandoned the electronic system and re-began the count, it became apparent the result woud not be known as soon as expected. Even as we arrived at the airport, we checked if a result had been reached, but no. The streets of Nairobi were practically empty, as businesses had not re-opened, and people were avoiding going out. Sometime in the middle of the night, the result was announced... And the following day it was made official, and thankfully the country seems to have remained pretty calm, so far.