14 to 22 February, 2013 – Kisumu, Kakamega Forest, Rusinga Island, Nairobi, Amboseli National Park - (Kenya)
We have discovered something. Jo left to her own devices gets proposals left, right, and centre. In supermarkets in particular, but even just in the street. "Hello. I like white girls. Can I get your number?" Or, "I like white ladies. I want to marry one. Are you married?" One persistent fellow, on the realisation that Jo was not available, started writing his number on a scrap of paper and gave it to Jo. "Can you give my number to your sister?" Jo replied "Yes, but I don't think her husband will be very happy." His friends laughed at him. The record is under 30 seconds. Standing in a supermarket checkout queue, Jo remembered one more thing we needed. She was not even ten metres from me on her way to the fruit and veg section when somebody greeted her, asked how long she was going to be in town, and would she be interested in dinner?!
Mama and Baba Judy are the parents of Nick, husband of our friend Dawn. We met them at Dawn and Nick's wedding, in Canada, in June. A common practice in this part of the world is to call a couple after their eldest child. So, Jo's parents would get called Mama and Baba Jo, while mine would be Mama and Baba Yvonne. Anyway, it was largely because of that meeting and the invitation that followed that had us choosing Kenya as a destination for this trip. When we stayed with them in Kisumu, they generously offered to let us borrow their car. We accepted, so that we could go and visit Kakamega Forest, a difficult place to get to on public transport.
The monkeys were amazing. We stayed in an extremely basic cabin, with a balcony that looked straight in to the forest. At times, the monkeys came and played around the cabin, entertaining us for hours. At night we went walking with our torches and managed to spot a pair of pottos. No photo from us (it was well after dark, and they were very high). Don't know what a potto is? Don't worry, we didn't know either. A potto is a very slow, very cute, nocturnal primate. There are some photos on this link:
Potto Blog
A couple of volunteers who were staying in the forest asked us for a lift to town on our way out. They gave me what I'm sure was meant to be a compliment. On how I drove the speed humps, the rutted track, and washed out sections of road, they commented "You definitely drive like a Kenyan, not like a Mzungu". I'll take that.
---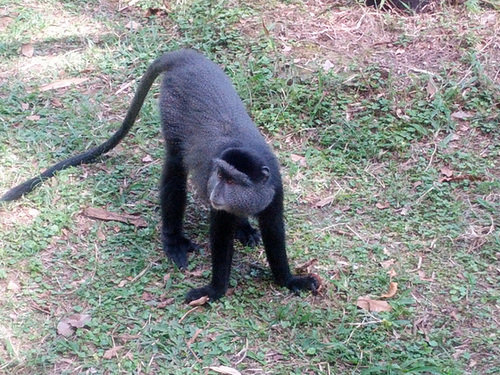 Cheeky Blue Monkey
When we arrived at Kakamega Forest, they told us to keep our eyes peeled for the blue monkeys. Blue? Really. Well, yes. Not too far different from our blue pussy cat at home.

---
Unfortunately, Baba Judy had to go to Ethiopia for business, and that left Mama Judy and the two of us to go on a trip to Mbita and Rusinga Island. We met a couple of cousins of the family who lived there, and had a great visit. In the evening, we went out for dinner, to a place that barbecued chicken. I thought Mama Judy was joking when she commented that they were going to choose a chicken. Sure enough, a minute later, the chef walked past with a squawking chicken in one hand and a cleaver in the other. Dinner took a while to come, due to the delay caused by the need to pluck the chicken. Tracey, Jo's sister, commented in a text message about the incident, "At least you didn't order the beef!"
---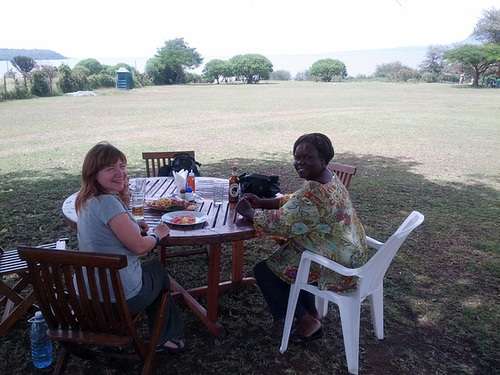 Lunch Stop
Lunch on the lawns, looking down to Lake Victoria, with Mama Judy. On the way to Mbita (Rusinga Island).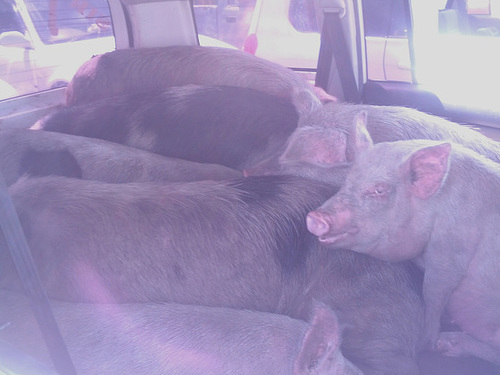 Market Bound
Pigs, in the back of a regular station wagon. The stench from the car next to us on the ferry was the first sign that this was not a regular carload. The squealing then meant we really had to look in. Seat folded down, and seven pigs inside.

---
Back in Nairobi, we arranged our next safari, to Amboseli National Park. Somehow, due to a misunderstanding about whether Jo and I could bear to spend one night in single beds or not, we managed to score an upgrade from the cheapest camping that we thought we were getting to the luxury of a five star resort. The only pity was that we did not really spend a lot of time there to enjoy all the facilities as we were on safari for a good part of the time. We did manage a swim in the pool, though, and enjoyed watching the nocturnal feeding that brought out the wildcats and mongooses. (Mongeese? I am sure that's wrong!)
Amboseli is about the elephants and views of Mt Kilimanjaro. We thought we were going to miss those views, but it came out for a while, so we managed some photos and enjoyed the sight for some hours.
---

Yay!
We decided to bite the bullet and buy a new camera in Nairobi. Very happy.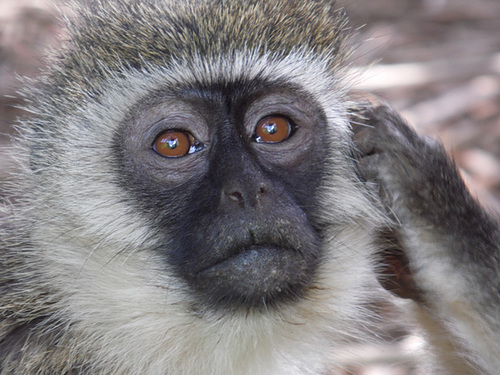 Vervet Monkey
Enjoying the attention of a good grooming.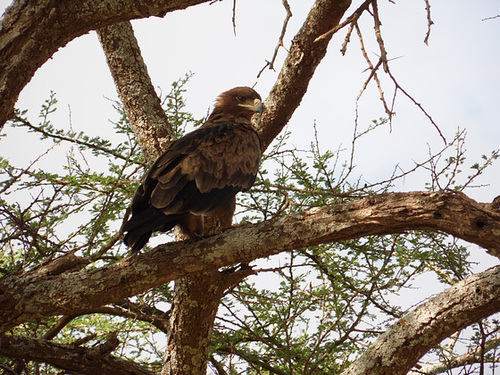 Tawny Eagle
Amboseli National Park.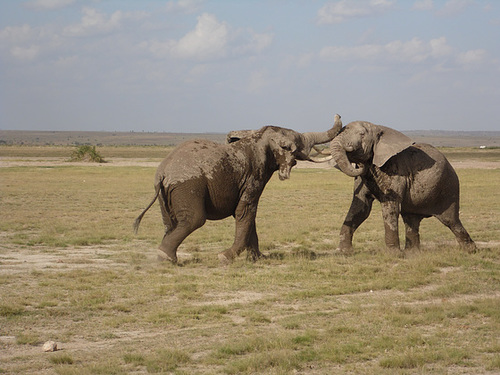 Fighting Elephants
We came across these two elephants fighting and antagonising each other. What were they fighting over? Maybe whose turn it was to do the dishes.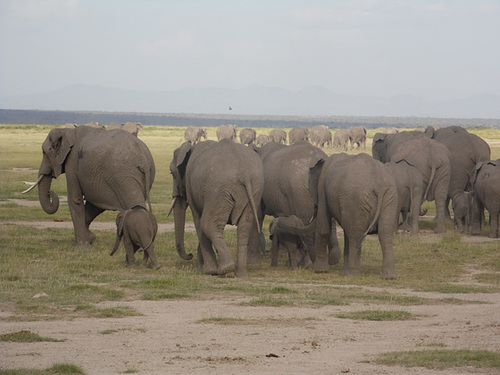 Elephant Bums
Herds of elephants make their way off the plains and towards the hills, at Amboseli National Park.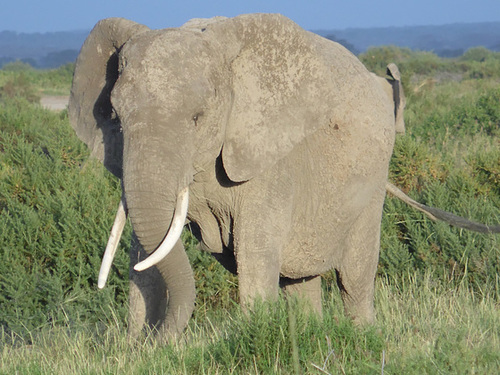 An Imposing Elephant
Late afternoon.



Amboseli
An Amboseli landscape.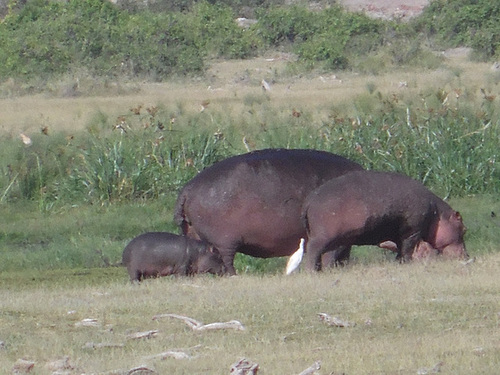 Hippo Family
At quite some distance, but this trio of grazing hippos had to be included.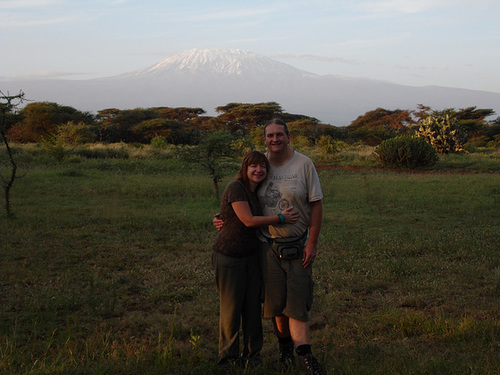 With Kilimanjaro
It was difficult to see the first day. But the morning of the second day at Amboseli, Kilimanjaro came out for a while. Deceptive, really, as it looks big, but does not appear to be the impressive 5800+ metres of Africa's tallest mountain.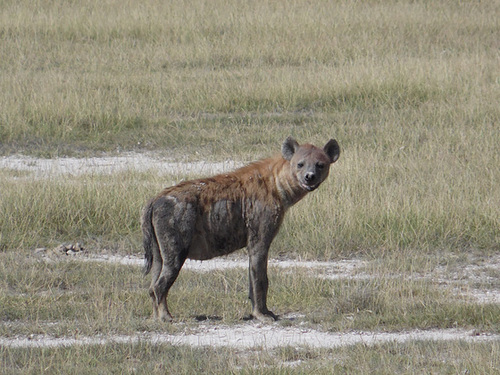 Hyena
A quick look over at us, before continuing on its way.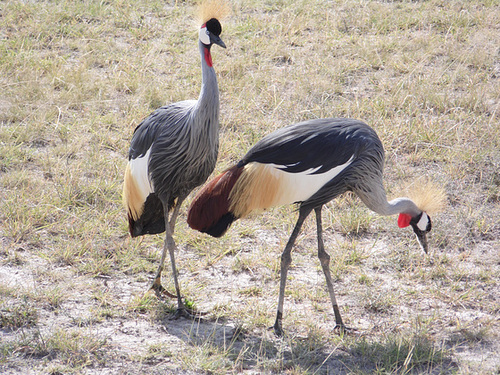 Pair of Cranes
A pair of magnificent grey-crowned cranes.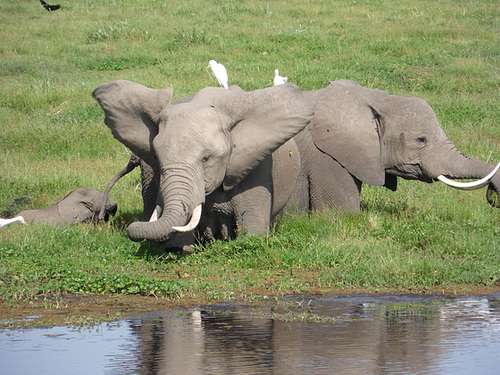 An Elephant Shaking Its Ears
Amboseli National Park.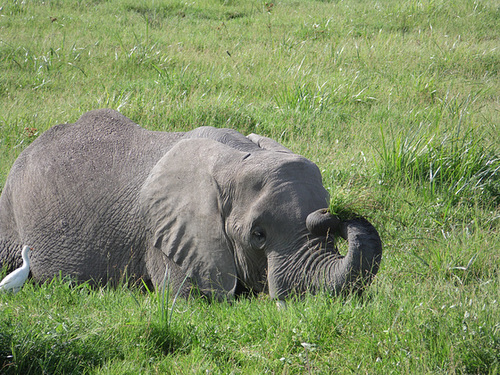 Eating And Drinking And Bathing
An elephant multitasking.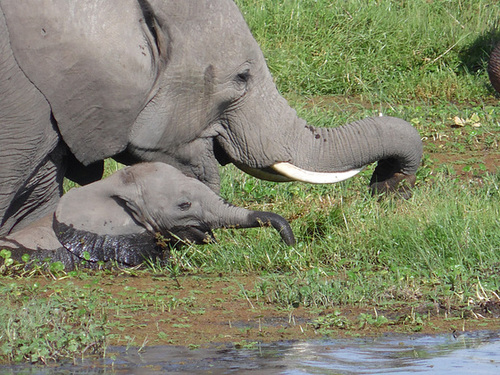 Mama And Baby
Can elephants smile? These appear to. A beautiful moment between a mother and baby, while wallowing in a marsh. Amboseli National Park.

---