26 December, 2010 to 1 January, 2011 – Delhi and Agra, India
---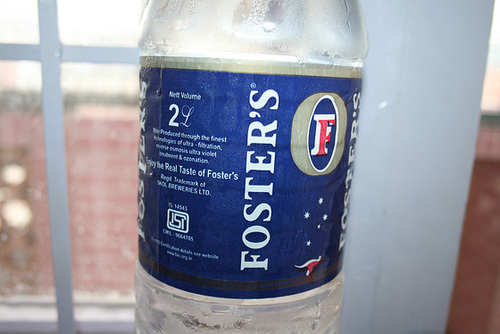 Ah, Foster's, Australia's Favourite Water!?
Hmm, not sure correct licensing has been obtained. According to the label, you should "Enjoy the Real Taste of Foster's". Not from this bottle, you won't.
---
A few days in Delhi seemed the way to go. Time to see a few sights. Time to get into the swing of travelling. Time to adjust to the cold! Oh, how unexpected was the cold! Sure, we knew it was winter and did know it would drop at night, but we ended up shopping in Delhi for warmer things.
Our highlight for Delhi was definitely Jantar Mantar. (And buying funky pants!)
---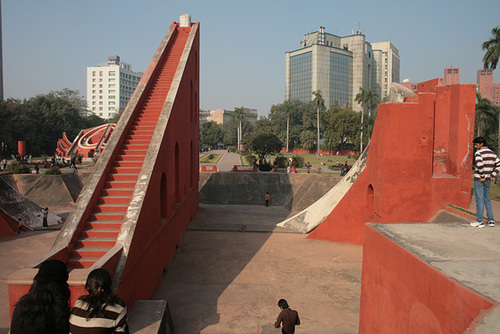 Jantar Mantar
No, it's not a skate park. And it's not modern art. These are all centuries old astronomical instruments. Built under the direction of Maharajah Jai Singh II in 1725, there are a multitude of structures designed for taking accurate measurements of the sun, moon, and stars. This giant "staircase" is one of the simpler, being primarily a sundial.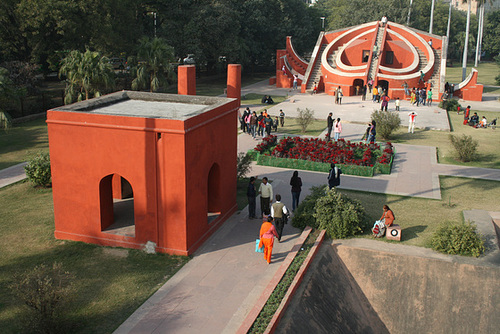 Jantar Mantar
I have no idea what can be measured on the instruments visible here, but I know, it really does look more like a children's playground than scientific measurement.
---
You know you're doing well with bargaining when you are paying close to what the locals pay, and really well when it's the same. But it us actually a fraction embarrassing when you hold out for a cheaper price than the Indians! Visiting India Gate, I must admit my thoughts did consider the possibility that the chai salesman was not ripping-off us specifically, but it was usual mark-up for items sold where crowds of families gather. However, the thought was fleeting and we stood firm, confident in the knowledge that many prices are set higher for unsuspecting foreigners. We're not fools! We're suspecting! We stood, chai in hand, having given the salesman half the requested amount, arguing, when all of a sudden, he grabbed his things and ran away. In fact, they were all running away – chai, popcorn, balloons, every salesperson scattered. A policeman had entered the square, and we soon worked out the salespeople were not allowed to be in that area. Happy that we had only paid half the asking price, we enjoyed our chai. But as you have probably worked out, we later ascertained that they were charging everyone the inflated price! Can you blame us for being sceptics?
A few hours from Delhi, and we reached Agra. Ultimately, there was one main reason to be here, but Agra has a lot more than the Taj Mahal! Most visitors spend some time at Agra Fort, and some of the other sights of town.
---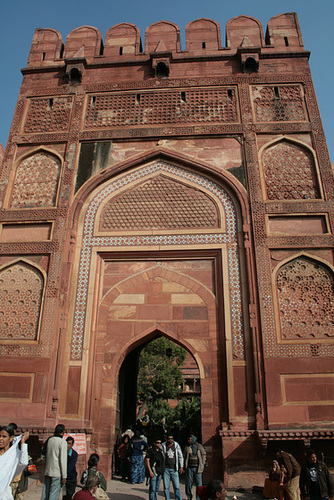 Amar Singh Gate, Agra Fort
The public entrance to Agra Fort.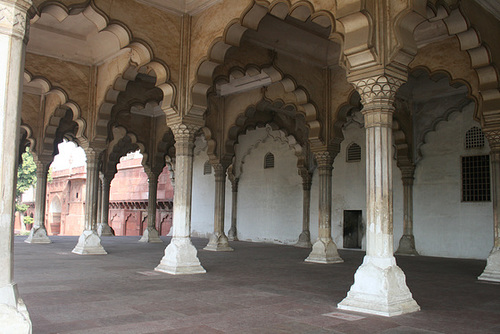 Cute Arches
One of the audience halls within Agra Fort.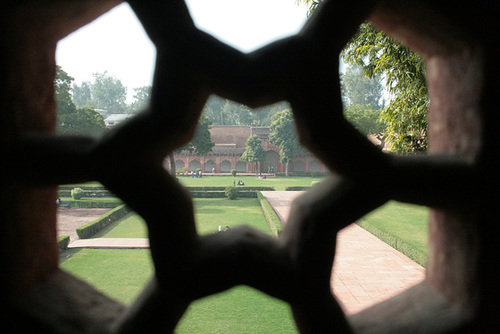 Looking Out
Within Agra Fort, peering out to one of the large courtyards through a stone lattice screen.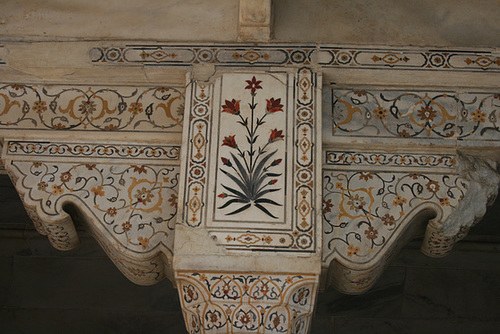 Flower Motif
Beautiful inlaid details abound. Agra Fort.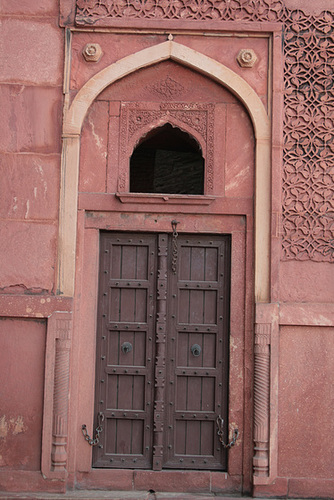 A Doorway In Agra Fort
Do you think anyone would notice if the doors went missing? Would we really build our own house just so we could incorporate them? These questions are yet to be answered!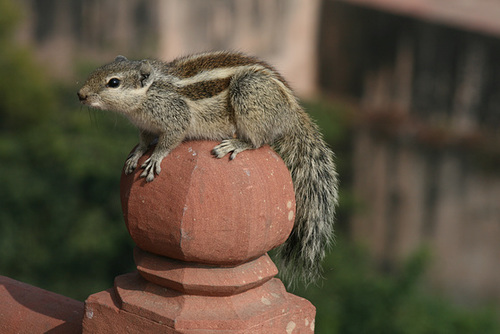 Squirrel Strikes A Pose
Squirrels can be spotted in most public spaces.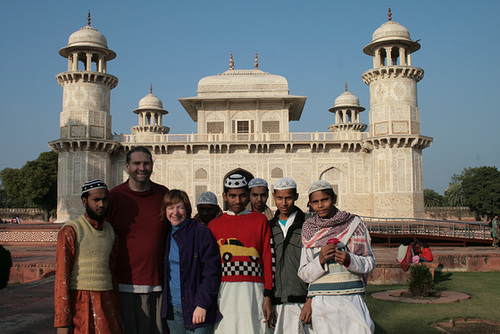 Please Take Our Photo
A group of locals ask to be included in our shot, outside Itimad-du-Daulah, nicknamed the Baby Taj.
---
But let's face facts. Competition is hard when you're up against the Taj Mahal. This is what Agra is all about.
---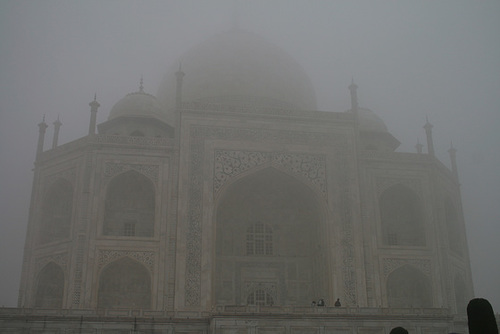 Morning Taj, Emerging From The Mist
From the gate, there was nothing to see. You could have been standing on a Scottish moor, the mist was so thick. At the end of the famous watercourse in front, still nothing. But as we got nearer, the form of the Taj emerged from a dark shadow and took shape. It was a fraction eerie. It was very surreal. It was certainly not how we expected to see the Taj that morning!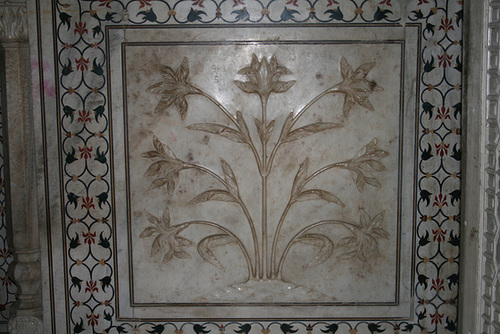 Carved And Inlaid
A tiny glimpse of the marble work that adorns the Taj Mahal.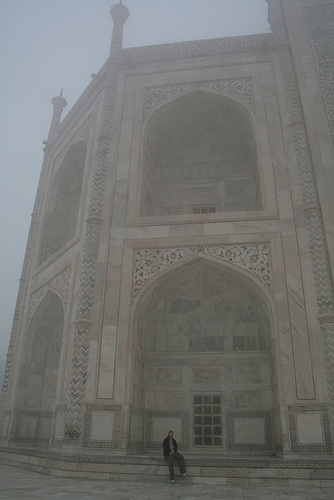 A Photo For Scale

Afternoon Taj
Taken from the other side of the Yamuna River, late afternoon.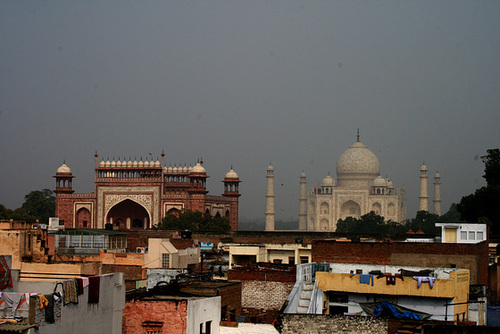 The Taj Mahal, From Our Room
We were rapt to get a room with a view. They said on the phone you could see the Taj, but until you are in the room, you speculate. "Surely, at that price, it means you need to be standinga on the toilet or something." Nope, could see it from bed!
---