8 to 9 January, 2011 – Jaisalmer, India
Jaisalmer is a desert city. From atop the fort, in any direction you look, you can work out where urban finishes and desert begins. Not barren dunes, but a scrubby sand expanse that supports a surprising amount of life and a lot of people.
---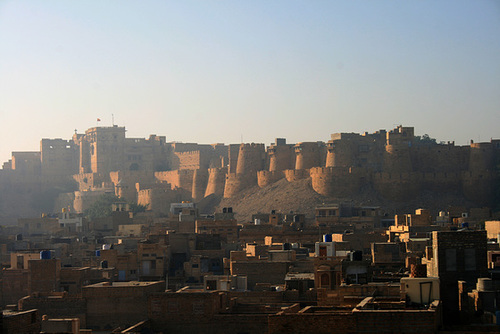 Jaisalmer Fort

Often compared to a sand castle, Jaisalmer fort is just stunning, and many people still live within it. However, it is under threat, primarily because the plumbing was never designed for so many people, particularly hotels and the strain Western tourists place on the water resources.
---
Water is an issue. Not enough, yes, but also too much. While it is barely enough to support all the people who live and visit Jaisalmer, even what there is may be threatening to erode their beautiful fort away. The plumbing was never designed to carry a lot, and there is so much sand - some say it is exactly like pouring a bucket of water over a sand castle!
The Jain religion was a reformation movement of Hinduism from around 1500 years ago. We visited some of their temples in Jaisalmer, which were perhaps a little more sedate than the average Hindu temple, but largely indistinguishable to the untrained eye (like ours).
---

A Jain Monk
Inside the Jain temples of Jaisalmer.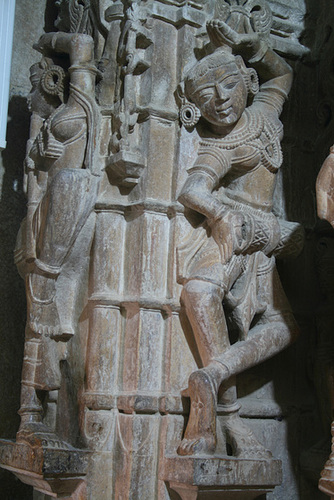 Jain Temple Carving
Interior wall decoration in the Jain temples of Jaisalmer.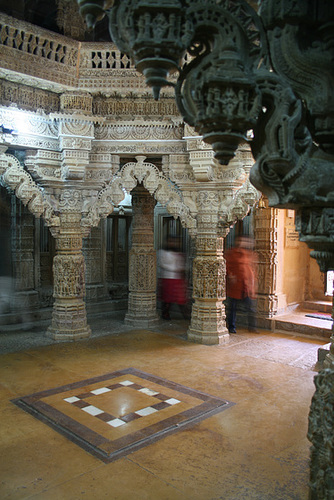 Temple Interior
Inside one of the Jain temples of Jaisalmer.
---
There was some wandering, some museums, much eating, and even some shopping. And the nicest room we have stayed in while in India! But you know, it was all about that magnificent fort.
---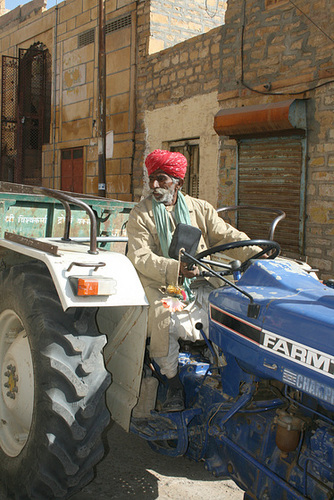 Tractor Driver
Turbaned, moustached, and very Rajasthani. Streets of Jaisalmer.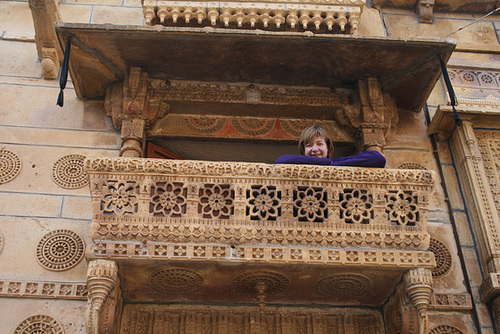 Hotel Balcony
This was our gorgeous balcony in Jaisalmer. It is not wooden - it is entirely made of stone! It is not for chairs and a barbecue, but more ideal for cushions. Cute, hey!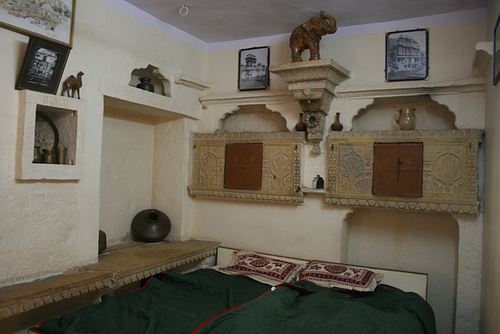 Our Gorgeous Room In Jaisalmer
We loved this room. So many nice touches. And the stone sitting balcony just topped it off nicely.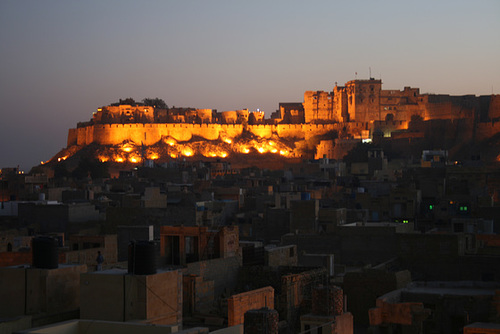 Jaisalmer Fort
Jaisalmer fort at dusk.
---