9 to 13 January, 2011 – Jodhpur and Udaipur, India
Jodhpur - home of the riding breeches bearing the same name, and yet another magnificent Rajasthani fort.
---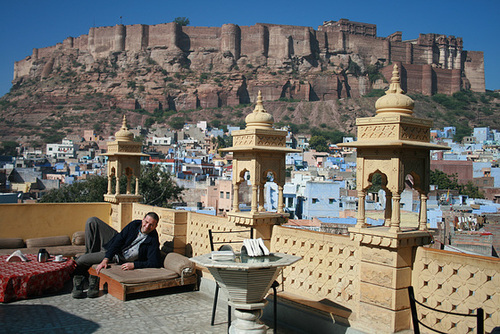 Rooftop View
The mighty fort of Jodhpur, behind. We had coffee on this rooftop. And breakfast one morning. And dinner one evening. Had chai while waiting for our bus...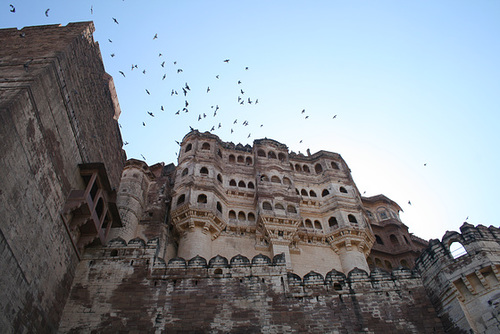 Jodhpur Fort
Approaching the main entrance of Jodhpur, the palace rooms look down from above.



Inside Jodhpur Fort
One of the richly decorated palace audience halls in Jodhpur fort.



Architectural Detail
Jodhpur fort.



Architectural Detail
Jodhpur fort.
---
Two days was a good amount of time, with an overnight bus booked to Udaipur. Although, we did fill some of the time up with an Indian cooking class! It should also be mentioned that Makhani Lassi, lassi with saffron, a speciality of the region, is just magnificent.
---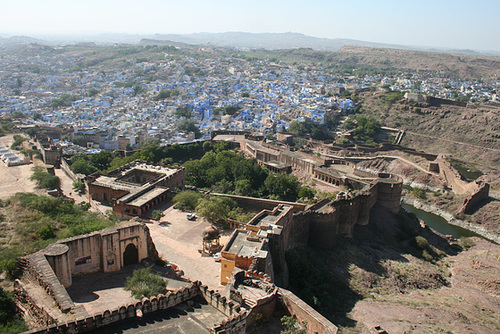 Jodhpur, the Blue City
The blue used in the majority of Jodhpur buildings is made by mixing Indigo with the paint. It is said to be cool and repel mosquitoes, as well as being aesthetically pleasing.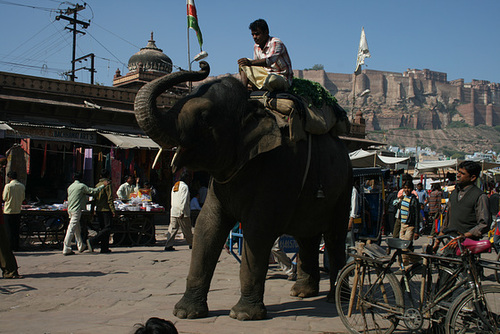 Now, There's Something You Don't See Every Day!
Even in India, the sight of the working elephant in the city streets is not too common. Nice that he struck a pose, with the fort in the background! Very obliging.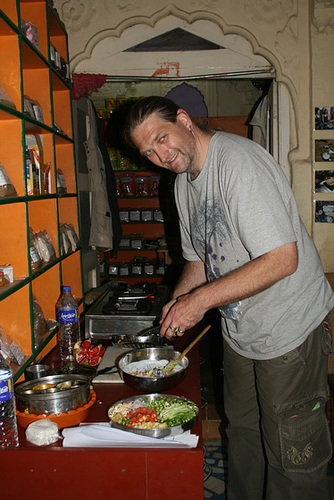 Cooking In Jodhpur
I don't have to don a hat and apron to be a master chef. We did an Indian cooking course while in Jodhpur and had a ball. It was run in someone's home-cum-spiceshop-cum-kitchen.
---
Then, we had a couple of days in Udaipur before our Goa flight.
---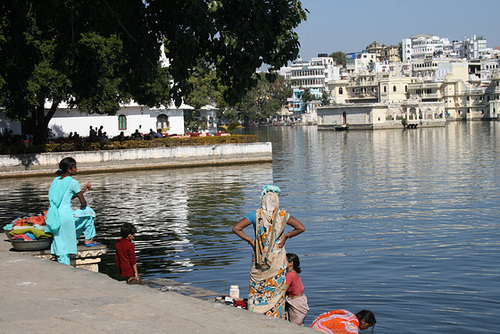 Udaipur
By the lake shore of Udaipur.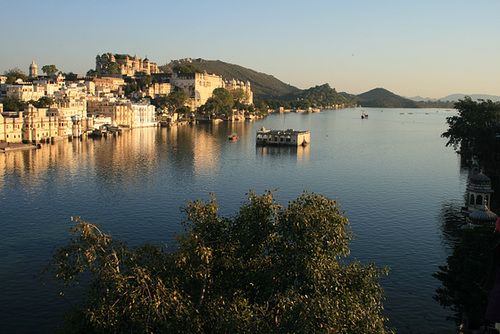 The Setting of Octopussy
Udaipur is where the majority of James Bond's Octopussy was set and filmed. Many cafes and restaurants screen the movie every night, so we did sit down and watch it again. It was great, after having been around the town for a day, to recognise everything and how it all fit (or didn't, as the case may be!) The principal buildings used in the movie are not quite visible here, (although some are), but I think that may even be Octopussy's barge out there. We thought about going to the island only inhabited by beautiful women, but that may have just been a movie fantasy. I know the best way to get there, in a fake crocodile. That's how Roger Moore did it, anyway.
---