16 to 26 December, 2010 – Koraput, India
---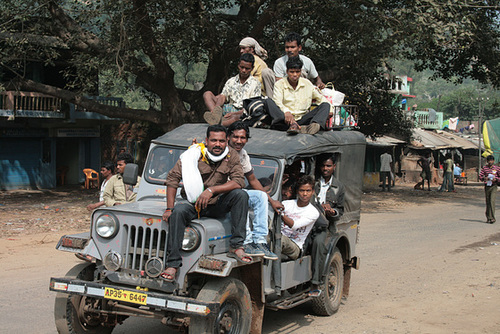 An Under-utilised Indian Jeep
Yes, it's only half full, but we couldn't resist taking a photo after being gestured over.



A Better Effort at Jeep Utilisation
Although, there's still space I can see for at least another 8 or 10 people.
---
Our reason for coming to Vizag was to make the 5 hour trip up to the Rejoice children's home. We spent nine days here. We sponsor one of the children (and have now added a
second).
What originally began as a water provision project, sinking water bores for needy communities, has gradually grown in to a significant small organisation. Jacob's Well Foundation currently operates three boring rigs, which are provided to communities at no charge with skilled operators, while the village provides sundry labour, and possibly food and accommodation.
The real explosion in the operation has been the establishment of the Rejoice children's home. With 12 staff, and currently home to 77 children, there is always something waiting to be done and eager hands are always welcome. However, while it may bring some pleasure to paint a wall in need of a new coat, the real joy comes from the many wonderful interactions that can be had. From telling stories and teaching songs, through leading an evening devotion and being blessed by witnessing the wonderful worship of singing and dance. We hung Christmas tinsel, and put everyone's hand print on a wall. We conversed in English, or swung them round like a helicopter. It was all great.
---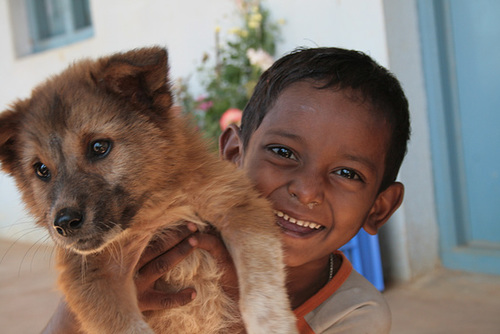 One Resident at Rejoice Introduces Another One To Us
We are introduced to Tick. This little puppy receives a lot of love from the kids at Rejoice! He's extremely tolerant, too.


Music
Accompanying the singing during evening devotion at Rejoice.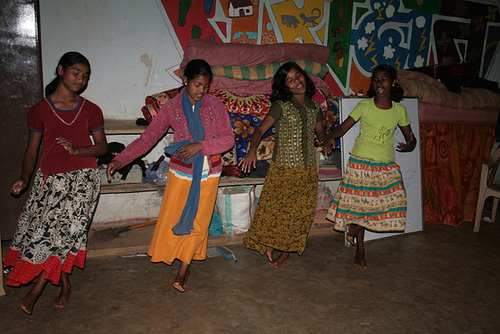 Lots of Dancing
There was dancing by all at various times, but a number of kids showed exceptional talent.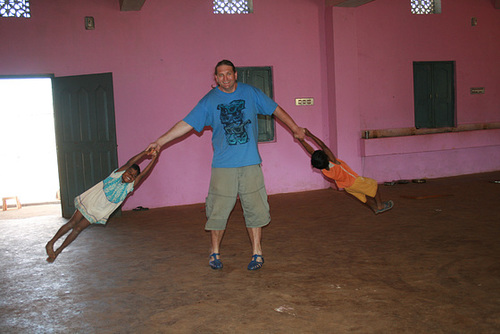 This Could Be My Full Time Job
The younger kids at Rejoice seemed unable get enough of being spun, carried, somersaulted, or thrown (and caught, I should add). It only stopped when I could not physically continue.
---
Some of the children call us "brother" and "sister", while others have taken to calling us "uncle" and "aunty". Both variants are frequently called out. After we get up, and as we walk along the verandah to the communal areas, "Good morning uncle! Good morning aunty!" is excitedly called out.
One evening, we were acting a story out. Jo chose two children to participate, and we set a scene where I was knocking at the door calling out to my "neighbour". "Go to the door and see who it is", Jo asked our young actors. They opened the fictitious door to see me, and turned to Jo. "It's uncle!"
One of the tasks we set for ourselves was to decorate a wall in the communal room with a hand print of every child. We feel that activities like this can help foster a sense of belonging and identity in a crowd. Along with a couple of bible passages about uniqueness and purpose, it helps the kids to not feel lost in such a large group. They loved it. In the days after doing it, we frequently caught kids and staff looking at the wall for their hands, or finding their friends, or showing their prints to other people. We were thrilled with the results! In fact, it was the staff reaction and excitement that surprised us. Some of the staff cannot read or write, so it was wonderful to watch them repeatedly returning to the wall, to their prints, and finding their names.
---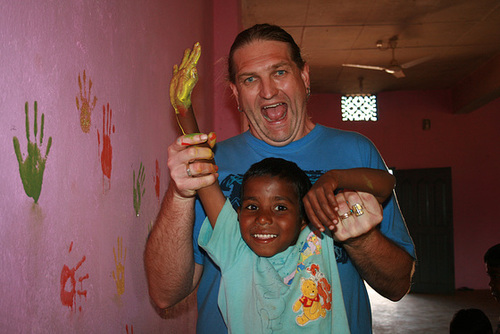 Helping Hand
Richard helps a younger child get his handprint high on the wall.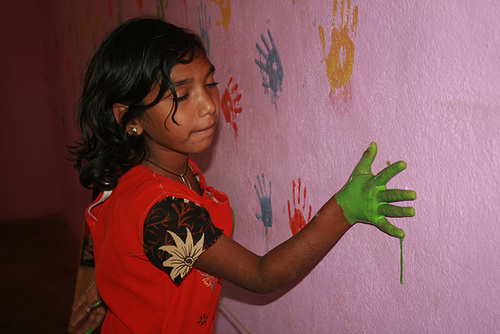 Intense Concentration
Focusing on keeping her hand nice and still for a clear print. Maybe a touch too much paint on her hand, though, as evidenced by the green dribble down the wall.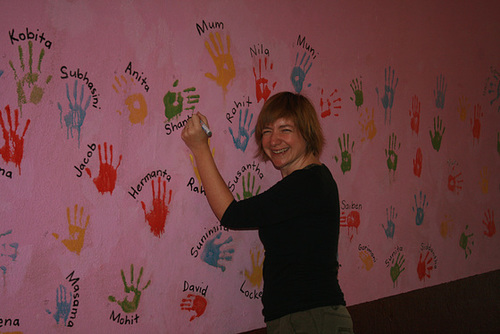 Jo Adds the Names
Every current child and staff member at Rejoice had their print on the wall, as well as Tick and Jack the puppies.



Showing Us Where Her Handprint Is
She was one of many who ran to the wall often to revisit their print.
---
Joan, known to children and staff alike as "Mum", suggested that we bring balloons over. One evening, after doing a class about parts of the body in English, followed by a couple of enthusiastic renditions of "Heads, Shoulders, Knees, and Toes", we gave out some balloons for them to write their names on and inflate. The first few minutes saw balloons flying around the round as they deflated, children chasing them to blow them up again. Soon, some were being tied and further decorated with markers, while the distinctive bang caused by over inflation popped around the room. They were volleyballed and soccerred, punched and tapped. The ones which popped were tied with tiny bits of rubber and turned in to mini balloons, or stretched over things and turned in to drums. For the next few days, we were surprised every now and then to see someone running with one that was still intact.
---

Balloons at Rejoice
Staff show us that even adults can have lots of fun with balloons.
---
Although staying on site at the home, we managed a couple of trips in to the nearby town of Koraput. I can now say I have negotiated Indian traffic on a motorbike – no mean feat. Although, for our first trip in, we rode with Sangram as three on a bike - "true Indian style".
---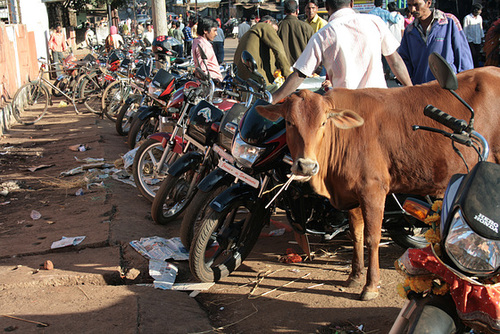 Illegally Parked
A cow parked in a motorbikes only zone, Koraput.
---
Within a few kilometres, not too long a walk, we were able to visit one of the current bore drilling sites. It is such an impressive and worthwhile project. The people of the village were friendly and came out to meet us. The village is quite basic – no electricity, and until now, no running water!
---

Sinking A Water Bore
In this village, a diesel motor and a lot of man-power is being used to drill for water. This village has no fresh water, and the ladies have to walk 10-20 minutes to collect water whenever they need it, carrying 10 litre pots on their heads.
---
We also got to visit a couple of villages where the project has been completed and the bores are in full operation. This reinforced how much of a positive impact this enterprise is making, and really hit home how worthwhile it is to support such an organisation.
---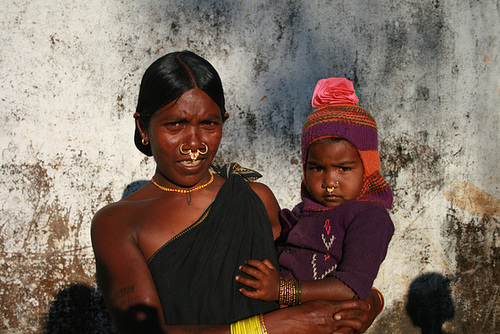 Tribal Woman and Child
In one of the villages where Jacob's Well Foundation have sunk a water bore.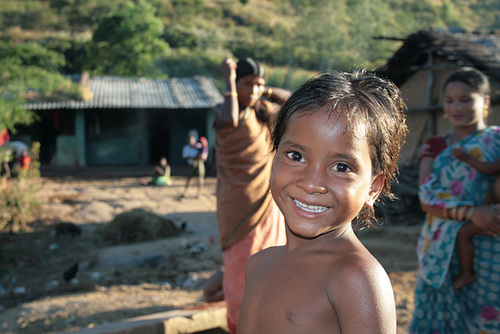 Village Girl
We visited a couple of villages where Jacob's Well Foundation have previously sunk water bores. The reception given to us showed that a great relationship had been established between the tribal villagers and the providing organisation.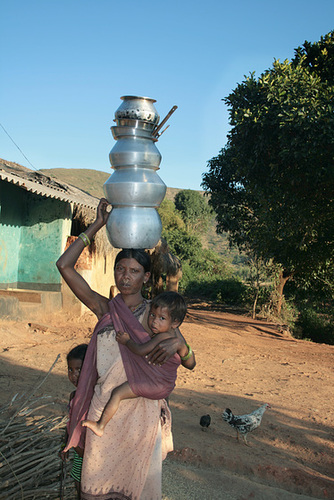 Hard Enough Without A Child At Your Hip!
Jo needs to learn this. She could then free her hands while carrying things around. Imagine how handy that could be at Richmond Coles.
---
We had planned our timing for this part of the trip so as to be here for Christmas, and it was special. The children got new clothes, a man in town donated a cake, and we went to church. We had brought over some little souvenir items from Australia and made up little present bags for them all. In the evening, we said our goodbyes as we had an early departure the following morning. I am glad we didn't have to say goodbye when they were awake and at the car waving – it would have been too emotional and teary.
---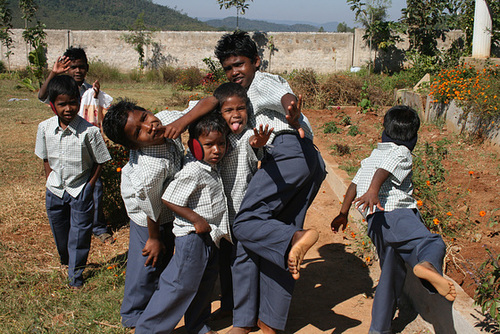 Showing Off Their New Outfits
The Rejoice kids all received new outfits, including earwarmers (yes, it can get quite cold here, especially at night). Joan, who started the Jacob's Well Foundation and projects, and known to the staff and kids as Mum, spent many hours sorting through the delivery of poorly labelled shirts, trousers, and dresses. In the end, everyone was accounted for. They dressed in some of the new finery for the Christmas day church service in nearby Mastiput.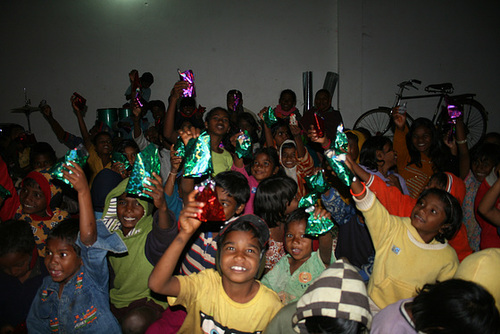 Merry Christmas!
We made a bag for all the Rejoice children. Each bag contained a clippy koala, or a kangaroo keyring, or an Australian pen. They also contained a couple of sweets, a balloon, and a number of stickers. Five minutes later, sticker covered children were chasing deflating balloons around the hall.
---
Overall, it was a wonderful and rewarding visit that we made. The children have asked when we are coming back again – we certainly feel that we would love to make it happen sometime. The visit works both ways. Do you just go because it makes you feel good? Of course not – you feel good because they get something from your visit too. But you also feel good because you see and interact with kids whose lives are on a better course because of this. You feel good because you see villagers who now have access to fresh water. You feel good because you see what a great impact the Jacob's Well Foundation is having in so many ways. A highly recommended experience for anyone.
As you can imagine, we took a huge number, even by our standards a lot, of photos. Here are a sample...
---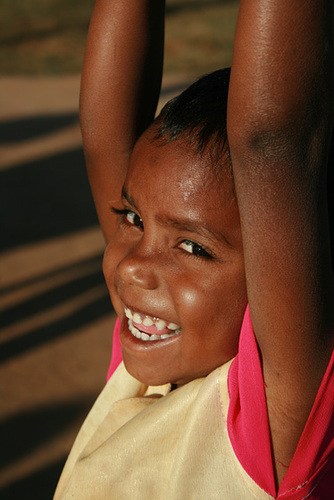 A Little Cutie
One of the youngest children at Rejoice. She was always on hand to brighten our day.


Smiles And Cuddles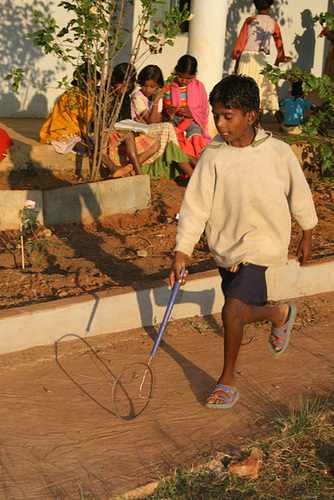 Keeping The Ring Rolling
He makes it look easy, but it really is a lot harder than it looks!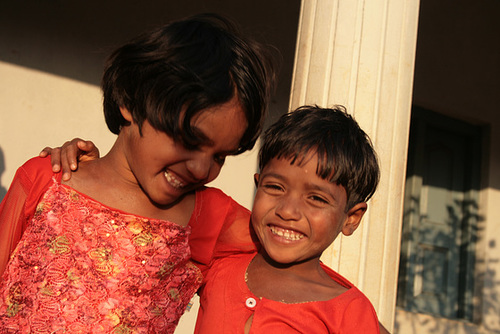 Can't Resist Photographing Such Gorgeous Smiles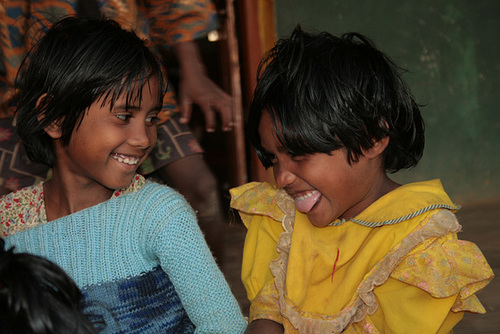 "Now You Go All Shy!"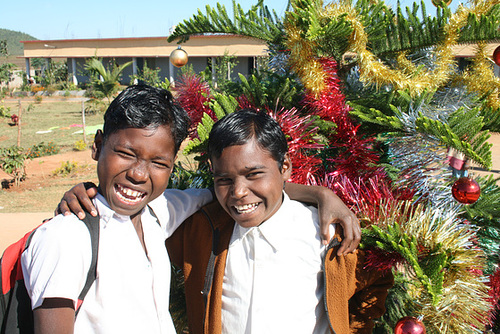 Friends
In front of the Rejoice Christmas tree.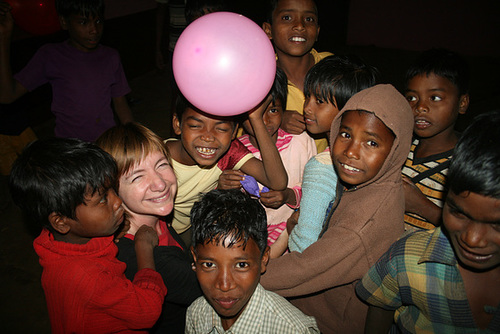 Jo With Some of the Rejoice Children
One intact balloon left here.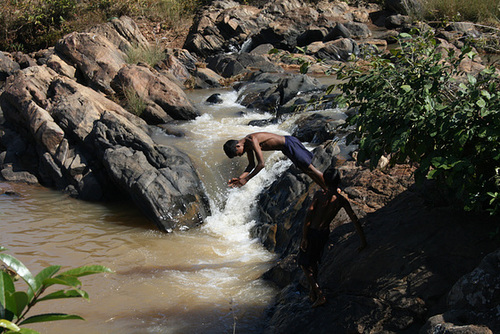 Showing Off
While not always necessary, as Rejoice has a good water supply, the kids love coming to the river to bathe and do their washing. At the river, bathing is a lot more fun.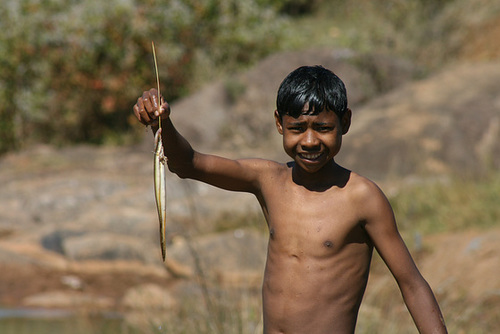 Showing his Catch
While swimming, the kids create fish traps with tree foliage. This is not because they need the fish, but because kids being kids, they just love doing it.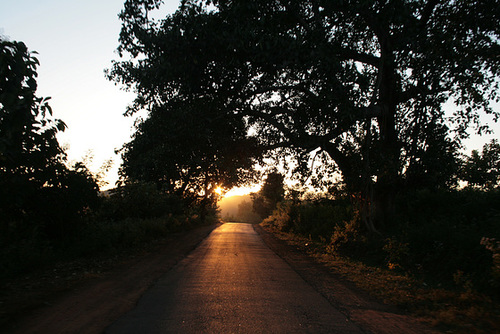 Snapped On The Move!
I was sitting pillion on a 140cc bike behind Ramesh, and I really thought it would not turn out. But if I asked him to stop and then I got off and ran back, blah blah blah, the moment would probably have passed. It just worked.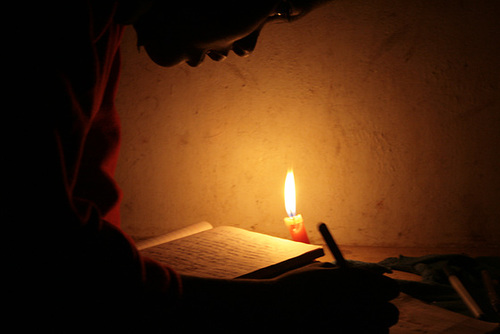 Studying Without Electricity
At Rejoice, as with most of rural India, electricity supply is not the constant we know and rely on in Australia. It is a fickle thing that can be off for days at a time. Most power interruptions last less than a couple of hours, but sometimes it only comes back for a few minutes and then it's off again. Even Koraput,(with I'm guessing somewhere around 100,000 residents), was without supply during one of our trips in to town.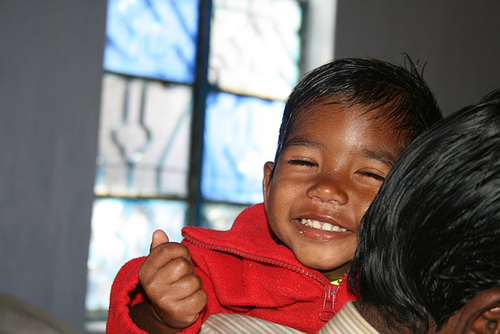 Spotted Us Sitting A Row Behind
Looking over his father's shoulder at Mastiput church.



Henna Tattooed Hands
Some of the Rejoice girls did some henna tattoos on Jo's hands and feet, as well as their own.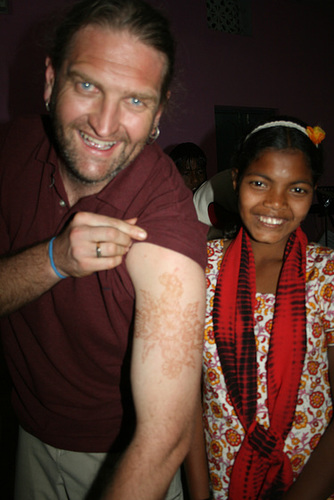 The Artist And Her Handiwork
She is very talented, and did a beautiful henna tattoo for me.
---