22 to 24 Apr, 2009 - Catarina, Masatepe, and Masaya, Nicaragua
Catarina sits with a slight altitude, on the other side of a lake filled crater close to Granada. The views from Catarina, with Granada in the distance, and Lake Nicaragua behind it again, were pretty damn stunning. At the lookout, we ate, we drank, we danced (well, not really, we listened to the marimbas...)
---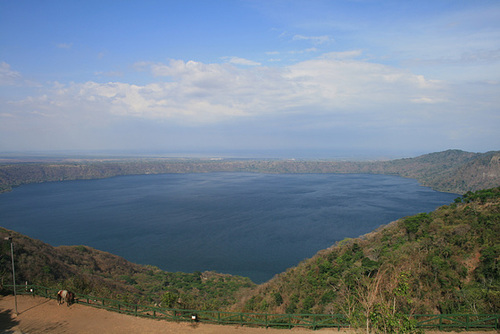 View Over Massive Crater Lake
From Catarina, this is the view over the crater lake, Apoyo. Granada is on the far side (not very visible in the photo) and beyond that is the massive Lake Nicaragua (Lago de Nicaragua).
---
Masatepe was supposed to be about views, too, but it ended up being so much about the village and the people. We went looking for some breakfast, looking for some highly recommended nacatamales or tamugas. What we found was large scale production of said foods, in full swing. Seven or eight ladies working with open fires, using pots, pans, and utensils from lands of giants. Huge quantities of each ingredient being prepared - cut, cooked, or combined. Finally, in the front room, two ladies wrapped the ingredients in banana leaves and tied them up like presents. We were shown through to a dining table where we ate our tamugas and drank our coffee, all the while conversing with some of the chatty and cheery ladies. They were delighted when we expressed interest in wandering through to the kitchen areas.
---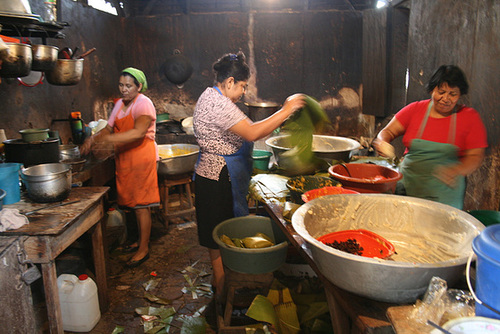 Busy Kitchen - Large Scale Tamuga And Nacatamale Production
Ladies in a kitchen behind a not-to-likely-looking shop produce huge numbers of tamugas and nacatamales. It was an amazing production line, and quite a find to stumble upon this operation.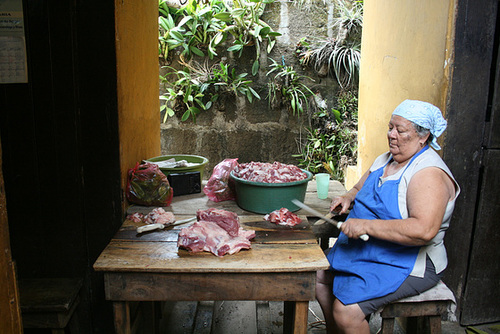 300 Nacatamales Needs A Fair Bit Of Meat
Meat cutting duties in a tamuga and nacatamale production kitchen.
---
Masaya. A city of markets and churches and plazas (formerly 12 or so villages that have merged in to one large town). And nearby, the amazing smoking volcano. Drive-through sulphur! Yep, you can park at the rim. Just be aware that it is one of the more active volcanoes in the world. Unfortunately, sulphur clouds obscure the lava! There was a time when it was thought that this crater was the gate to hell itself!
---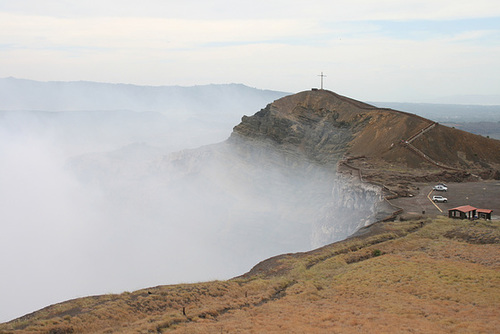 Santiago Crater
The main crater of one of Central America's most active volcanoes, Masaya. The warning that came upon entry was "if debris is thrown from the volcano, take shelter under your vehicle".



Sulphurous Cloud From Masaya
A cloud of volcanic ashes rising from the volcano, Masaya.
---