30 Mar to 7 Apr, 2009 - San Carlos, El Castillo, and Islas Solentiname, Nicaragua
San Carlos, on the eastern sure of the incredibly large Lago de Nicaragua (go on, look it up on a map, it is huge!), right where the Río San Juan begins it journey out of the lake snaking eastward to the Pacific. San Carlos, so isolated, yet with so many connections. You can fly in, but the flights are the priciest and least flexible option. There are bus connections to everywhere that you don't need to go, as well as routes that travellers may use but are horrid trips. This includes the tortuous 10 hour to Managua option. Finally, there are the boats. Down river, across river, and out to innumerable destinations on or around the lake. All our comings and goings for the last week have been water based, so when we eventually get back on a bus, it may feel a bit odd.
We came from Costa Rica via a little town called Los Chiles, where we did immigration formalities and boarded a collectivo boat. This took us down river, past a little house painted in camouflage, which was the Nicaraguan border post and eventually on to the shark infested river of Río San Juan. Ferocious bull sharks, like the ones we saw in Corcovado, Costa Rica. However, not just shark infested, but giant prawn infested! Hey, if you don't believe these fresh water babies are giant, check the photo! ¡Que rico!
---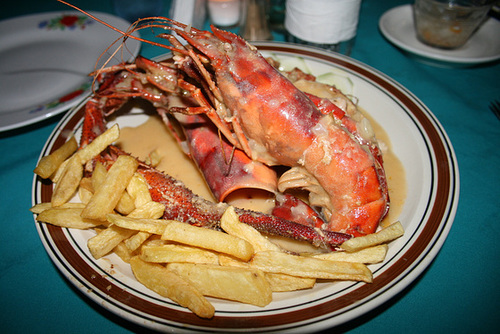 Now That's A Prawn
The fresh water prawns in the Río San Juan are notoriously big. This is a prawn in shrimp sauce!
---
We left San Carlos, by boat, down river to El Castillo. Fast boat or slow? Take the slow, at half the price, and not at all pressed for time, it also allows us to take in the afternoon bird life along the banks. Three and a bit hours later, we rounded the bend where the fort came in to view. So beautifully set, and such a cute wooden town below. We have time, don't we? Yeah, let's stay a few days. Relax, eat some more prawns, and try and interpret the menus. These are the things to do in El Castillo.
---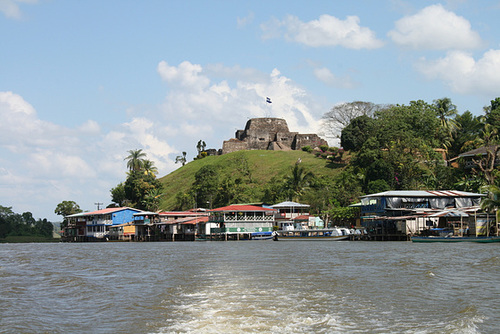 La Forteleza
The fort above the lovely town of El Castillo.



Down River
View down the river San Juan from La Forteleza, atop a hill on a bend in the river. El Castillo, Nicaragua.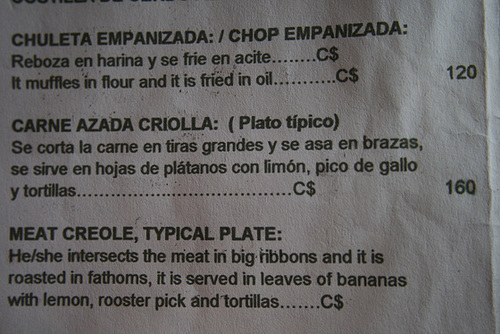 He/She Intersects The Meat? It Muffles In Flour?
People should not rely on internet based translators exclusively. Perhaps finding a native speaker of the target language, or even someone with a reasonable grasp of it, may avoid some of the more unusual results.
---
After our relaxing, it was time to putt back up the river to San Carlos, and catch the collectivo boat (which runs twice a week) out to the islands of Solentiname. Maybe a good place to relax! Are you detecting any sort of theme here?
The islands have a bit of a reputation for good art, and many residents paint or sculpt. The style was spotted and cultivated within the community by a priest, Ernesto Cardenal. Now, their art has somewhat of a high standing in various international arenas. When not in Managua, Ernesto still often returns to the islands where he has a place on Mancarrón. And the church there is a gorgeously simple structure, built and decorated by the people in a style intended to reflect those people. Many of the pictures were created by children of the community, a wonderful touch. Ernesto has been known to upset the Pope with some of his ideas, but it is hard to criticise a man who encourages people to express and share what God and His Word, The Bible, means to them. Interpretation through their own eyes, and lived through their own lives. Relevance is so under appreciated. Ernesto recorded and published many of the islanders views and opinions in what became known as The Peasant's Mass.
---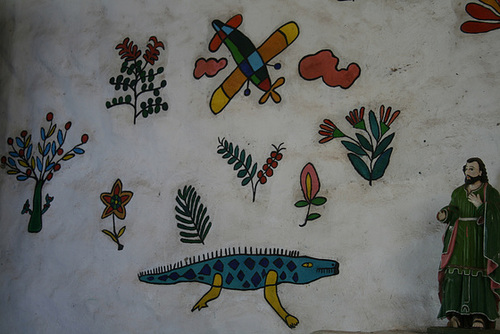 Church Interior – Islas Solentiname
Detail from one wall of the church built under the guidance of Ernesto Cardenal on Isla Mancarrón, Islas Solentiname.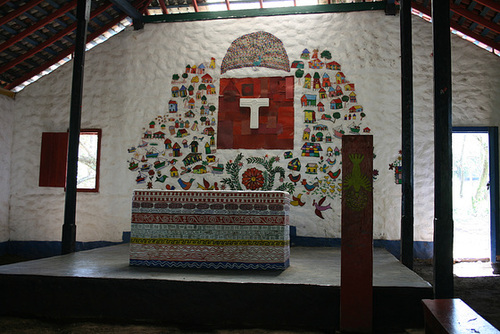 Church Interior – Islas Solentiname
Altar area of the church built under the guidance of Ernesto Cardenal on Isla Mancarrón, Islas Solentiname.
---
We spent a couple of nights on Isla Mancarrón, and a couple on Isla San Fernando. More boat trips, more relaxing. One boat trip was to Isla Venada to visit a cave filled with petroglyphs, believed to be about a thousand years old. Also filled with bats, the cave can only be visited in the dry season when water levels are low. We also managed to walk some trails around Isla San Fernando, to find some more petroglyphs. It seems art has been a part of this island for quite a long time.
---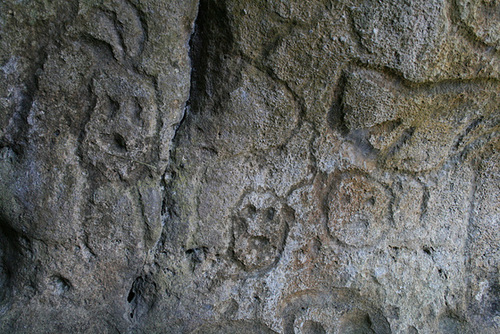 Petroglyphs
Faces from eras past, carved into the walls of a waterline cave on an island in Lake Nicaragua.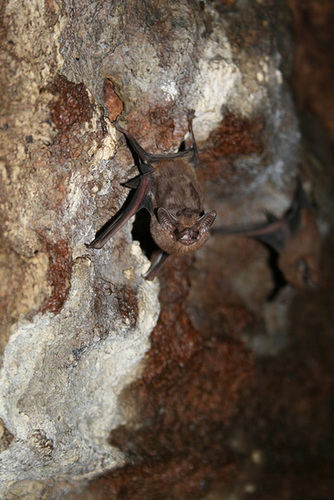 Smile!
A bat poses for a photo!
---
So eventually, back to San Carlos by boat. Just for a few hours, because two schedules finally worked together nicely so that we can catch the ferry on the same day, right across the lake to Islas de Ometepe. Only a 9 to 12 hour ferry. Oh, did I mention that the lake is huge?