8 to 11 Apr, 2009 – Isla de Ometepe, Nicaragua
As midnight ticked over we were standing with our arms around one-another, leaning against the railing on the open rear deck of a ferry, looking out over the water at the twin volcanoes of Isla de Ometepe lit up by a nearly full moon. A kiss and a birthday wish from my beautiful wife, and so my 41st year officially began. Maga, a friend for a few days, and Jonathan, a friend for a few hours, joined us and they sang happy birthday to me. That was the party underway. And Maga gave me a thoughtful and quite beautiful present – a necklace that she had made for me. She had been sneaking around the boat for the last ten hours avoiding me, ensuring it was finished and ready for me by midnight! I really like it a lot and wear it every day, now.
The night was clear, and the moon only one or two days short of being full. It had been an amazing transformation of light and feel from watching the sun set between the two peaks while on the other side of the lake, docked en-route, to this moonlit moment when we were coming in to port with the near perfect cone of Volcán Concepción looming over us. She smokes, Concepción, a fair bit, but at the moment that's about all. Her counterpart, Volcán Maderas, has been dead for a long time. An interesting pair, really. Joined together to form one island, so similar that they are referred to as twin volcanoes, yet so different because of their huge difference in age and activity – would you call it a generation gap? :S
---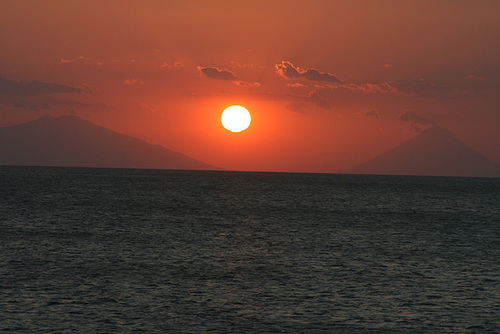 Sunset Over Ometepe
Sun setting, over the Isla de Ometepe, taking from the ferry from San Carlos.



Gulls
Birds behind the ferry between San Carlos and Isla de Ometepe.
---
Since our time included part of the Holy Week, Semana Santa, and more specifically, Good Friday, we had to choose what we did, and how, keeping that fact in mind. Timetables and schedules are next to useless, with confusion affecting all transport users. Locals receive no exemption from this confusion, and so we did not sit alone for those hours, waiting. Everyone asked everyone else if they knew which buses might be running, and so each person's guess had a chance to circulate as the truth.
So, we restricted our visit to a handful of places. We saw some more petroglyphs, we swam the warm lake waters from black sand beaches, and we climbed to a wonderful mirador for sunset.
---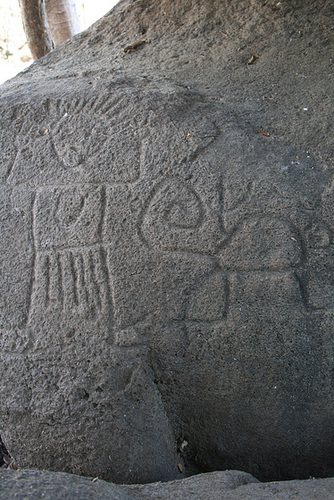 Petroglyphs
A boy and his pet mouse. That was how Jo and I interpreted this petroglyph. This is on the slopes of Volcán Madera, Isla de Ometepe.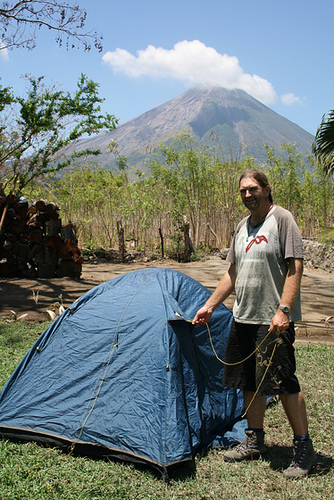 Camping in a Volcano's Shadow
Near the base of Volcán Concepción, the active half of Isla de Ometepe.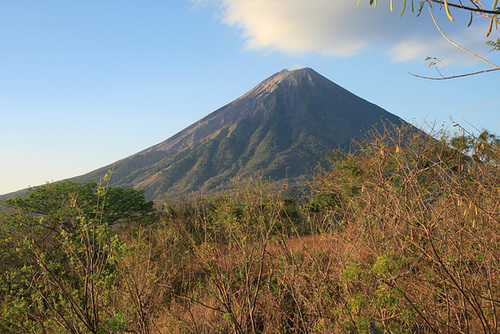 Volcán Concepción
Active half of Isla de Ometepe in Lago de Nicaragua.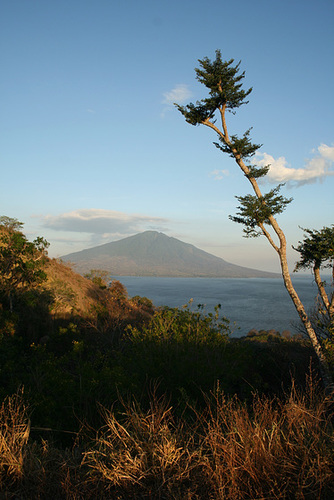 Volcán Maderas
Sunset, looking at the dead volcano half of Isla de Ometepe.



Smoking Crater
The smoking crater of Volcán Concepción, Isla de Ometepe.
---