2 to 4 Feb, 2009 – Chitré, La Arena, Playa El Aguillito, & Parita, Panama
While Chitré is the most significant town in the area, it was more of a convenient base than a place to see. The cathedral was incredibly beautiful, without ostentation, impressing with a wonderful balance of dark wood features and gold ornamentation. Swiveling stained glass windows allowed the breeze to be caught and directed to maximise its effectiveness.
---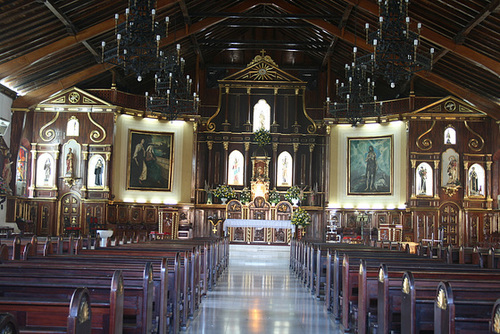 Cathedral interior, Chitré
---
Neighbouring La Arena is known for pottery, and a stroll up the main street resulted in us visiting the workshops of half a dozen or so artisans.
Both Chitré and La Arena definitely feel different to other Panamanian towns we have visited, and this is what we were hoping to experience, but they both faded in comparison to Parita.
Parita is just so incredibly cute. If it weren't for the power lines, the view down any street could be from an era long past. Especially in the middle of the day, when the only people not having a siesta are the two foreigners walking those streets. People lazing on verandas wave and smile a greeting. Greetings are called from people unseen in dark houses, doors and windows wide open to catch some breeze. A couple of cowboys ride past. A pair of boys announce they want to be the subject of a photo.
---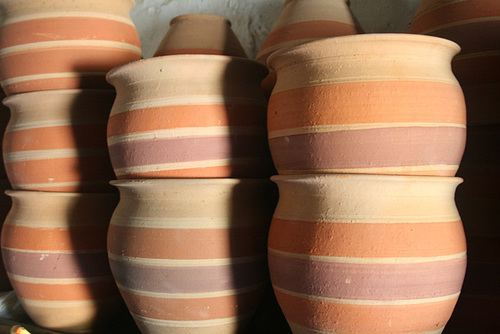 Pots, at La Arena, near Chitré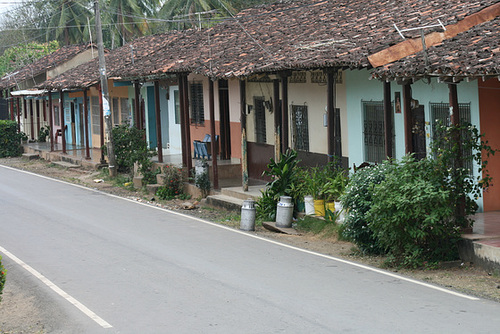 Colonial street
It may be paved, but there is not much else that has changed here in the last 400 years.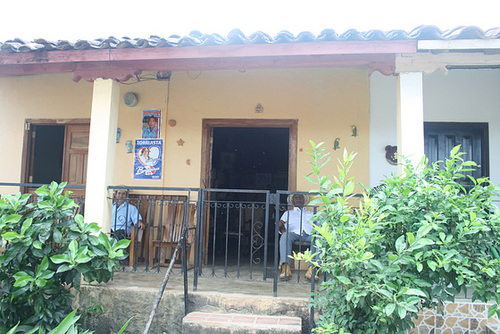 Relaxation
Siesta time - Out of the sun, and watching the world go by.
---
Eventually, we start asking – does anybody know where we can get a key to the church? Of course, in no time, we received directions to the house opposite the garden with lots of flowers, and to look for Ambrosia. Ambrosia, cheerful and chatty, accompanied us back to the 400 odd year old church. She scarcely looked strong enough to push those huge doors open on her own, but they were obviously very well balanced. Inside the cool church, we discovered quite the collection of antique altars, all two to four hundred years old. A smooth skull in a niche caught our eyes. It was polished – probably the result of being touched and handled by many hands over countless years. When we enquired with Ambrosia for any details, all she could tell us was that they didn't know who it had belonged to, or its age, just that it had been there as long as she could remember.
---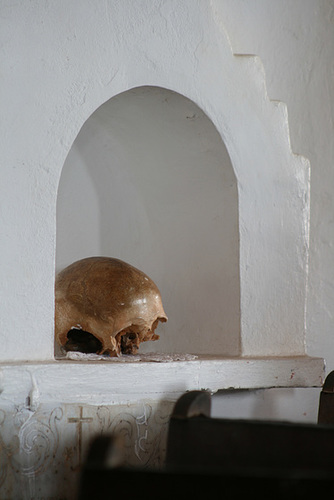 Whose head was this?
Cranium of an unknown former Parita resident.
---
A chatty gentleman in the street shared some of the history or Parita. Which houses were the oldest, and which ones were home to the oldest residents. A few locals are in their 90's, and at least one is over 100. The relaxed lifestyle of Parita life, he insisted, resulted in longevity amongst its residents. Looking up the streets, we could detect no stress.
---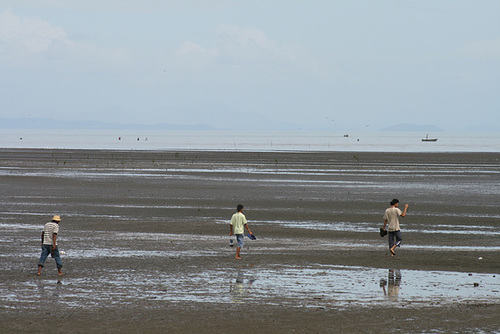 In the mud
People head out to the mud flats to gather shrimps.
---