9 to 12 Feb, 2009 – Isla Bastimentos, Panama
Bocas del Toro, and more specifically, Isla Bastimentos. These Caribbean islands are so unlike what we expected.
The people and the language, Gadi Gadi, are distinct from the general Panamanian population. The inhabitants are primarily of Jamaican decent, who came over in the centuries and decades past to build railroads and work on the banana plantations. The language is a veritable soup of English, Spanish, and Creole. Of course, there is a distinctive Jamaican look about the people, too.
Geographically, I guess we expected the beaches to be more swimmer friendly. Although we got to spend some time on the sand amongst the mangroves, the snorkelling was nothing much, and we couldn't go far out because of the rips and the pounding surf. Really, the beaches are much more suited to those with a surf board.
From the balcony of our hospedaje, we have the pleasure of being visited by numerous hummingbirds. Even more special, though, is the endemic poison dart frogs living on the trees in the garden. Bright red, green, or yellow, they are not particularly quick, relying on their toxicity as a deterrent to being eaten.
---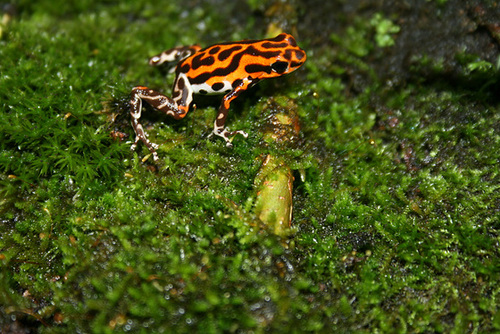 Strawberry Poison Dart Frog
Stunning warning colours on a slow moving and extremely cute frog.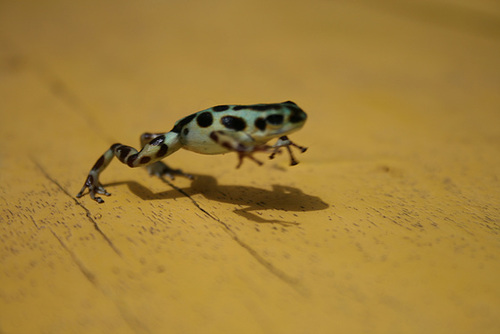 And ... Action!
Green poison dart frog shows that he is capable of leaping.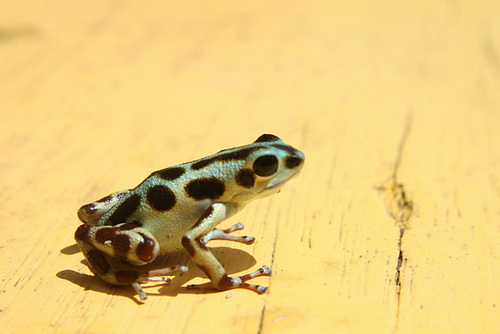 Glorious Details
Fantastic pattern on the back of a green poison dart frog.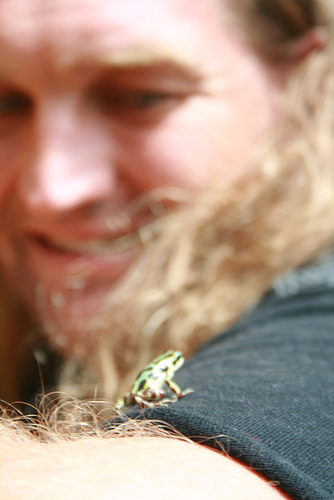 Making New Friends
A green poison dart frog gets very friendly.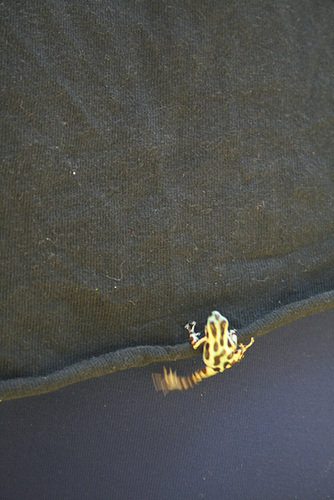 Hanging In There
My new friend scrambles to retain his grip on my t-shirt.
---
Today, we did a boat trip around to the other side of the island, and then up a creek. From there we walked to the entrance of a bat-filled cave. We walked up the river that was flowing out the mouth of the cave, and it got progressively deeper. Soon we were waist deep, and eventually chest deep (for me, in any case; for Jo it was almost up to her shoulders). Finally, we scrambled up some wet rocks to a subterranean lake, complete with mini waterfall. This was the furthest we could go in the cave. Turning off the torches, it was black as black, with not a single peep of light. Thankfully, the bats' radars were working, as we felt them fly narrowly over our heads.
---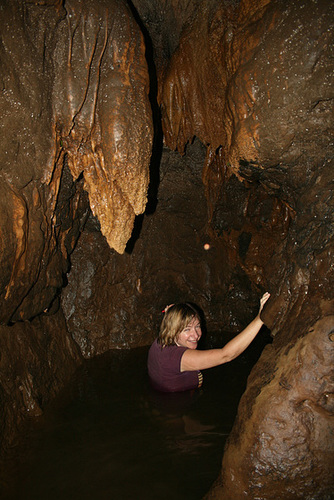 Chest Deep
We visited this bat-filled cave, accessible via a river only. At times, we were chest deep (or in Jo's case, shoulder deep). In the deepest part there was a swimmable subterranean lake. Just like being outside, but pitch black and with bats.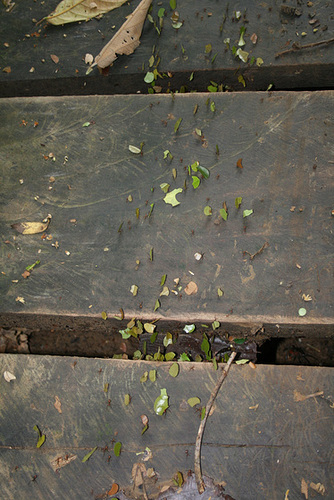 Leaf Cutters
Leaf cutter ants use a bridge to cross the creek.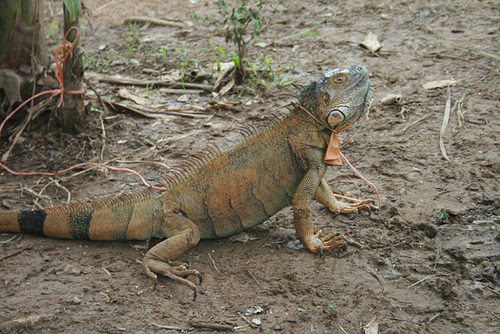 A pet iguana
Residents in the jungle keep a pet iguana.
---