20 to 22 June, 2013 – Moneglia, Cinque Terre, Sarzana, Pisa – (Italy)
Of course, we're all getting older. However, when it's five years between seeing kids, the differences are huge. Five years, though, is two too many. Since 1996 we have caught up with Hermann and Andrea (and as they were added to the family, Stefan and Linda) every 3 years. But it didn't happen in 2011. Hopefully we're back on track, now.
So, this meet up was set for Cinque Terre. We actually stayed in Moneglia, a couple of train stations further north. But this allowed us to get a couple of apartments with amazing views.
---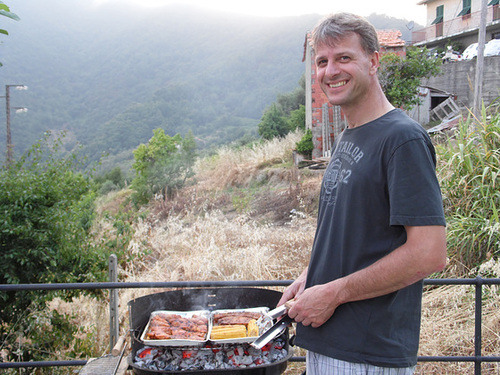 Hmmm, Pork
OK, so there was more for dinner than just barbecued pork. However, the "pig belly torch" was an absolute highlight. Especially after the pork drought in Turkey. Thanks Hermann for cooking.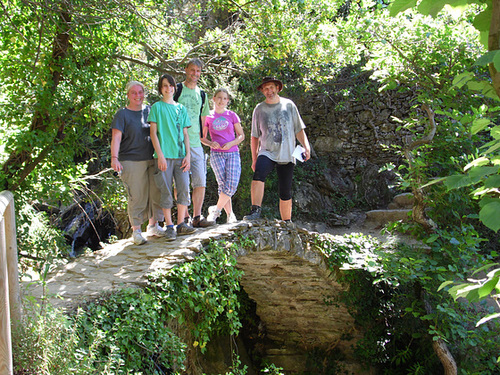 On the Trail
It is always fun to meet up with Andrea, Hermann, Stefan, and Linda. We first met Andrea and Hermann in Ecuador in 1996. Since then, we have crossed paths 5 more times. Generally in Germany, but also in Croatia, and now in Italy at Cinque Terre. This photo is on the Cinque Terre trail between Monterossa Al Mare and Vernazza.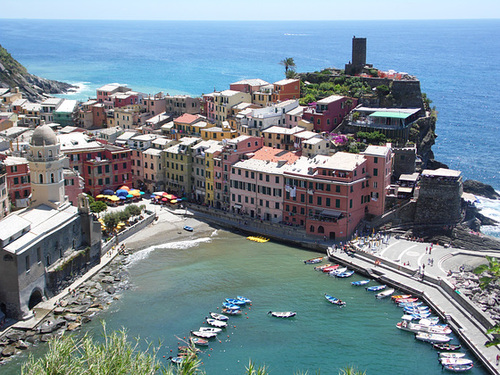 Arriving at Vernazza
Coming down to Vernazza, Cinque Terre.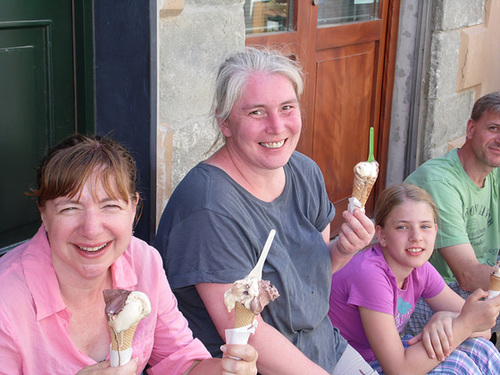 Barely a Single Day…
Since arriving in Italy, we have had a minimum of one gelato, almost every day. Oh, it is so incredibly good.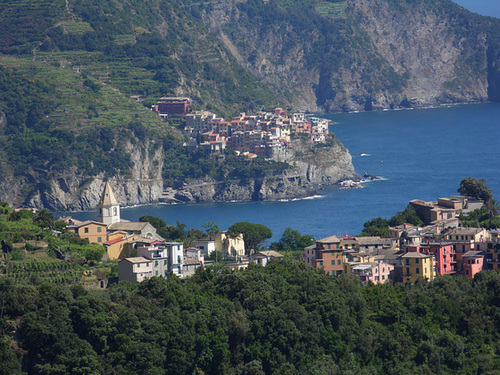 Two of Five
Corniglia in the foreground, and Manarola behind it. Two of the five villages known as Cinque Terre.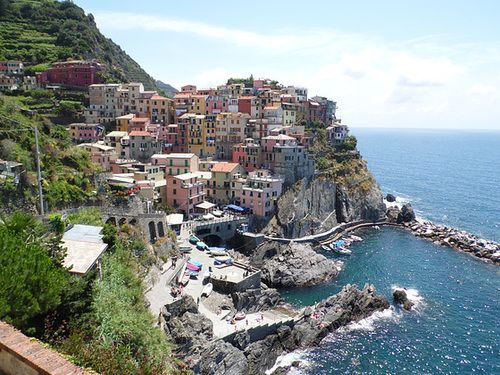 Manarola
The gorgeous vista of Manarola, Cinque Terre.

---
Hermann and Andrea had their car with them, and we followed in our rental vehicle. This led to two "incidents".
Incident 1: The GPS navigation is NOT smarter than the people who put signs up at intersections. Admittedly, even I was willing to believe it would get us to our destination, with perhaps a few stops to let oncoming traffic pass, as it was probably just a narrow and winding road that authorities would prefer was avoided. I guess the GPS can not be blamed when you discover the road is closed, and has been for 18 months, due to bad land slides, but people who erect signs know this. Anyway, lucky enough, someone had pulled the fence aside at both ends, and a motorbike coming through told us in broken English that we certainly would be able to drive through, but just be careful as the road was "scrambled". How cute - scrambled. So thankfully, we did not have to double back 40 kilometres to get around the closed section of road. But, almost...
Incident 2: When the lead driver changes their mind regarding an exit in the last second, there is a chance that the driver who is following feels so committed to taking that exit that the two cars are no longer in convoy. Anyway, they had one idea about where to wait and we had another, and it was quite a fretful time due to us not having a phone. It would have been an awful way for us to have finished our time in Italy together. Thankfully, after an hour or two, we did manage to find each other, have a late lunch, and finish our planned activities to Pisa.
While waiting for H, A, S, & L, we went to the local fort carpark, as we had talked about visiting the fort of Sarzana. It was one of those dodgey parks that obviously is to be avoided late, due to condoms strewn in some areas and discarded syringe packs. So, when I approached a couple to see if we could borrow their phone to try and call the Ruchtis, they thought I was a carpark hangaround weirdo. They put up their windows and drove away quickly waving their arms in a defensive way.
---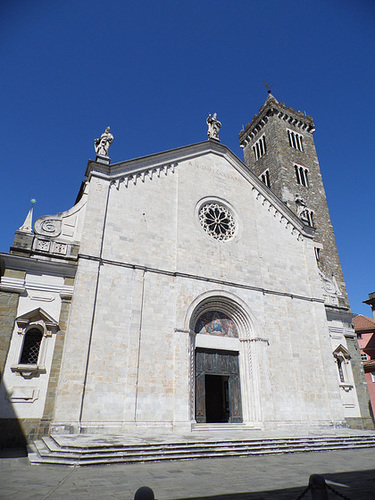 Sarzana
We were not expecting anything at Sarzana, stopping, in theory, just for a bite and to head up to the fort. It truly is a beautiful town.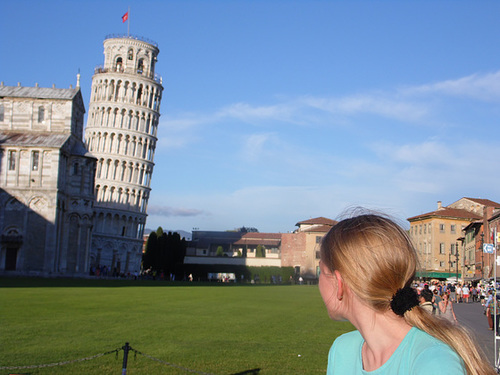 Linda and the Tower That Needs No Introduction
After ascending the tower, it was time for us all to part ways. The German contingent heading back to Moneglia for one more night before their return home. We headed to the airport to pick up friends. More of that to come.

---